Beautiful built-in cabinetry always gets my attention…
Creating a space that is not just builder grade subdivision vanilla but rather stands out from the rest and speaks to the art of bespoke joinery…
Now, while we are not all in the position to hire a firm skilled in the ways of "bespoke Joinery",
( I love that term, I can't say it without hearing a British accent in my head… not sure what that says about me!)
any home can have that feeling of  craftsmanship with a bit of thought and creativity.
                                        Source Obrian and Muse via  Pinterest 
This impressive example of custom millwork shows us a great starting point. 
Perhaps it isn't in the budget to have this recreated in your home but achieving the illusion isn't as hard as you might think.
Start with simple balanced bookshelves, add a classic crown moulding… some additional well placed trim details go a long way… then paint it all out in a fantastic saturated colour.
                                                  Source: Room seventeen via Pinterest
A window seat is another illustration of custom built-ins at their best.
How utterly charming, simple and inviting… 
                                              Source: David Michael Miller via Pinterest.
Ok,  I am swooning… fantastic display is created with a custom plate rack… bead board back with rails and a lovely top crown…
Perfect proportions for the room with the height just shy of the height of the transom… I am in love!
Oh, I didn't even get to the built-in button tufted bench, sigh.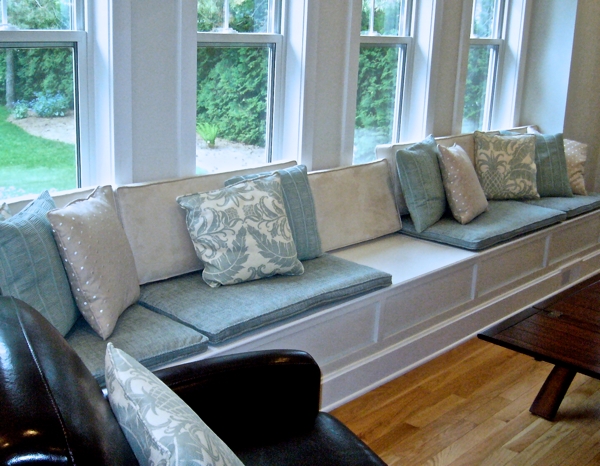 This window seat is from one of my client projects. It has a side table component as well as built in storage.
Facilitating under stairs space is a fantastic opportunity for unique built-ins…  I find this one charming and  just right for the style of the home.
Note how they echoed the colour on the fixture for the door…someone is a clever monkey!
                                                Source:House and Home via Pinterest.
We have a little beauty of a built-in here… How utterly adorable and useful, a trundle bed that looks like a flat wall cupboard. 
Looking for a brilliant solution to store serving platters that are not used that often? Build shallow drawers into the toe-kick. A touch-latch release allows you to easily open it with a light tap of your toe… Why didn't I see this before we built our kitchen?
Writing this post has me dreaming… 
What about you?
For more ideas and images of fantastic built-ins see my Pinterest board Built-ins to Love.
I am going to leave you with one more spectacular image…
 Now I have seen some wonderful mud rooms with built-in details but this one takes the cake… A hoop top ceiling with applied moulding details, Cubbies with echoing hoops, Pullout shoe storage, a built in bench seat and to cap it off, a beautiful painted compass for the floor…
 In other Pinterest news…
 I have gathered up some amazing bloggers to pin to my  group board called:
Beautiful Rooms: Cottage / Beachouse / Farmhouse style, These gals are fantastic so don't miss out, come follow along… we will keep you inspired and motivated to create the home you have been dreaming of!