Beautiful urns all decked out for the holidays…
They are statement pieces drawing the eye and setting the mood for all your holiday decor.
I think the simplicity and symmetry in this photo from House and Home is lovely.
Redstick and sumac are easy to source and so beautiful.
The dogwood wreath with a satin bow adds just the right touch to accent the front door.
The hydrangea and pine filled urns are not centre stage but rather bookmark and ground the glorious swag over the door in this photo. So elegant.
Fantastic millwork on this home is the focus as it should be, the subtle and charming greenery swag, moss wreath and cedar trees in a pair of traditional urns are perfect here in my opinion.
Here is another idea…simple to execute and very effective.
This photo shows how wonderful urns can be inside as well. I find them wintery and romantic, just fantastic.
I love this one. It would be amazing at the front entrance welcoming guests… and perhaps inspiring a snowball fight?
The beautiful images above, their sources and many more images can be found on my Pinterest Board Urns.
All this inspiration has me thinking about my own front entrance. While I do not have traditional urns I do have a pair of cut house columns that we bought at auction a while back. they will be a bit different and I am excited to see what I can put together…
I am going to go play around outside and then I will let you see what I came up with!
Maybe get a glass of water or a snack…
I'm back!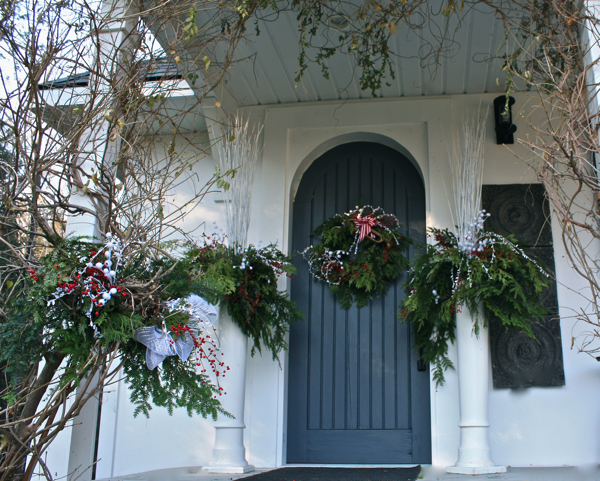 What do you think? I hid the cut marks on the top of the columns with cedar and hemlock boughs, then used tall white sticks for height. Mixing in red berries and white and silver picks made for a festive feeling.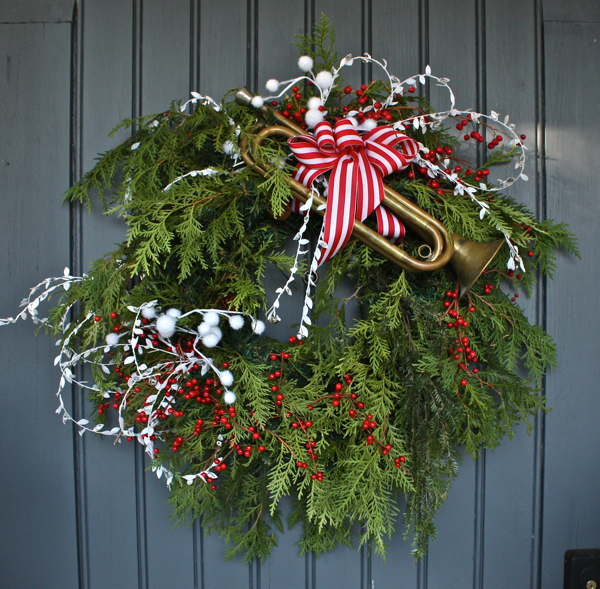 I started with a fake wreath I had and added in fresh hemlock and cedar, berries, white and silver picks and then tied on an old trumpet with a candystripe ribbon…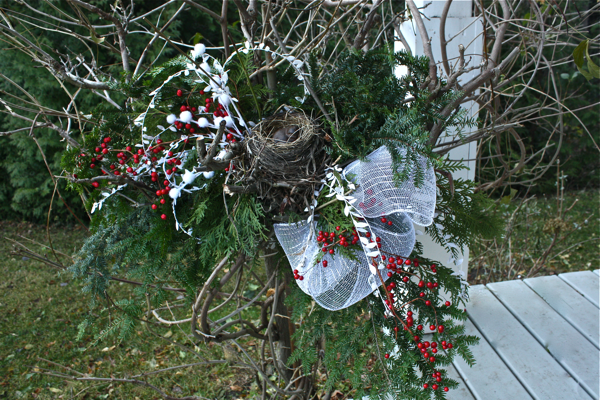 A bird had nested this spring in our wisteria so I incorporated a little vignette around the empty nest… if you look closely you can see I put a tiny bird in it.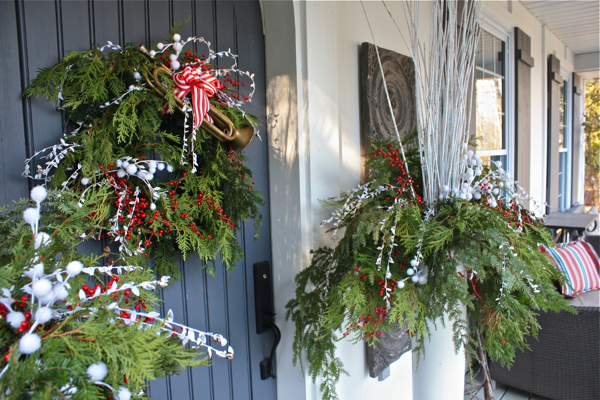 I am so glad we added those shutters to the house last month, if you missed the post here is the link.
Now the big question is…Will I keep it like this for the holidays or will I get bored and change it?
I guess we will find out!
We now offer e-design packages for distance clients and our shop carries a delightful selection of beautiful items to enhance your home.
To leave a comment, scroll down to the bottom of the page.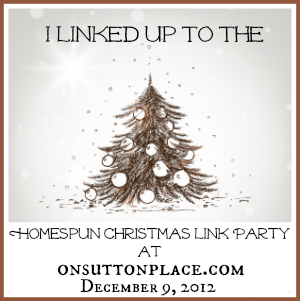 On Sutton Place link party