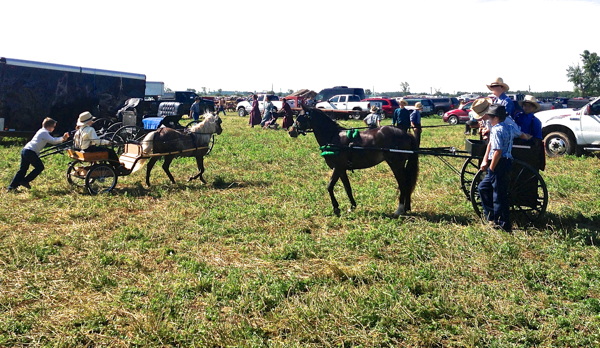 Kent and I love auctions… we have found so many treasures over the years. 
If you missed our latest auction adventure… you can catch up here.
At that one  we found a truly stunning mirror that came with a wonderful story.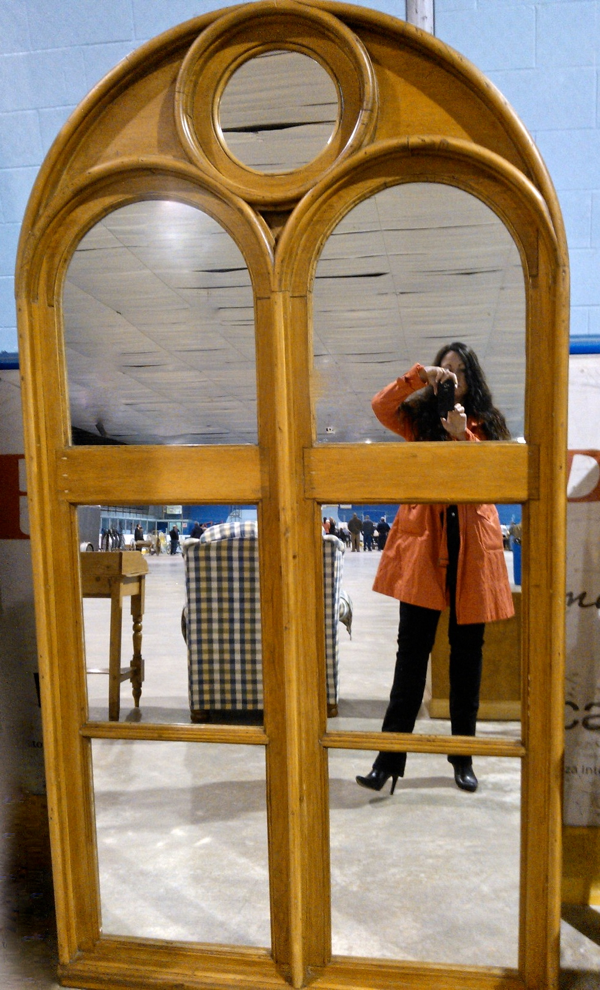 This weekend we had the pleasure of taking in the annual Amish school fundraising auction in Milverton Ontario.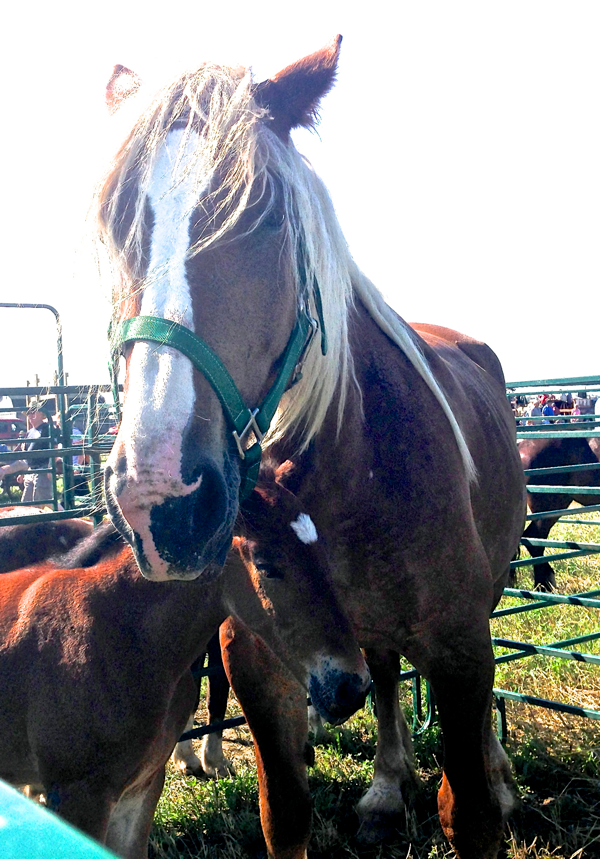 Since the mid-1990s, the Milverton settlement has held an Amish School Auction, open to the public and including items such as furniture, tools, animals and food.  
The 2012 edition drew an estimated 10,000 people.  As in other communities, proceeds from the auction are a primary source of funding for area Amish school 
If you are interested in learning more about the group , here is a very helpful link.
We were looking at the auction listing earlier in the week, it was so intriguing we decided to spend the day and take it all in.
This is a partial listing of what was sold…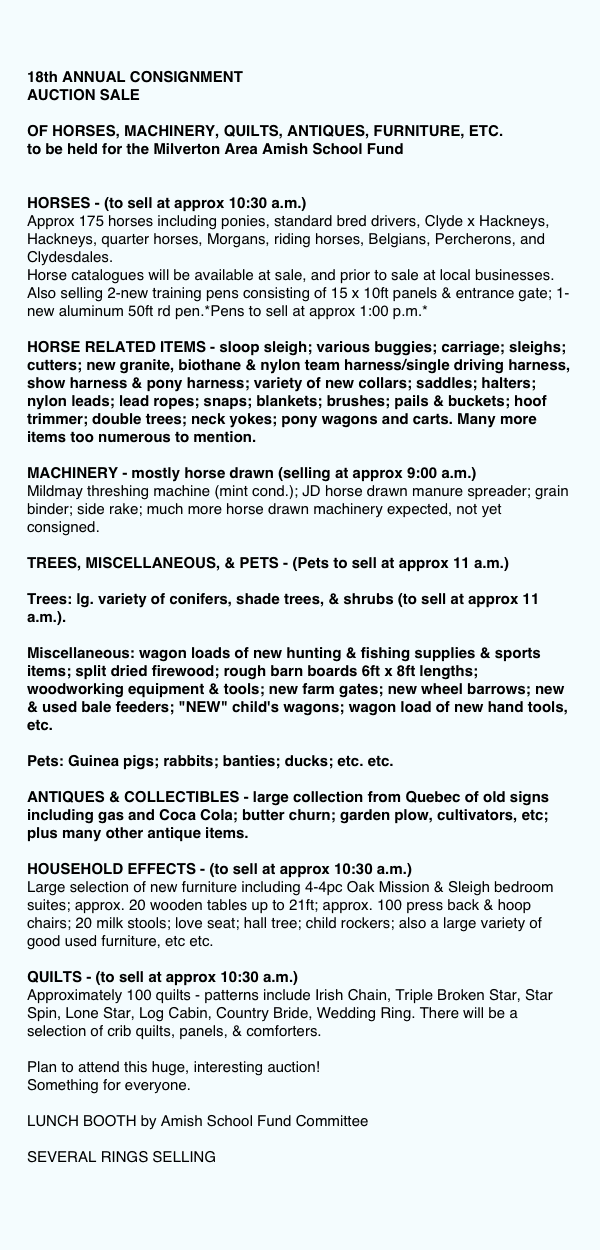 So off we went!
The number of people there was staggering!
Our bidder number was in the high 1400's which means at least that many people registered to bid… 
Walking around the farm where it was being held was so interesting…
Kent estimates over 80 acres was covered between parking and sale areas.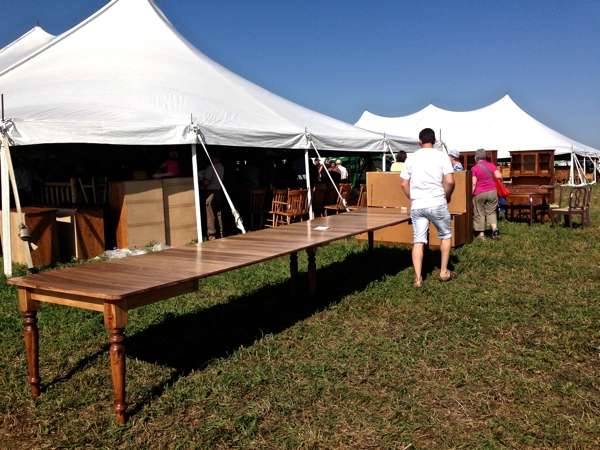 I didn't have a client project that required a 21′ extension table… so we left this one for someone else!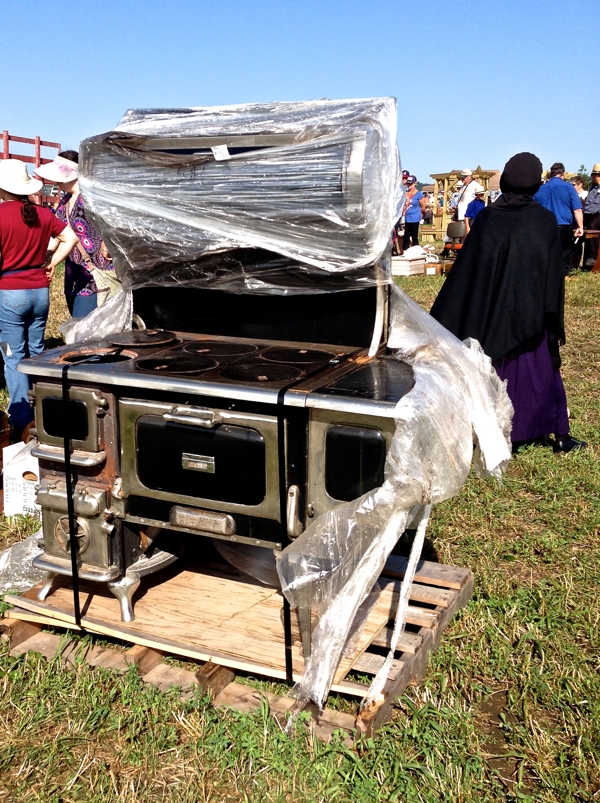 There were at least three or four of these antique stoves on offer…
We didn't see them sell, there was to much ground to cover.
I think there was probably eight or ten auctioneers selling all the time.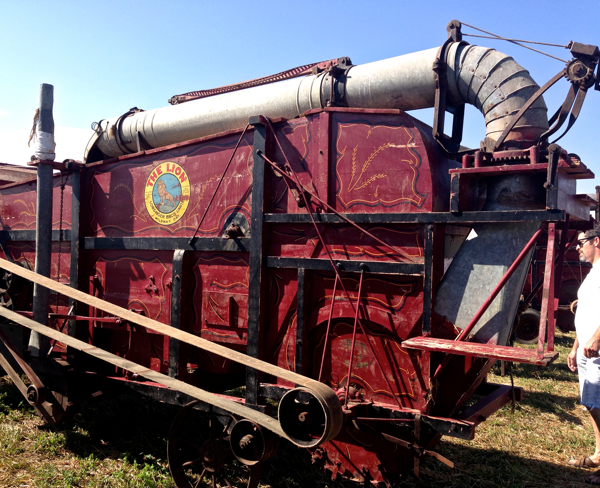 Row after row of farm equipment… some new some antique. 
I love the stencilling on some of the old pieces…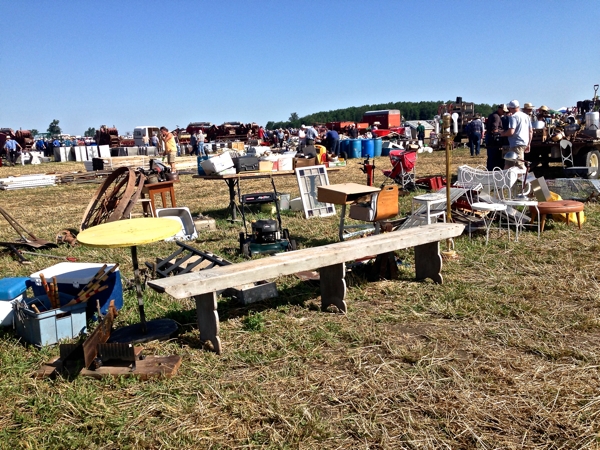 This bench caught my eye… but it was sold by the time we got back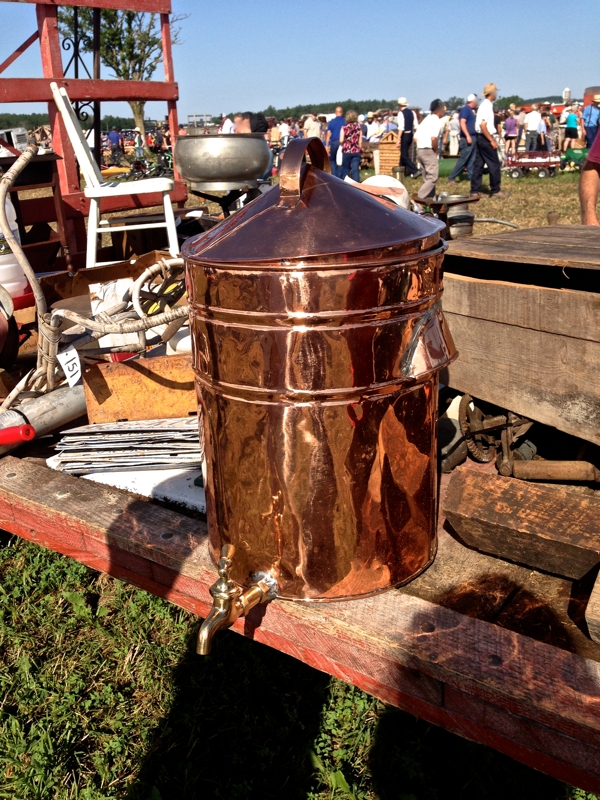 I love how this copper piece glistened in the sun…
This miniature cookstove was one of my favourite pieces…
I had Kent stand beside it so you could see how little it really was.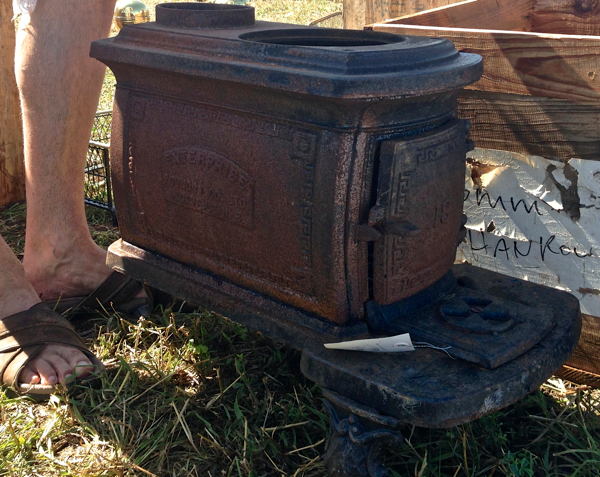 It was fun walking around seeing all the furniture… then there was the quilts!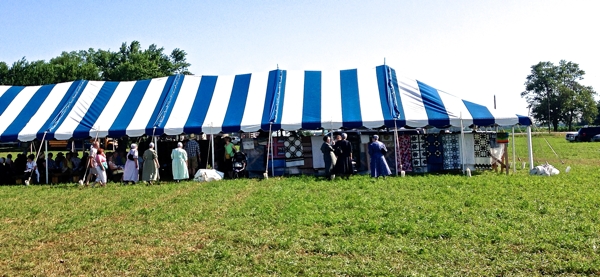 They had their own tent…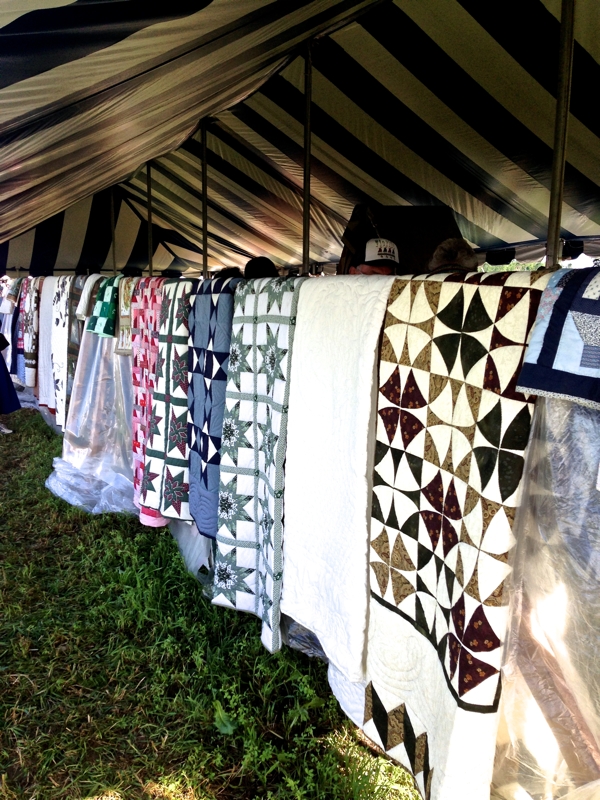 The best part for me was the horses…
I am a sucker for horses.
Have a look at this gentle giant.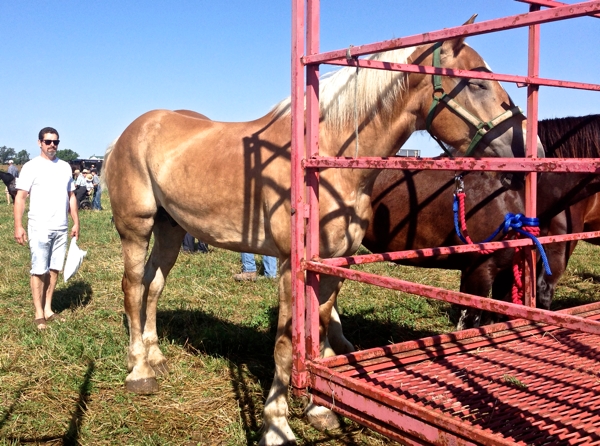 Kent is six feet tall… you do the math!
This little one stole my heart…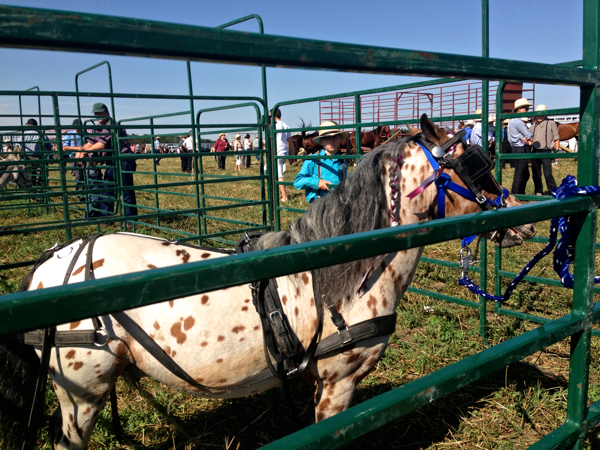 His owner, a strapping young amish boy about 12 or so was very proud to show him off.
I asked him if he did the braiding… I got a sheepish nod and smile. 
I knew he wouldn't be able to pose for a photo himself  ( you will notice I have blurred all faces in this post ) I did ask if I could take a photo of the pony…
The huge smile I got told me he was very pleased to have his handsome charge photographed.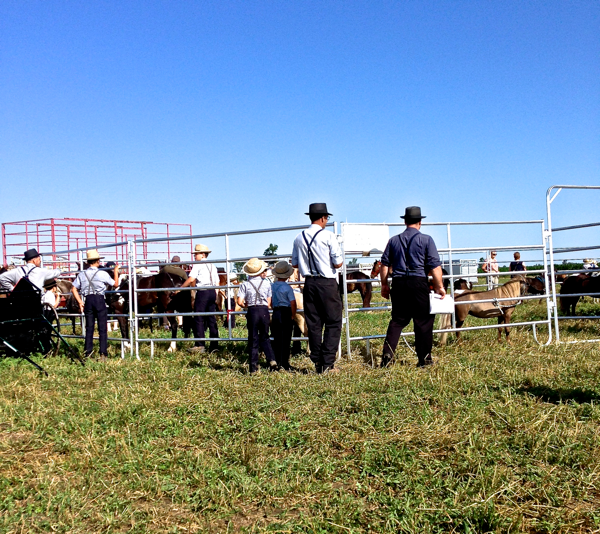 There was other unexpected livestock for sale as well…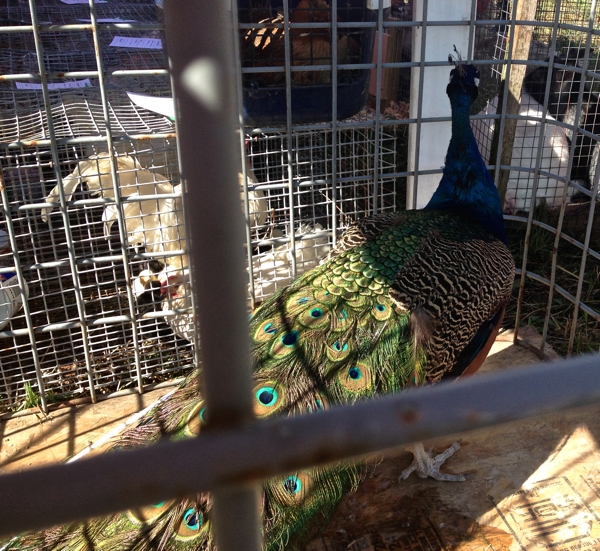 Like this stunner…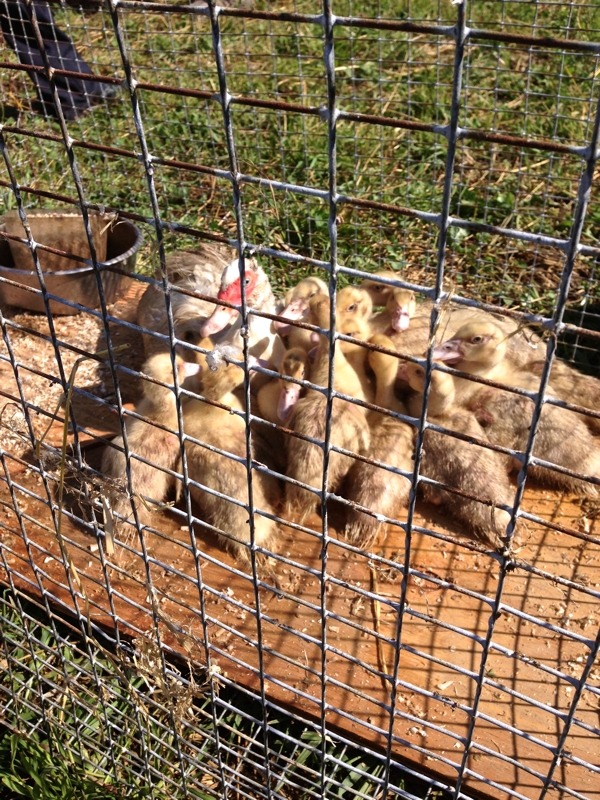 And this family of geese… so cute.
This little guy almost came home with me…
I could hardly resist!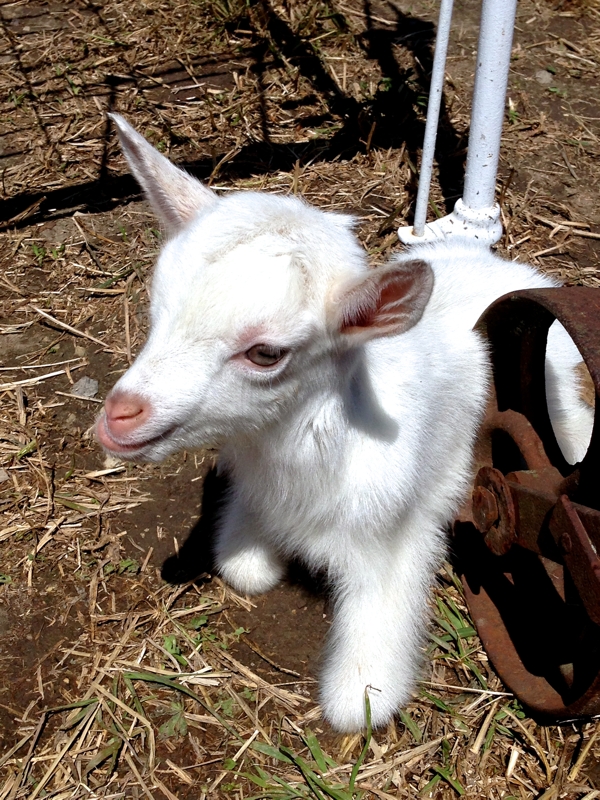 Isn't he adorable… The rusty wheel he is sitting beside was about eight inches tall… this wee one was tiny!
Kent distracted me with pie and… little mister cutie went home with someone else!!
We had a lovely day strolling around in the sun…
I hope you had a lovely Saturday too!