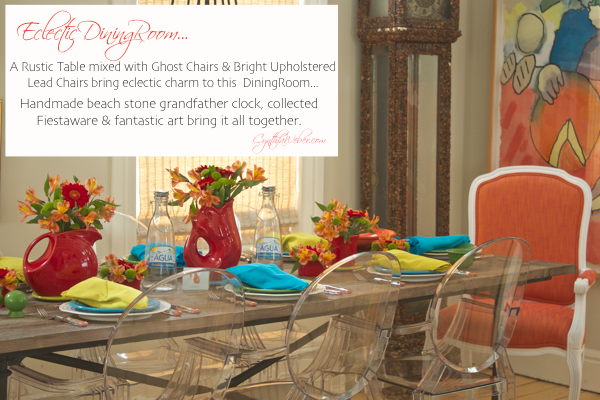 Creating a colourful and eclectic cottage for Jess and Brad has been a blast! I have enjoyed it very much.
Today I am going to show you how the Dining Room and Living room are coming together…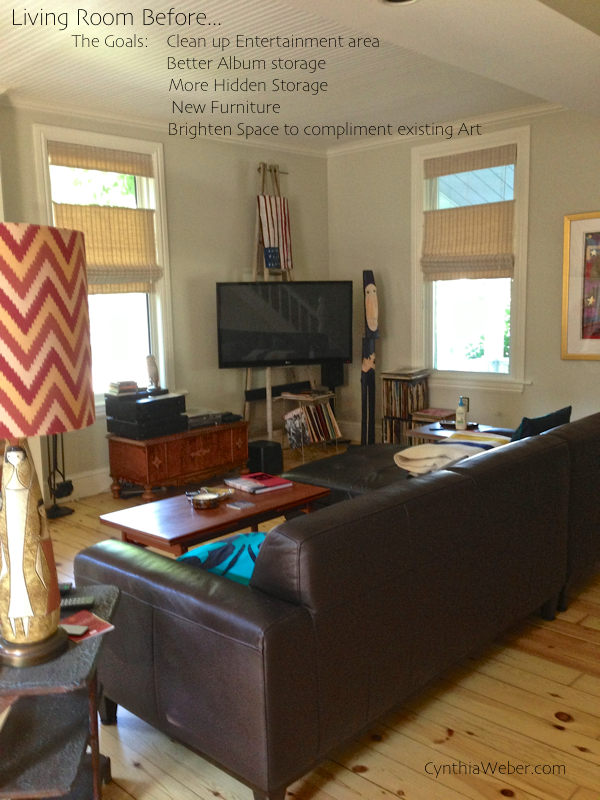 This is where we started in the living room.
Jess wanted to give a bit of new life… more in keeping with the kitchen space, if you want to get caught up on that reveal here is the link!
By reading the notes on the photos above and below you will get the plan…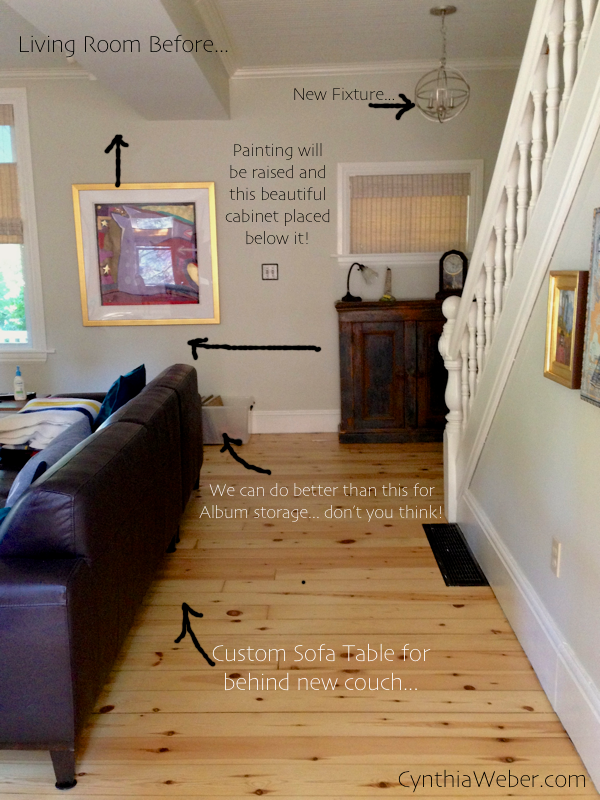 I started by moving the painting up and that beautiful antique cabinet over.
It looks much better together… The colour on that piece is amazing… moody teals & browns, just fantastic!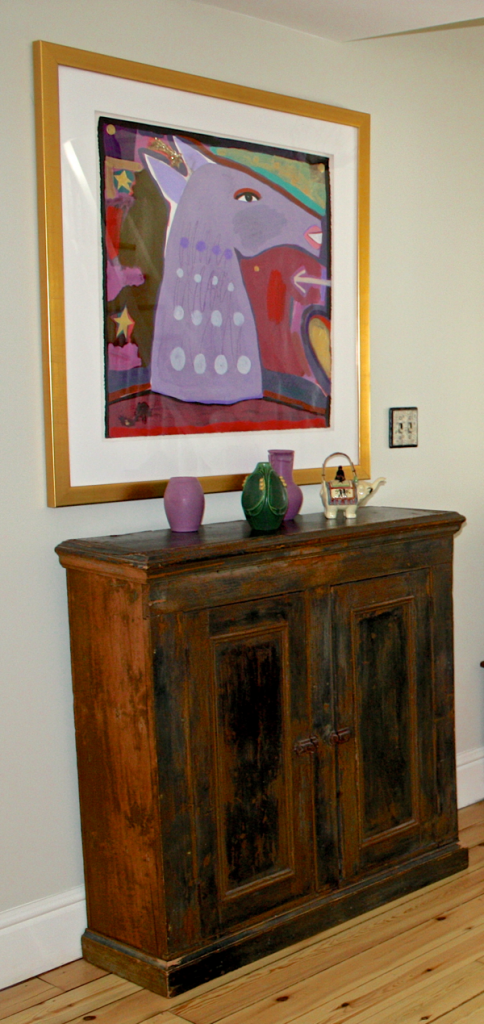 That move left a perfect space under the window for some stacked vintage trunks…
Now when you walk down the stairs you get to appreciate them!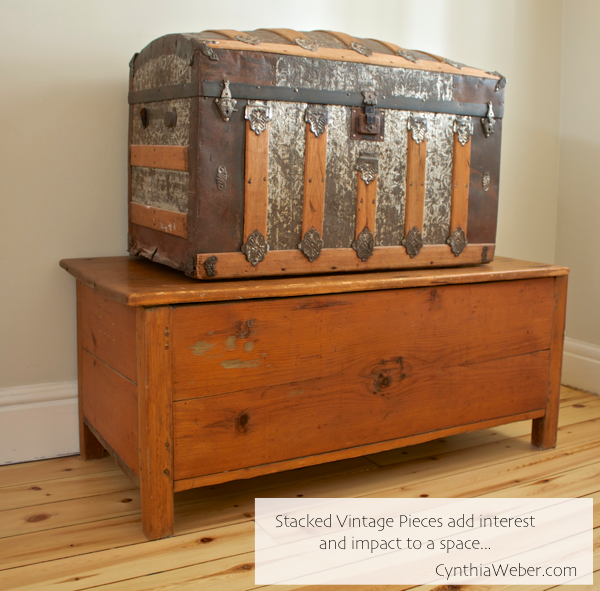 The room is grounded by several repetitions of rustic aesthetic.
The trunks at the base of the stairs…
The dining room table with antique pulley above to arc the modern fixture…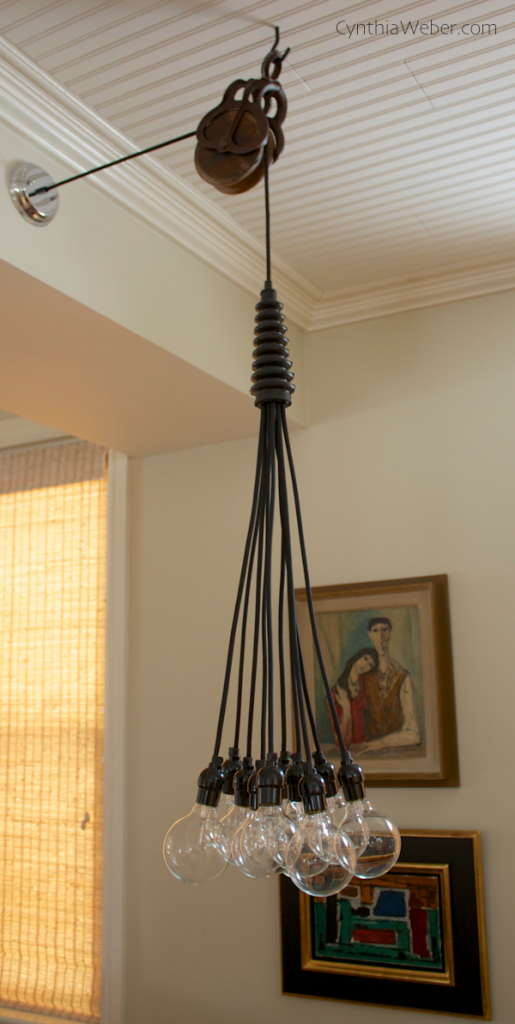 And this handmade grandfather clock which is stunning.
It is a piece from Brad's family made from beach stones collected locally here in Bayfield.
It has 1921 painted on four stones below the face…
I adore it!!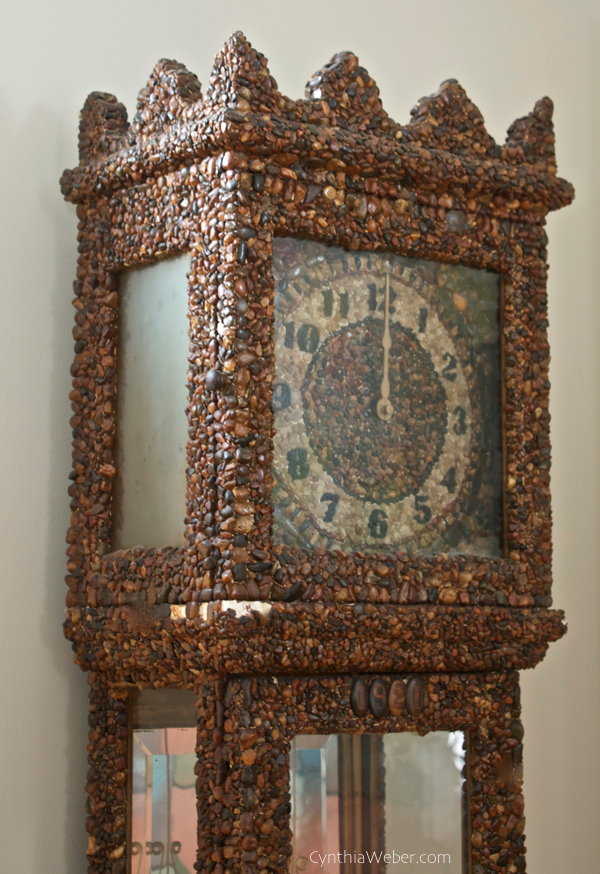 Another small change was to swap out the light fixture at the base of the stairs for a truly stellar vintage piece that Jess had in another room.
The soft gold works with the frame on the painting and fluid styling adds so much interest…
The play of dancing light on the beadboard ceiling is exquisite!!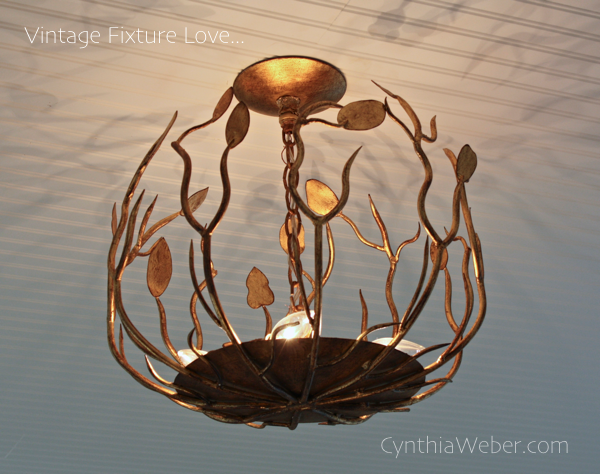 OK… what's next?
The T.V…
This area is very important to Brad…
He wanted to get a larger T.V. and the only place to have it at proper viewing height was where they had the old one so I decided to rework that corner and make a feature of it.
His album collection was in various crates, rubber totes and small racks lining the corner and creeping along the wall…
It needed "Herding" like a flock of sheep!
I designed a console that would house the whole collection and provide an area for all components…
Now they are all easily to hand… and, no more creeping musical sheep!!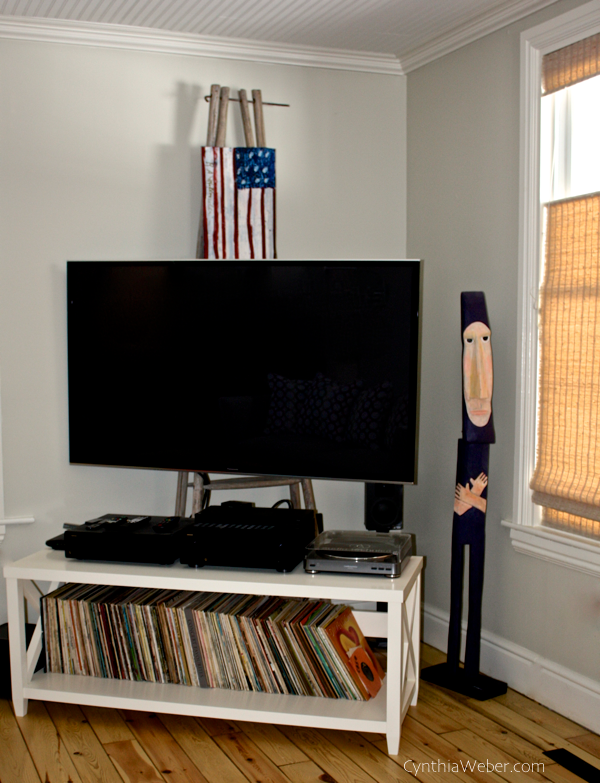 For balance and interest we also had a custom sofa table made with an inset of that amazing Blue Agate from the kitchen island!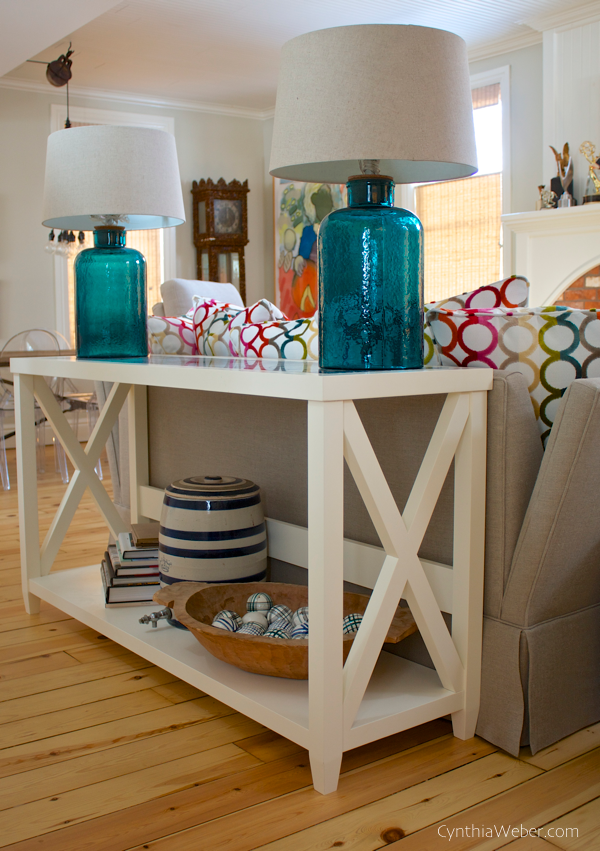 Both pieces were painted in OC-127 White Chocolate which is the trim colour in both living room and dining room.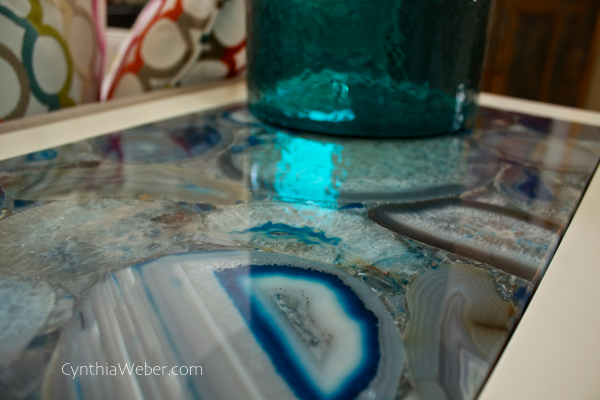 Having that Blue Agate element repeated in the living room is a wonderful feature…
It doesn't overpower but rather just subtly connects the spaces.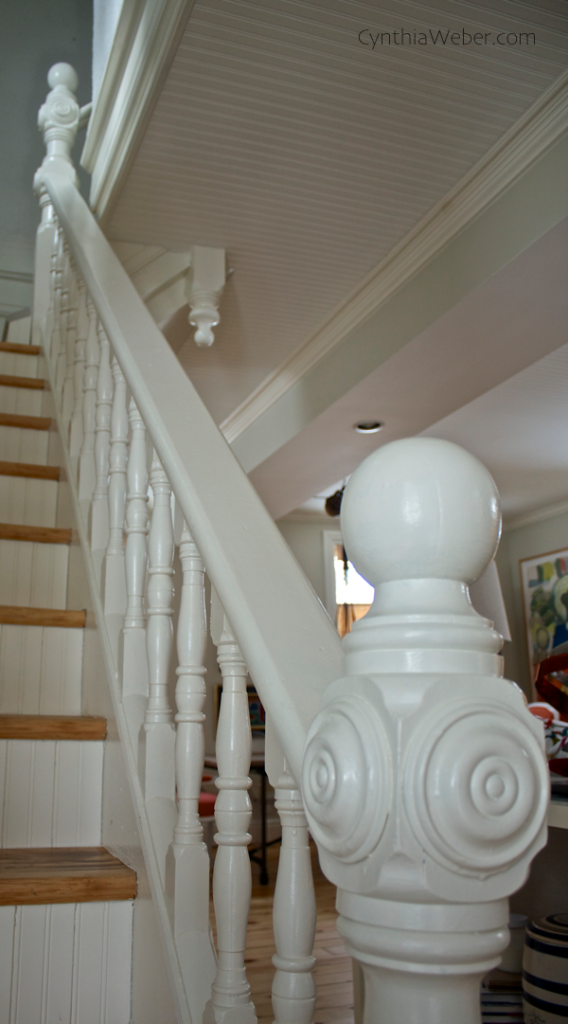 You can see how nice it is to have that trim colour repeated…
Isn't that old staircase wonderful!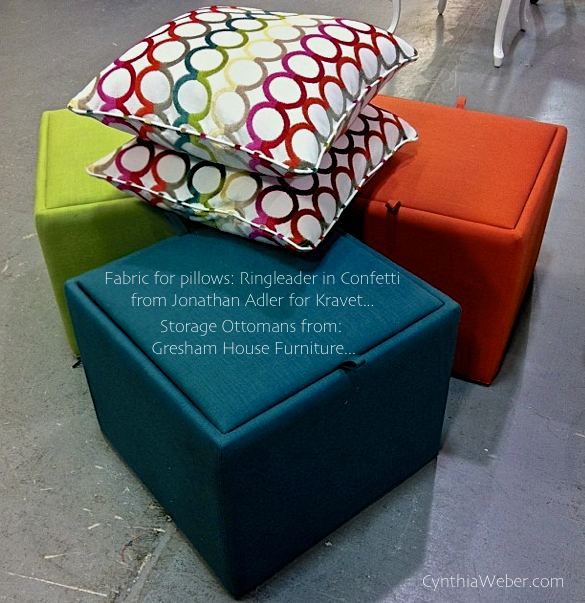 For extra storage I chose three ottomans from Gresham House Furniture.
They open up and are surprisingly big inside… Off season blankets, books or more albums can be hidden away yet easily accessed when needed.
This photo was sent to me by Marilyn Roberts at Gresham House… she couldn't wait for us to pick the pieces up and had to send me a preview!
I did an interview with Marilyn awhile back about the benefits of custom furniture, if you missed it you can read it here.
The fabric on those pillows is Ringleader: Confetti from the Johnathan Adler Collection for Kravet.
That fabric caught Jess's eye and we knew we wanted to use it in the space…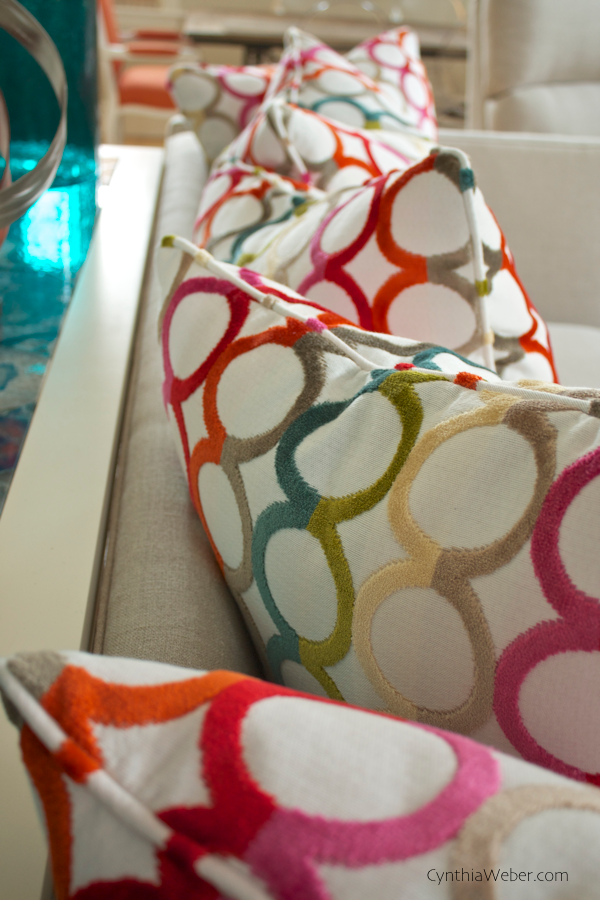 I decided a perfect pop of it would be on back cushions for the couch.
They look wonderful!
Since custom furniture is an investment I brought in extra fabric and had a set of cushion covers made in the basecloth of the couch…
That way if they want a more neutral backdrop at some point in the future the dyelot will match and the sofa will appear to have been designed that way from the beginning…
The couch BTW is another piece from Gresham House Furniture…
It has a very unique shape with the sides gently angling  out… I love it and have used it in several client projects.
Here is the photo from the Gresham Catalogue so you can see what it would look like plain…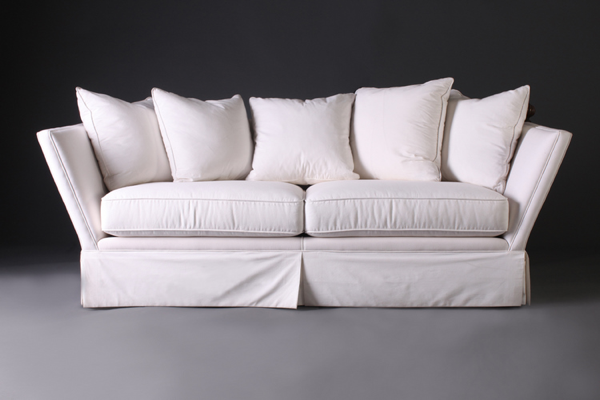 I am still looking for a rug for the living room…
I thought I had found a great one but the colours weren't quite right when it came in so it now has a new home in our family room!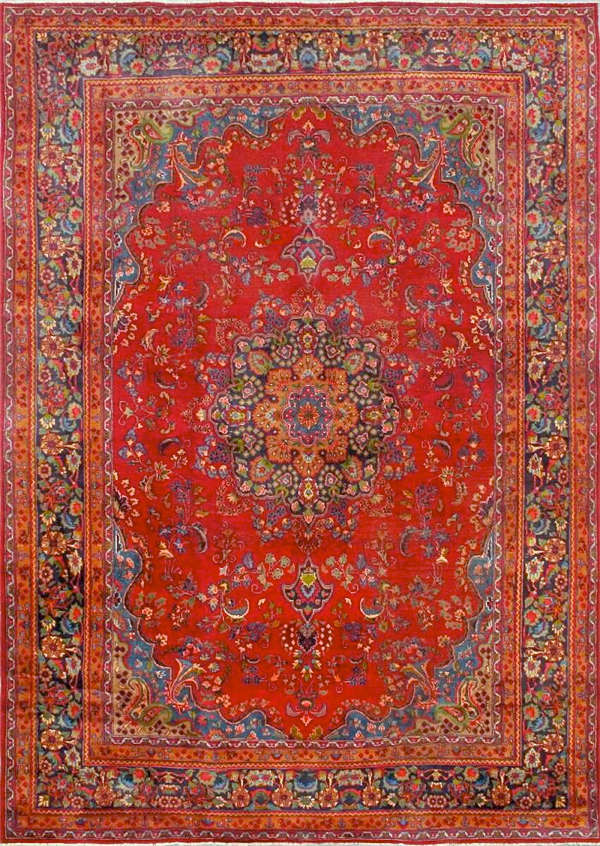 I will keep looking!
Now for the dining room…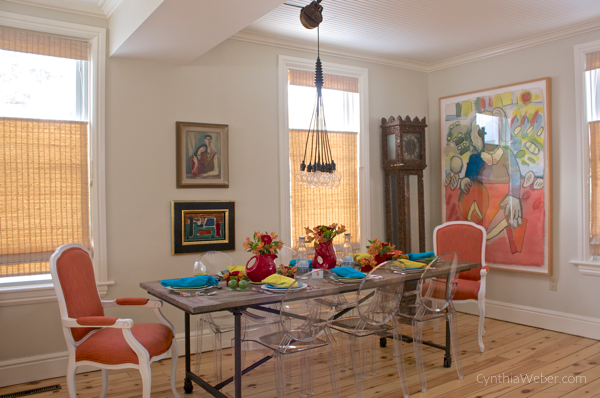 More colour comes in the form of these beautiful lead chairs again from Gresham House.
I love how they work with the painting.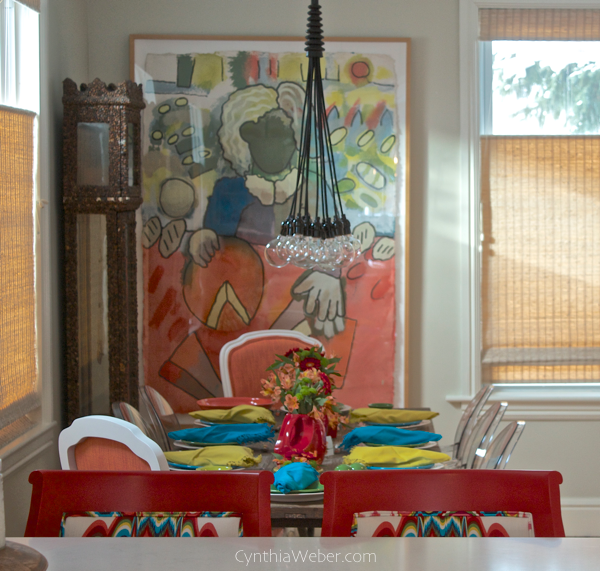 This view from the kitchen over the backs of the barstools makes me happy!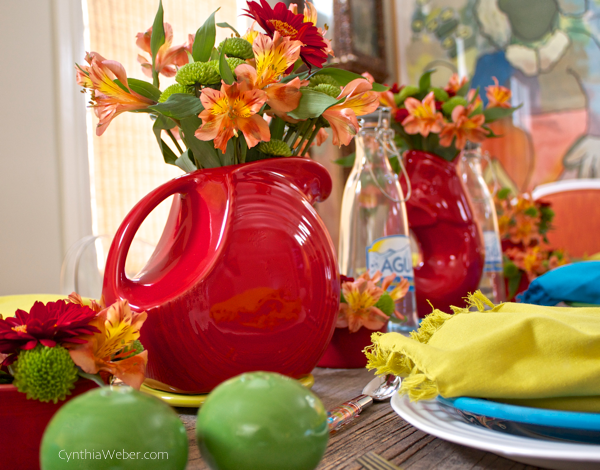 I wanted to show you how fun it could be to entertain in this cottage so I styled a little tablescape…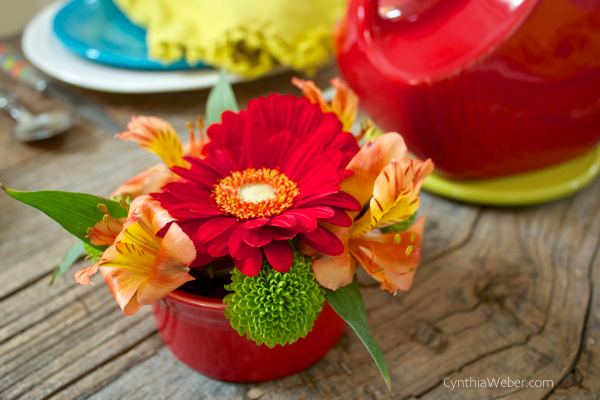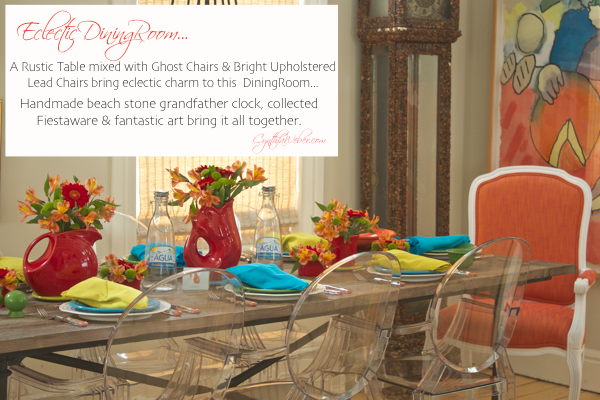 I have more to show but this post is becoming ridiculously long.
Stay tuned…
I am off to look for that rug!!!