I know…
I am sorry…
It has been awhile since I shared what is going on at the cottage…
It has been soooooo busy over there!
Yesterday for example was truly exciting…
THE CONCETTO BLUE AGATE WAS INSTALLED!!!!!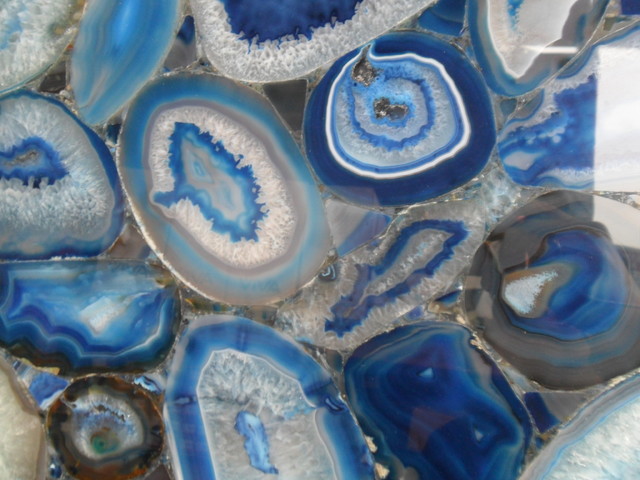 Happy dance!
I am holding off on that big reveal until the backsplash is in…
Trust Me… It will be worth the wait!
Let me just say that there is a small cut off of it sitting in our kitchen and I couldn't stop looking at it last night… It is mesmerizing!
OK, Now that I have your attention lets talk about Bathrooms…
Jess & Brad's cottage has a large master bedroom with vaulted ceilings and an ensuite bath…
The  bedroom is going through some changes as we speak…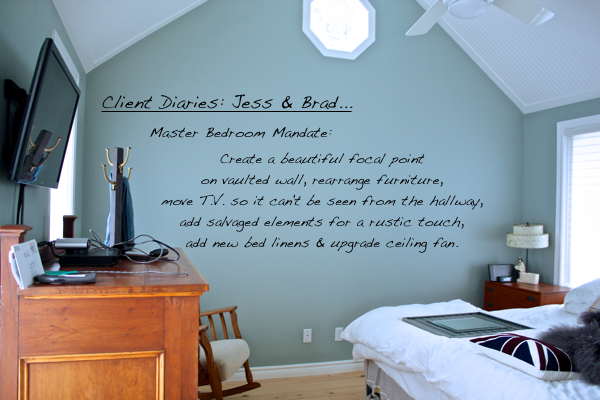 This photo was taken standing just inside the door to the bedroom.
On the right of where I am standing is the door to the ensuite…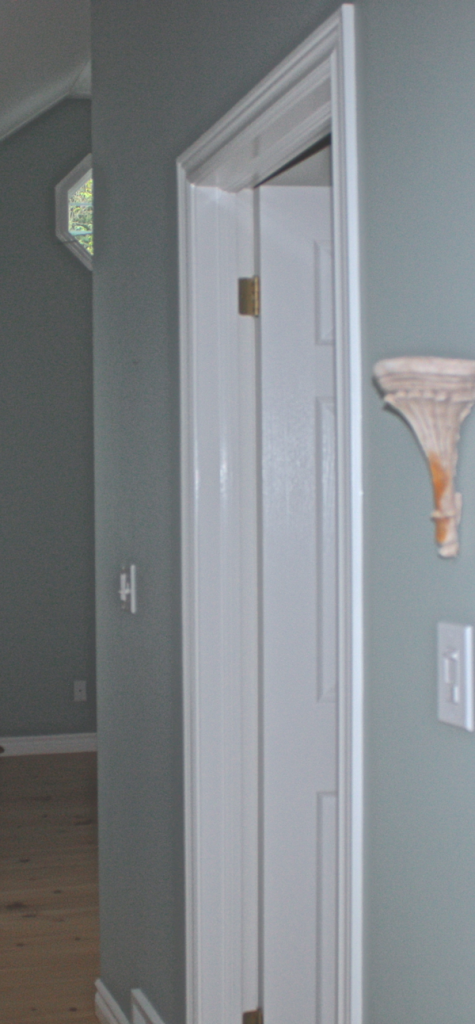 The bathroom is small and the door was taking up a huge amount of real estate in the space…
They also had previously removed a closet door in the bathroom because of the same space issue.
This got me thinking…
I have had a romance with the fantastic Barn Door Track Systems at Rustica Hardware for awhile…
Perhaps you see where this is going?!?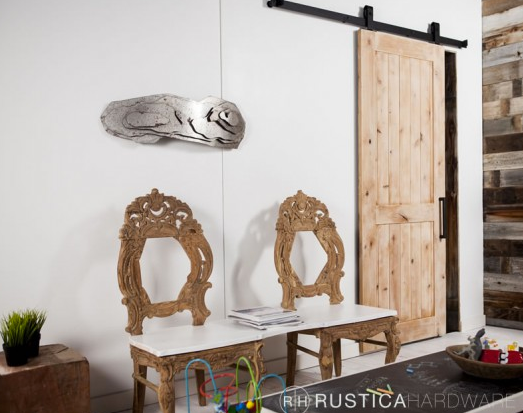 Jess & Brad had an antique door they got at a local auction…
It was just what they wanted to add some vintage charm to their bedroom so with it in mind I spent some time on the Rustica Hardware site and after drooling over all the options I picked this Top Mount Modern Industrial style.
The ordering process on their site is simple to follow and I love that they ship to Canada… sometimes this is not the case.
It was also easy to install…
We had it up within an hour or two.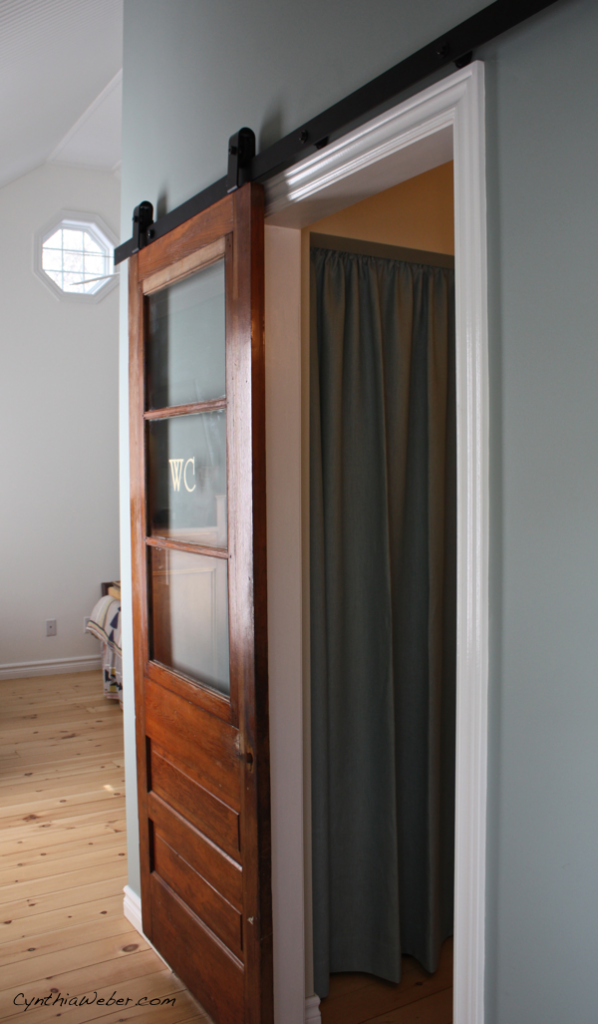 I think it looks wonderful! It is going to be perfect with the changes that are coming in the bedroom…
I also added WC to the middle pane of glass for a bit of fun.
Now lets see the inside of the bathroom…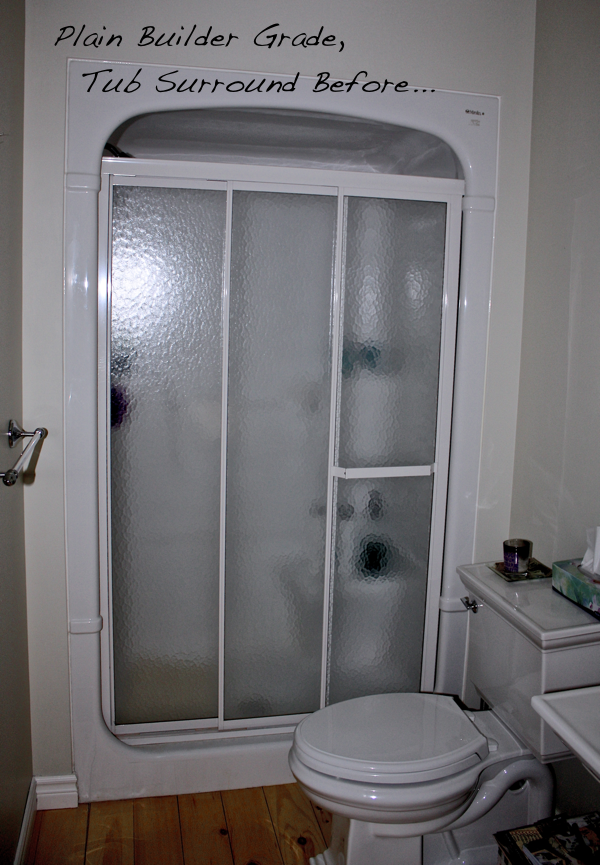 You can see from this photo that the acrylic tub surround was builder grade boring and for creative types like Jess & Brad…
Not interesting enough.
SO…
We had a chat and came up with a plan…
They both loved this mirror and wanted it to stay…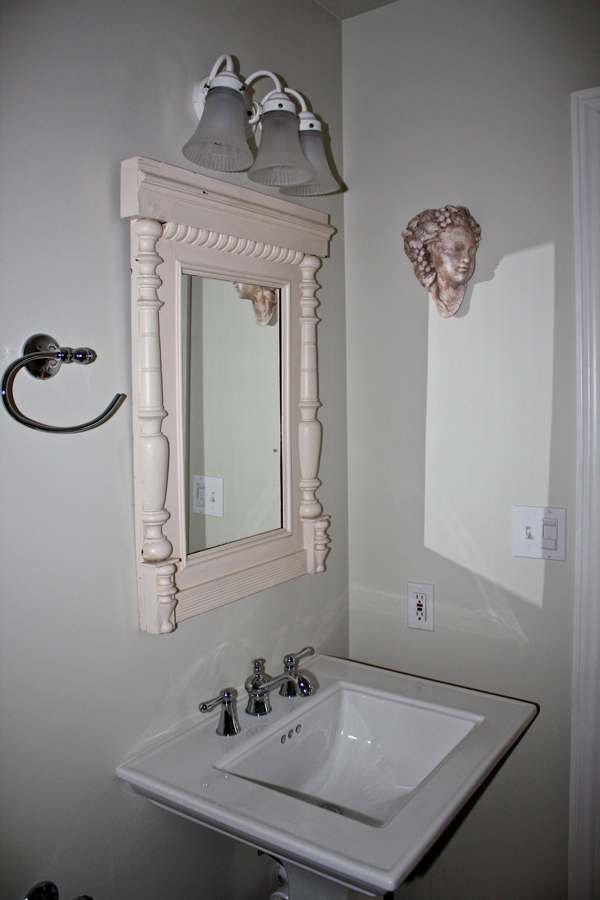 We decided to use it as inspiration and make a similar looking tub surround using salvaged trim…
We started by finding a backplate from an antique dresser in our massive hoard of salvaged architectural pieces… (I honestly don't know what we would do without a huge basement!)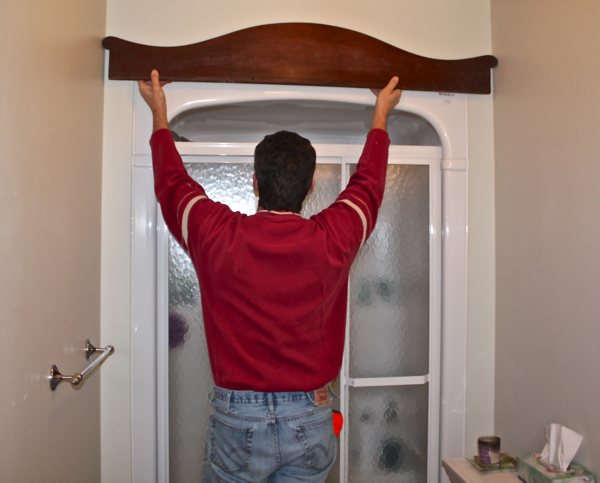 Then we started laying out other salvaged pieces to make a plan for the sides…

We decided to split four spindles to get eight sections, one side flat on each…
Corner blocks, a table leg split like the spindles and a decorative wood piece that looked like a bowling pin finished things off!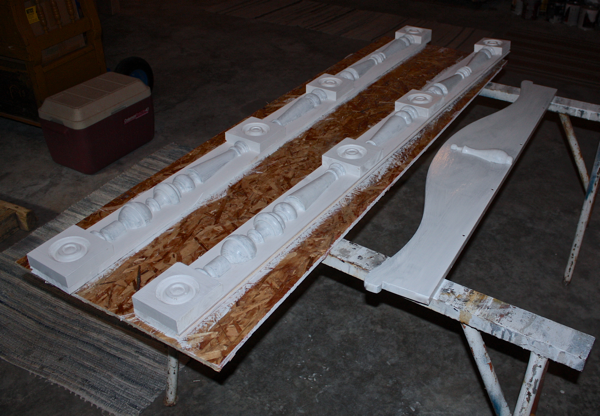 Once the side panels were assembled we primed and painted them.
Interested to see what it looks like?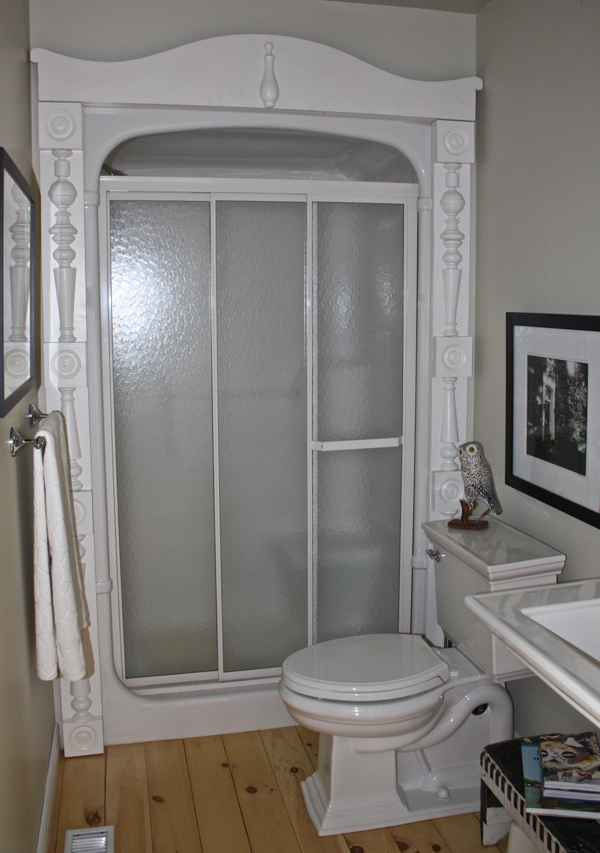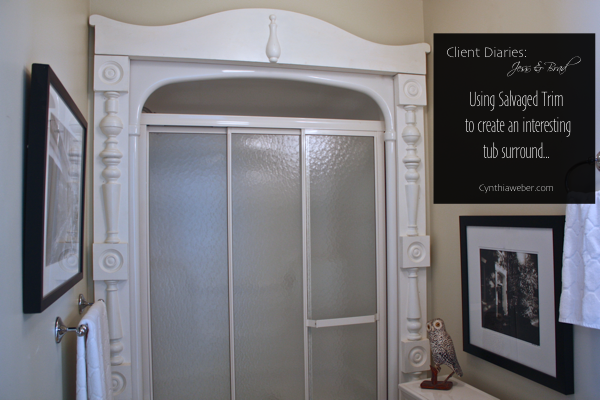 You Likey???
Believe it or not, I have about 20 min. before I need to get back to the cottage…
I told you there is a ton of work going on over there! But, I wanted to get this post up so you could see what we have been up to!
I do need to mention that the great team over at Rustica Hardware generously supplied us with the track system for this project but the opinions expressed in this post about their product are my own… Please see our disclosure policy for more about our policies.
I am sharing this project over at: That DIY Party, Party Junk,Inspiration Monday Party,