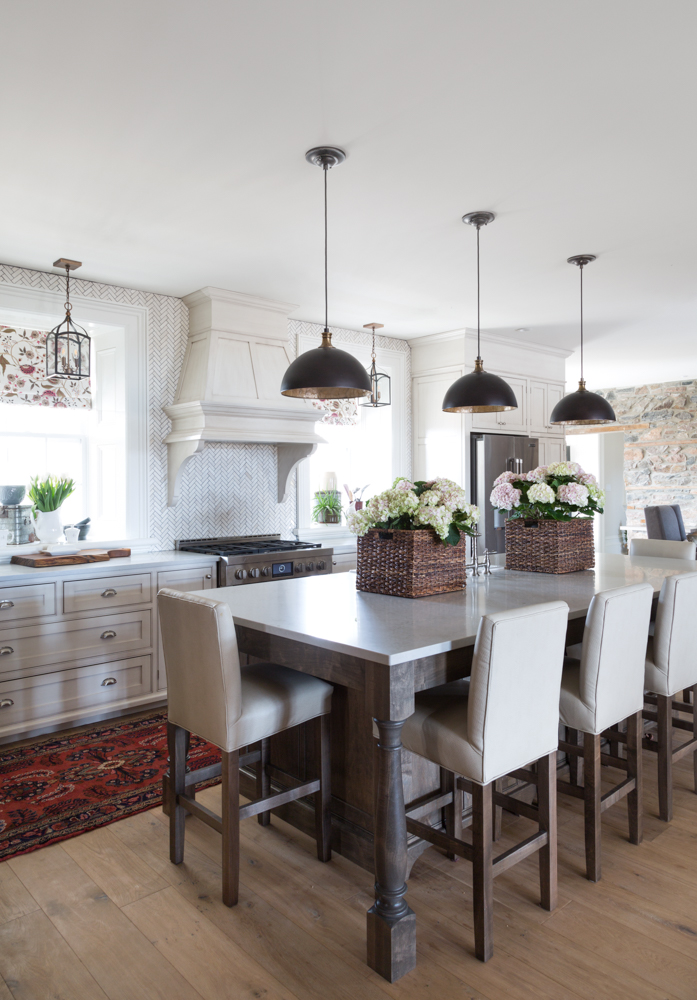 Historic restoration/renovation projects are very interesting to me from a creative standpoint. I love helping clients walk through the process from concept to completion. Achieving a result that maximizes the original features while updating the spaces to suit the needs of the family makes me very happy!
This Fieldstone Farm project was exactly that kind of successful marriage of old and new spaces. It will always have a special place in my heart as will the lovely family that lives here.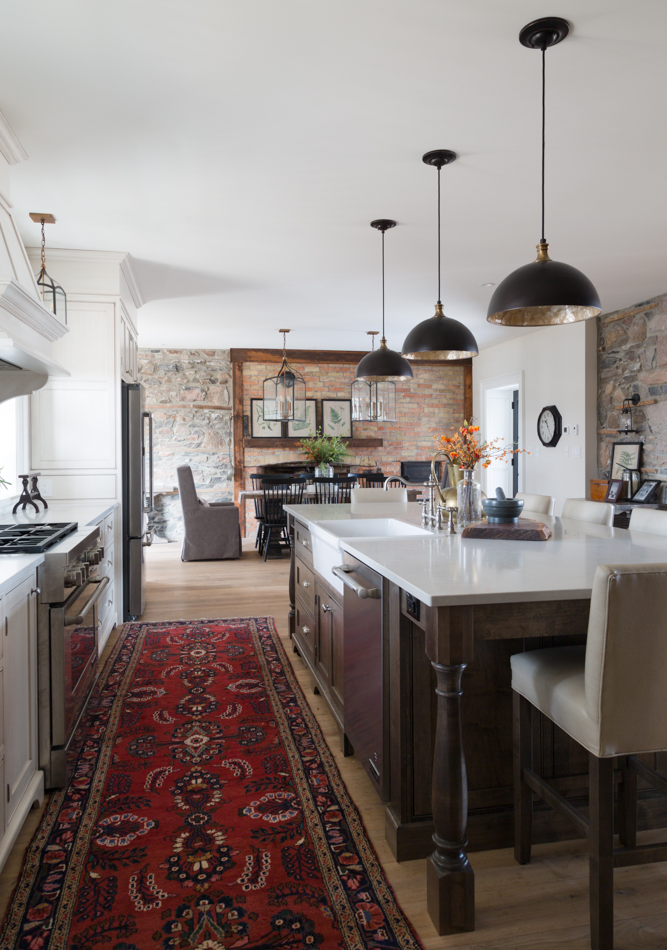 The brick wall with original fireplace and bread oven was kept intact. This archway was opened up in the original exterior stone wall allowing the addition of the large living room. With sweeping views throughout the open concept space we created an unexpected grandness not usually found in a stone home of this period. It has become a lovely space for this large family to make memories.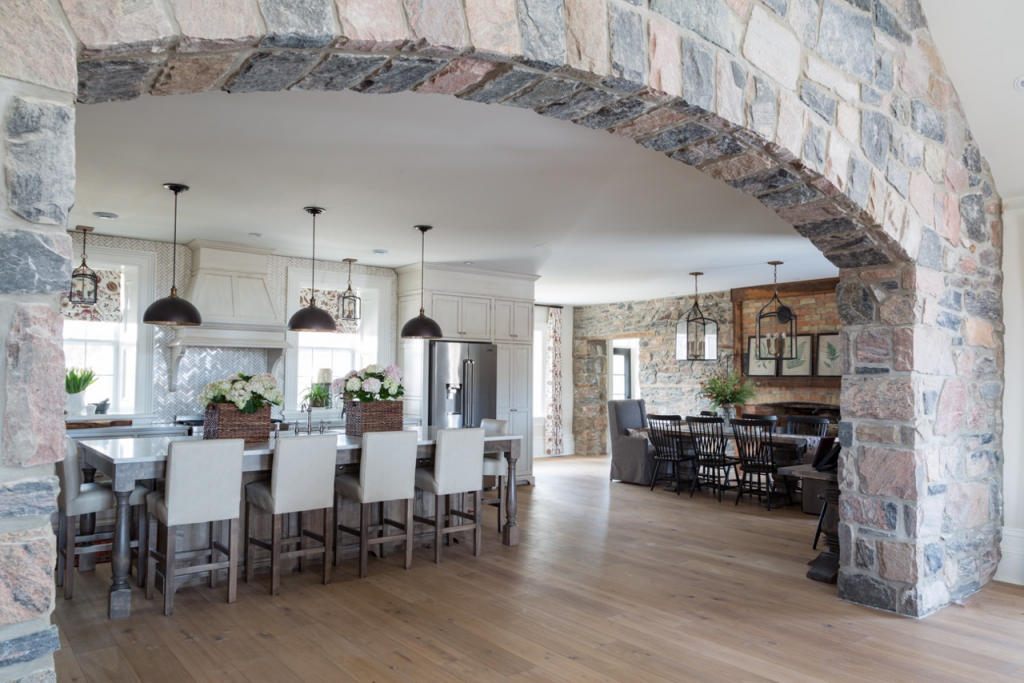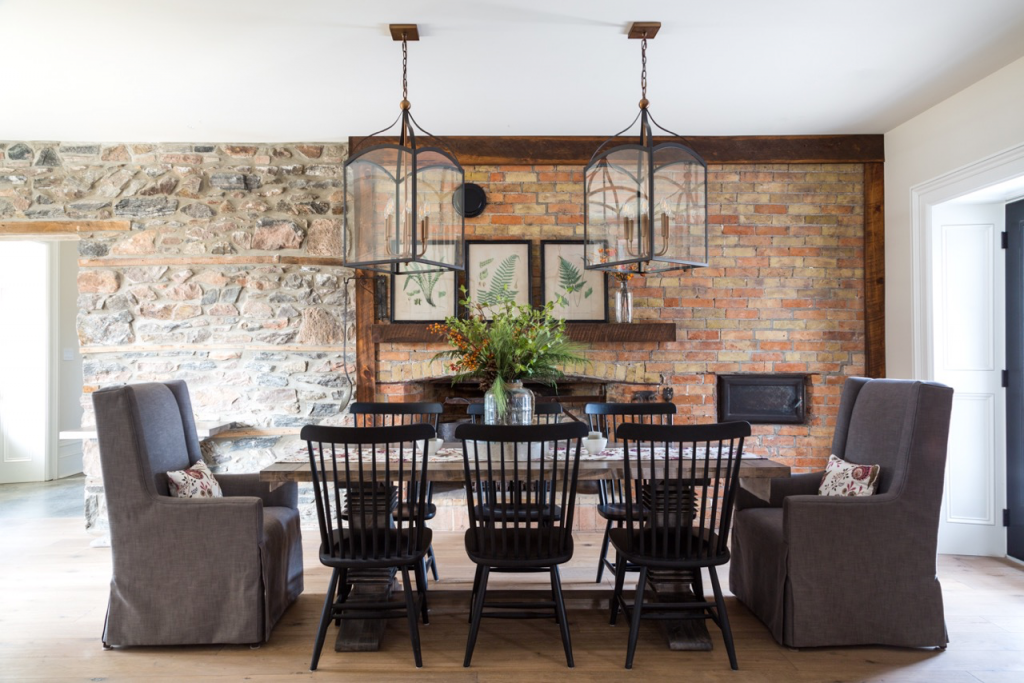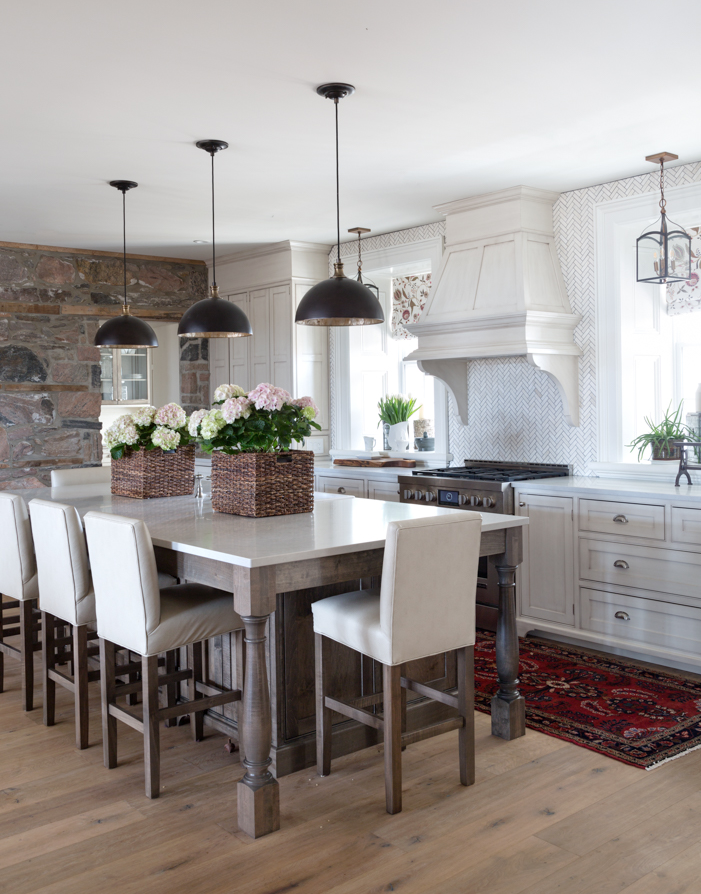 The pantry is through the stone doorway to the left. Fully functional with the exception of a second stove it acts as a second kitchen.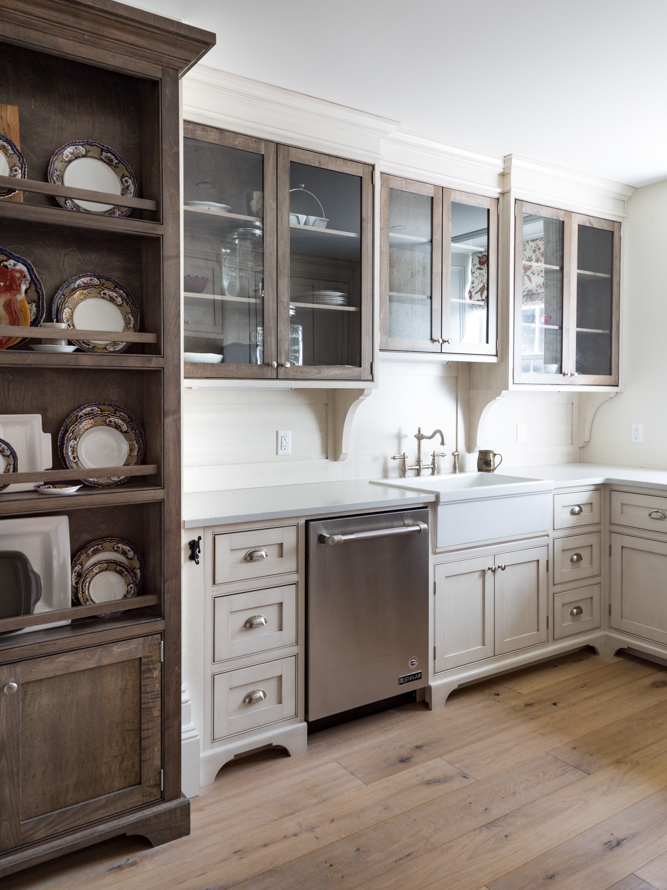 Cabinetry wraps around this side and continues around past the views of this photo. There is a fridge, microwave and much more storage on that side as well. Doors on upper cabinets were stained as the island and plate rack unit shown here. The marriage is a happy one connecting the kitchen with pantry visually and stylistically. Repitition of the sink and faucet also connects the space beautifully.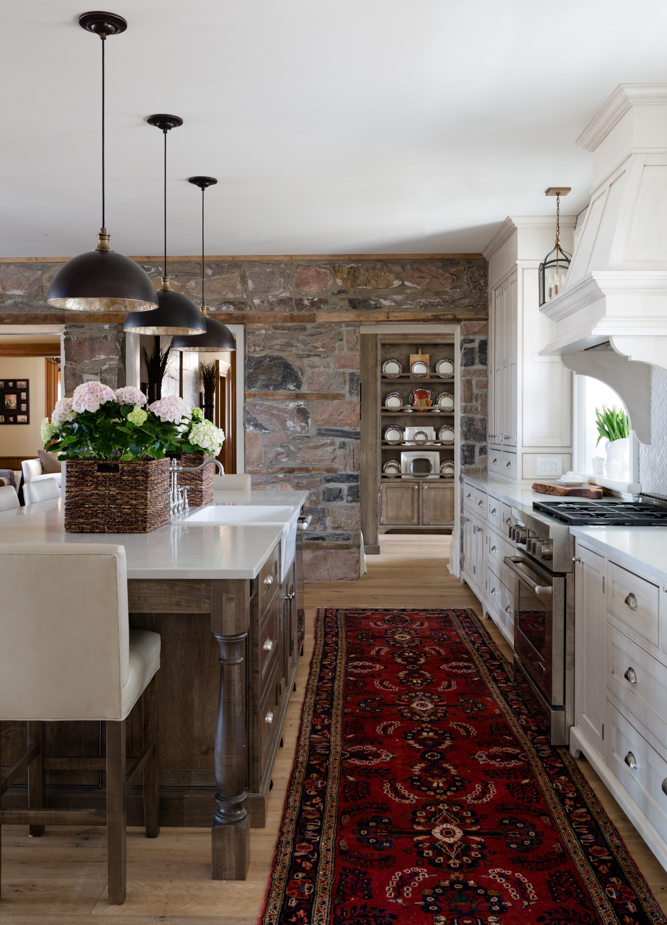 A long vintage runner brings texture and charm.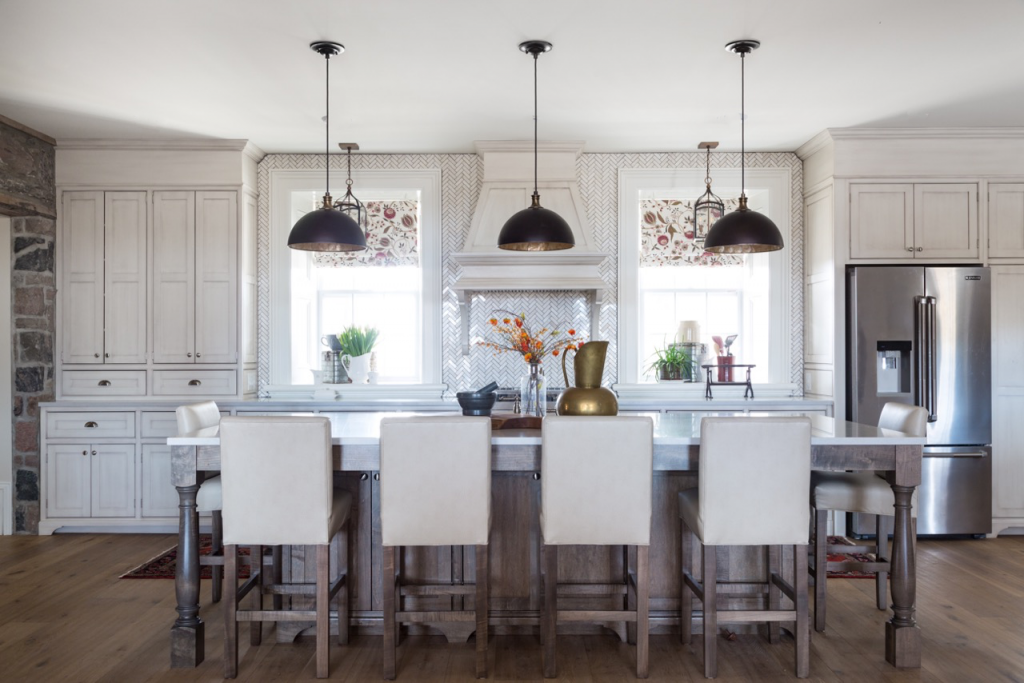 I maximized the storage on the back side of the island for seldom used items. It is a valuable space that added greatly to the needs of a busy family.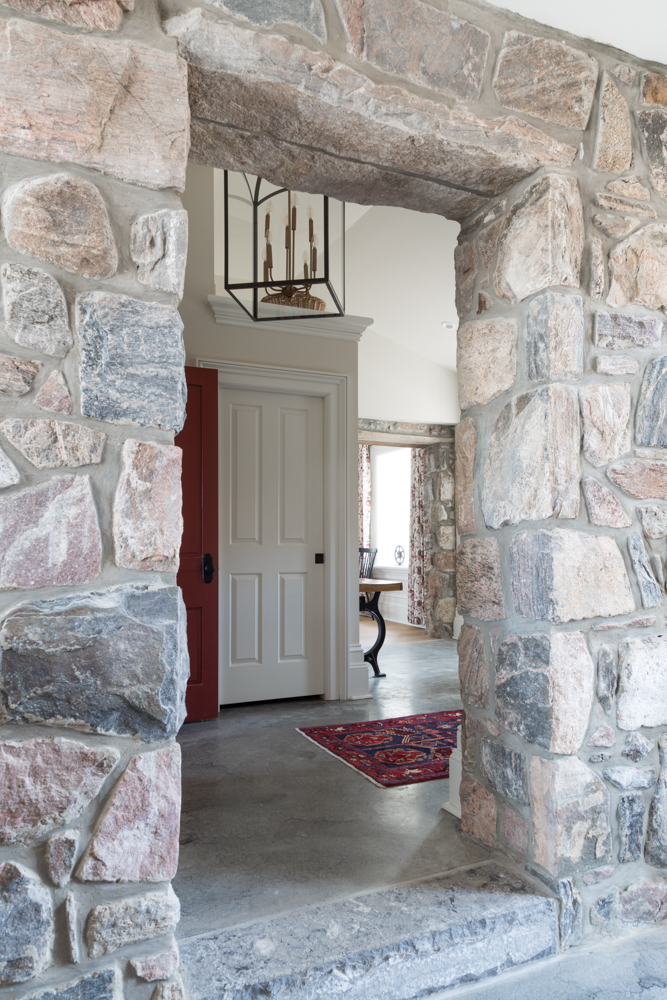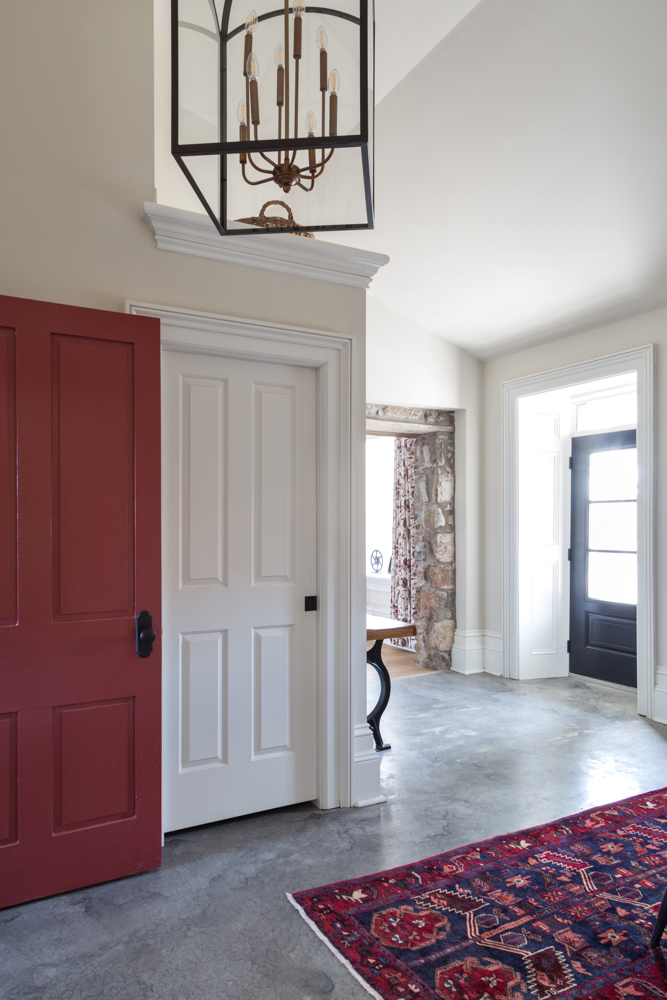 Concrete floors were done by the homeowner and I must say… I absolutely love them!!
Attention to detail such as replicating the original trim work repurposing an original door for use on the mudroom all marry old and new in ways that are not only pleasing they are a nod to the past and a door to the future…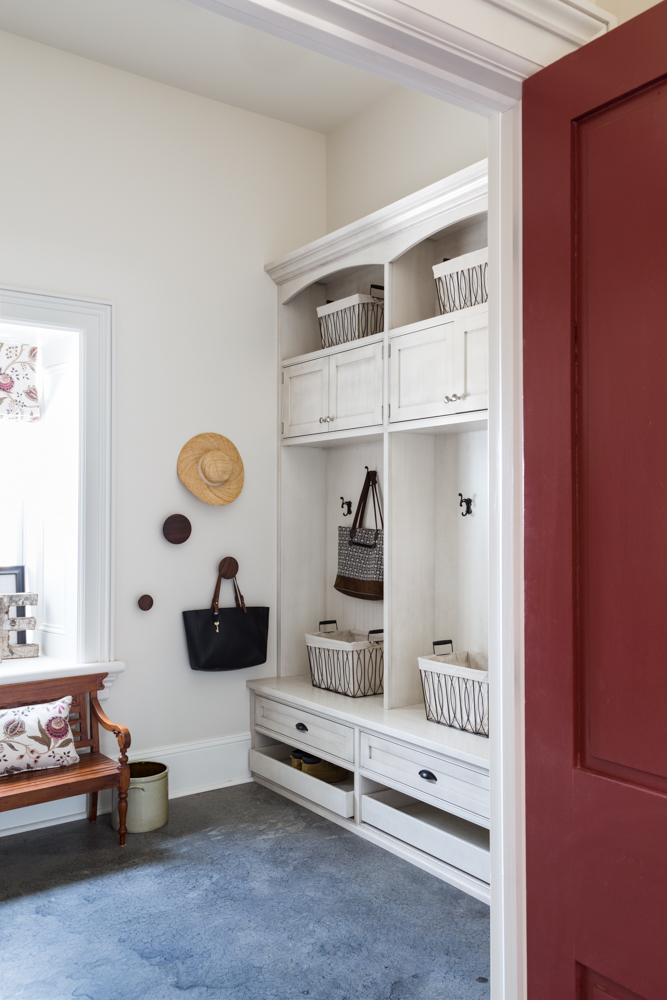 Busy families need organized spaces… I designed this mudroom with six cubbies. Each child and mom and dad have their own place. Pull out shoe drawers, hooks, baskets with washable liners and doors for storing things they don't want out bring tons of options.
Walnut buttons hung on the wall add charm, interest and the perfect place to set a hat or hang a lovely bag.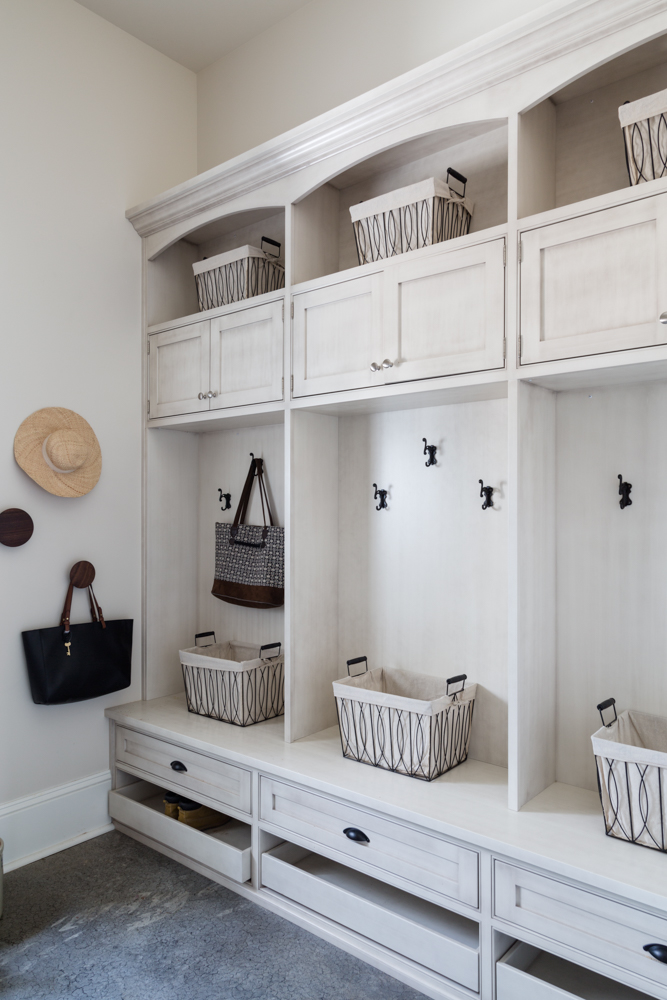 Here is a before photo of the clients kitchen. You can see the brick fireplace area to get your bearings on the space we started with.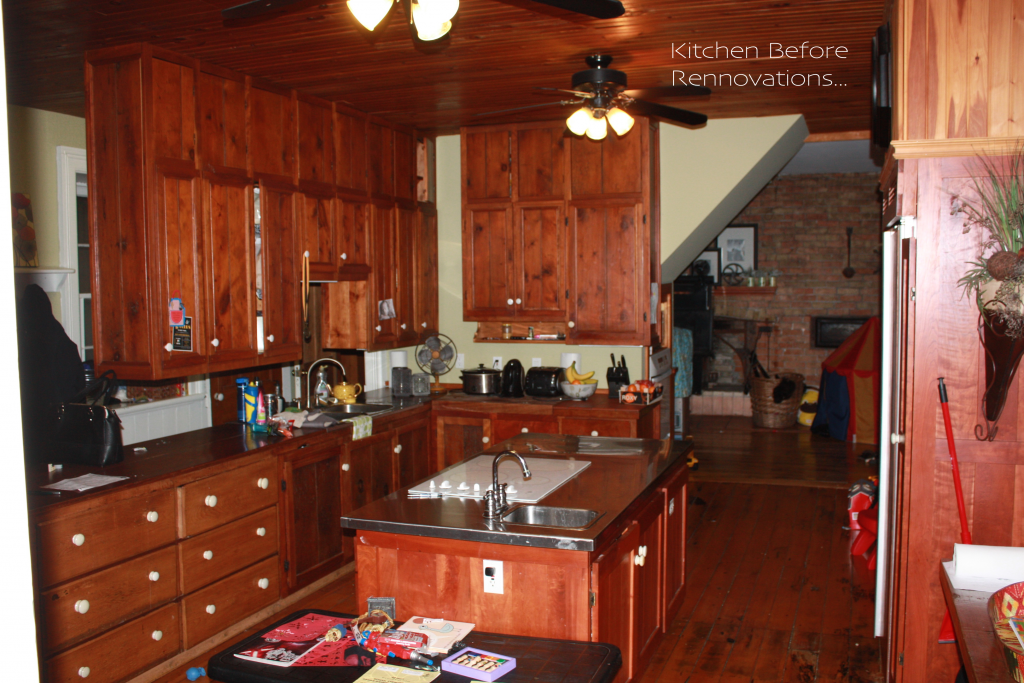 I think when undertaking a project such as this the importance of it can sometimes overwhelm people… This note from Christine speaks to that and I greatly appreciate her taking the time to write her thought about the process down so I could include it here on my website.
From Christine ( Mitchell, Ontario )
"I have been working with Cynthia for a couple years on a large fieldstone farmhouse renovation project.
This renovation project started when I was expecting my fourth child, working full time and my husband was entering his busy season at work. Needless to say, I needed help!
Cynthia was involved in all stages of our renovation process, from reviewing the design plans, choosing cabinetry, flooring, paint colours, window coverings… you name it!
My biggest concern when renovating one half of our old stone house, was that the house would feel like 'old house / new house'. Cynthia's attention to detail and incredible network of suppliers were invaluable.
For example, the gentleman who built our cabinetry (ordered through Cynthia's studio) does not have hydro, a phone or a car and did all the work by generator- how cool is that? I never would have found him, and he did an immaculate job of our cabinetry- and the quality and unique old-school style could never be achieved at a 'run of the mill' cabinet shop.
I have no hesitation in recommending Cynthia to anyone doing renovations or building a new home. I know Cynthia is quite capable of working with any style (modern, traditional, etc.)- but I know first-hand that she can knock the farmhouse style out of the park.
On a personal note- Cynthia and Kent have become like family and I will very much miss working with them. Though, I'm happy to report they still stop by from time to time when touring by our farm."
I also want to give the link to the amazing photographer Robin Stubbert who took all the photos with the exception of the before photo shown in this post.