When we moved to BannockBurn 1878 in the Fall of 2014 we had big plans… renovations began almost immediately and as happens with most projects of this magnitude… they expanded as we went along.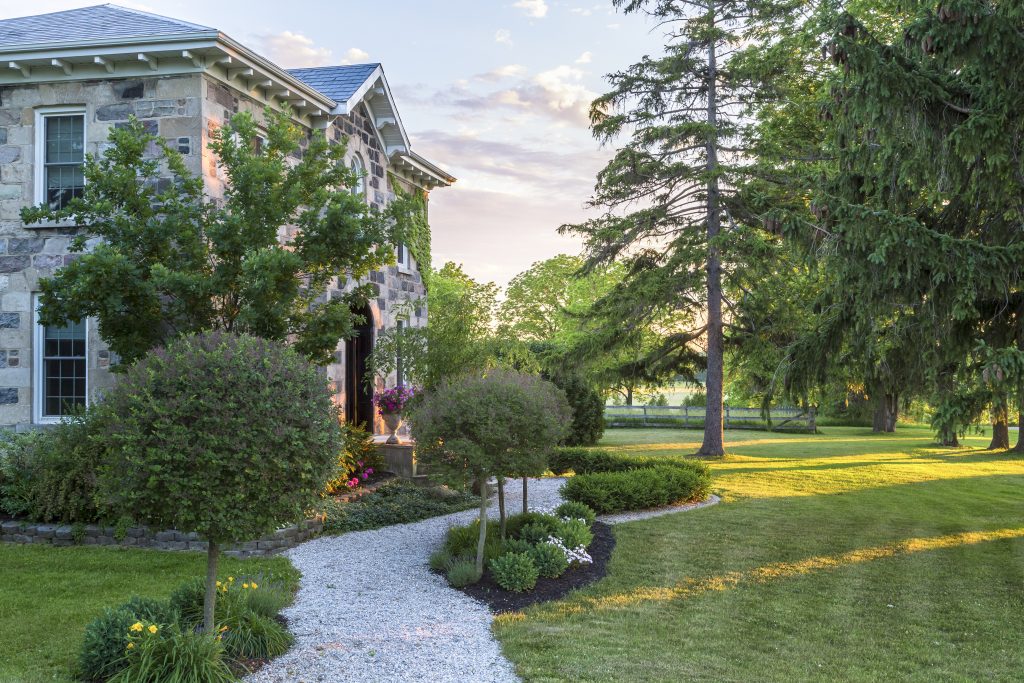 The main project was a new kitchen… but, before we could begin that we had to decide about flooring. With a centre hallway, maximizing flow was an important consideration and so we opted to remove all five kinds of flooring on the main level ( three kinds of tile and two kinds of hardwood… none of them original to the house) and start over.
I had already decided on black cabinetry with chrome hardware, a white farmhouse sink, black walnut butcher block counters and an inset blue agate island top. To balance and unify the space we chose white oak for the floors which we stained in place with a semitransparent warm white stain.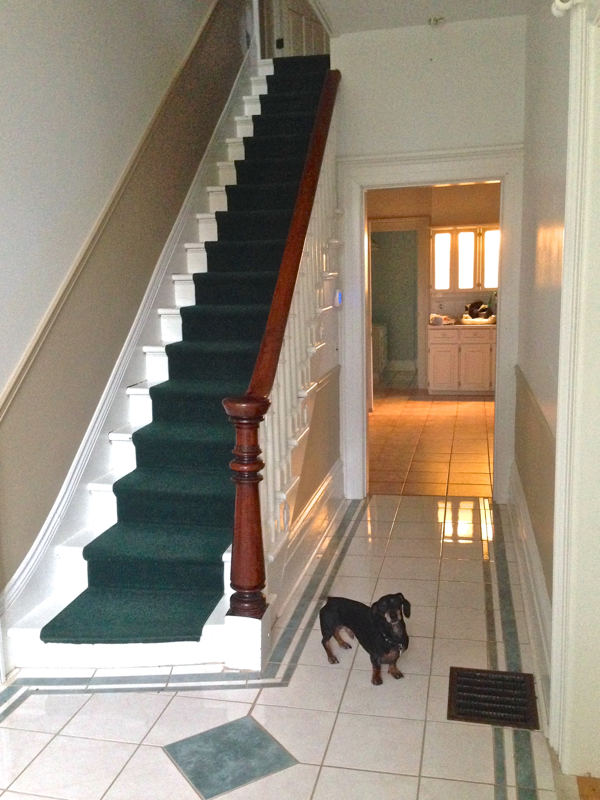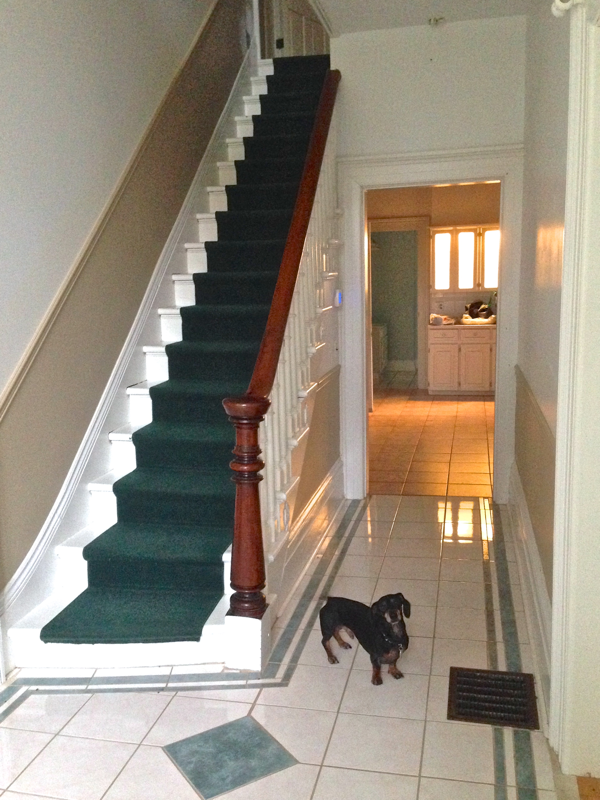 This photo was taken the day we moved in… you can see the three kinds of tile in the foyer, kitchen and bathroom off the kitchen. You can also see the transition to wood leading into the dining room. What this photo doesn't show is that the doorway was actually walled over. You could not get into that room from the foyer. Kent opened that access up within 24hrs of moving in which immediately opened things up visually.
If you have followed here for awhile you will know that in the initial renovation I chose to paint the foyer very light. We also repaired and repainted the staircase steps and spindles white. I knew I wanted to bring some interest to the stairs by adding a striped runner.
I chose to use a Dash and Albert pattern called Birmingham Black. It has a very bold line I love and the black and light tan combination is an absolute classic.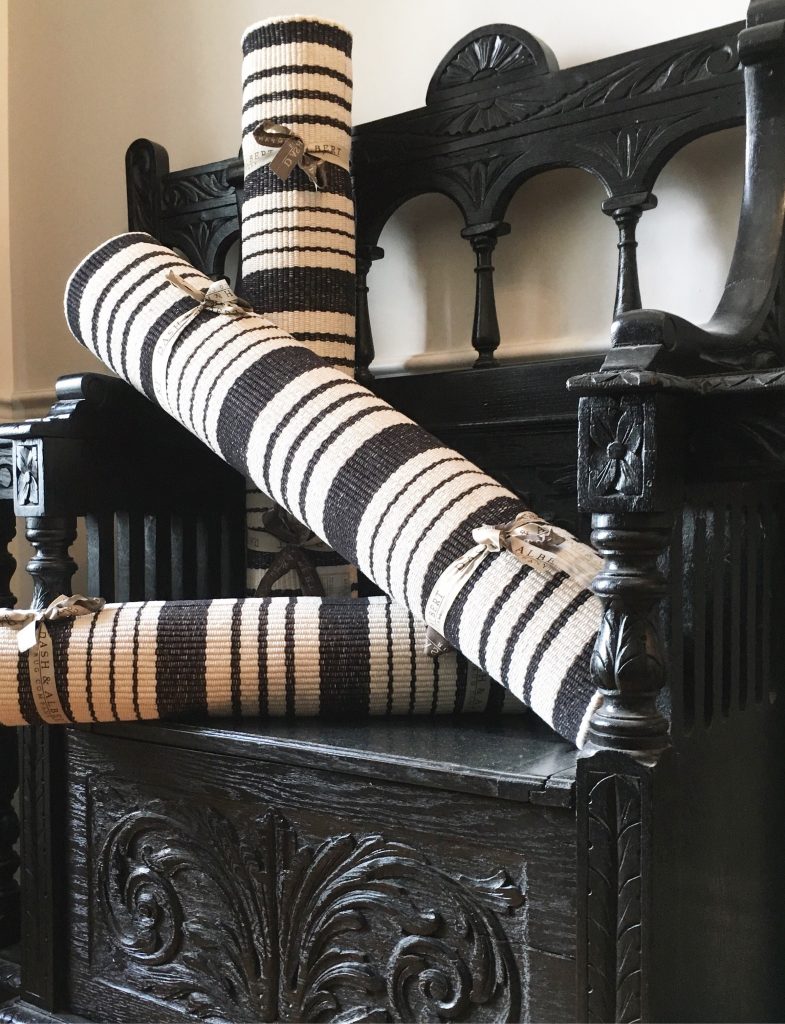 Now here is where I need to come clean… When it came time to lay the runners we were so tired from the renovation that we decided to lay them overtop of the old green runner. In hindsight I know this was a mistake. Taking the extra time to remove the old runner and add new underpad would have been well worth the effort.
So… let's jump ahead to 2019… Over the years that the runners were down they looked great and I still absolutely loved them but… with some spot cleaning I began to see colour leaching through from the old green runner. There was also some wear starting as the staircase gets extremely hard use. Lots of traffic both people and dogs.
I decided that I needed to replace them. Since I wanted to use the same pattern again but was craving a bit of drama in the foyer I began to contemplate how to achieve my goal.
Now don't panic… I know a lot of you loved the foyer already and I want to thank you for your beautiful compliments on it and the entire renovation featured in the various issues of Style at Home we were in. If you missed those features you can get a recap Here, Here and Here.
It was just a bit of punch I was craving… a few small changes that would add some weight to the staircase and marry it to the strong presence of the entryway.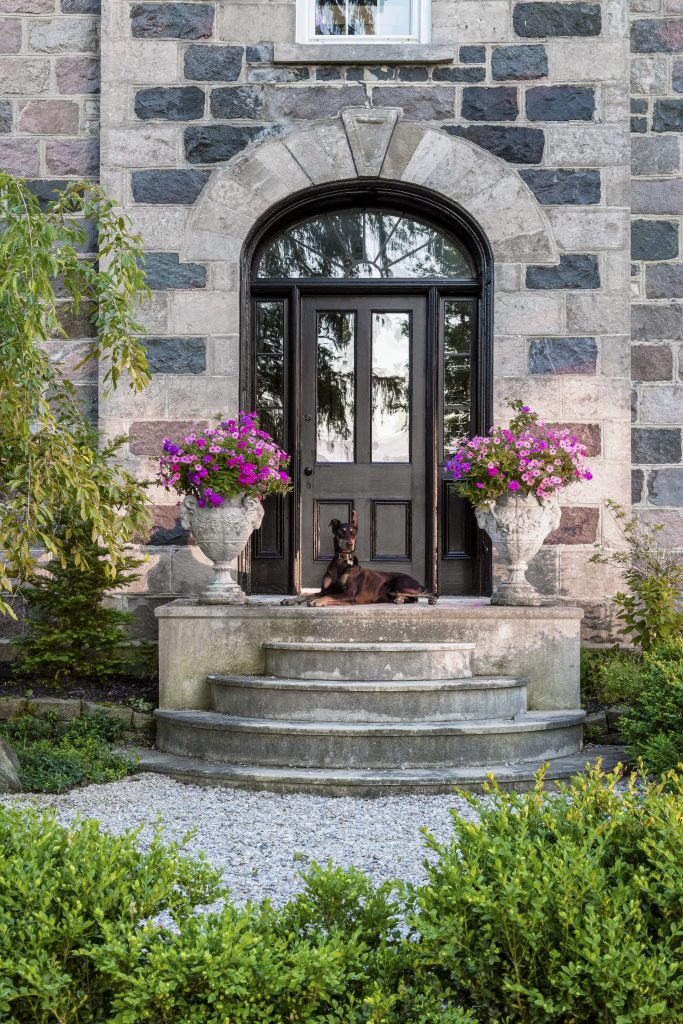 Well… you may have guessed what I chose to do.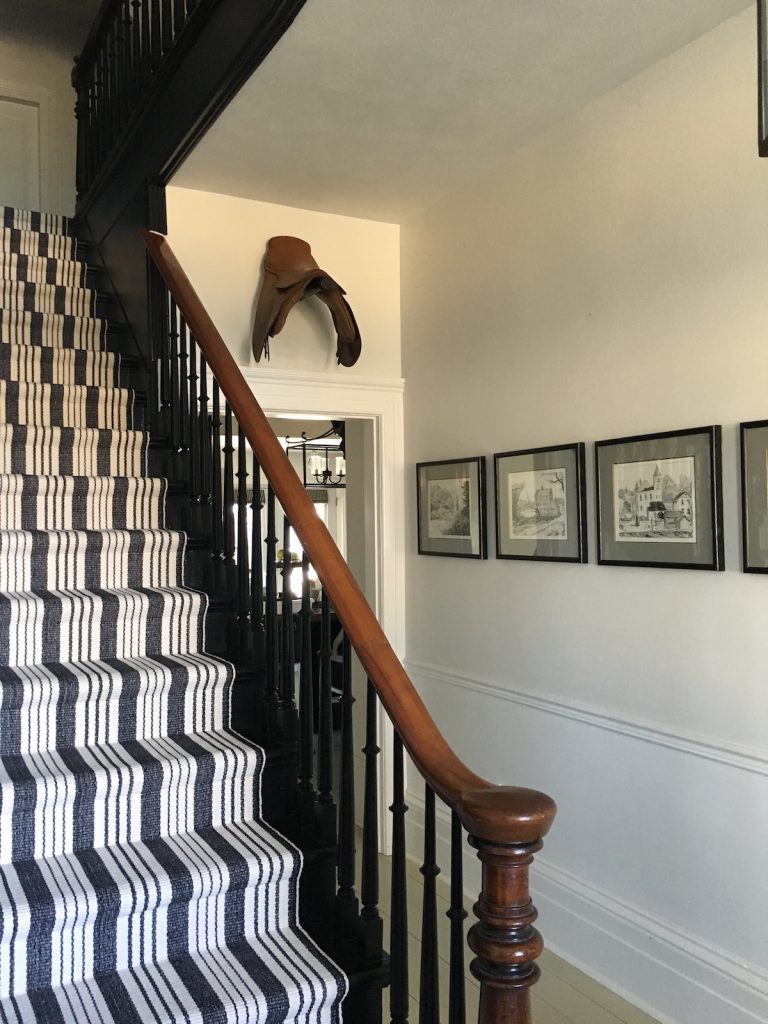 Yes, I did! I painted the staircase black. Not only does this bring the impact I was craving, it also defines the runner, grounds the entire staircase and draws your eye up the staircase showing off the gentle curve of the wrap around railing.
I am thrilled with how the black also enhances the colour of the cherry hand railing and newel post.
To repeat that black and tan combination I added a warm toned saddle hung on a black post above the doorway to the kitchen. It provides an unexpected element to the space. This is a trick I use often in client projects as well… a touch of whimsy or interest that has a subtle sub conscious repetition of some aspect of the design or the personalities/interests of the client.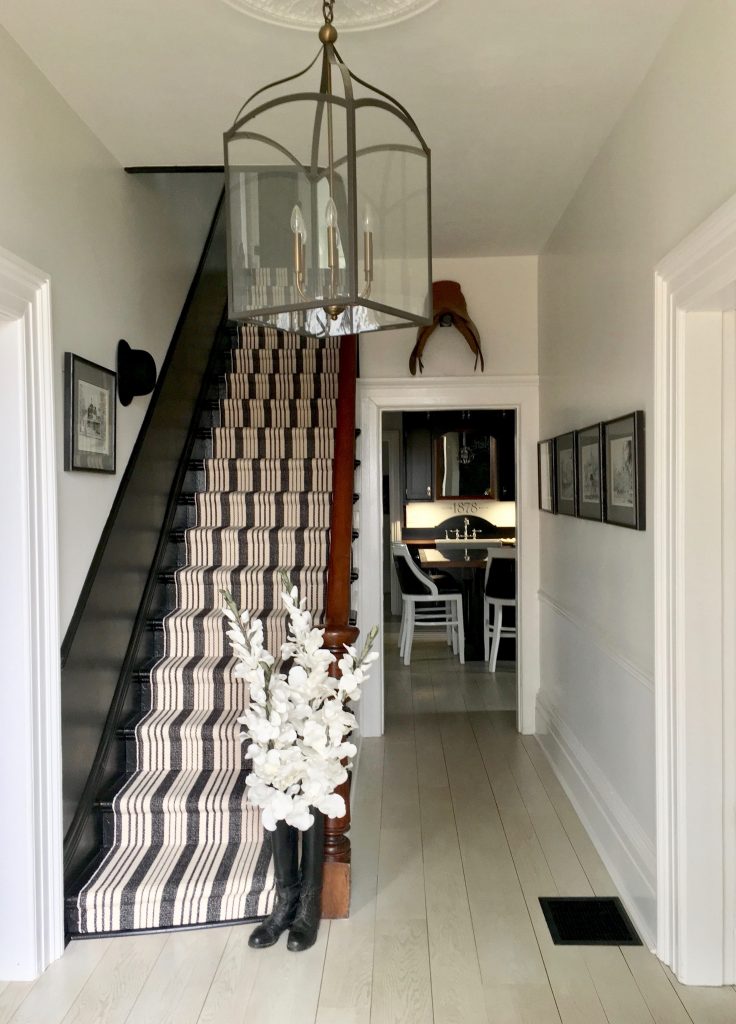 I learned from past experience and this time I completely removed any trace of the old green runner and used new underpad from Dash and Albert as well. The finished results were well worth the effort. Dash and Albert has a great tutorial on their website showing tips for installing runners on staircases. Here is the link… I think you will find it really helpful!
I also need to give a big thank you to our son Spencer who helped install the runners on our staircase. You are the best!!xoxo
Spring always brings a long list of things to do here… I'm excited to start thinking about the gardens again and I am also planning a few more updates for the house so stay tuned. You can follow all my exploits over on Instagram.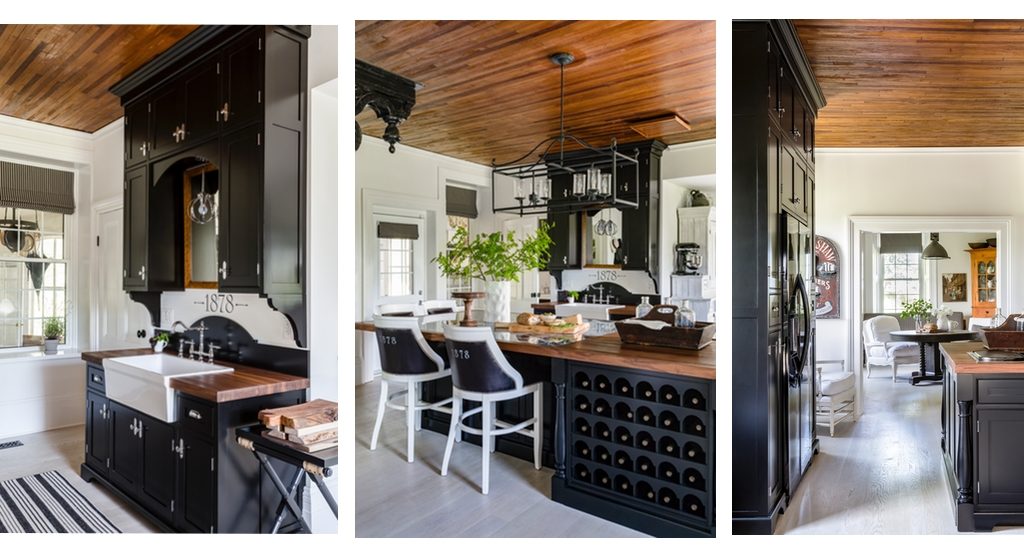 Here is the link If you would like to purchase Birmingham Black runners or rugs for your home. They have so many beautiful patterns be sure to browse their website to find the perfect one that suits your unique style!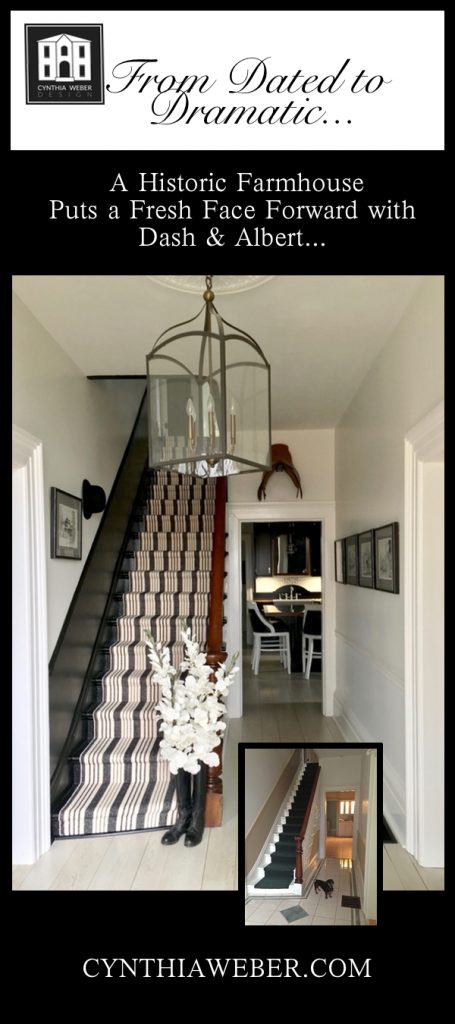 As always feel free to pin images to Pinterest. You can follow me over there at this link Cynthia Weber Design on Pinterest.
A big thank you to Annie Selke for providing me with the runners for this collaboration. All opinions expressed in this post are my own.
Along with the Birmingham Black runners here are a few of my current crush Annie Selke products… They all link directly to the items on the Annie Selke website… Happy Shopping!!