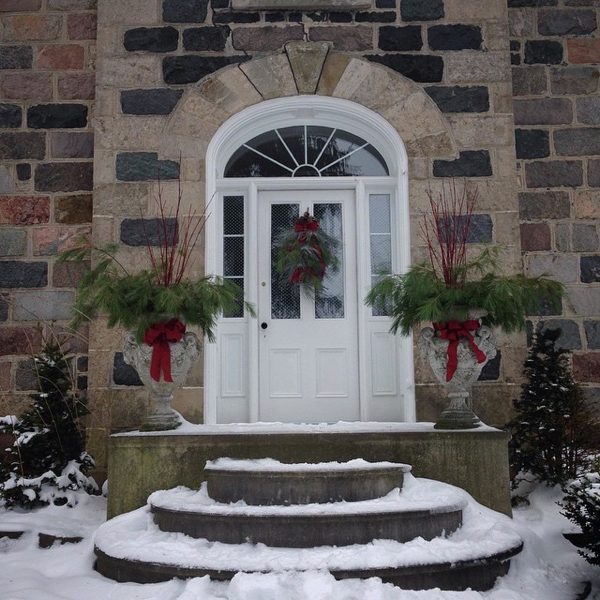 I remember when Spencer was a wee one he would count down the "sleeps" till Santa came…
He would get so excited…
He is coming home today to spend Christmas here with Kent and I.
It will be our first Christmas at BannockBurn. We are excited to start some new traditions as well as carry on some old ones here for the first time.
Emmitt is fascinated by the snow and loves to explore outside. He shivers and shakes but goes back for more… Then he likes to cuddle on my lap in front of what would have been the fireplace…
Note to self…
Reestablish chimney and put in wood insert.
Next Christmas there will be a fireplace!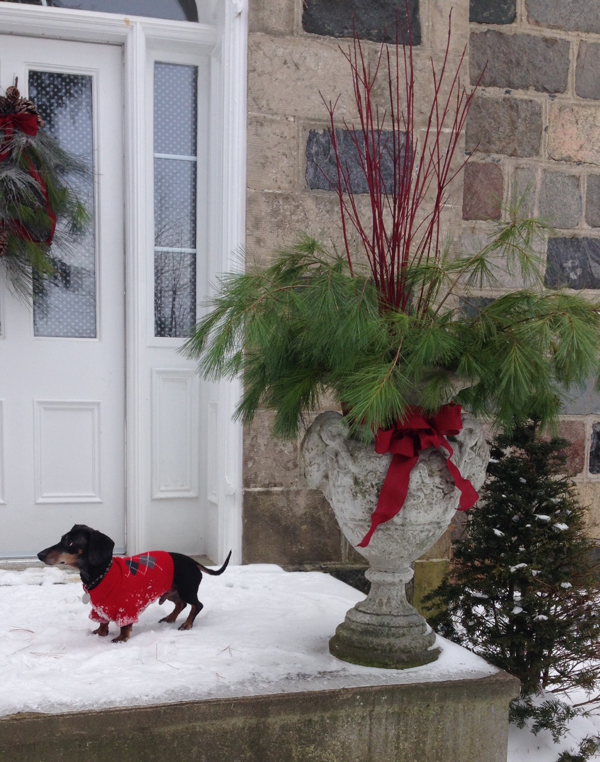 My parents and Kents mom will be coming tomorrow and staying overnight.
It will be wonderful to be together in the house for the first time.
We are trying something a bit different for the meal this year… Turkey with cranberry risotto!!
Hopefully it will be wonderful and we will find ourselves with full tummies and big smiling faces walking around the property… working some of it off and making room for all the amazing cheeses I bought!!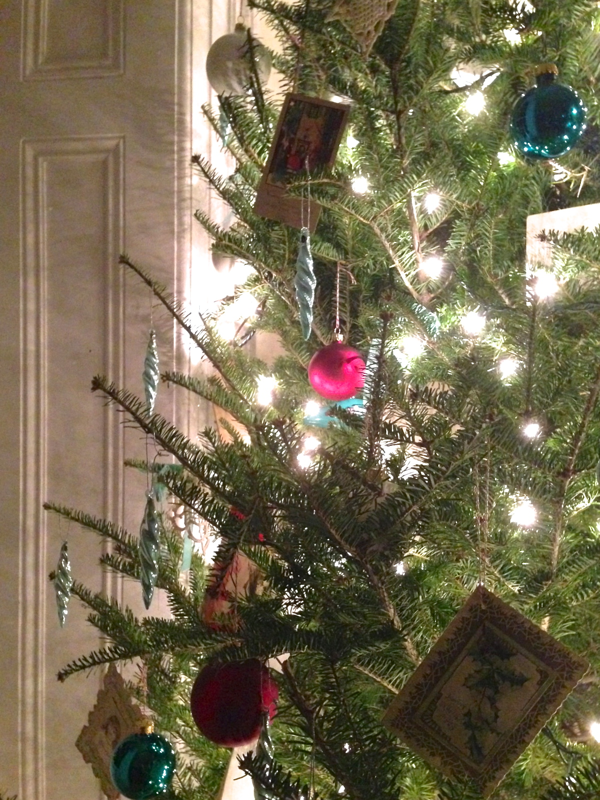 Kent and I have had a few days off this week and have spent our time hanging art, planning meals and wrapping gifts…
Oh, and we added some last minute holiday decorating…
I had thought I would keep things simple and just get the tree decorated but I had a spurt of energy and ended up doing more than I thought.
It was actually a lot of fun.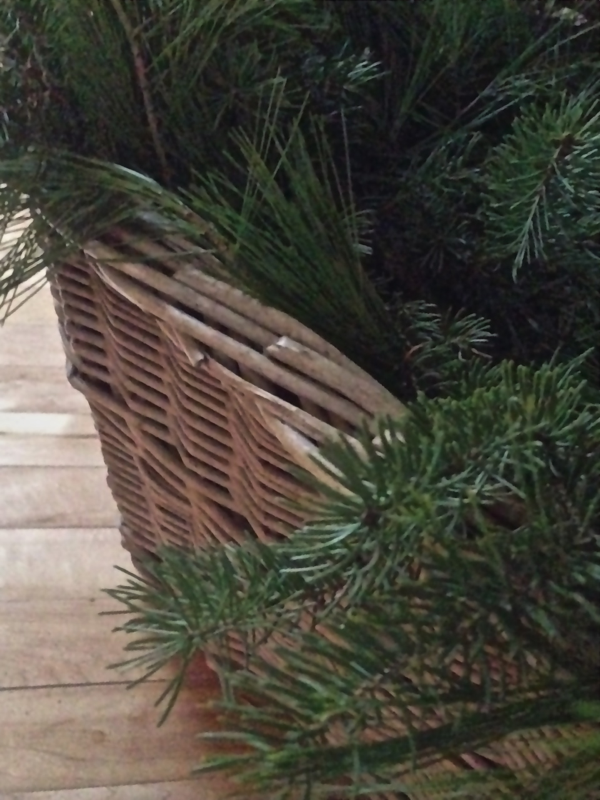 Simple greens harvested from our bush make lovely, fragrant displays strewn casually in vintage baskets… under tables or sideboards… or peeking out from the top of antique cupboards.
The tree is ten feet tall and smells wonderful… I haven't been able to get a photo of it lit up that does it justice… let's just say we have been enjoying sitting looking at it in the evenings. It fits the house!
I am sharing a photo in black and white because I just love how you can see all the architectural elements better.
The bowler hat as a tree topper is a tradition of ours born out of necessity many years ago. Now I can't imagine using anything else.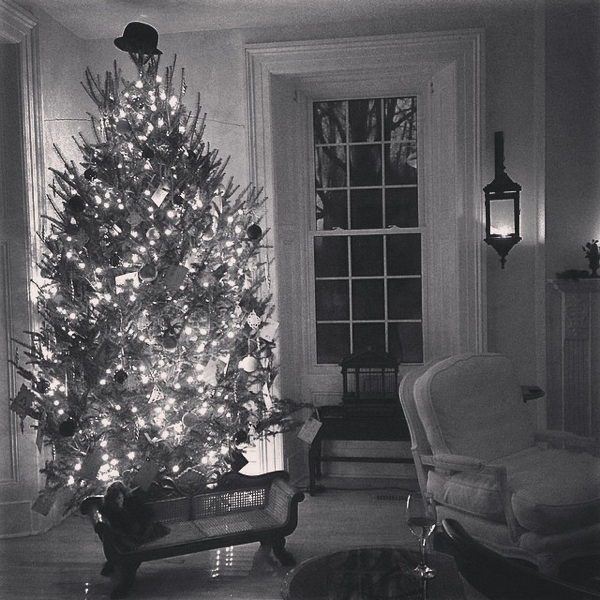 We are realizing that BannockBurn most likely hasn't seen a Christmas tree in quite a few years.
The former owner closed the house and went abroad for half the year so we are pleased to dress her for the holidays once more!!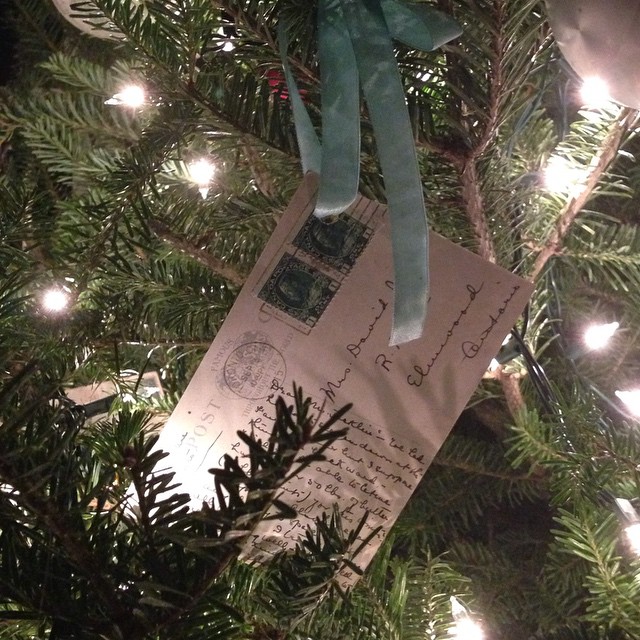 Vintage postcards tied  on the branches with ribbon make me smile.
You may find this amusing…
I posted this photo yesterday on FB and got a flurry of negative reactions…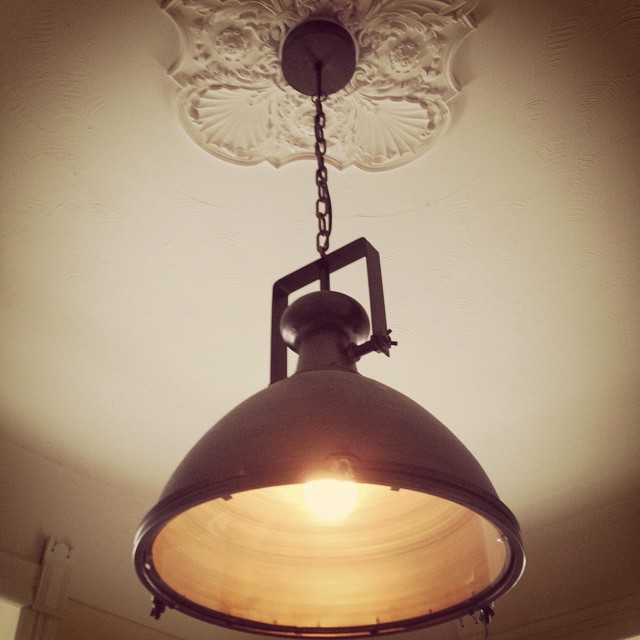 Kent and I think this fixture brings just enough tension and eclectic interest to the dining room… but, some people think the formal medallion can't marry with the industrial/nautical pendant.
Here is my two cents…
Chacun a son gout!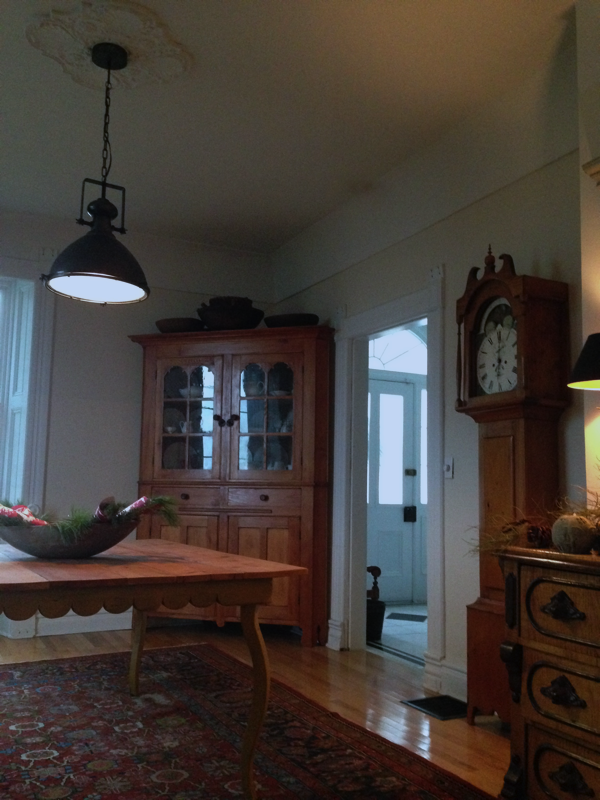 The mix of styles pleases me… in fact, I think it is necessary to balance the formal window trim & medallion with our rustic Waterloo county pine pieces, faded rug and chippy crockery.
You may notice we don't have chairs… it's the old story of the shoemakers children having no shoes… well this decorators dining room currently has no chairs!
Baby steps!
Rome wasn't built in a day and BannockBurn won't be decorated in one either!
Today the house if filled with the scent of apple cake we will be having tomorrow…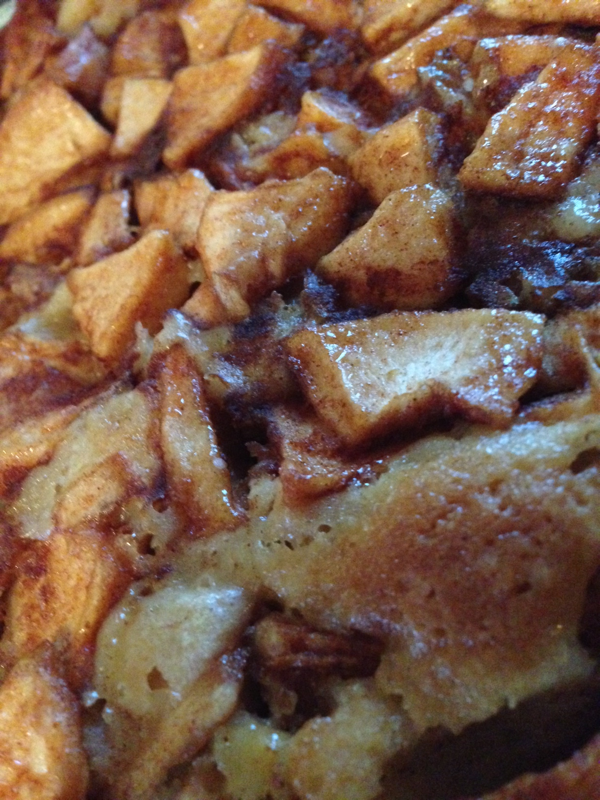 I think it will be a big hit.
If you are reading this dad… you are welcome and I love you!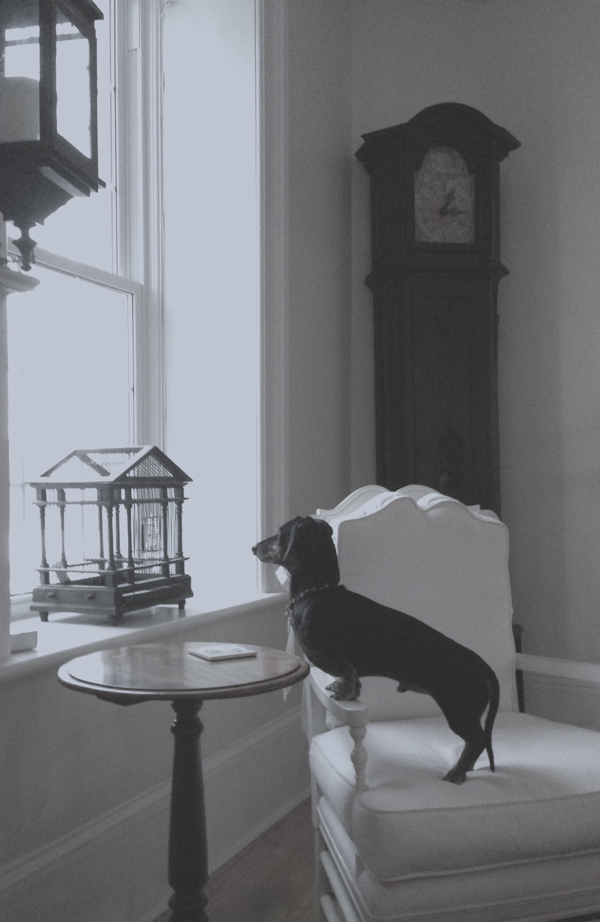 Emmitt is on Santa lookout. This Gresham house chair has become his favourite perch lately with its great view out the window at the squirrels… Santa watch and squirrel watch have similar stances it seems.
That is what has been going on here this week!
Wishing you and your family the happiest of holiday seasons filled with family, laughter and the joy of being together…