Can't you just hear them?
The jingling bells of Santa's sleigh?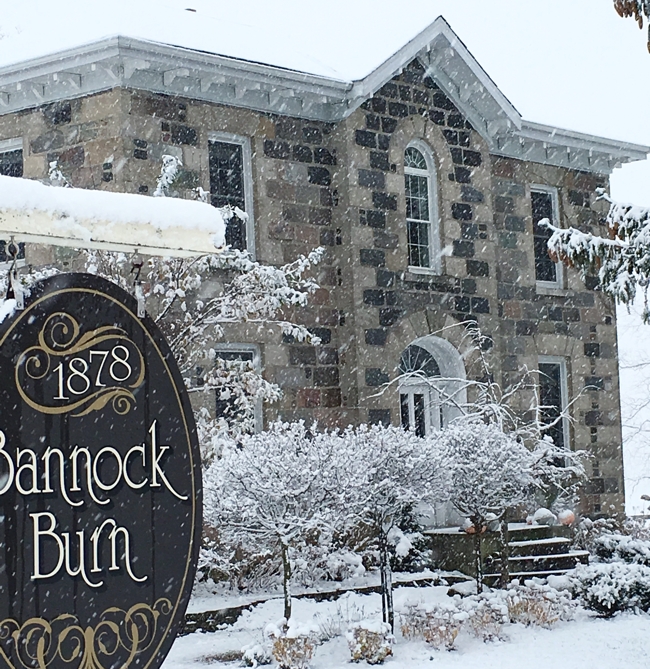 I wanted to get you in the Christmas spirit for this post about my holiday decorating and I wish I could tell you that it looked like this today but we are actually having a freak warm snap and there isn't any snow at all right now!
A few weeks back we were blasted with an early snowstorm. You can see the pumpkins still sitting on my front steps.
But lets not dwell on the snow or lack there of… we have much more festive things to contemplate!
I am delighted to be joining the fabulous
bHome bloggers for a Christmas Tour today.
There is even a wonderful giveaway from D. Lawless Hardware so be sure to get the info on how to enter at the end of this post.
OK…
Let's get started!
Today I am sharing the foyer…
If you are familiar with my blog you will know we have just finished a major renovation/ restoration here at BannockBurn 1878.
The last months have been messy, hectic and absolutely wonderful! I have loved the process bringing this grand dame of a house back into shape!
If you are new here and curious about the renovations…
You can see my post on the new kitchen here.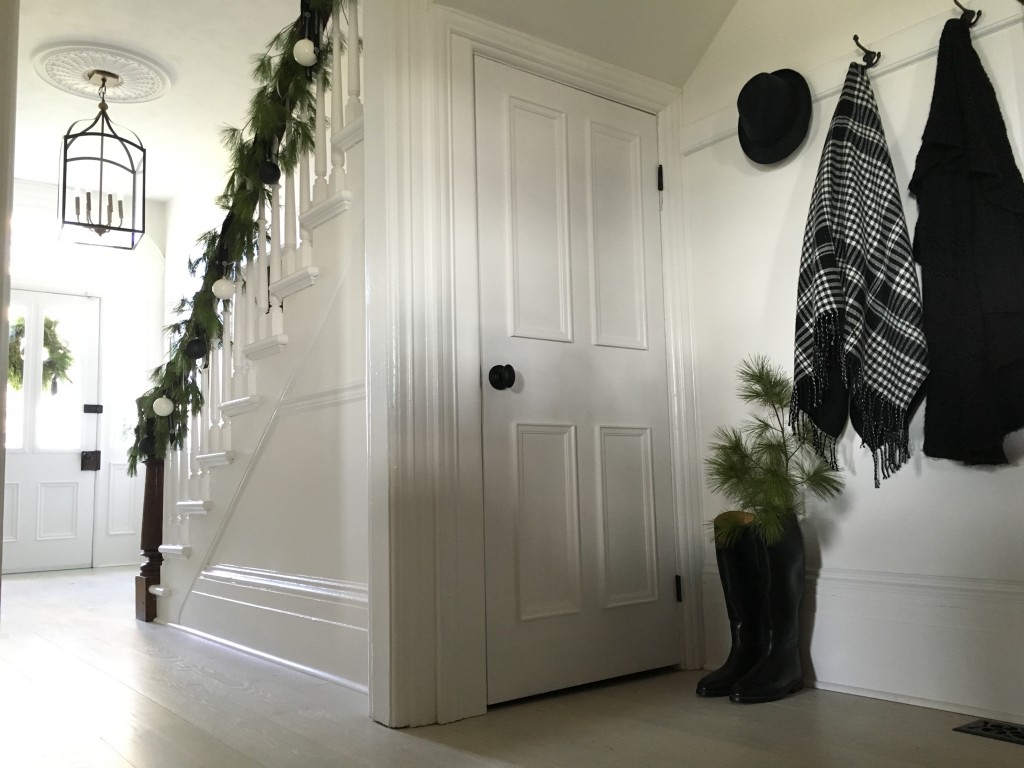 I  wanted to keep my holiday decor in the foyer simple this year.
Boughs cut from the bush…
Plain black and white balls, ribbon and these simple ornaments with the house on them.
There is actually a funny story about those…
Well, I should rephrase that…
I have decided it is a funny story now. I wasn't chuckling at first blush as they say…
You see I designed cute drinks coasters, I thought they would be a fun thing to have around for the holidays.
They had the house in the middle and they said "Eat, Drink & Relax at BannockBurn 1878…"
Fun idea right!
Unfortunately, they came damaged and with the text to fuzzy to read so I cut them down and made ornaments for the garland and tree with them!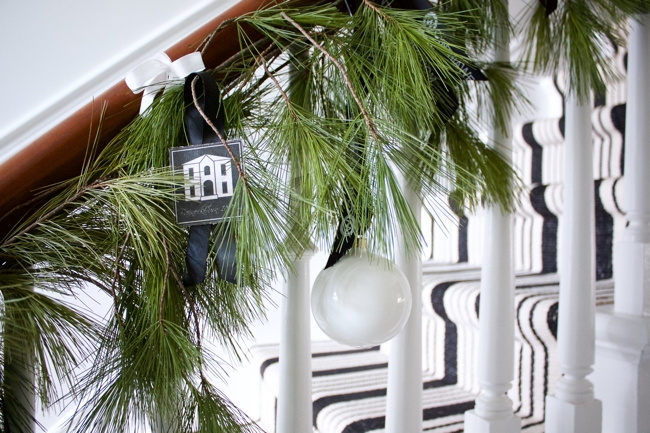 My CynthiaWeber.com ribbon was on hand and it fit my colour scheme for the foyer so that is what I used along with some white binding tape.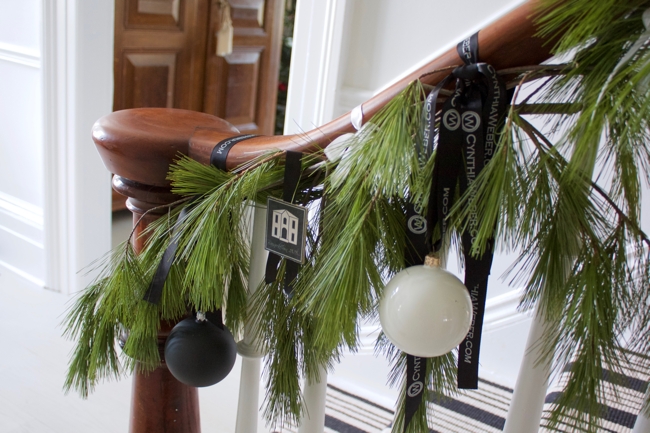 These riding boots belong to Kent.
He wore them for our wedding!
I tried them in several places as you can see from the photos but they ended up beside the clock.
I love how simple and elegant they look with a single pine bough.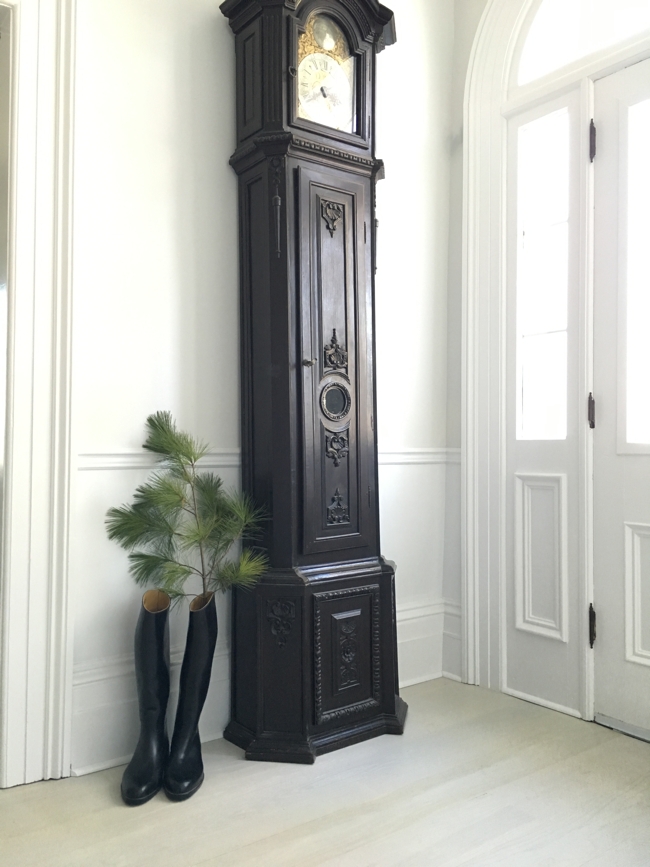 Ty was my design assistant.
He was most helpful as you can see!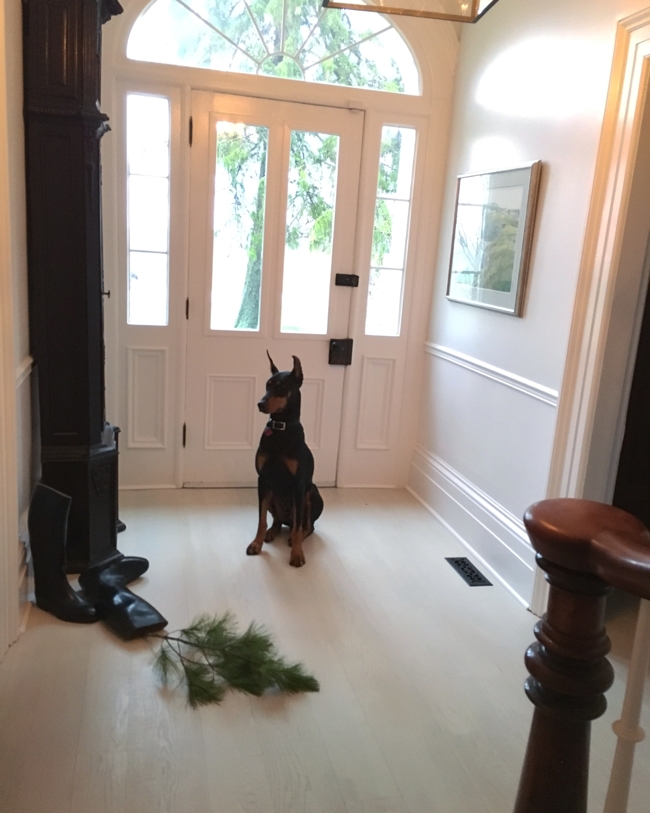 How adorable!
Yes, that is what I thought the first time he took the pine out of the boot!
The next few times I wasn't as taken with his antics!!
Luckily he has given it up…
On to more interesting smells over by the Christmas tree no doubt!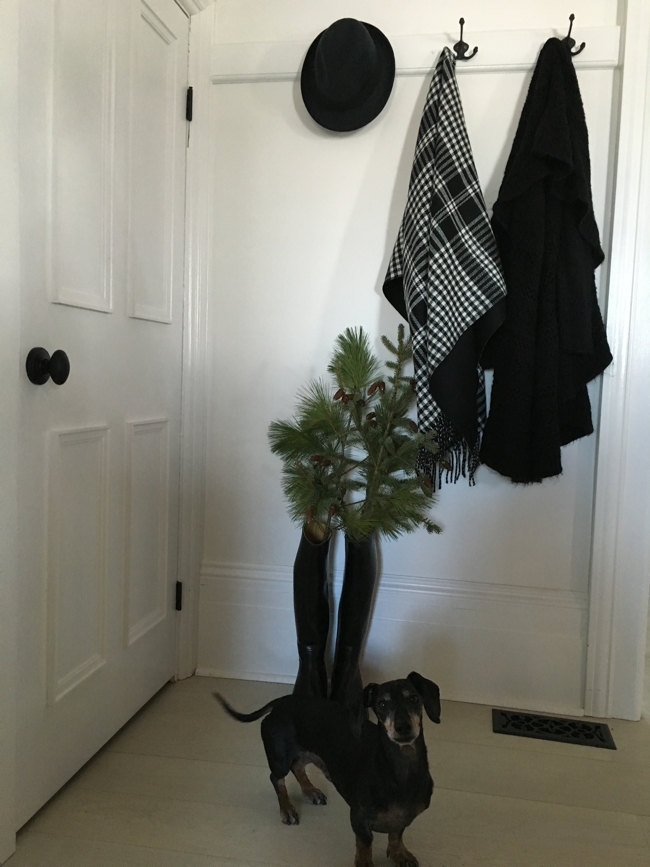 Emmitt also contributed to the holiday styling.
His input was most helpful in fact it was he that decided the boots should go in the foyer instead of by the door to the basement.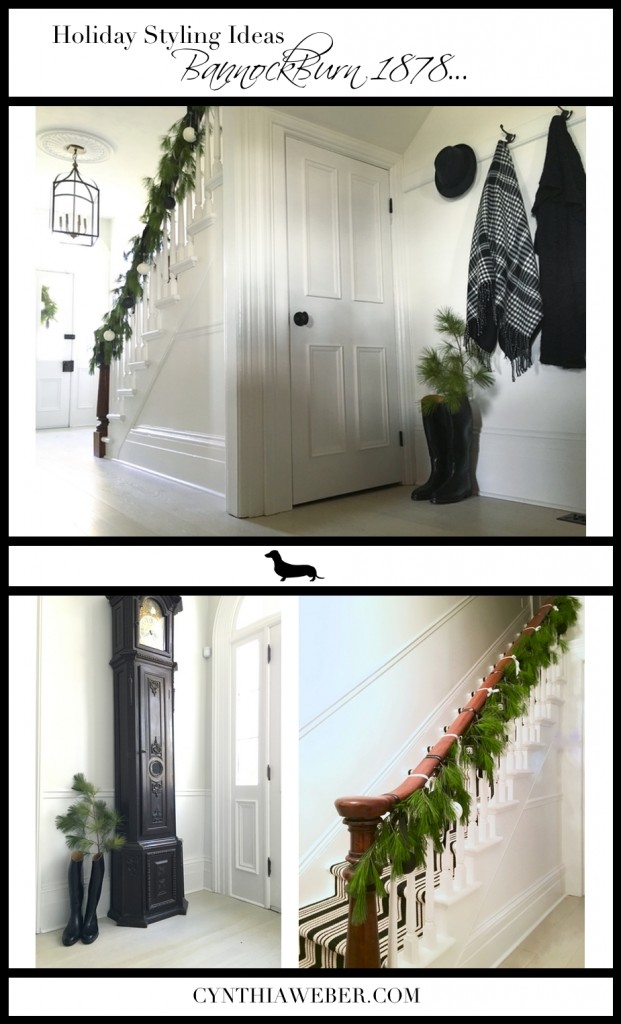 So that is my foyer dressed for Christmas 2015!
I have gone with a more traditional colour scheme in the living room.
Look for a post on that next week!
Here is a sneak peek of the ottoman draped with plaid mohair blankets and topped with an antique bowl filled with boughs, fruit, teal balls and a set of wonderful toy soldiers brought home from Denmark for us by my parents many years ago.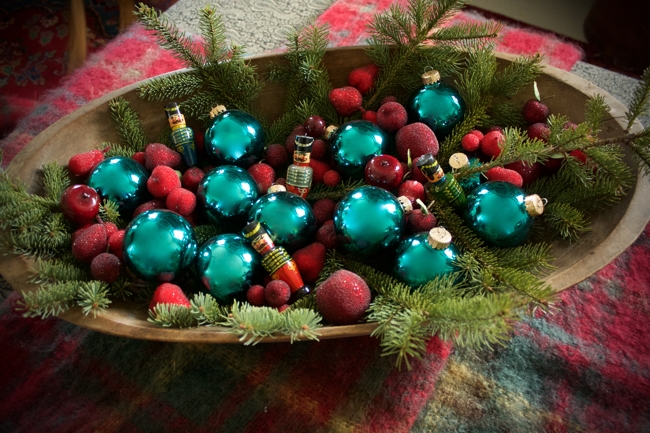 I think this look is fitting for a home built by a Scottish immigrant.
Kent is threatening to get a Kilt…
It isn't a bad idea. I think he would look quite good in one!
I can't let you go without sharing at least one photo of the outside of the house.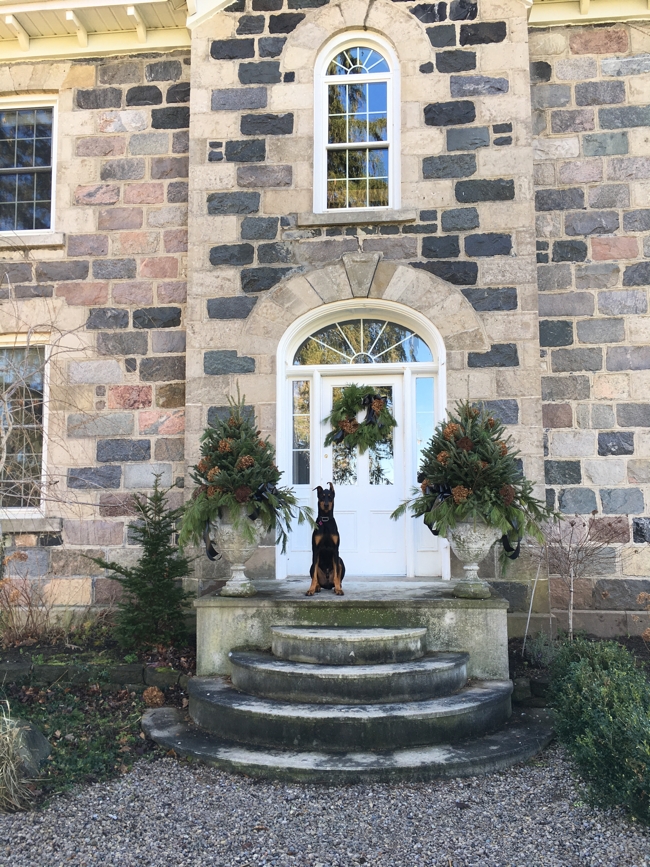 The one nice thing about not having snow is that it was far easier to decorate outdoors this week!
Ty hopes you approve of what we came up with for the front door and urns…
I posted this photo on Instagram and it got lovely responses.
If you would like to follow along on IG please do! I post there several times a day.
I hope you have enjoyed this holiday styling post…
Before I go I will share a few more photos from that snow storm we had. It should get you in the Christmas spirit!!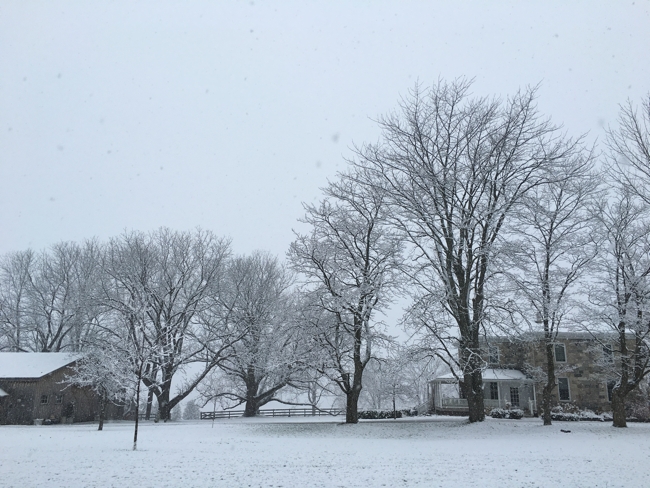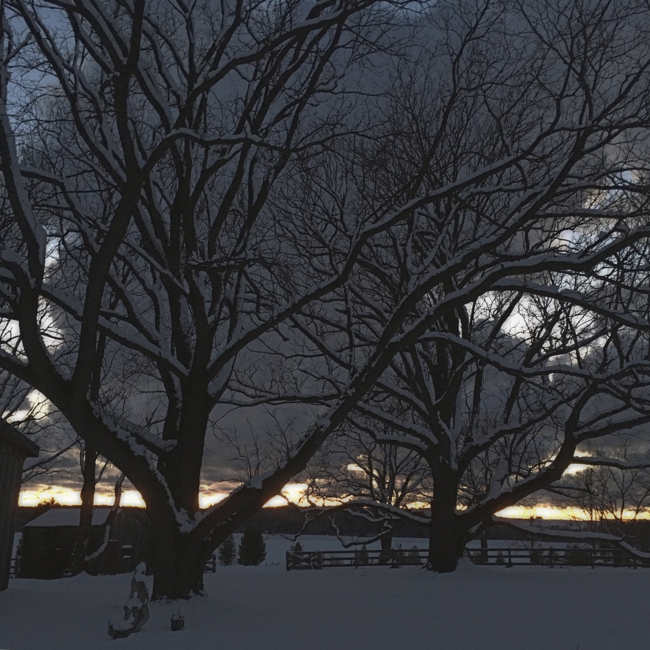 Wishing you all a very Happy, Healthy and festive Holiday season!!
GIVEAWAY
All the bloggers you will see on this tour are on the bHome App and we are honored to be partnering with D. Lawless Hardware to offer a $150.00 Gift Card to one lucky winner. To enter just download our bHome App by clicking HERE. Our app is available to both iPhone and Android users. If you have already downloaded bHome, you will automatically get a message to TAP to enter. D. Lawless offers international shipping so this giveaway is open to anyone. Winner will be notified on or around December 14, 2015.
These are the blogs featured on the tour today…
DAY 4
Buckets of Burlap | Cynthia Weber Design | Edith & Evelyn | Lilacs & Longhorns
Confessions of a Serial Do-It-Yourselfer | At The Picket Fence | Duke Manor Farm
And these are all the blogs featured from earlier this week!
DAY 1
Garden Therapy | Cedar Hill Farmhouse | Bright, Bold & Beautiful | Cupcakes and Crinoline
Southern Hospitality | Little Farmstead | Shabby Art Boutique
DAY 2
Redhead Can Decorate | Jennifer Rizzo | Our Southern Home | Maison de Pax | Rooms for Rent
Cherished Bliss | Homemade by Carmona | Everyday Enchanting | My Soulful Home
DAY 3
Savvy Southern Style | Shabbyfufu | Housepitality Designs
Debbiedoo's | StoneGable | Love of Home | Setting for Four | On Sutton Place

Ways to Stay in Touch: