On Our Table Last Night…
Homemade Pasta with Creamy Mushroom,Herb and Parmesan Sauce: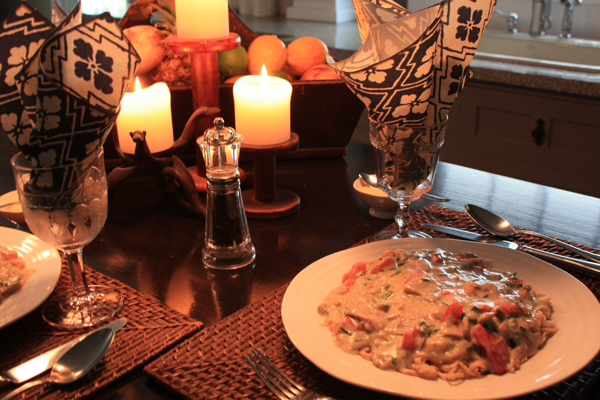 Kent is an amazing cook; he loves to be in the kitchen. We designed our latest kitchen to reflect how he works in the space while still letting my design aesthetic have some play! Last night He went to work and put together a truly wonderful diner. I love setting the table in preparation for his yummy creations. I got him to write the recipe for the sauce down so here it is:
1) Saute an onion in olive oil with 2 cloves of crushed garlic. Toss in 1TBSP dried oregano, Set that aside.
2) Slice about six white mushrooms, saute them in olive oil for a few minutes (not to hot) add 1TSP of coarse sea salt and a little fresh cracked pepper. Set aside with onion.
3) In the pan you used to do all the sauteing, put 1/4 cup butter and the same of flour, cook for 2-3 minuets on medium heat. Next, add 1 1/2 cups chicken stock, 1 cup milk, 1/4 cup cream or cream cheese and whisk together until smooth.
4) Toss in Onions and mushrooms. Add 1/2 cup fresh chopped parsley and 1/4 cup chopped fresh chives, a cup of chopped seeded tomatoes. Pour over fresh cooked pasta and add parmesan at will!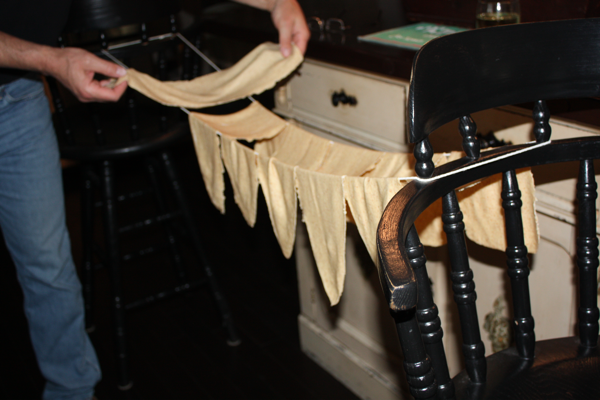 Kent, likes to make a little clothes line for his sheets of pasta… clever monkey!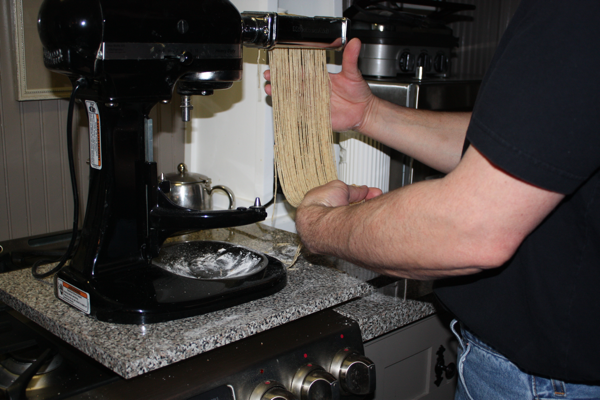 I love this part , it's like magic!
If you would like help making your home everything you want it to be please contact me.
We now offer e-design packages for distance clients and our shop carries a delightful selection of beautiful items to enhance your home.