Oh we are getting soooo close!
Yes…
The renovations at the Little Inn of Bayfield are almost complete !!
I am in full swing styling away to get things ready for reopening!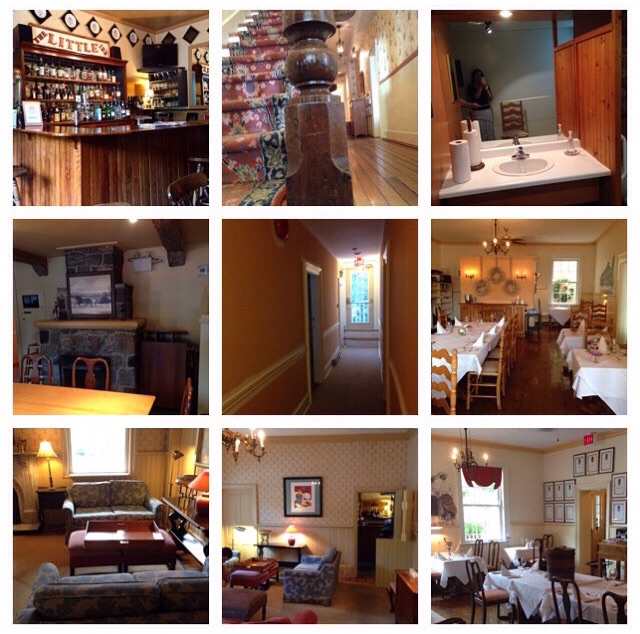 You may have seen this collage I posted on Instagram.
I wanted to show  you the way things started out at the beginning of the renovation.
All these spaces are being redone.
The changes and improvements are quite staggering…
I want to keep some things a surprise…
You knew I would didn't you! 😉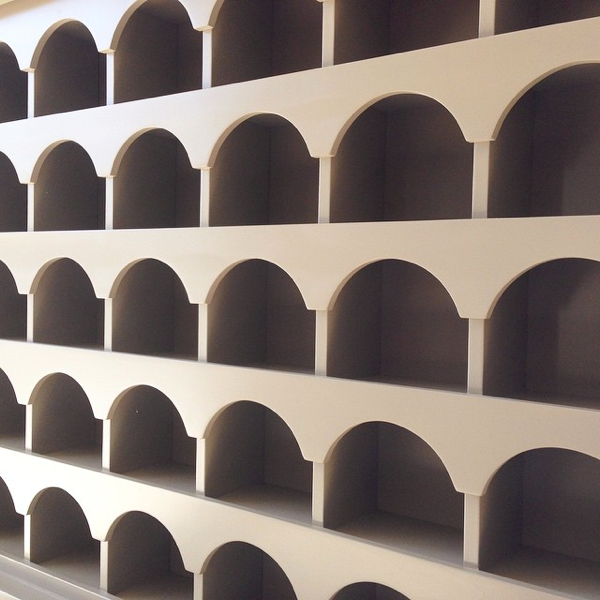 I have been showing a few glimpses of all the beauty yet to come…
Like these custom pigeon holes for the guest room keys!
I just love them!
The new reception will be much more welcoming than the way it was before.
In the past when guests checked into the Inn they had to come in the door and walk down the hall to a tiny cubby under the staircase. It was very cute but not comfortable or practical for either guests or staff.
Now guests will enter through the large double doors an see a beautiful custom build reception desk charmingly designed to resemble an old fashioned bank wicket.
As for the bar…
Oh, it is…
Spectacular!!!
The new Four in Hand Taproom will be a fantastic venue…
Boasting this beautiful overdyed vintage rug from Ecarpetgallery as a focal point.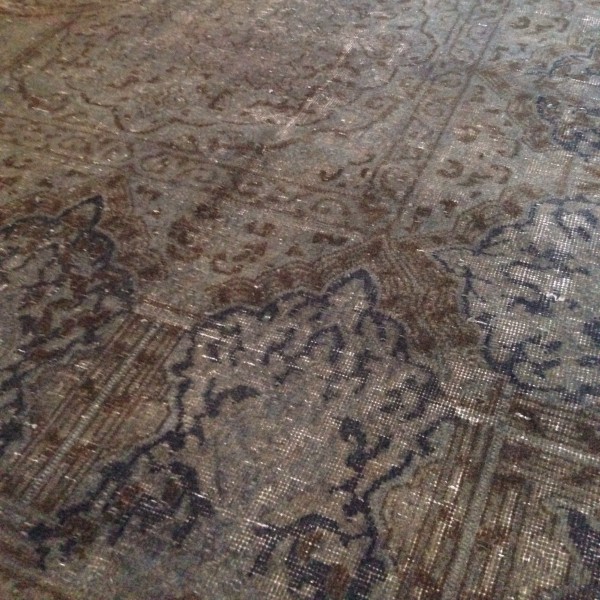 The Willow room will be an elegant, peaceful and stylish place to dine…
I am very pleased to have been able to repurpose this set of vintage chairs. They have been reupholstered in a whimsical striped fabric from JF Fabrics…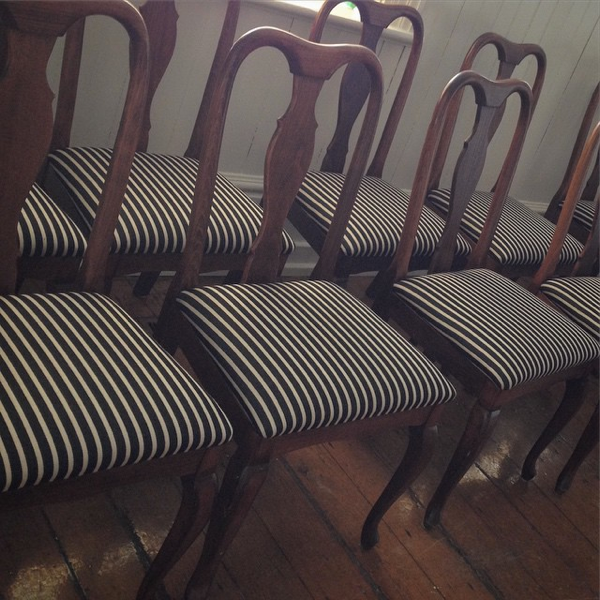 With the help of the very talented Marilyn from Gresham House Furniture we designed and built these fantastic custom banquettes. They are free standing pieces of furniture that can be moved and used many different ways as the function requires.
Can't you just picture a head table with these button tufted beauties !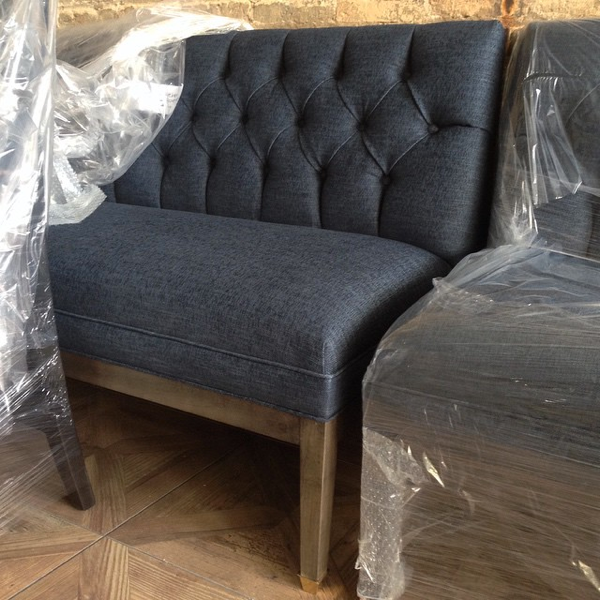 Soft and moody pendant lights from Uttermost and a custom vanity with Caesarstone top shelf make for a charming place to  powder your nose.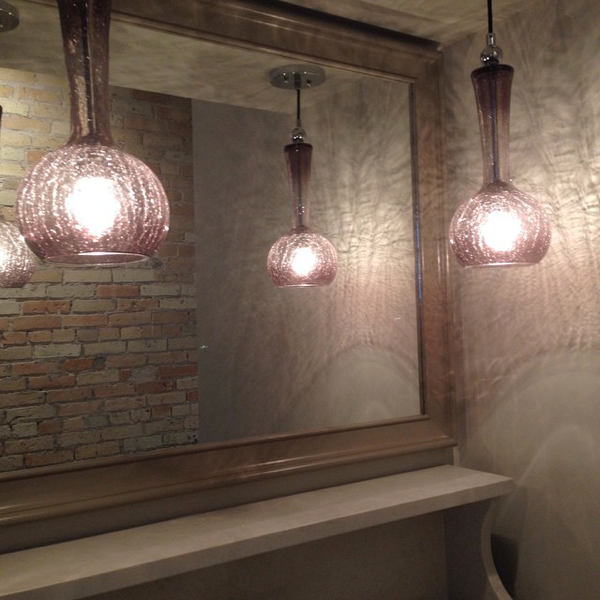 I am also very excited about the improvements being made to some of the guest rooms…
classic black and white…
Sigh 🙂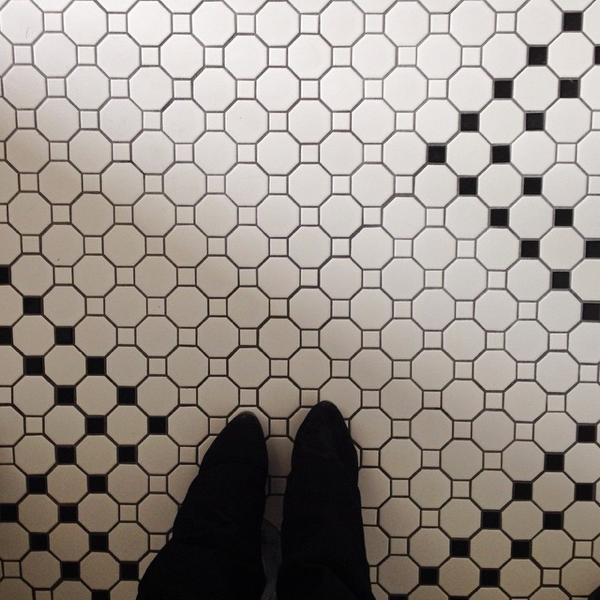 There is so much more to show you…
but for now…
I need to get back to work!
Follow along on Instagram for all the latest sneak peeks!!