It's all about the tree…
Don't you think?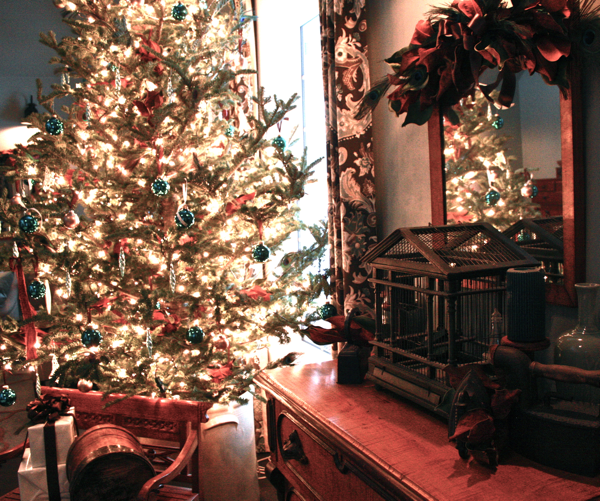 Our living room at Hoop Top House has a vaulted ceiling so a big tree is perfect.
Every year we get a fresh one. Sometimes they are better than others.
This one had a bit of a lean… 
Kent and I spent quite a bit of time getting it up and secured to the window frame.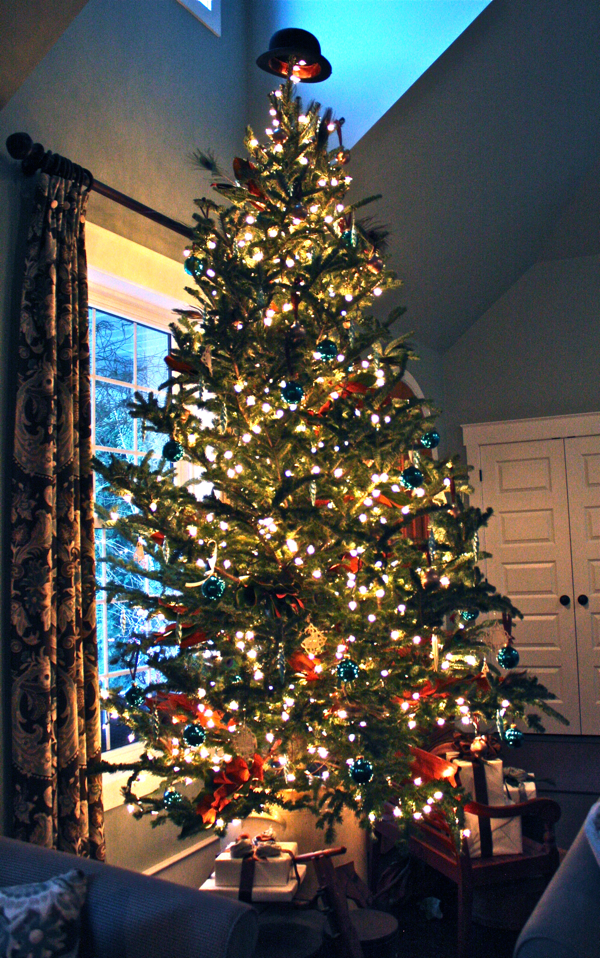 I decided to put it in a huge 25 gallon crock. 
Topping the tree with a bowler hat is a tradition for us. I like how charming and unexpected it looks.
On the tree there is a mix of vintage, handmade and new ornaments, magnolia branches ( very handy for filling in dead spaces) and bows made from strips of silk ripped from my tablecloth at a recent dinner party… If you missed that post, here is the link, I'm not joking, I also made roses from it for my gifts.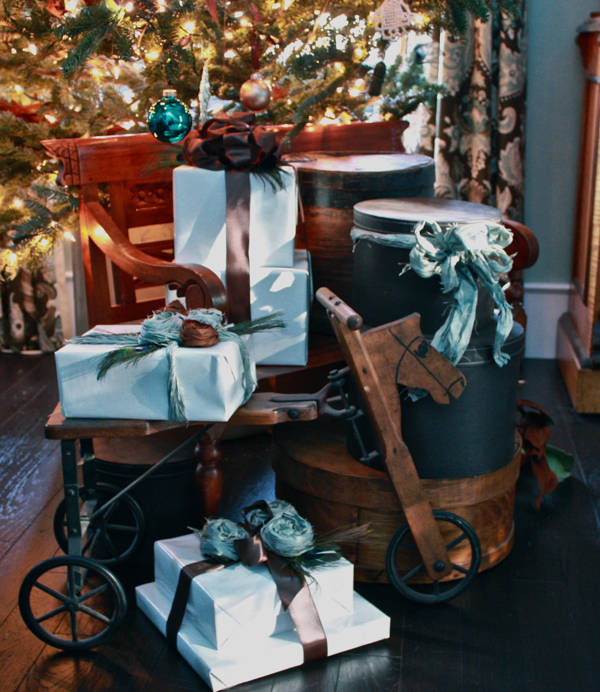 You can see a few of them here.
The  antique toy  horse  was a gift from my uncle and aunt. I grew up playing with it at their house and now it has a special place in our home, just waiting for a little boy or girl to come over and play.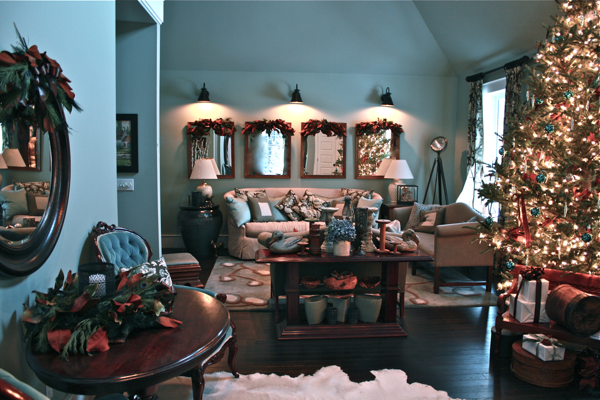 The room has a skylight that gets morning sun.
In the evenings the moody ship inspired lights that ring the room cast beautiful shadows.
Perfect for the holiday season!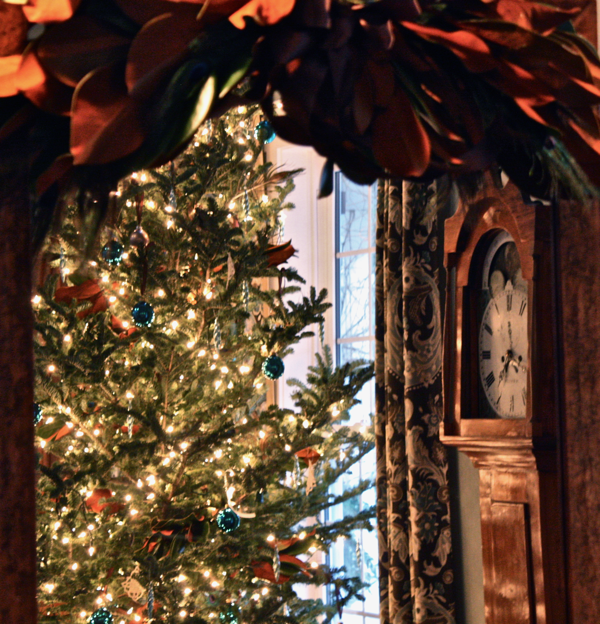 We have a row of four birds eye maple mirrors over the couch.
I decided to top them with magnolia and peacock feathers for the holidays.
I am going to share now… These magnolia arrangements were very… fiddly.
I almost abandoned ship…
and,
they fell down three times and I had to try a few ways of securing them without damaging the frames.
I WON'T be doing it next year!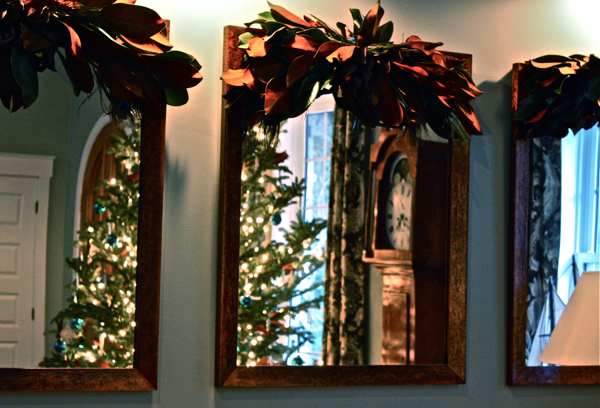 The tree reflected in the row of mirrors…. The light seems to dance on the grandfather clock.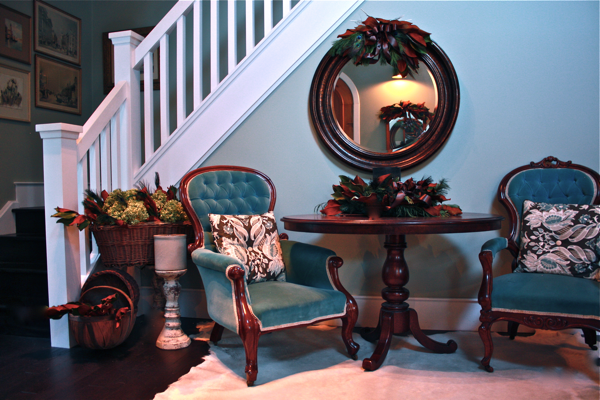 Last year I put boxwood garland on the staircase.
It was lovely but I missed the simple elegance of the railings.
( that is Cynthia speak for.. I couldn't face it, it took a long time and I am getting old!)
I kept it plain this year and let the tree and magnolia arrangements speak instead.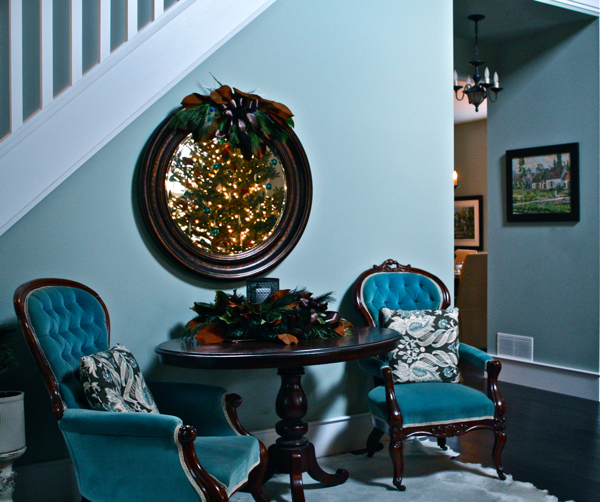 This pair of antique parlour chairs were a recent find.
We decided to place them with our tilt top table for a second seating area.
The hide rug is unexpected and brings an eclectic feeling that I like.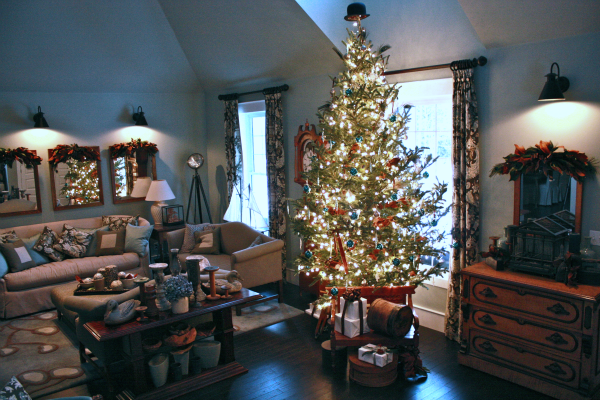 One of the things that I love about this room is how the paint colour changes throughout the day and throughout the seasons.
It can read from green to blue even taking on a grey tone at some points.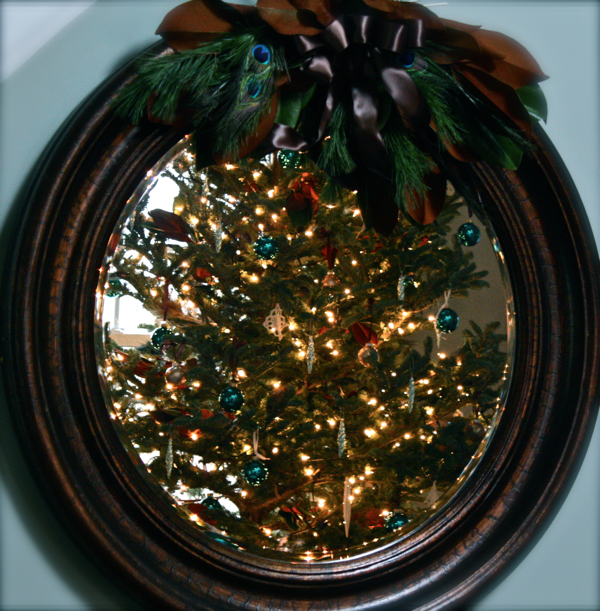 I know… This is the last pic of the tree reflected in a mirror… but it is so pretty! I couldn't help myself!
So, that is my living room this holiday season.
I hope you have  fun decorating your living room this year.
Wishing you a Happy  and Healthy Holiday Season!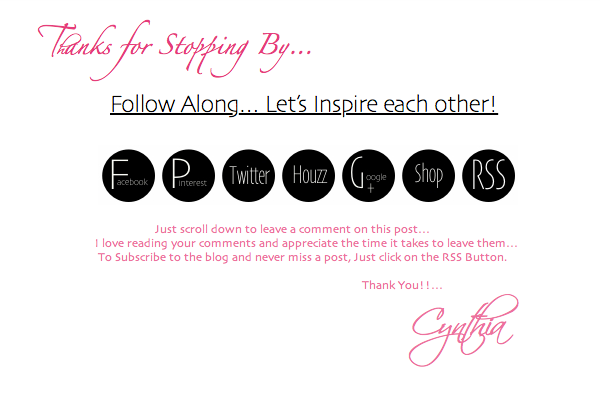 Sharing at: