Usually, I try and take on projects that are relatively close to home… but when an absolutely lovely couple asked me to do a redesign of their Port Colborne waterfront home I couldn't resist!
The home already boasted some fantastic elements such as high ceilings, lovely floors/ millwork and stunning cabinetry.
They wanted to update the interiors to maximize those features and better reflect their personal style.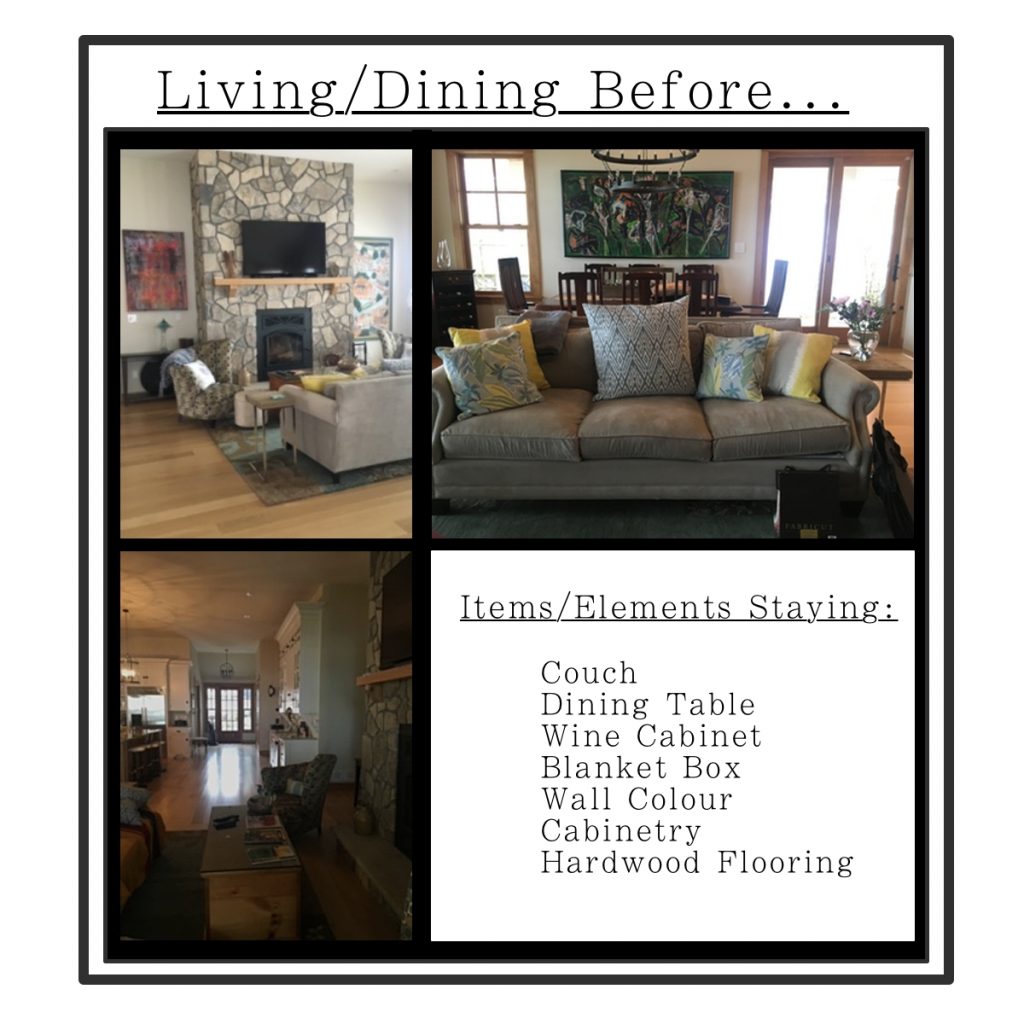 During the design phase it was decided that we would reuse some existing furniture. The couch, dining table, chairs and wine rack as well as a pine blanket box which was a treasured family heirloom.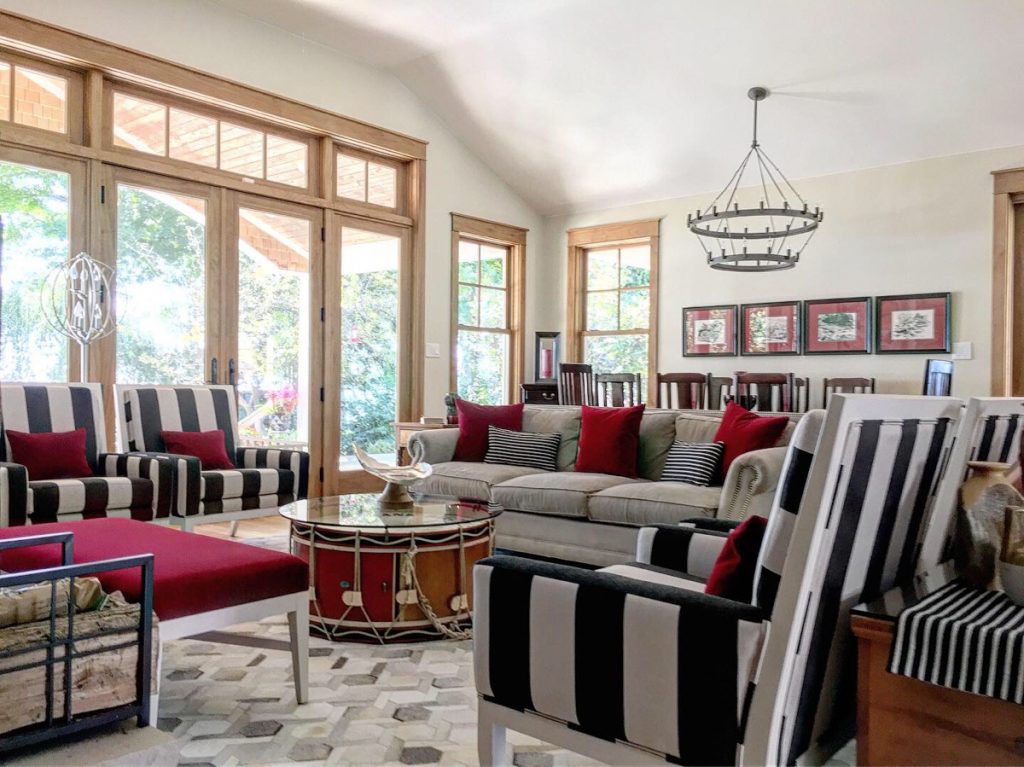 Red is a favourite of the client and the use of it mixed with taupes, tans and black throughout the open concept space combined to bring life and energy while maintaining the classic, elegant backdrop of light walls and cabinetry.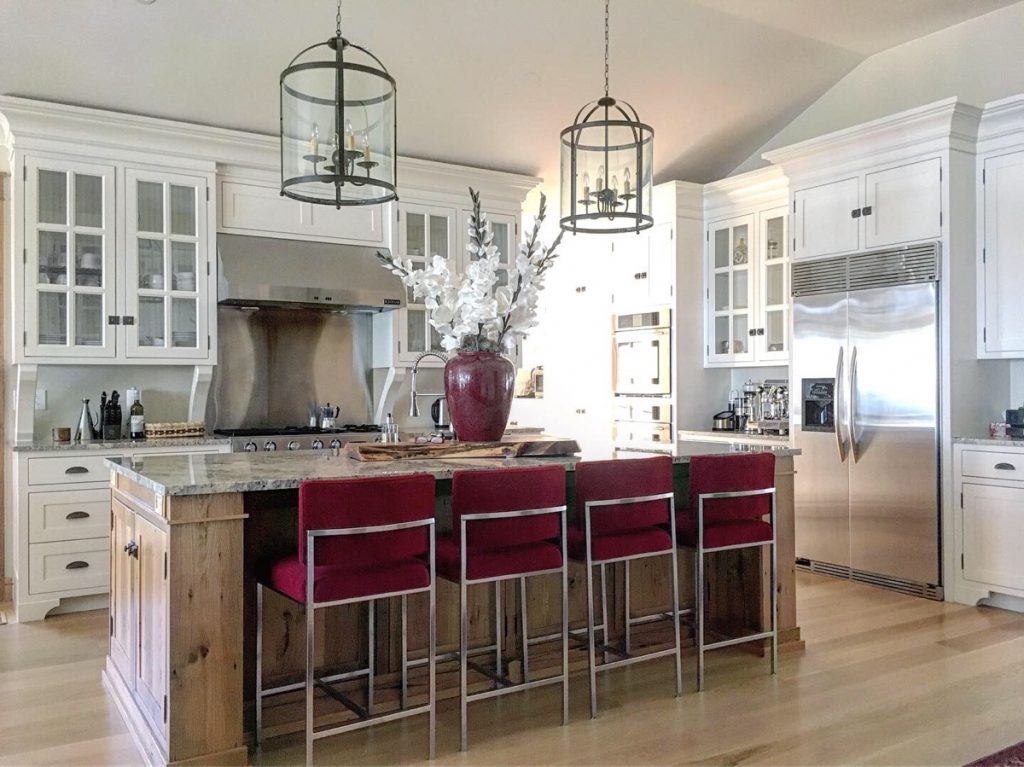 Bringing in barstools with a brushed chrome finish upholstered in a deep red Crypron velvet brought the kitchen to life.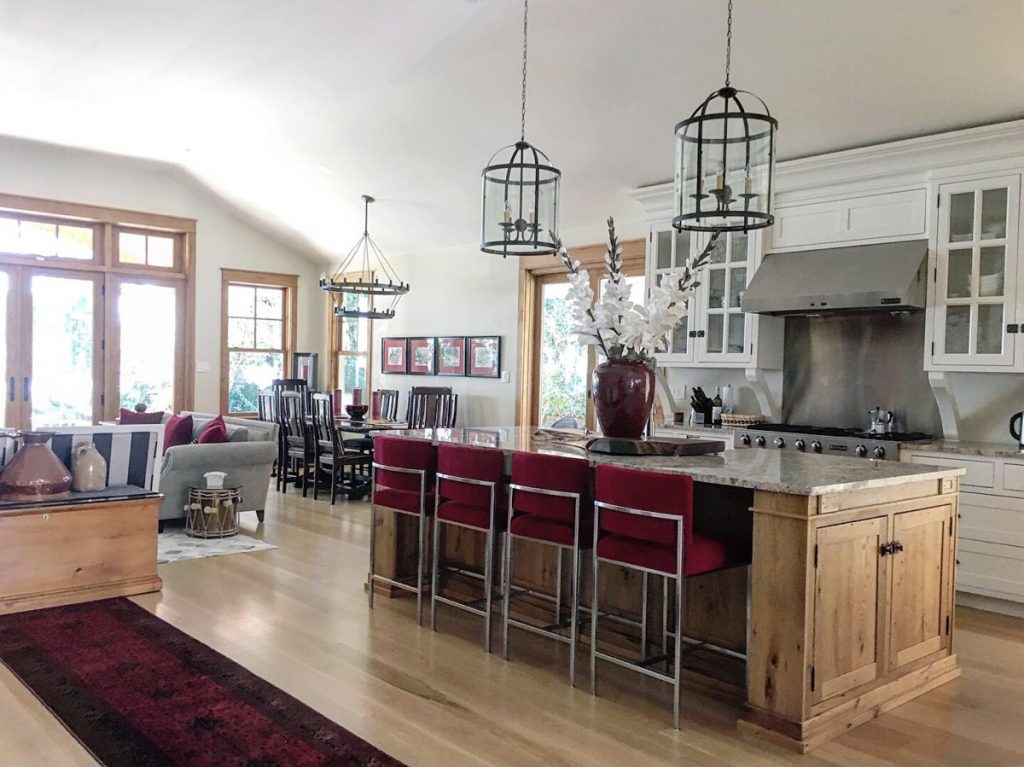 I found a long red vintage runner that leads the eye from the front door towards the living space and the epic outdoor views.
You can see the blanket box was repurposed behind one of the two pairs of club chairs.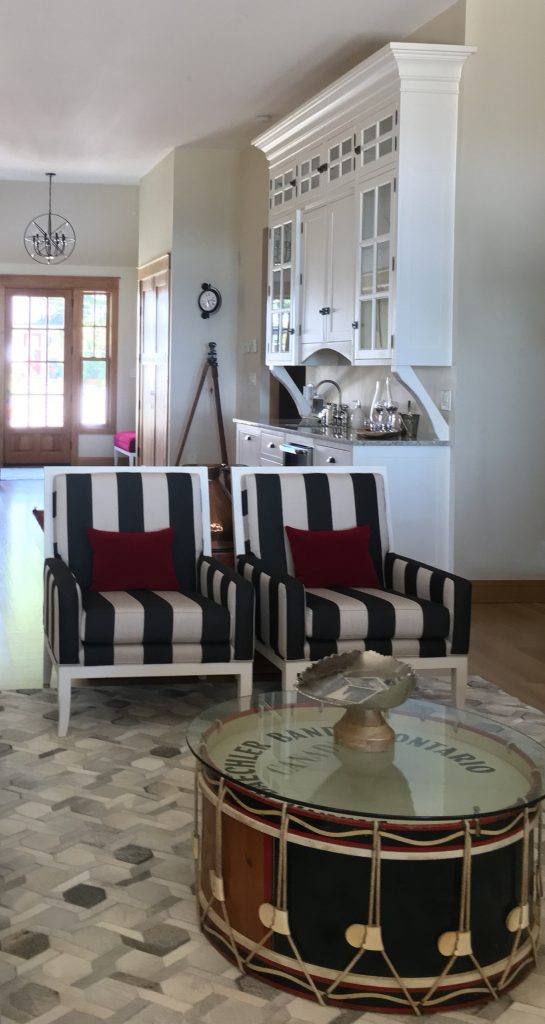 A set of vintage drums turned into tables add a touch of whimsy and charm. I absolutely LOVE them!
The rug is a patchwork of neutral hides available to the trade through. JF Fabrics. The Fabrics are also JF. The red velvet is pattern Salute and the wide stripe is pattern Waterfall. I also redid the dining chair seats in a small stripe pattern Creek seen on couch pillow in photo later in the post.
A vintage transit was used in a under-utilized corner. It appears almost sculptural and is actually quite usable for seeing boats out on the water.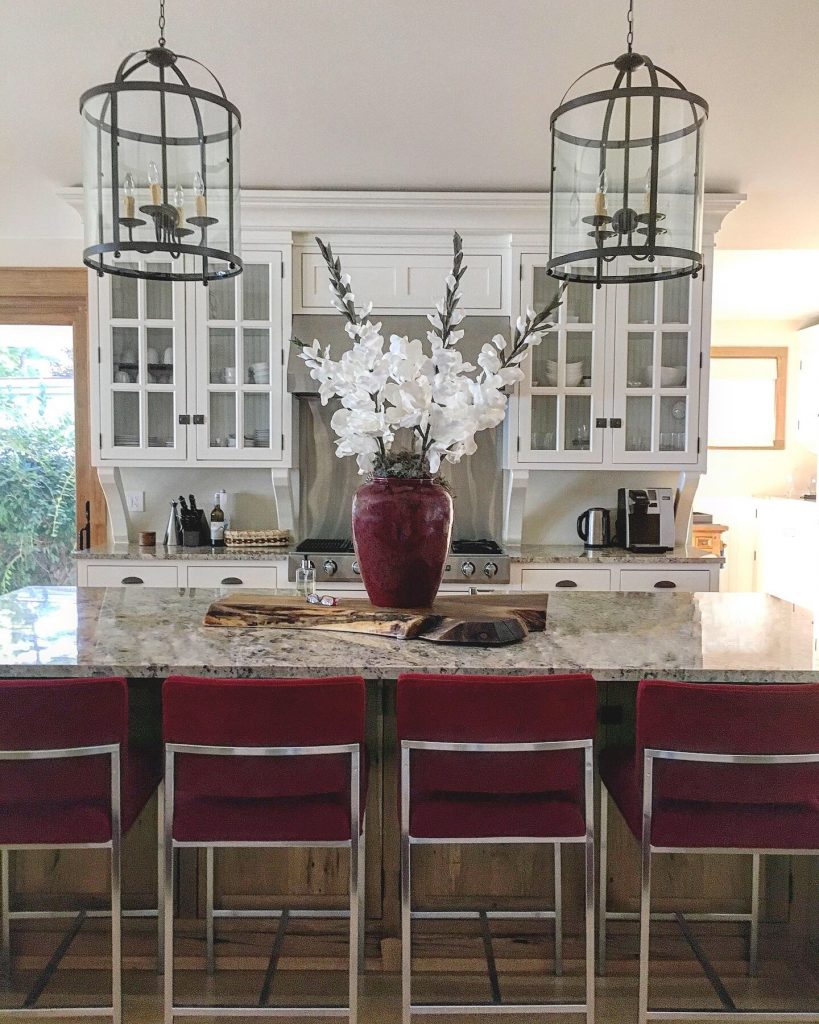 I placed a thick live edge serving board one the kitchen island. It has a shaped back side that curves around the sink almost hiding it from view. A beautiful vintage German vase filled with faux glads sit centre stage here… I think the scale is just right to balance the lovely pair of pendants.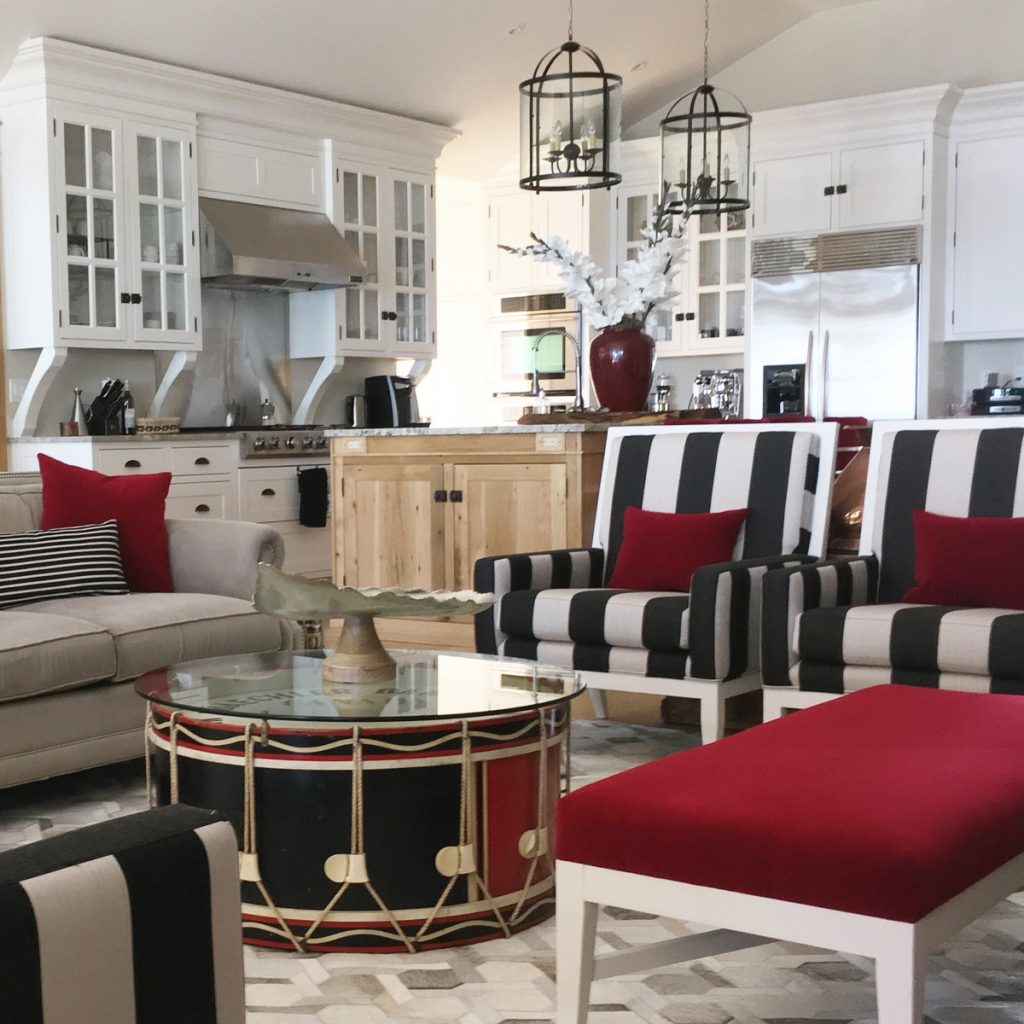 A bench upholstered in red sits in front of the fireplace. It serves double duty in the space as extra seating or brought in front of the couch for use as a footstool when watching T.V.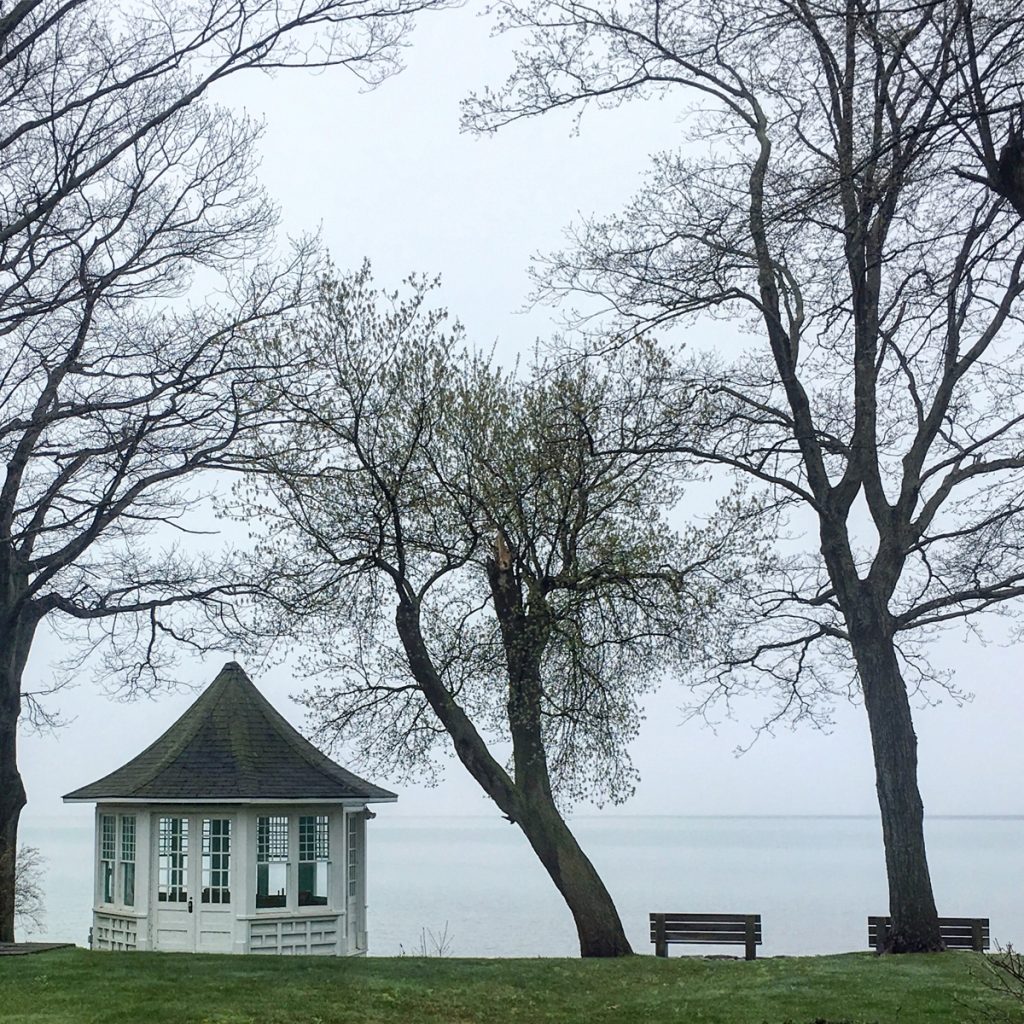 The outdoor views from the property are quite breathtaking… I hope the homeowners enjoy many years looking out towards this vista from their newly updated interiors!!