Niagara-on-the-lake is a very special place…. Beautiful shops, dining, wineries, Inns and breathtaking scenery.
This past weekend we decided to head back to the region for our anniversary.
It has been 23 years since we got married… that can't be right can it!?!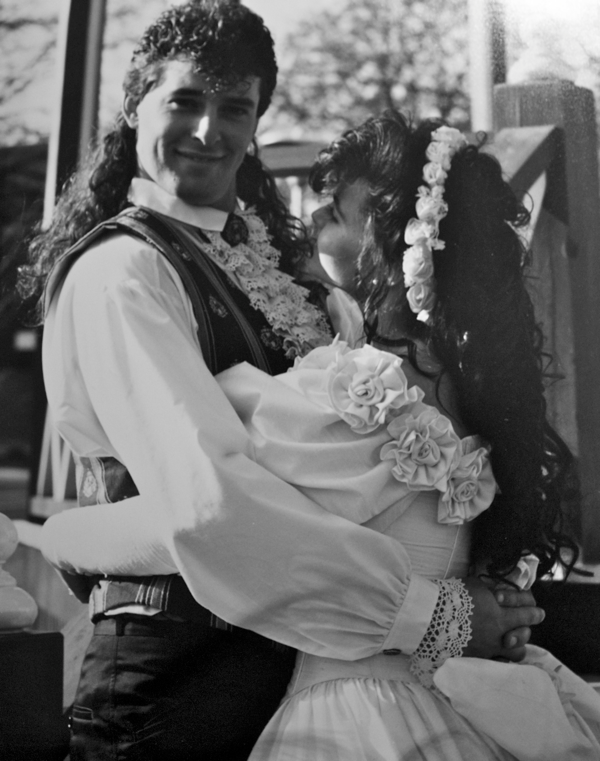 It was so long ago the photos were in Black and white…
Ok, Enough reminiscing… off to Niagara we go.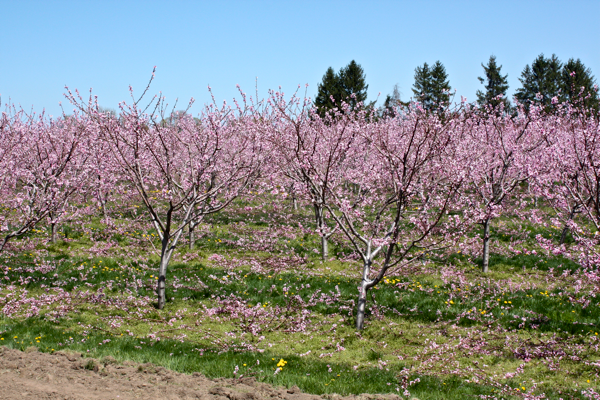 The Blooms were amazing… I had Kent stop so I could take a pic of this beautiful orchard.
I popped up through the sunroof to take the shot and Kent said " Cynthia, here comes your car."
I turned and saw this coming toward me…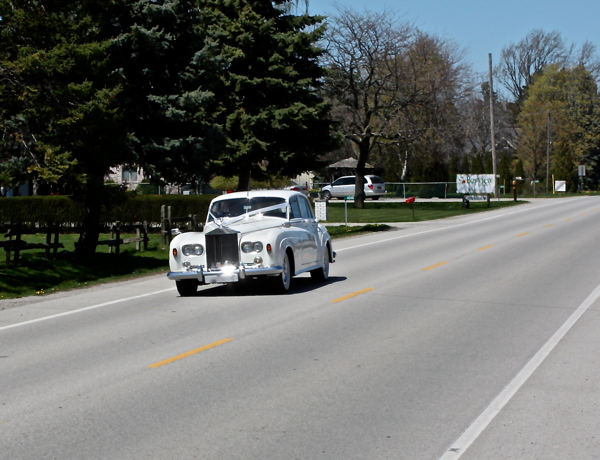 She was very pretty!
There are wonderful places to stay in Niagara-on-the-lake…
Here is a link to the Tourist info site if you are thinking of planning a visit.
I also found a great visitors guide on their site… well worth a read.
After such a lovely drive we wanted to wander around… OK, I will admit it, I wanted to shop!
There are so many fantastic shops along Queen St. and the many side streets…
I am especially drawn to the hat shops being a hat girl at heart!
So I was very pleased to walk into Russell's, a wonderful gem of a shop filled with clothing, accessories, home decor and some exceptional HATS!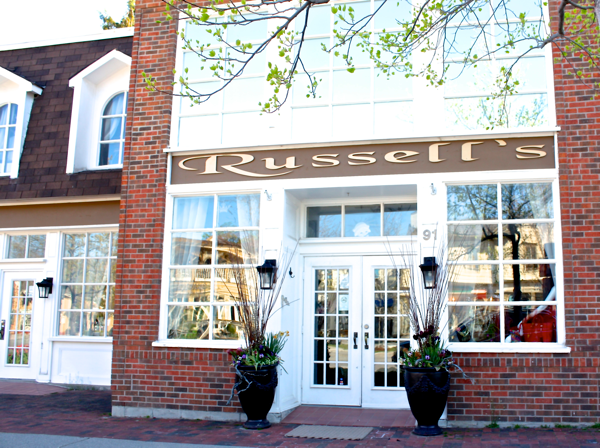 The owner Russell Gautreaux has a great eye… I will definitely visit again!
I found a lovely new hat and was happy I did because it was sunny and hot. 
After some more shopping we headed to our home for the night….
We had found the Riverbend Inn on a previous visit but hadn't had a chance to stay there yet.
It seemed like a perfect weekend to rectify that situation!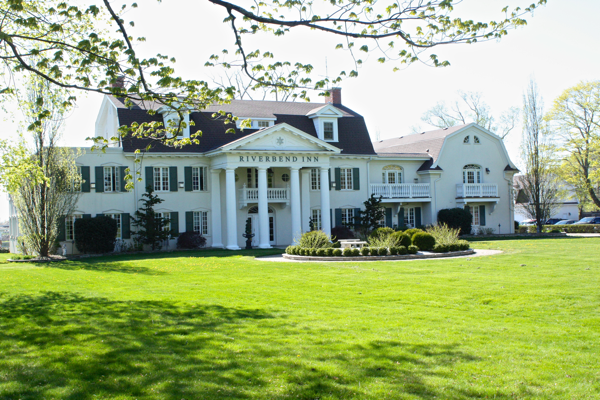 The Riverbend Inn is a stately Georgian Manor House built in 1860. 
When we arrived I knew it was going to be a treat!
The Inn has had several incarnations and a very interesting past filled with fascinating owners…
Including a group of 6 sisters, Kate, Gladys, Adel, Mora, Olga and Elga Ansley who purchased the home in 1927. The Ansley sisters converted the large residence into a school for mentally disabled boys. They believed that having a warm, loving family environment for these children to live in would encourage mental and social development, which was a very progressive view for the time.
At the height of it's success the school housed 16 children or various ages happily socializing with the local community.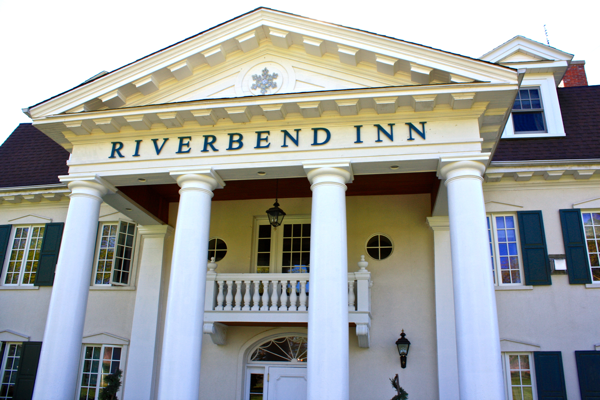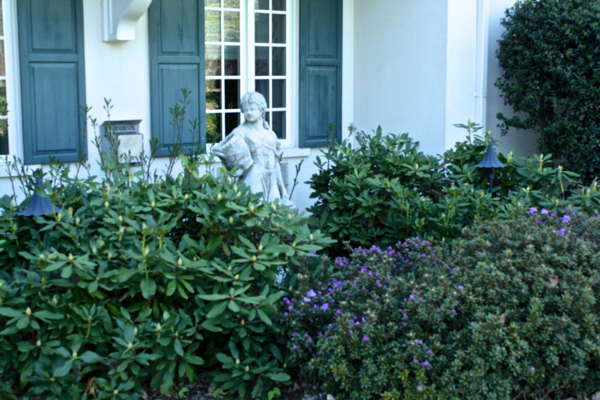 The grounds are amazing…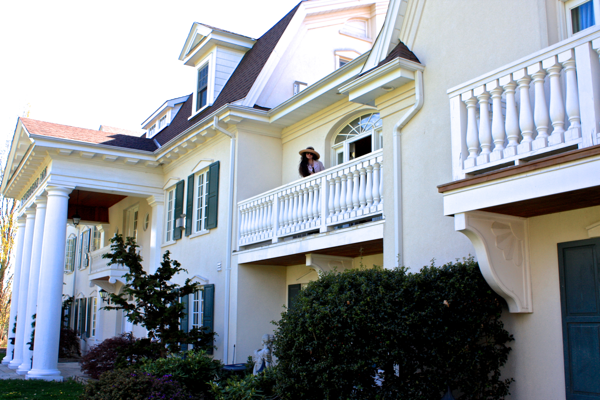 The balcony from our room had a stunning view. 
Yes, that is my new hat… sigh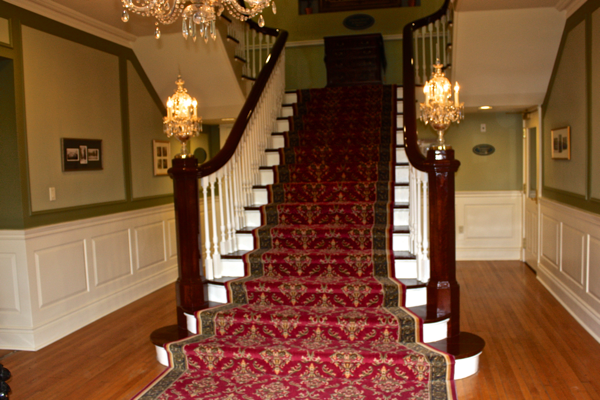 Grand is a term perhaps overused… but not in this case. This is one of two amazing staircases at the Inn.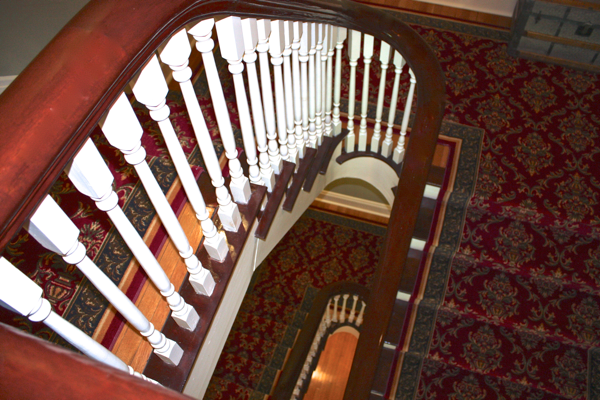 This is a shot looking down from the top…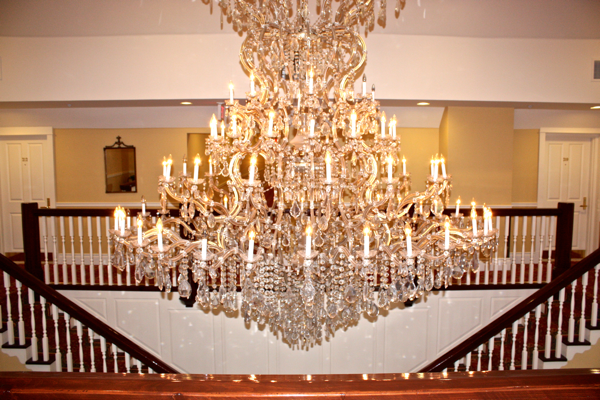 and this is what greeted us from the foyer heading up to our room…
After settling in a bit we decided to head down to the bar and have a wine tasting…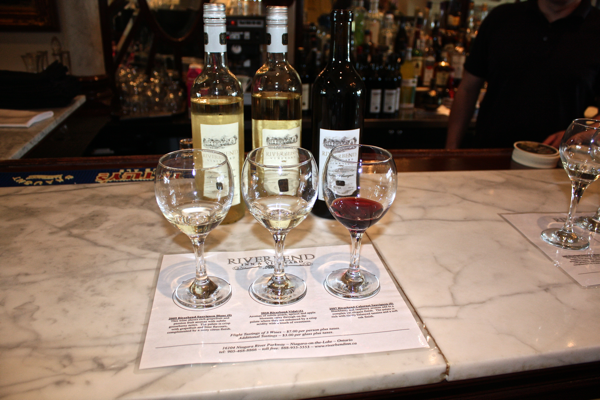 The Riverbend Inn is surrounded by its own 12 acre vineyard which is managed by Klaus Reif of Reif Estate Winery.  Preparation of the Inn's vineyards began in 2002.  Klaus incorporated recent breakthroughs in the vine spacing and viniculture techniques while still respecting traditional winegrowing methodology.  The goal is to yield more consistently ripened fruit from vintage to vintage, leading to greater quality of wine for the Riverbend Inn.
We made a mental note to put Reif Estate Winery on our list for the next day…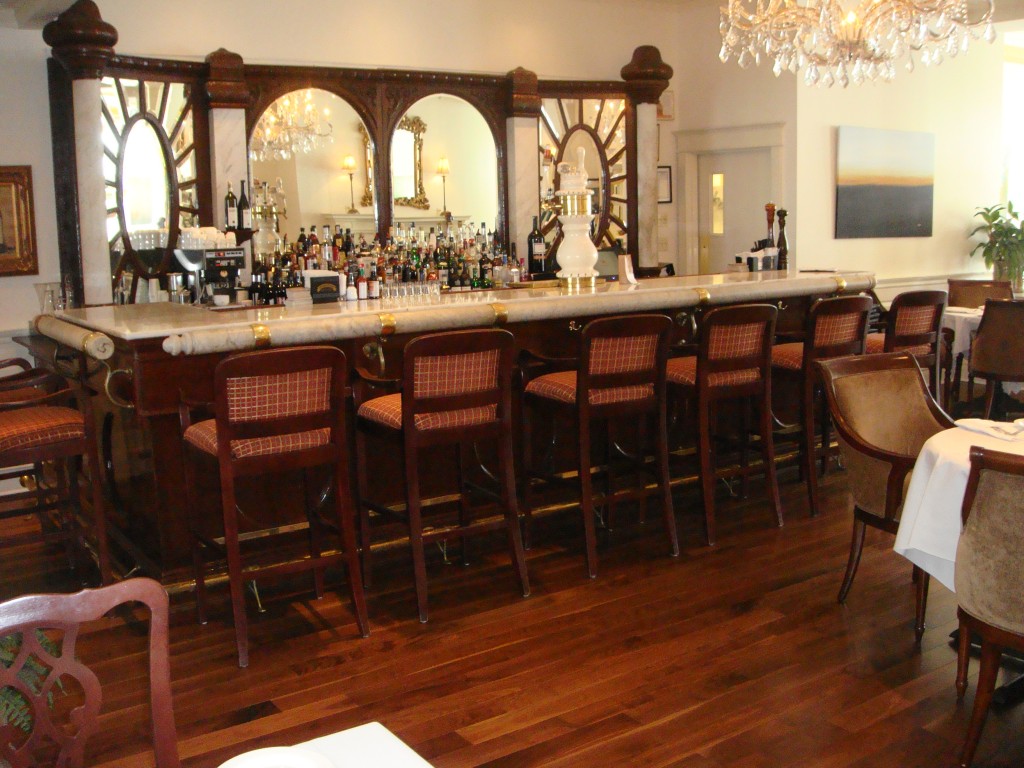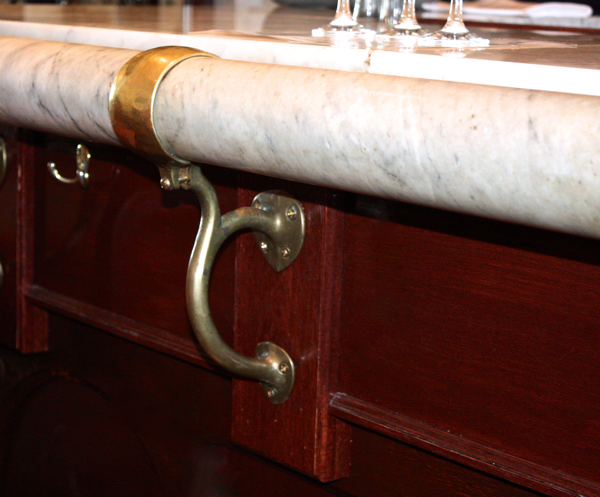 I couldn't believe the workmanship on the bar… so beautiful!
and the dining room…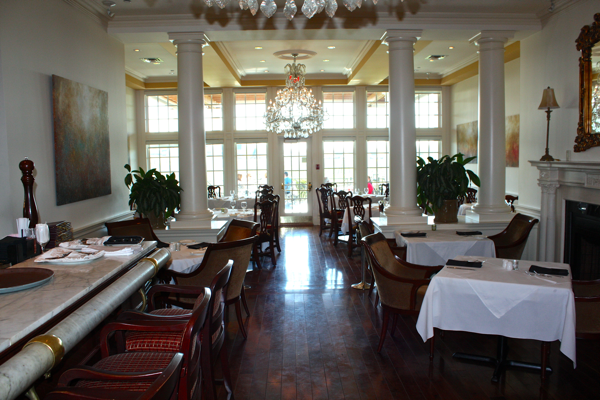 Just lovely
It would have been wonderful to sit here for dinner but the patio with it's views out over the vineyard were calling…
I will show you what I mean…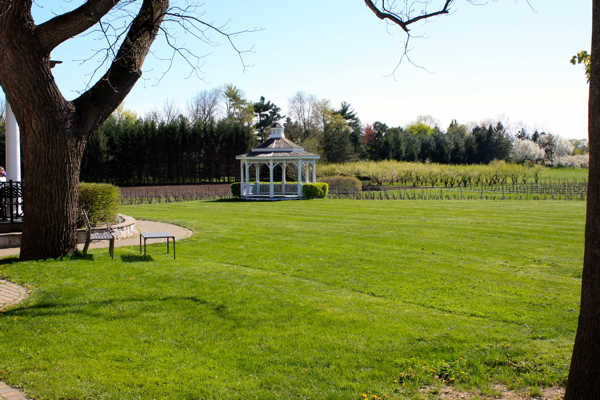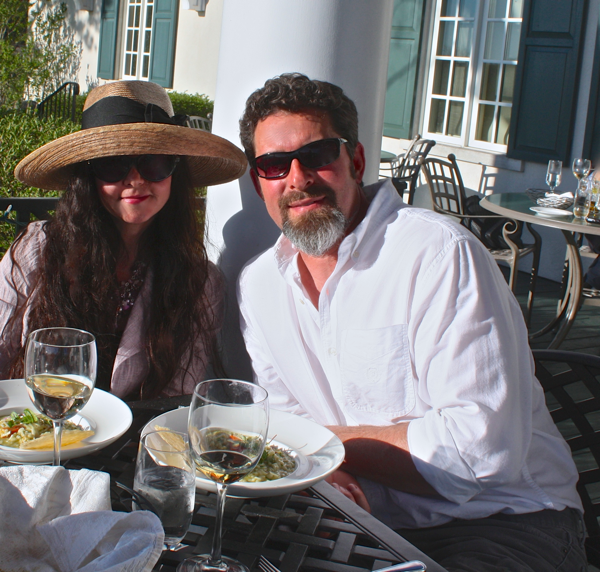 Kent started with mussels and I had the crab cake… for a main we both chose the lobster Risotto…
It was a wonderful meal.
Yes… I wore my hat!
If you like it and want the full scoop… you can find out all about this style and the wide range they offer on the Tula Website.
Sunday morning we awoke to a beautiful sunrise outside our patio…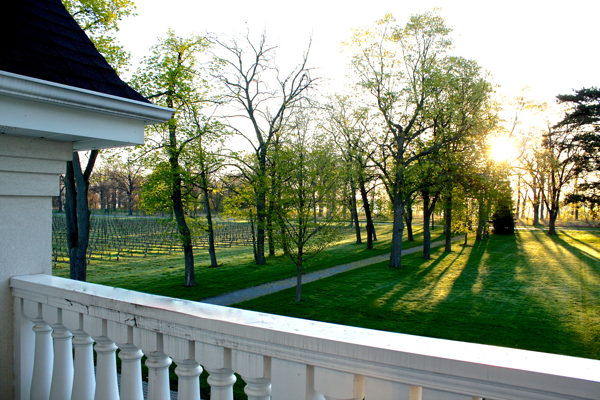 It looked like another beautiful day…
Off to Reif  Estate Winery we went…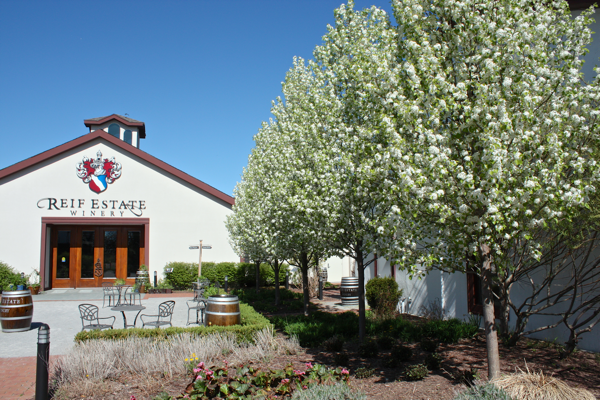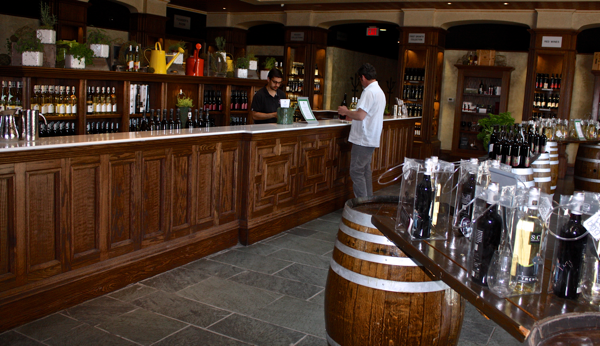 Reif has a wide range of wines and their story is quite interesting. You can find it here. 
You may be interested to note that they also have partnered with Canadian television sensations Steven Sabados and Chris Hyndman to create Trend Wines.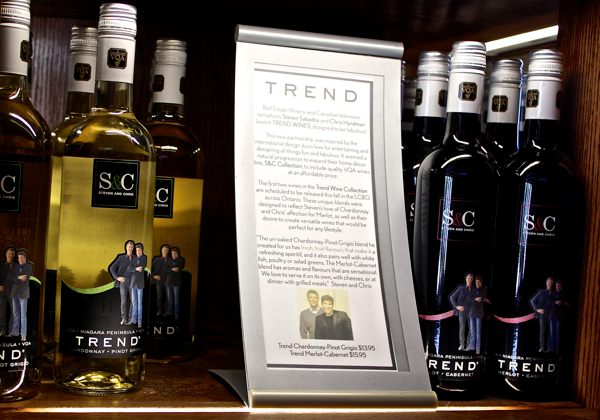 Their tag line is
" Designed to be Fabulous " 
Is there anything this dynamite duo can't do?!?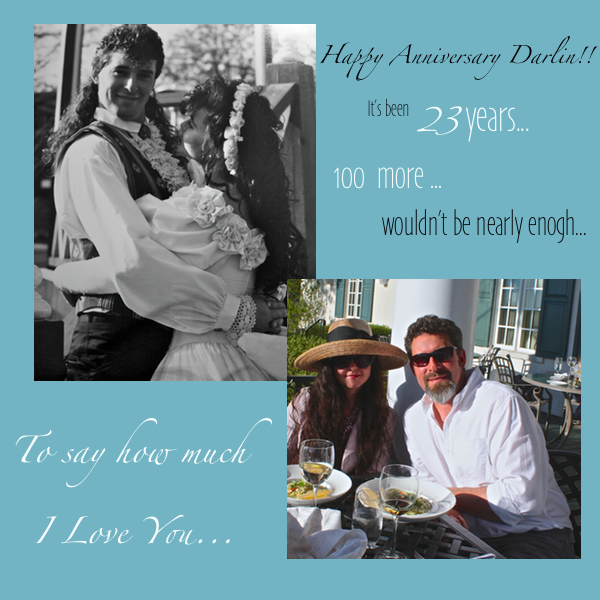 It was a fantastic weekend.
I hope you have the chance to explore Niagara-on-the-lake, and if you have already… let me know your favourite places so I can put them on my list for next time!