Well there they are… my wonderful parents celebrating their 50th anniversary on a cruise.
Aren't they adorable!
A big thank you to my uncle Pete for the photo!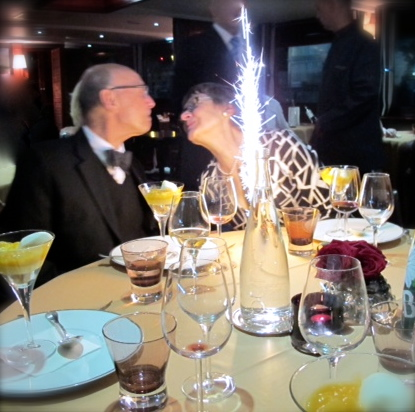 OK… If you saw my last post you know what Kent and I are up to this week… Here is the 411 if you need a quick catch up!
Do you remember when we did that surprise kitchen reno for my parents two winters ago? They were on vacation in Collingwood and we swooped in and redid their kitchen in a week! I thought it might be fun to do it again only this time their living room/ dining room…
And what better time than while they are away celebrating their 50th anniversary with a riverboat cruise!
I think it is so amazing that they have been married for half a century. Not everyone gets to see their parents reach that milestone and I feel very fortunate!
I made my mom promise NOT to check the blog while they are gone… do you think she can resist?
Yes… well, I have my doubts but she promised!
My parents have lived in their home for my whole life.  The living room and dining room are open to each other and although the rooms are not big, the layout is pleasing and functional.
The rooms have had quite a few incarnations over the years…
Like this one with a blue floral couch, robins egg silk drapes and tub chairs.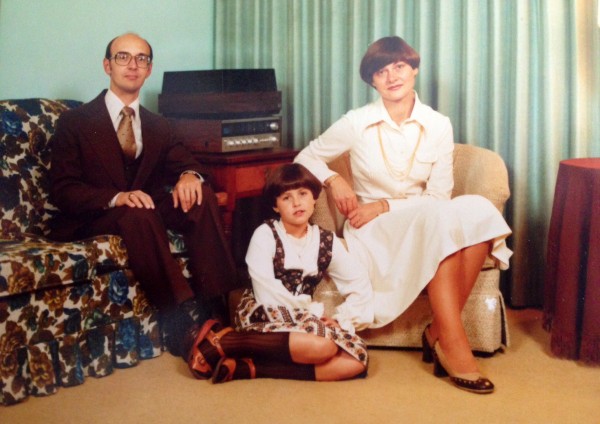 I love the socks and sandals look I was sporting!
Then came a brown phase… I couldn't find a good pic of it.
The dusty rose and sage green phase was done for our wedding in 1990…
See the coving at the ceiling line? I think that is one of the most beautiful aspects of the space…
It runs all around the living and dining rooms which are open to each other.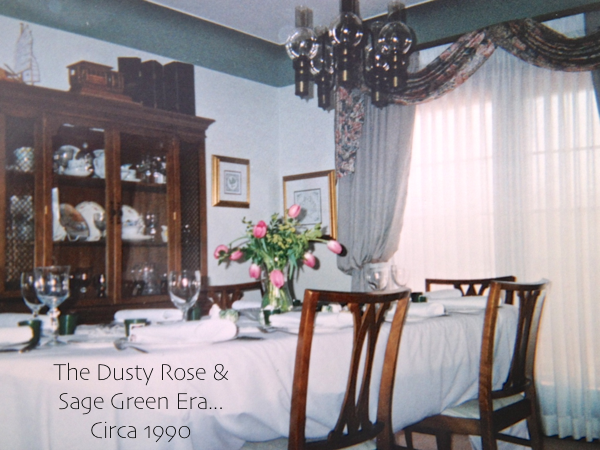 Here is the living room during that epic colour combo incarnation…
Sorry about the photo quality. I couldn't find a better representation without people.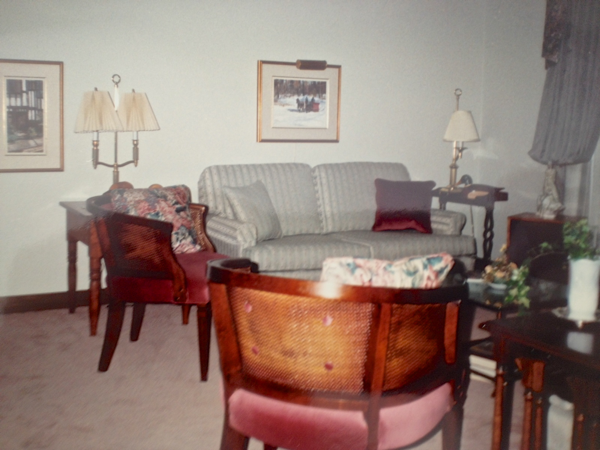 The latest version has been quite nice with a beautiful rich blue/green on the walls…  (You will see a pic of that in a minute )
So, now you have seen where we are starting from!
Here is the plan…
A few years back my mom wanted a new wallpaper for the foyer. A beautiful sample book had just arrived in the studio from Blendworth a U.K. company…  when I saw this pattern called Linden I knew it would be perfect. It has a soft metallic pattern on a lovely warm neutral ground.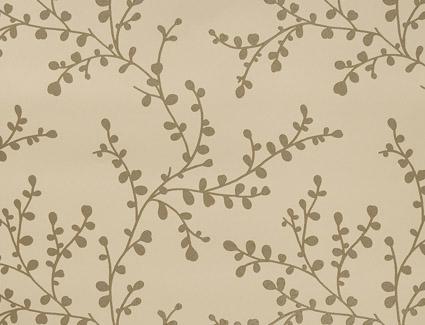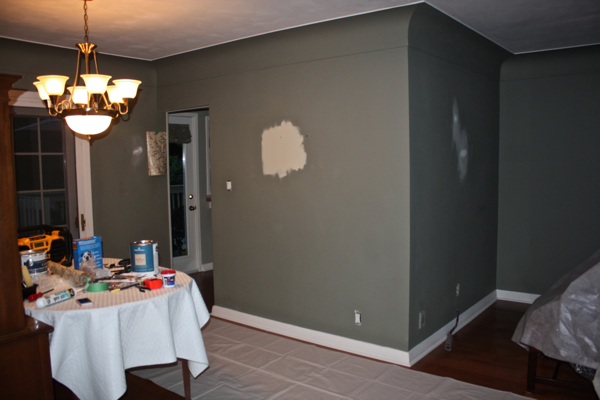 I am taking the background colour from the paper and am using it for walls in both living and dining room.
You can see the wallpaper taped to the wall and the test patch of paint.
The current paint colour is beautiful and rich… I actually really love it but it sucks light out of the room.
I know this lighter colour will make the space feel brighter and more open.
Then I am very excited to try using some Matte Metalic paints from Modern Masters for the coving! They have graciously provided the paint for the project and I will be reviewing it on the next post!
Their colour choices are beautiful!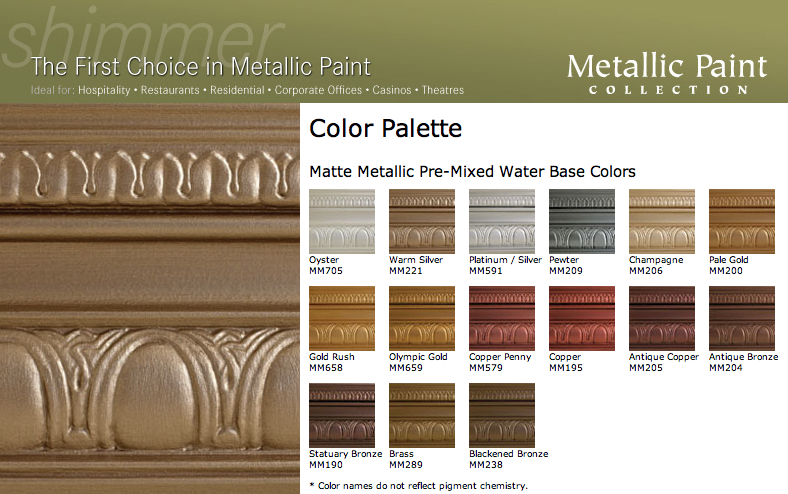 Another aspect of my design will be to add an antique mantle as a feature. We will be painting it and the T.V. will be mounted above it.
Emmitt is supervising…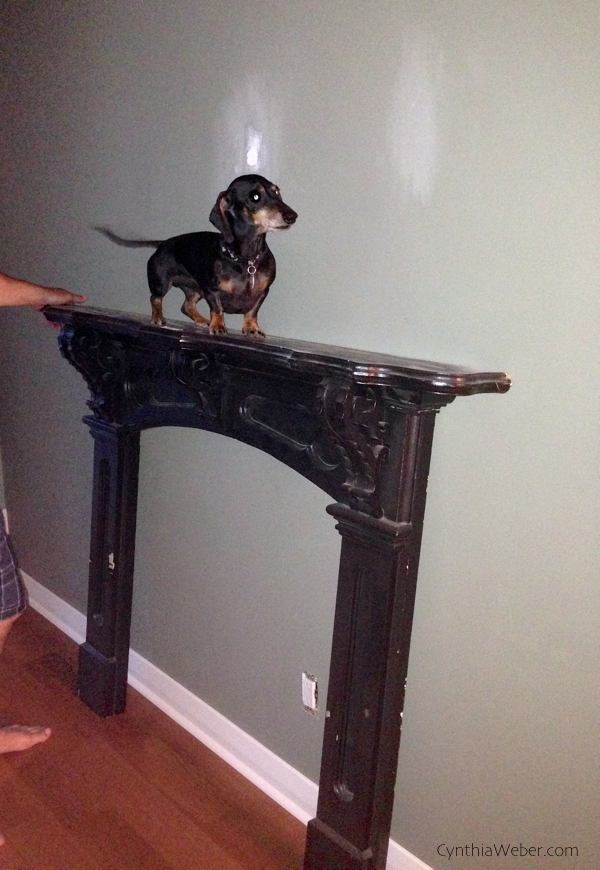 There is so much going on and I know it is going to be a great reveal…  you know I love " The Big Reveal" !!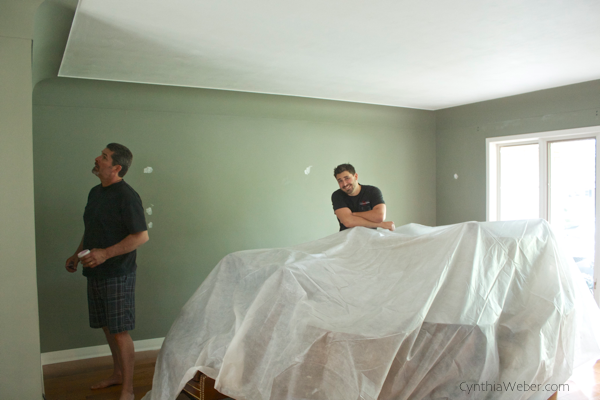 As you can see… Kent is working & handsome and Spencer… is handsome. 🙂
Along with the living/dining reno there are a few other sideline projects we want to get done for my parents include replacing a few basement windows…
Spencer is doing that part and Kent was very happy to help out yesterday with the install… My boys love to work together… can you see the huge smile on Kent's face.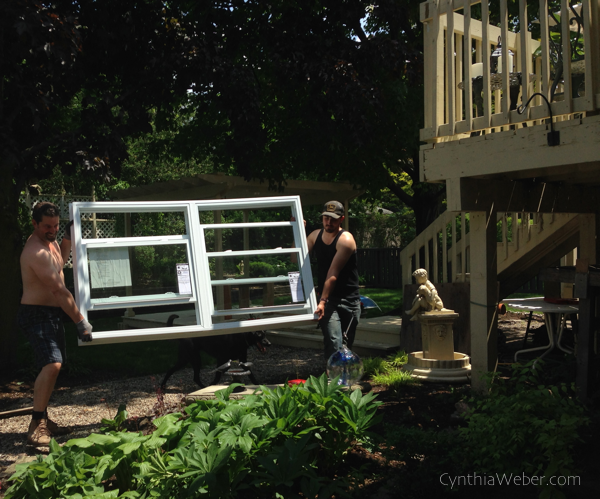 My parents have always been very supportive of my design career…  they love to hear about our client projects and see my design concepts come together. It is so much fun to do projects for them!
So, that said… I need to get back to work!!
After all, that cruise won't last forever and before you know it they will be coming in their front door…
Let's hope they like what they see!