Happy April!
I hope you had a lovely Easter weekend… we had a wonderful dinner Easter Sunday.
It was nice to relax and catch up with family… and eat of course!
So… about the update…
 A few weeks ago Kent and I moved into my parents house while they were gone on vacation.
We redid their kitchen in a whirlwind one week blitz.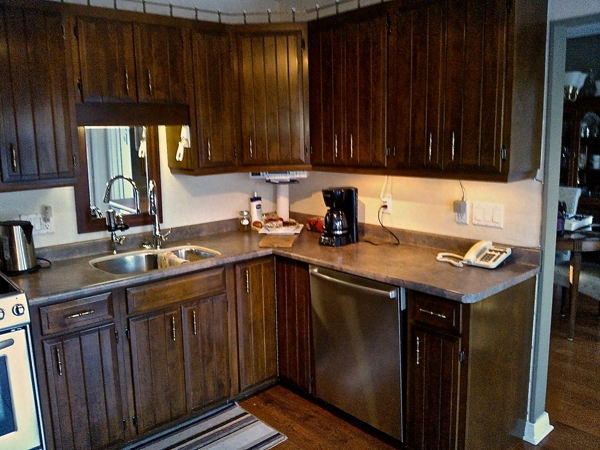 It went from this…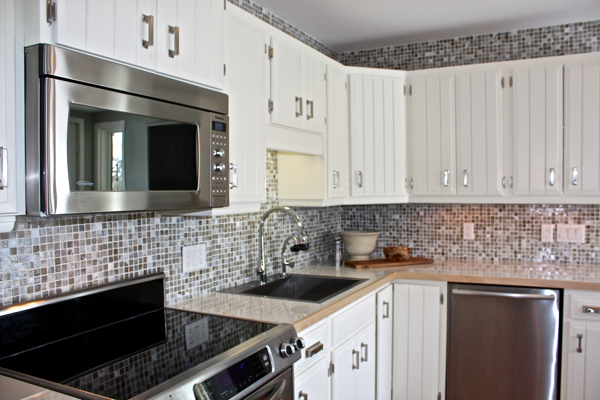 To this…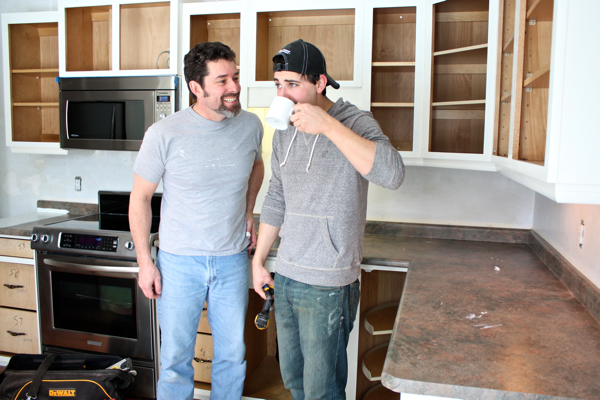 With quite a bit of this in the middle…
If you missed the two posts on the process you can catch up here and here.
Many of you have been patiently waiting for an update so here it is…
The one thing we did not get completed in the week was building the kitchen bar.
When we got home Kent began making it.
He started with some oak stock that he had in his shop.
A large thick board was cut into two pieces to make the legs.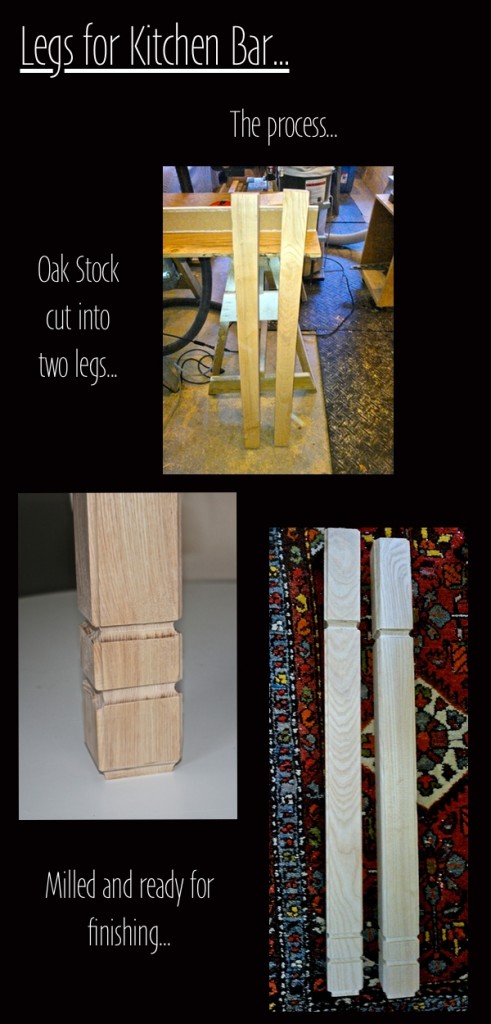 He used the router to make a thumbprint detail down the four edges then also routered a horizontal banding at several places for interest.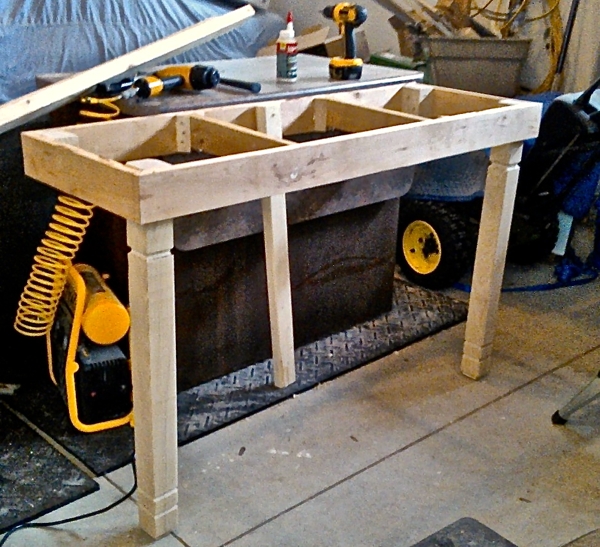 The bar was designed to be secured to the wall under the new window.
The idea being that they could also build another bar on the deck side and use the window as a pass through for summer entertaining.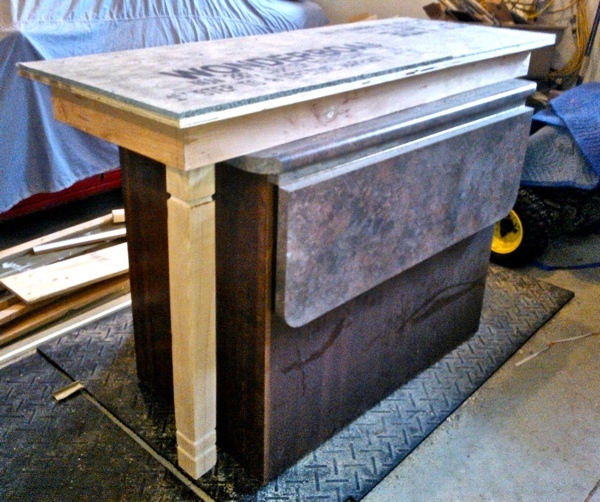 Kent took these photos as he built it ( with his phone… sorry about the quality)  
The amusing thing about this picture is that he used the old clunky island that had been in my parents kitchen to hold the new one as he built it…
Is there such a thing as furniture karma?
We  painted the skirt and legs and tiled the top to match the cabinets and new counter.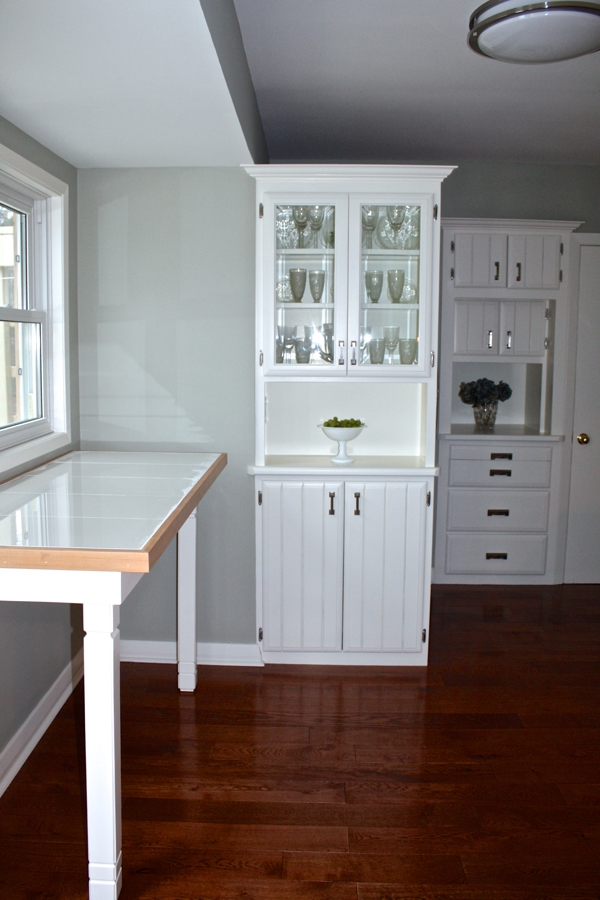 Transporting it was nerve-racking but all went well. 
We waited and grouted after installation. You can see the slight haze still waiting to be polished off.
The final step was  installing the roman blinds.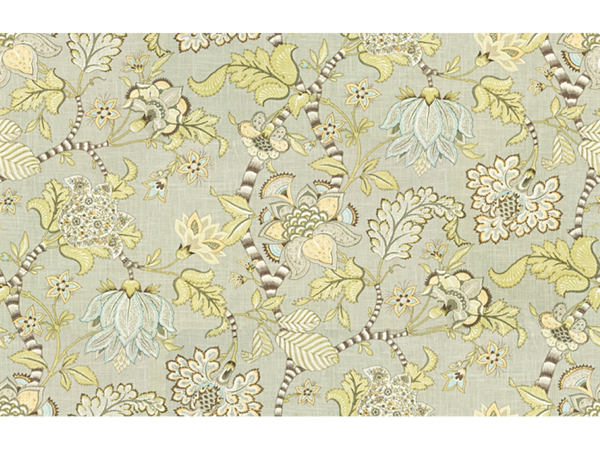 The fabric is a stunning linen from Kravet called ideology…
I love the pattern and colourway.
A few of you have wondered if you can order fabric that you see on the blog and the answer is…
Yes you can! We can ship throughout North America, just e-mail me for a quote.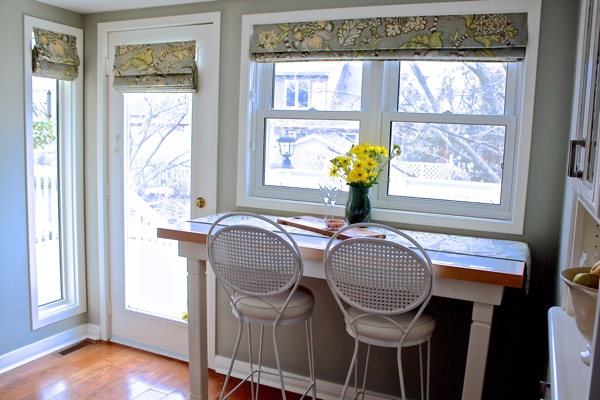 The barstools were sitting in my parents basement if you can believe it… they are over thirty years old but I think they work very well.
I wanted my mom to have several options to dress the bar up so I had a runner made.
It can be used here or on the other counter.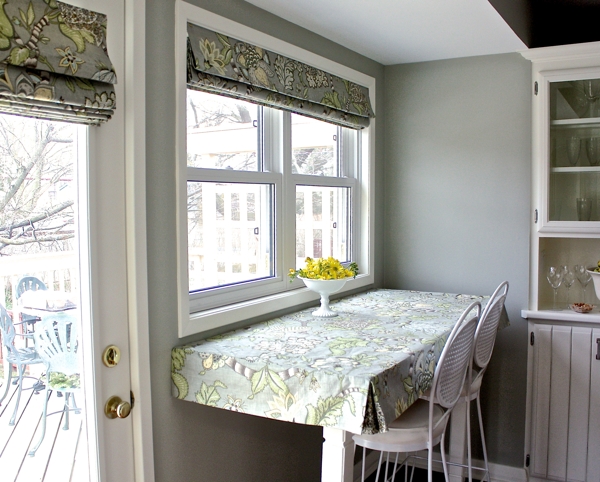 I also had my fantastic workroom make a fitted three sided slipcover for when she wants a more formal look.
I love  this new bright kitchen… the flow is greatly improved and the light bright space feels bigger and so fresh!
Thank you for all the wonderful comments and e-mails with regards to this project. You have been so supportive and kind! 
Kent and I had a wonderful time working on this, I knew it would feel good to do it for them but I had greatly underestimated how fulfilling it would be to see the look on their faces at the big reveal!
 Have a wonderful week!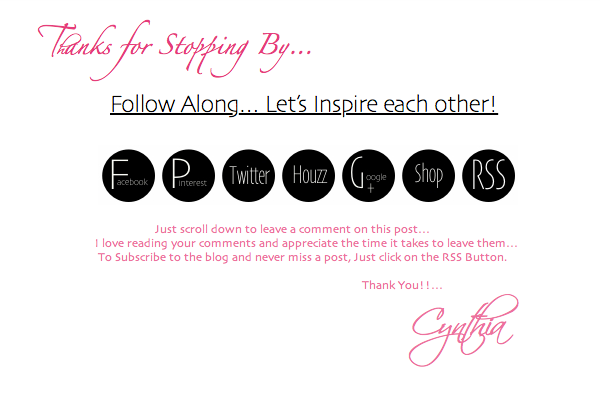 Sharing this project over at DIY Showoff