Laundry areas can be mundane and boring… especially when they are in a basement!
My mom had a truly uninspired one and wanted to make it a nicer place to spend time.
It became even more apparent that it needed some attention when she got a new washer/ Dryer…
They were so pretty… they deserved better!!
and so did my mom!
So… with the help of our son Spencer who lives with them while he is attending University…
We made a plan to improve the space.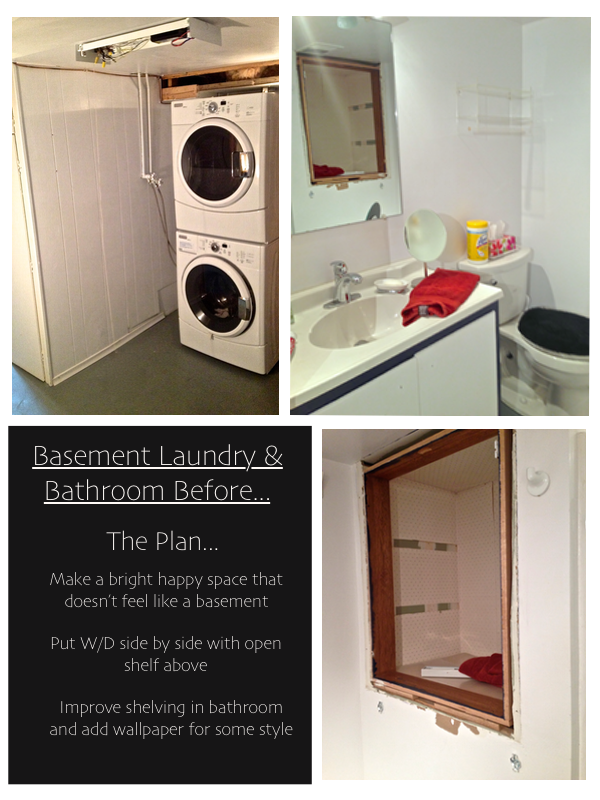 The bathroom is right off the laundry area, it is small but functional… we just wanted to make it sing a little bit!
Spencer got to work removing old panelling in the laundry area, taking out the old vanity and gutting the small shelves in the bathroom …
He was on his own with this reno, all I did was offer a bit of advice from a decorative perspective.
For a bit of interest my mom decided she would like some wallpaper in the bathroom…
and that gave me an idea!!
I had taken a beautiful photo of a faded doorway when we were on vacation…
I really wanted to try to turn it into a toile wallpaper pattern.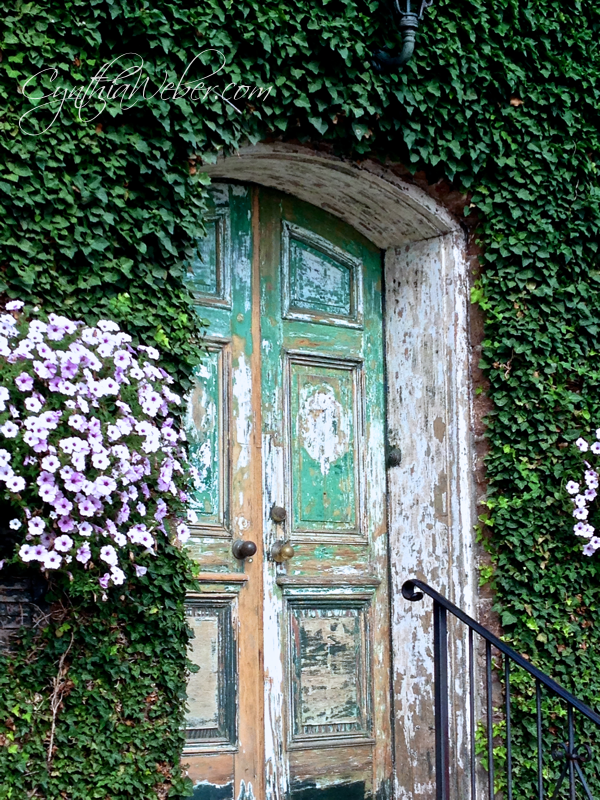 This is the photo I took…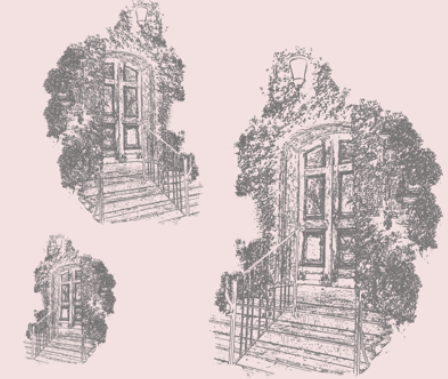 and… this is what I turned it into!!
I LOVE IT!!!!
Mom liked it too so we decided to give it a go.
I have been working on a line of fabrics through Spoonflower called the Gatehouse Collection for the Gatehouse project at Thistlewood Farms.
That project is just getting underway and I am over the moon excited about it.
Look for all the lovely eye candy in the not to distant future!!
The experience has been a blast!
The collection for Thistlewood and my faded Doorway pattern are all available as fabrics, wallpaper and gift wrap through my studio over at Spoonflower.
This it what the wallpaper looked like when it arrived…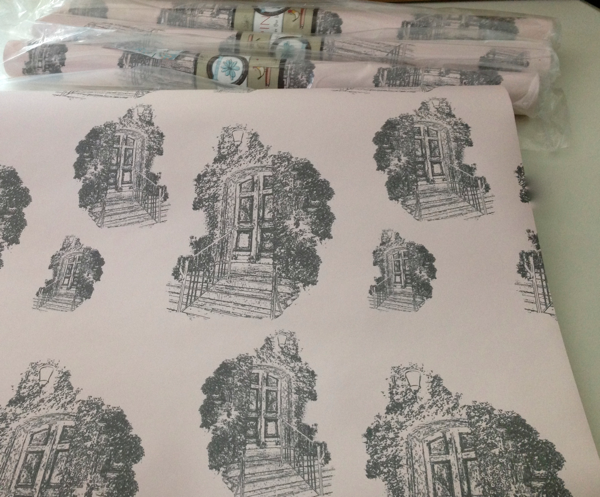 Would you like to see the finished bathroom????
I was hoping you would!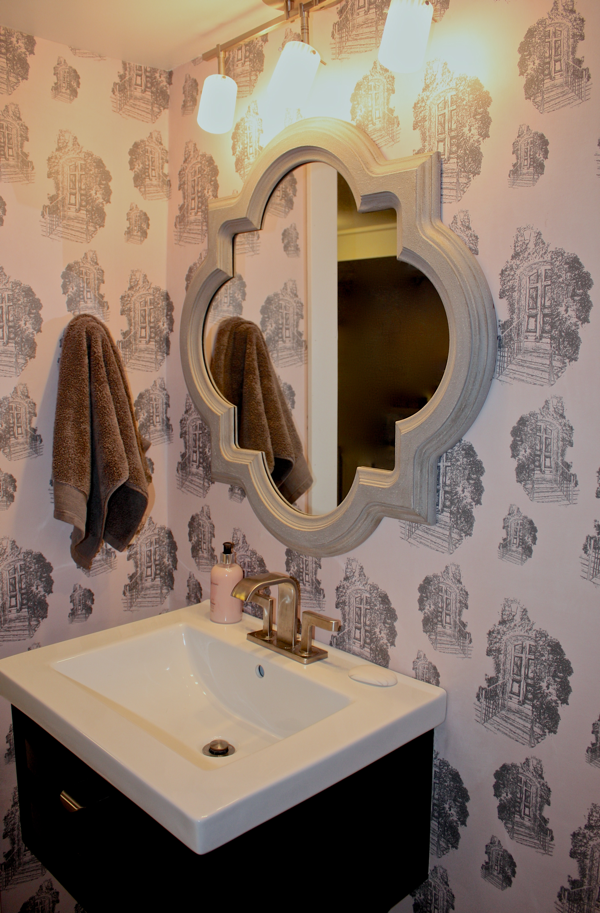 Spencer opened up the cubby and created a much more open area for my mom to store towels and supplies…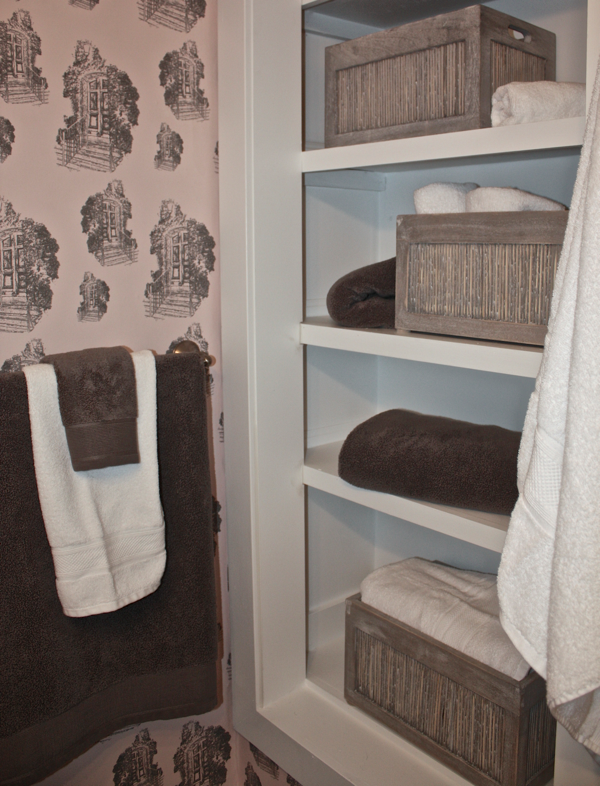 He also placed the washer and dryer side by side and made a folding station with an open shelf above for storage.
Painting the walls a paler than pale blush colour brought some life and happiness to the previously dark basement…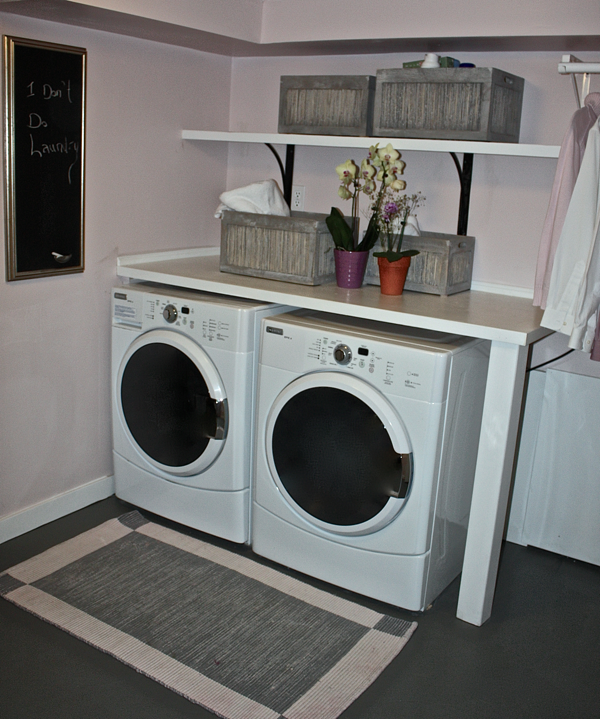 Spencer also installed a rack for hanging clothes, made a DIY chalkboard and painted the floors a beautiful slate colour.
I think the improvement is wonderful…
What do you think?
Would you be happy doing laundry in this basement??
For more Laundry room fun have a boo at my Pinterest Board Laundry Room Inspiration…
If you have been following along on the blog you will know that Kent and I are neck deep in an exciting client project… I will be sharing another post in the series Client Diaries Jess & Brad in a few days…
It is coming along swimmingly and this last weekend we had a bit of a surprise when Jess and brad came home to stay at the cottage for the weekend…
IN THE MIDDLE OF THE RENO!!!!
Oh… I have stories to tell you!!