Do pops of colour in a room make you happy???
Do they make you smile?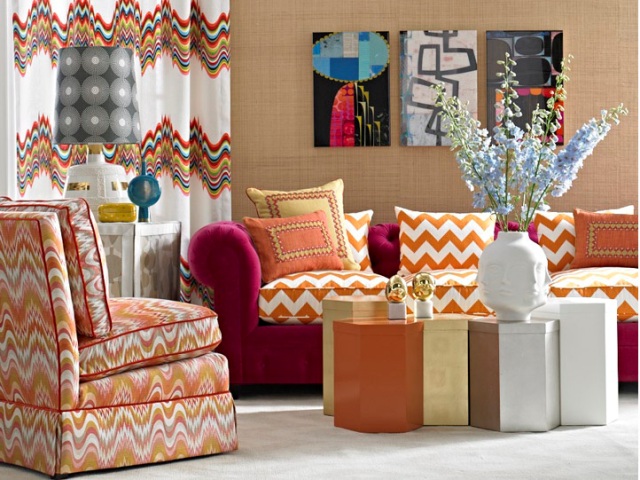 Me too!
I love a neutral backdrop with pops of colour…
There is something very energetic and compelling about being in a space that "sings" a little bit…
It makes me feel …
Creative!
If you have been following along with The Client Diaries Series you will know that Jess & Brad have  a wonderful and eclectic art collection. It is filled with colour, texture and life.
I wanted to find a way to compliment and showcase these treasured pieces in the new design.
So…
I immediately thought of the Jonathan Adler fabrics available through Kravet! ( That link will take you to the whole collection.)
The patterns in the collection are ALIVE  with movement and colour play…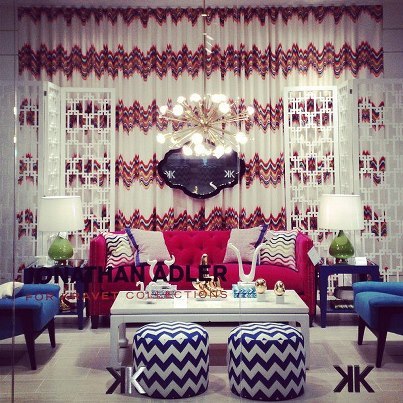 In addition to the wonderful paintings, folkart and other artistic works in the cottage,  Jess has collected fiestaware over the years and we decided to use it in the new kitchen design…
I made an inspiration board showing the mix of Fiestaware with JA fabrics…
Just to see how poppy it would be!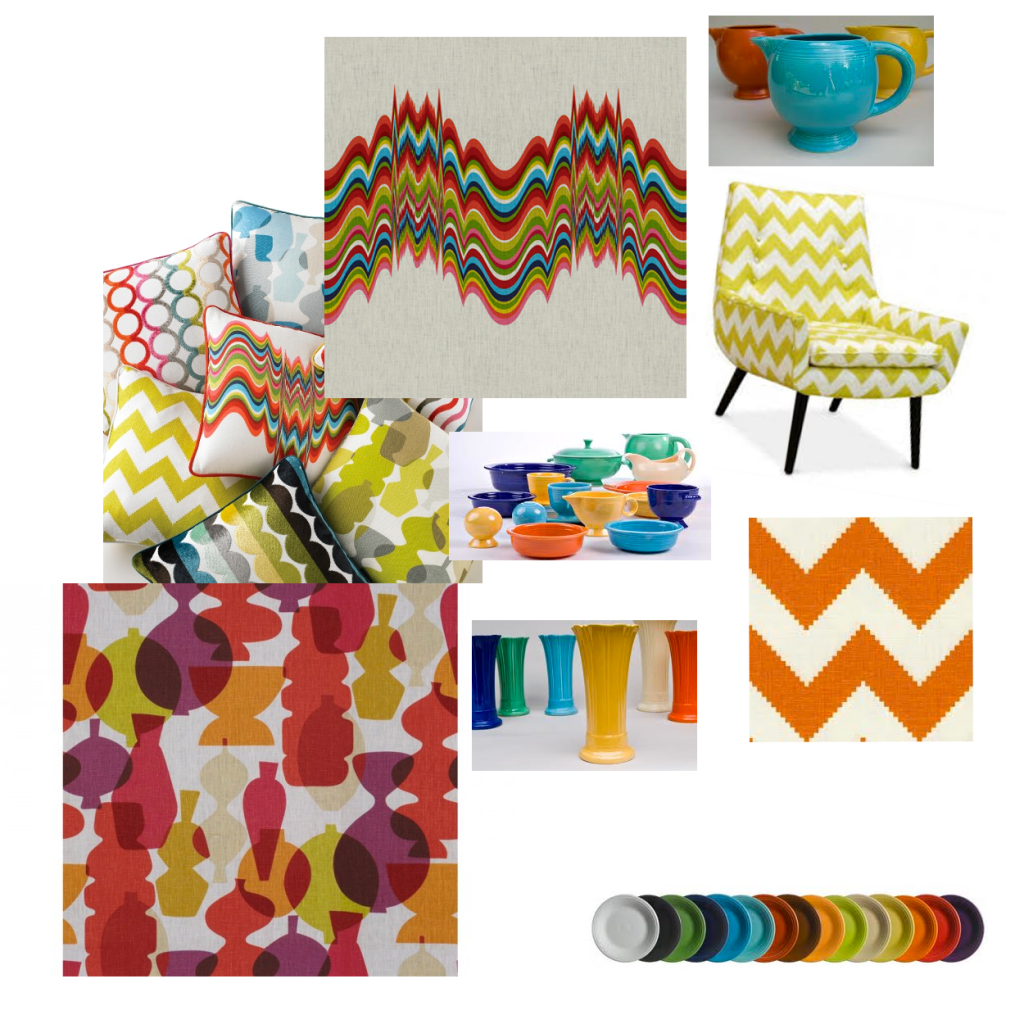 Hello!!!!
Now… let's scale it back a bit and find a combination that will "pop"  without…
Overwhelming…
We chose a beautiful counter stool style from Gresham House Furniture…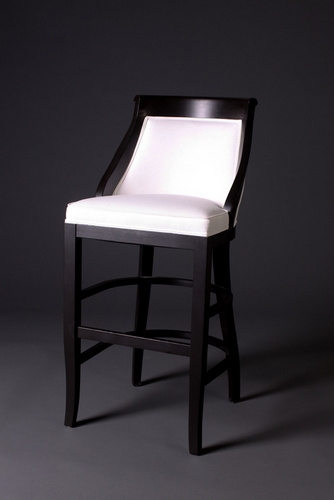 I love the form…
And the fact that the fabric is on both front and back…
which means it will be visible from the kitchen and the diningroom.
So…
YES to this amazing frame…
But…
I wanted a bit more life…
Ok, how about a custom painted finish on it???
IN RED!!!
Yes, I did!
And for fabric?!?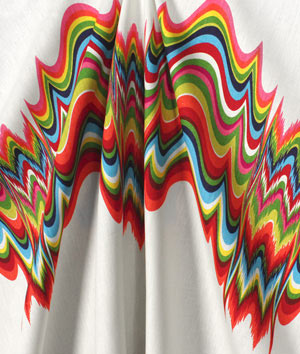 JA Distorted col:519
Be still my heart!
They are going to be stunning!!!
You can see how the fabric will play off the colours in the beautiful large scale art in the dining room…
Woody will be moving back to his regular place of honour in the foyer when the reno is finished.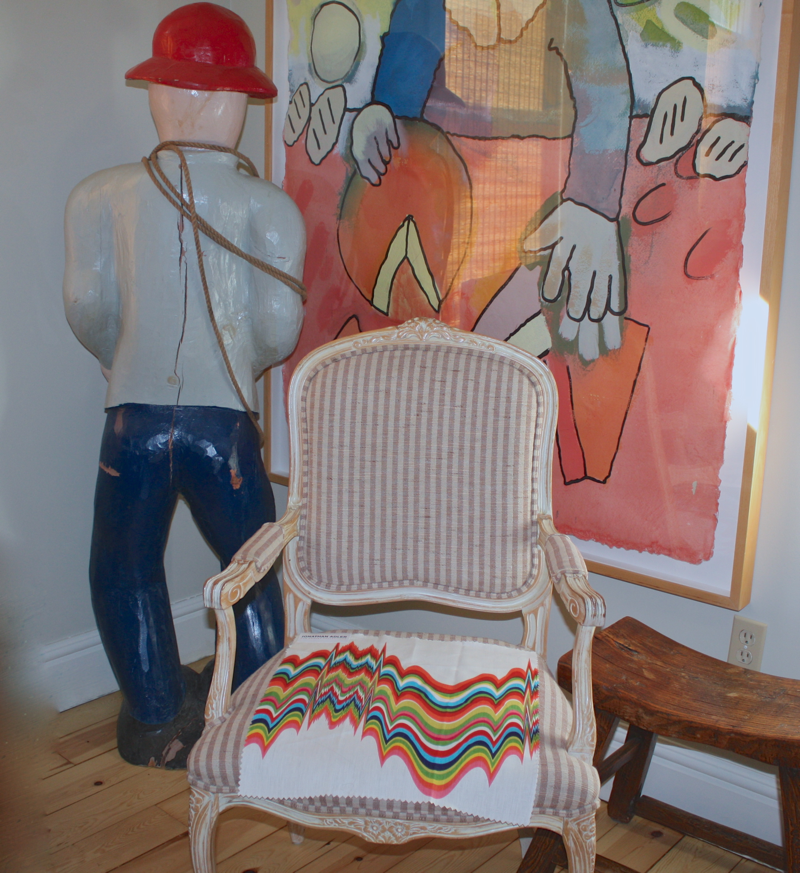 Now, in the last post about the cottage I gave a teaser about the custom kitchen island…
I showed you some of the elements we are using in the kitchen…
They will give a classic and timeless backdrop for all that pop!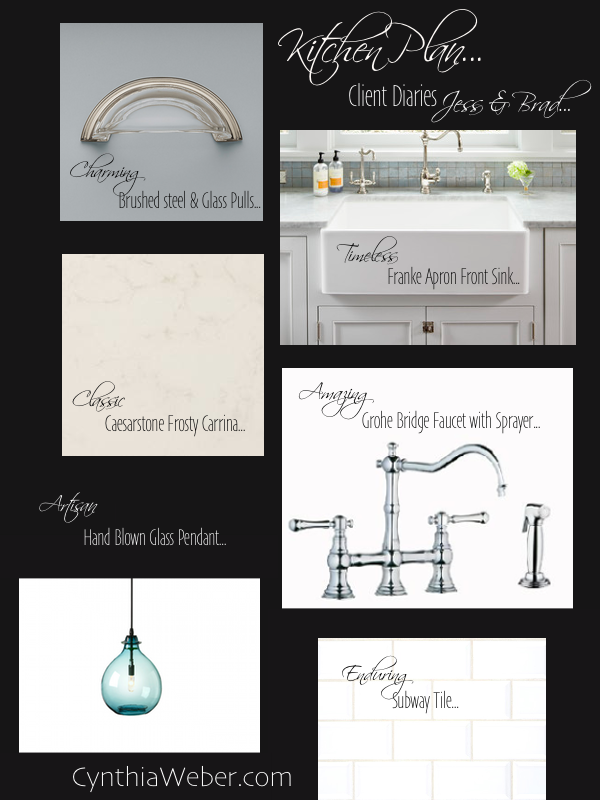 And then I said…
Wait till you see what I have in store for the island…
Would you like a peek?
This photo came from my fabricator today…
He was kind enough to send it through because he knew I have been waiting on pins and needles to see it…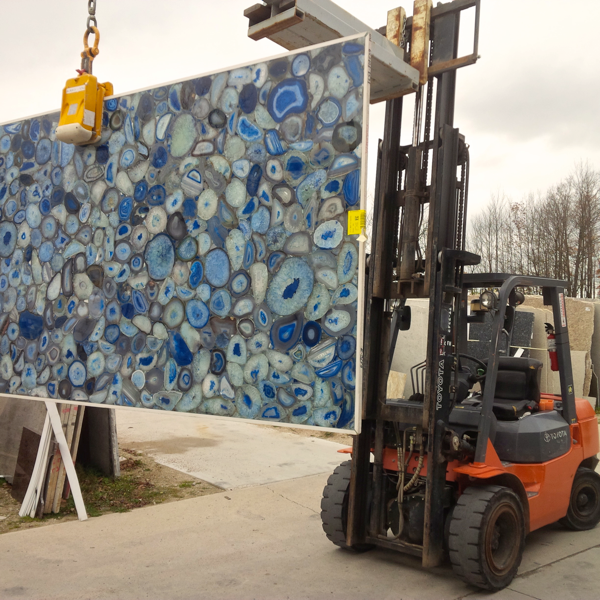 That my friends is a slab of Concetto Blue Agate from Caesarstone…
It is unbelievable!!
There is a whole backstory about this beauty…
I searched high and low…
All across North America in fact, for a cut piece to use on the island.
Jess & Brad were so excited about it…
It was going to be the jewel in the crown of their new kitchen.
But…
No cut piece anywhere.
It is only sold by the slab…
SO…
Kent and I bought a whole slab! 
I know, I can't believe it either…
It is HUGE!
That new island is going to be unreal… 
The base will look like  an old store counter…
Our Mennonite cabinetmaker is reproducing the baseboard profile for trim around the base of the new island so it will relate to the older part of the house.
We are going to paint "Bayfield"  on the front.
The other side will have a recycling pull out, open shelf for the microwave and a few drawers for added storage.
And the top will be Blue Agate… alive with colour!
Here is another photo of the Concetto…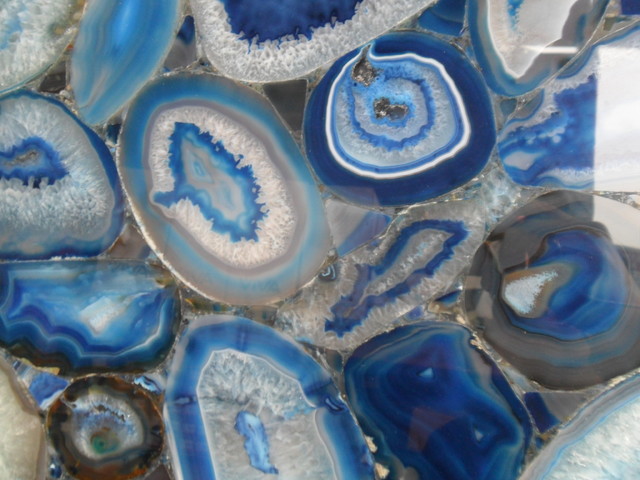 This week has gone by in a blur…
Lots of progress and so much more instore…
I can't wait to show you some of the finished spaces as we get them done!
Have a fantastic weekend…
I need to make room for the rest of that huge slab of Agate!!