Well… It has begun! The demo that is.
Today is post # 3 in our series Client Diaries… Jess & Brad.
 For post one  where I give an intro to our clients and the series and two where I share the plan for the cottage… give a click and play catch up!
Now, I need to make an introduction…
This is Woody…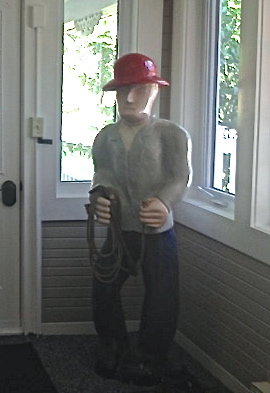 He is a beautiful carving from Nova Scotia artist John Neville. 
Woody's usual place of honour is in the entranceway but for the reno… he needed to find a new home.
We put him in the living room where he watched over the progress…
but Woody has an attitude problem…
He is mouthy and a big complainer, I suppose it makes sense, we are invading his space…
The truth is…
Woody  kind of freaks me out.
He stares…
SO
Woody is having a time out for the duration of the reno, this way he will be surprised by the 'Big Reveal"!!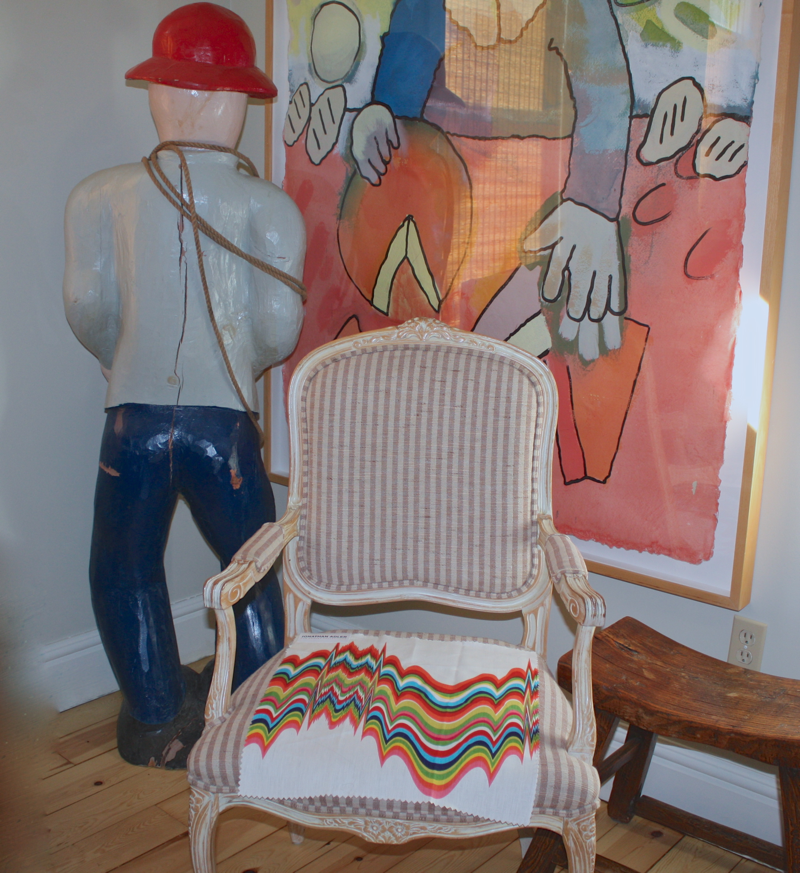 He is a peeker though, I caught him looking when I was checking out this fantastic Johnathan Adler fabric swatch… 
I am most definitely going to have to keep an eye on him. 
Now back to the DEMO!
I love this part of a project… when things are just getting going, we are highly motivated, full of energy and can't wait to see what we will find.
Well, this cottage is not letting us down!
We found some interesting things this week!
Do you remember that entrance?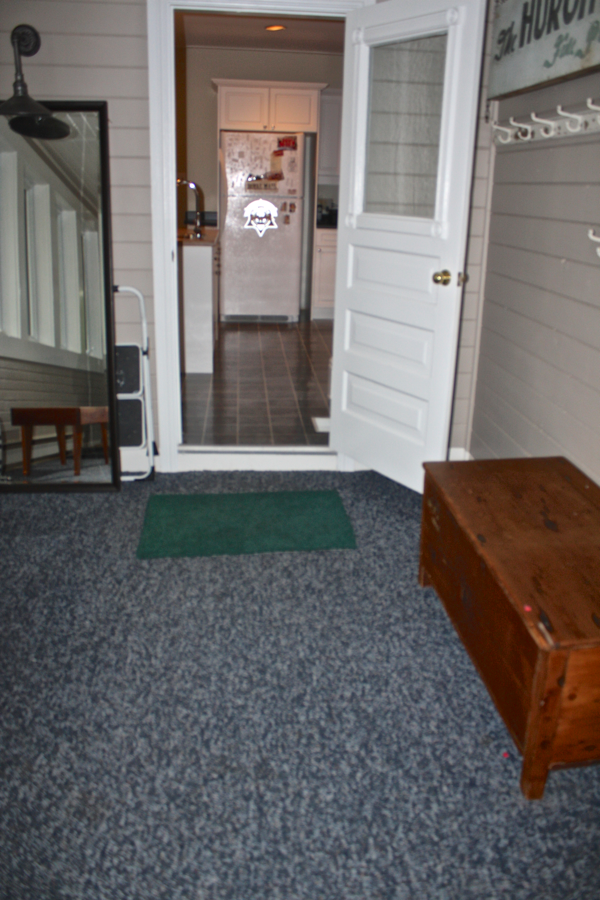 Kent texted me from the cottage and said… " you won't believe what was under that crappy carpet"  
Now,  I don't need to tell you this part but it is what happened …
I hopped on my bike ( yes, I know it is a little bit Anne of Green Gablesish, but we live in a small village and our house is about a five minute bike ride away from the cottage … and I am very focused on exercise… laugh away, if you know me you will understand that is funny! anyway… I biked over )
 This is what I saw when I got there…
Kent beaming from ear to ear and  pointing to the recently uncovered painted pine floorboards!!!!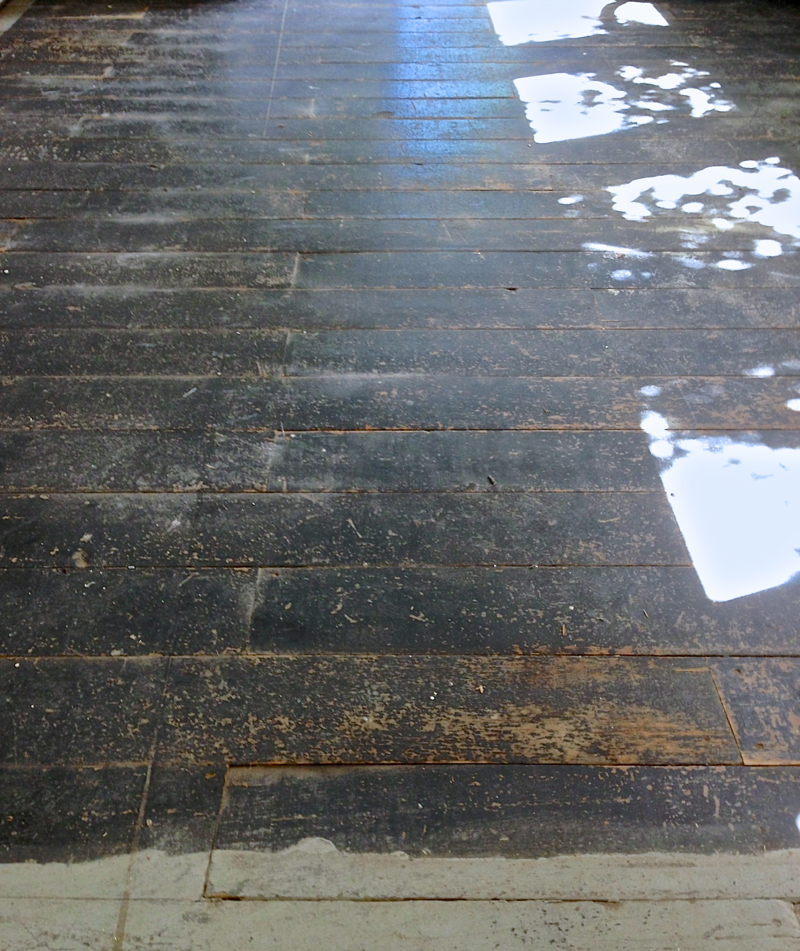 I did a happy dance… yes, I did and I don't mind saying it one little bit!
I was over the moon…
I heard a choir singing…
Oh, I can't wait to show you what we are going to do with them!
The next little surprise came when we started gutting the upstairs bathroom…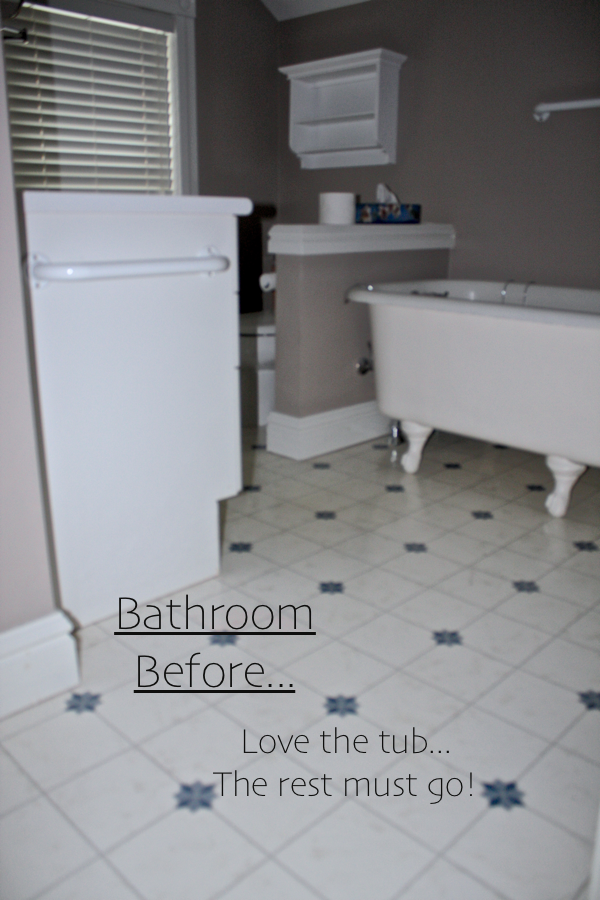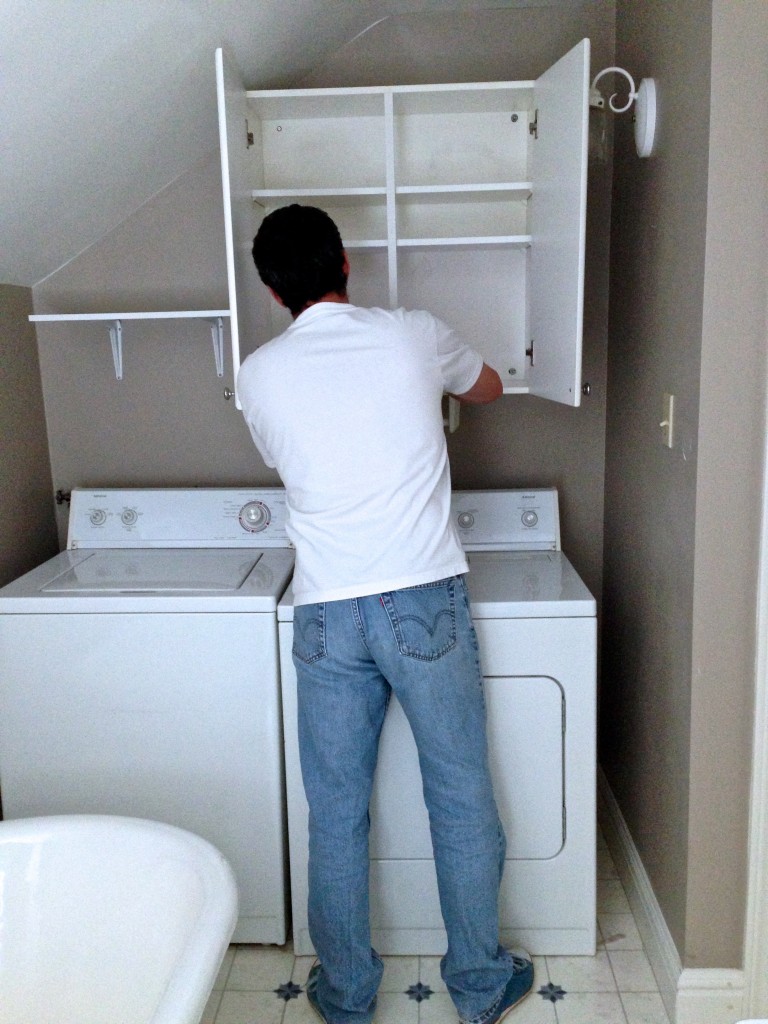 The washer and dryer are going to stay but the not so beautiful hanging cupboard…  most definitely not staying…
Kent was a bit surprised what was behind it…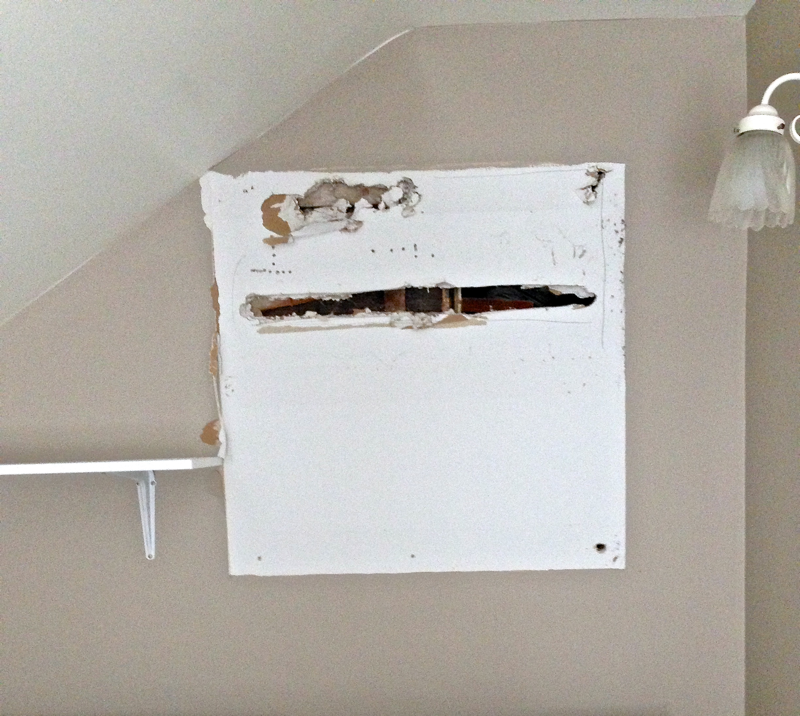 Very pretty don't you think?
It is at times like these when I get a reminder of my handsome husbands truly stunning vocabulary…
The rest of the bathroom demo went quite well.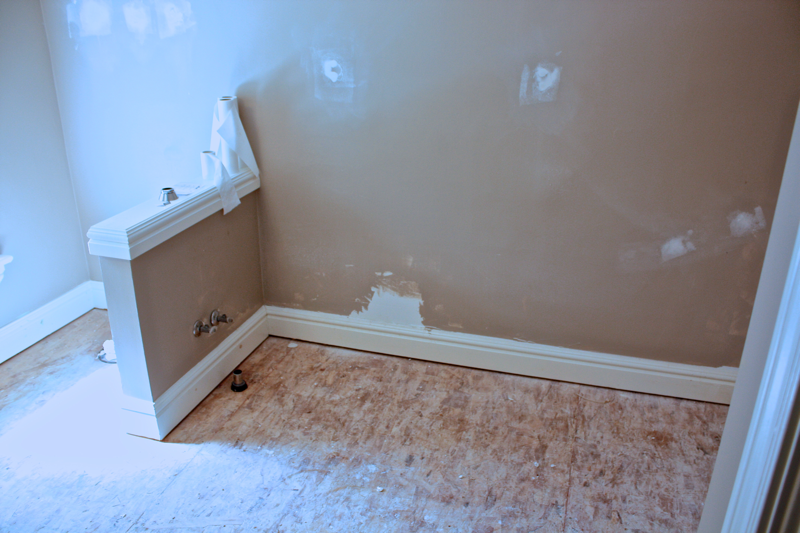 The vanity was in good shape so we took it to the Habitat Restore with all the other reusable fixtures and appliances.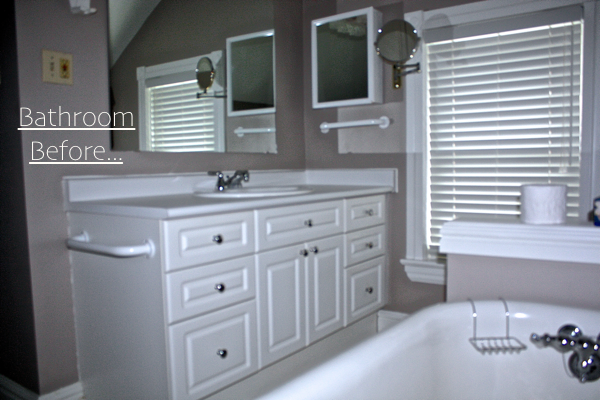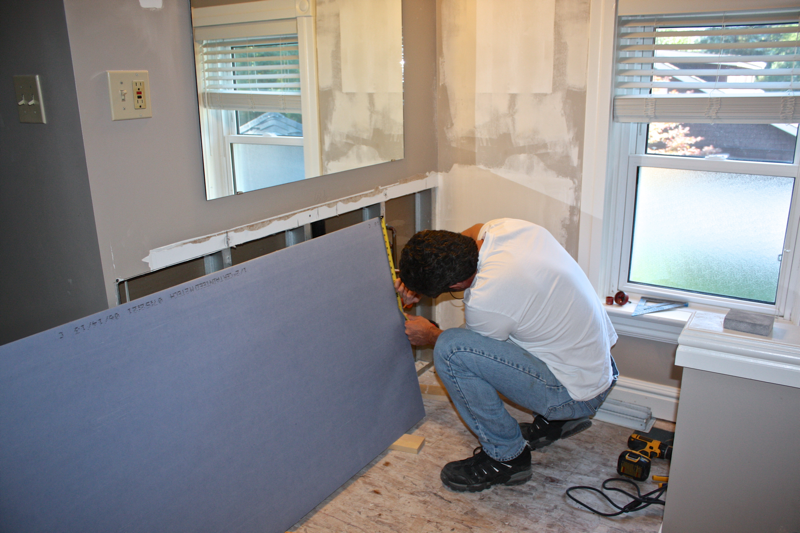 That mirror is waiting to come out… I want to salvage it but for some unknown reason instead of just the mounting clips holding it in place… it seems to be completely glued to the wall. 
The single sink that had been in this room will be replaced by two side by side pedestal sinks.
This meant that we needed to open up the wall and have a plumber come in to change the fittings.
That has been done and now Kent can close the wall back in and start putting things back together.
It will be stunning!  I can't wait to show you what we have in store for the wall around the claw foot tub…
Now, If only we can get that mirror off without breaking it… 
Have no fear… I didn't forget the kitchen!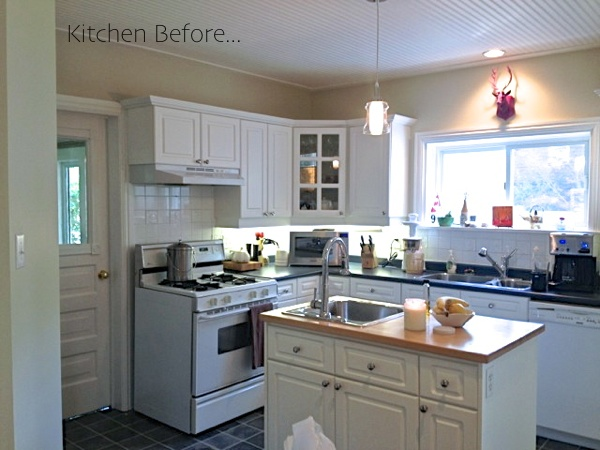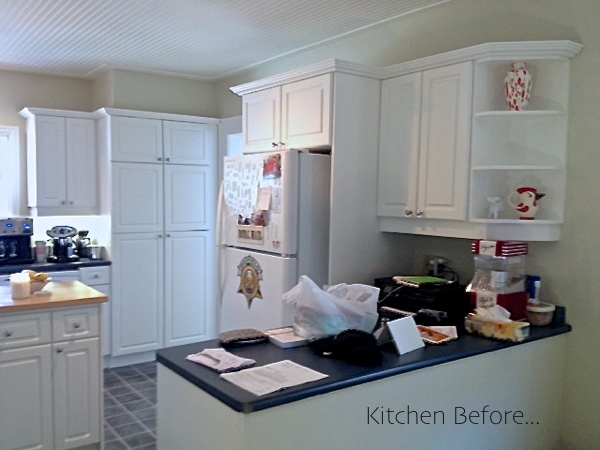 The flooring came up well during demo and the counters… no problem!  
The backsplash was a different story… The tiles had become one with the plaster wall and decided they would rather stay married.
So, we let them and are replacing with new cement board which will be far better for the new tile.
Sometimes a fresh start is best!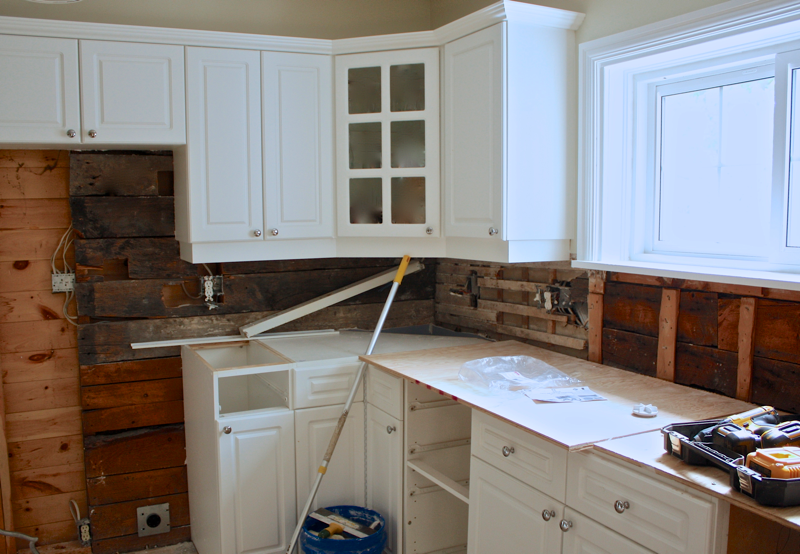 I hope Jess doesn't panic when she sees this pic… hang in Jess!!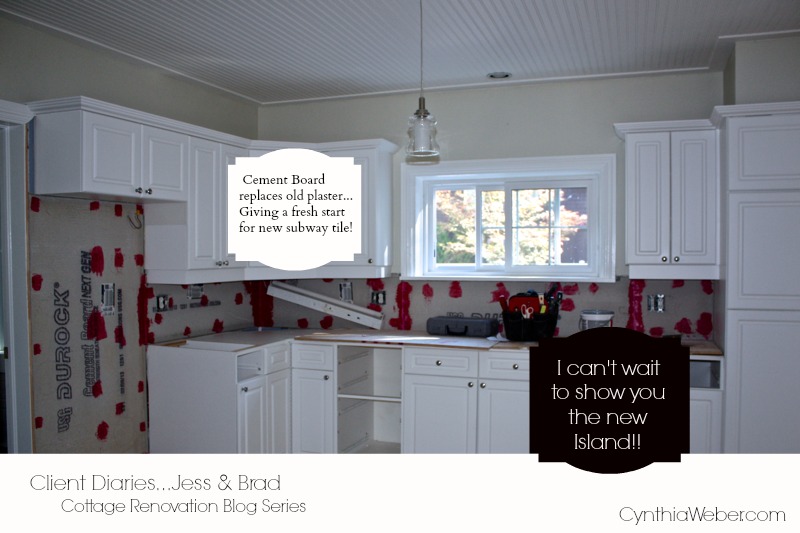 Well, it looks a bit better!
A full coat of that beautiful pink sealant will come next.
This renovation will be in full swing now that the demo is done.
Next week I am part of a Fall Home Tour.
It will showcase 25 homes all decorated for Fall…. Hoop Top House is up on Wednesday so pop back and have a look.
Busy, Busy, Busy!!
Have a fantastic weekend!