Fall has always been  my favourite time of year…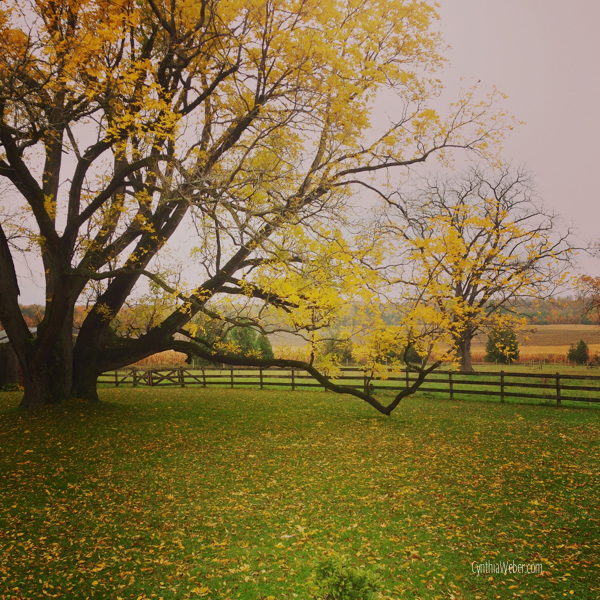 I love the crisp feeling in the air, the changing leaves and the clothes…
Give me a long skirt, high heeled boots paired with a cozy sweater and a jaunty hat any day…
If you have been following along you will know that this has been our first year at BannockBurn 1878…
We moved in last October and it has been a whirlwind of renovations, unpacking, gardening and getting to know the property.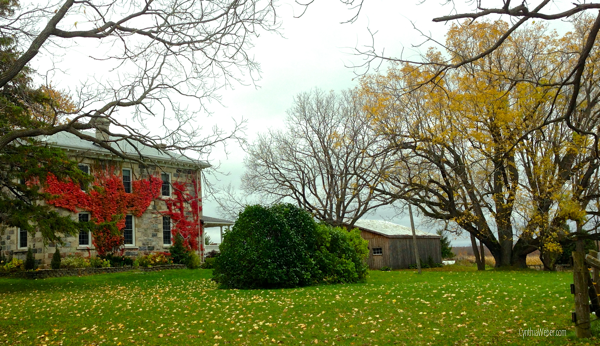 Last year the Fall display of changing leaves greeted us on moving day. We were in love with the property right from the start but I must admit… mother nature has put on a fantastic show these last ten months. Our love for this place has grown with the changing seasons and I can't wait to see the display this year. The tinge of changing leaves has just begun and already I am amazed at the beauty.
It has motivated me to do some Fall styling in anticipation!
I am also happy to be part of a wonderful bHome Fall Tour where many of the fantastic bHome bloggers are sharing ideas and inspiration for Fall decorating!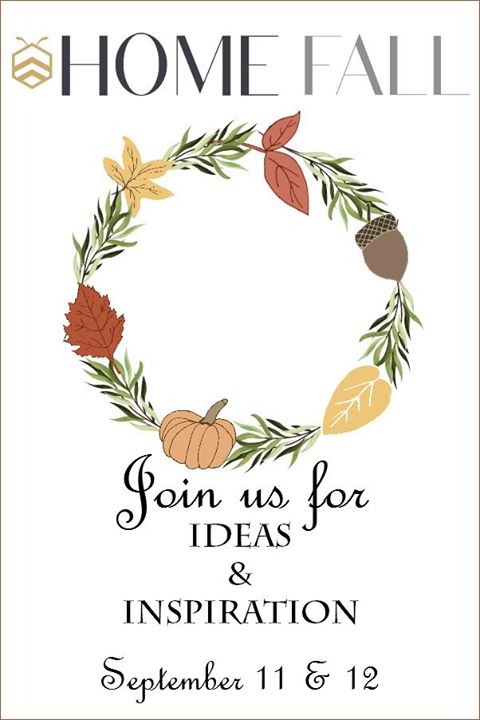 If you haven't downloaded the free bHome app here is the link!
It is a wonderful platform to follow all your favourite bloggers, chat with them about their projects… you can even share right from the app onto your social media.
Ok, now let's take a tour of my Fall styling…
It has been overcast here so the photos are a bit "out on the moors" ish !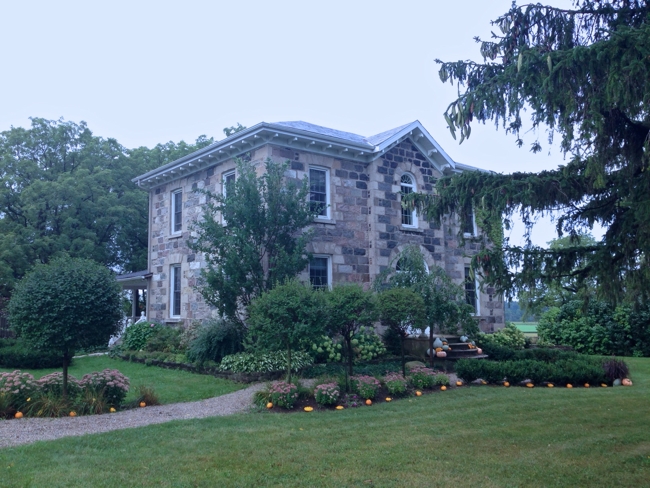 Our garden project was a roaring success so there was an abundance of pumpkins and gourds to play with.
I decided it might be fun to place the mini pumpkins around the front flowerbeds.
A "dotting" of orange outlining the curved sedum and boxwood hedges.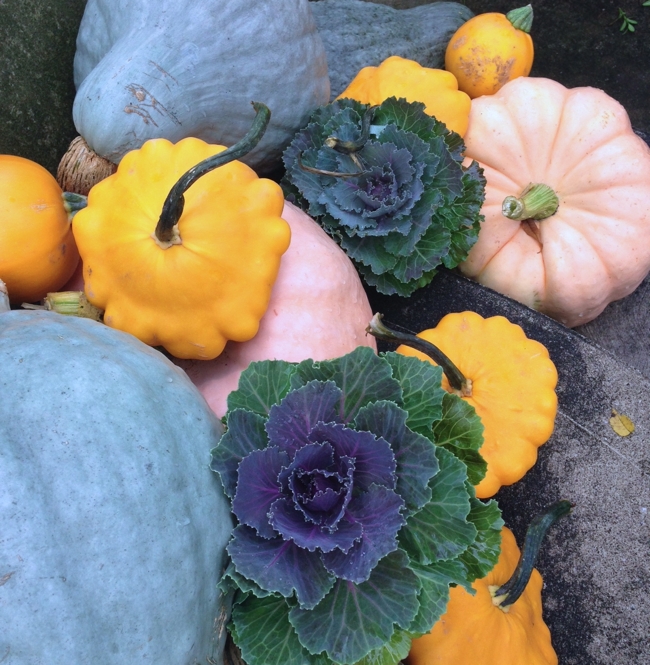 The blue ones are called Hubbard squash. The pink are called Pink Dolls. Both were planted from seed in late May.
I added a few mini cabbages from the garden centre for interest. The small patty pan squash were also grown here and the small round pumpkins are actually round zucchini.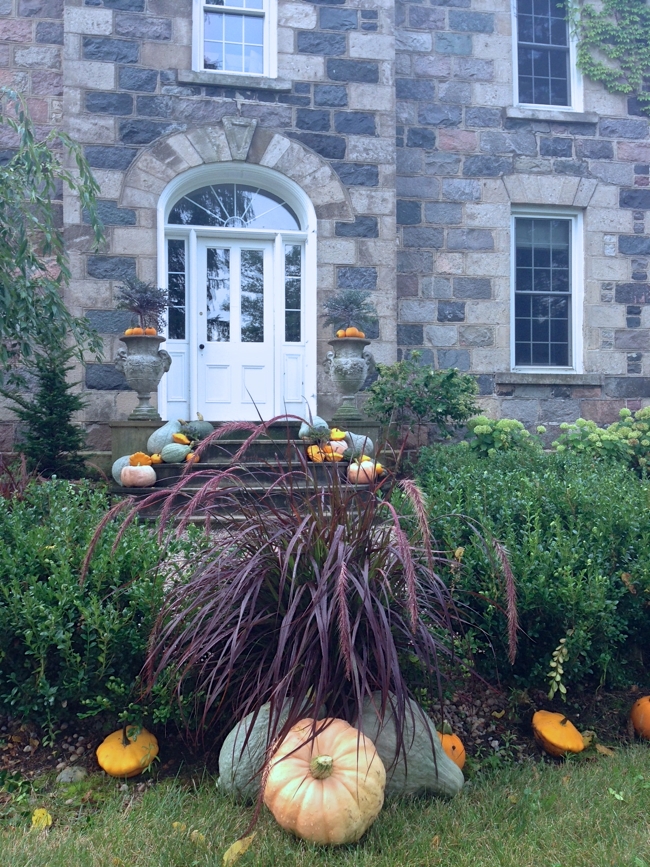 A few well placed ornamental grasses brought some fall colour as well.
For the front door urns I placed flowering Kale which had the leaves removed from the stem to create a tree effect. A few  small round zucchini at the base brought the orange up to the door for balance.
All of the various elements were also placed on the steps creating a Fall bounty effect.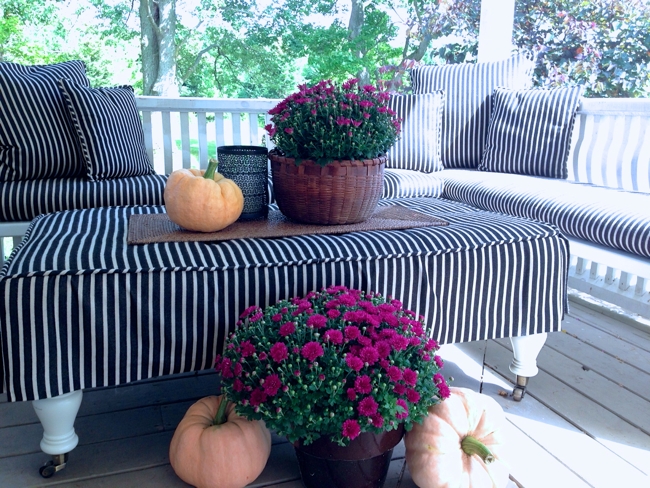 I kept things simple on the back porch.
A few mums and those pink doll pumpkins …
Ty seemed to approve!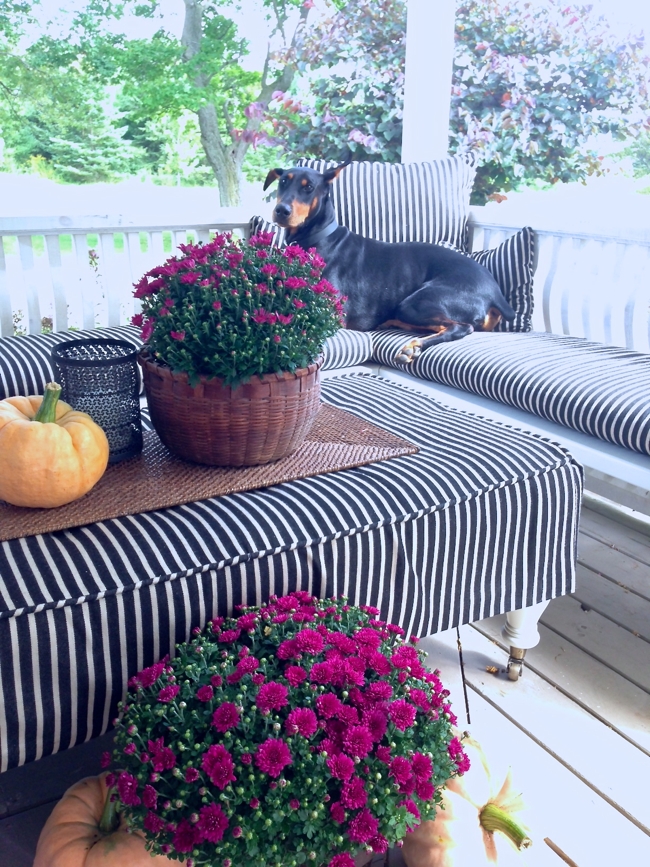 The tree out back is just starting to change colour… the next few weeks will see big changes.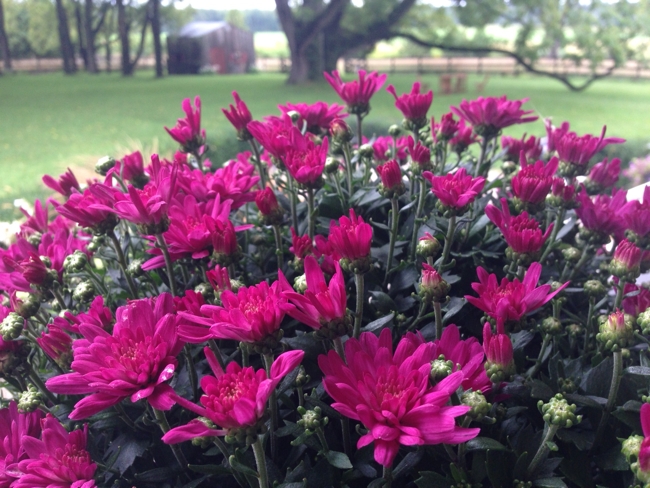 Let's have a peek at the herb garden…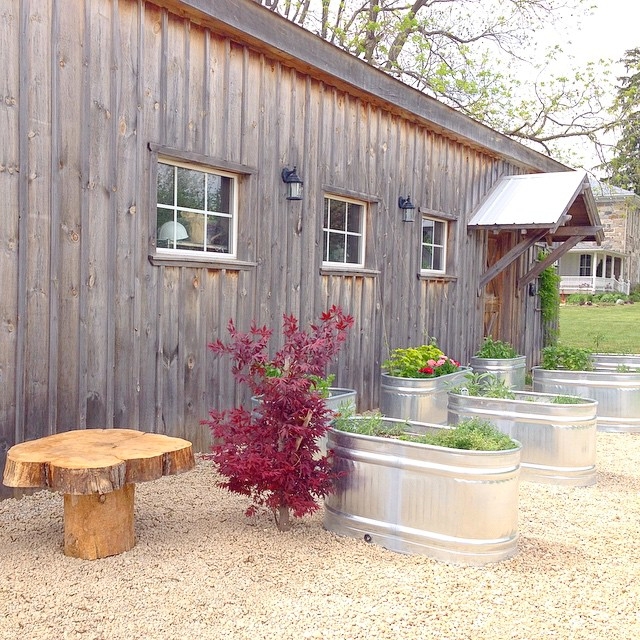 Back in the spring we decided to build an herb garden at the side of the barn.
The stock troughs worked beautifully and the herbs have thrived… as long as I remembered to water them!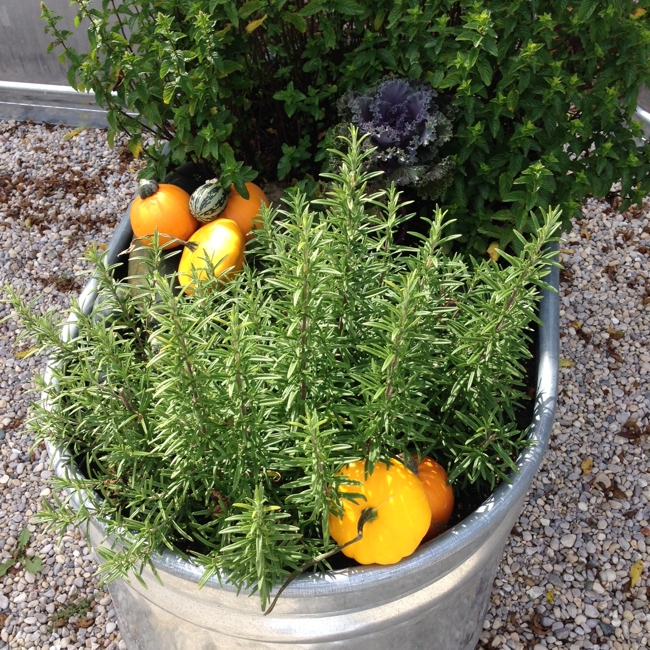 The quick addition of various pumpkins and mini gourds was all it took to give a Fall feeling.
Honestly, It took WAY longer to haul them up from the garden than it did to place them around…
I have a few more loads to bring up for other areas but, I'm taking a break!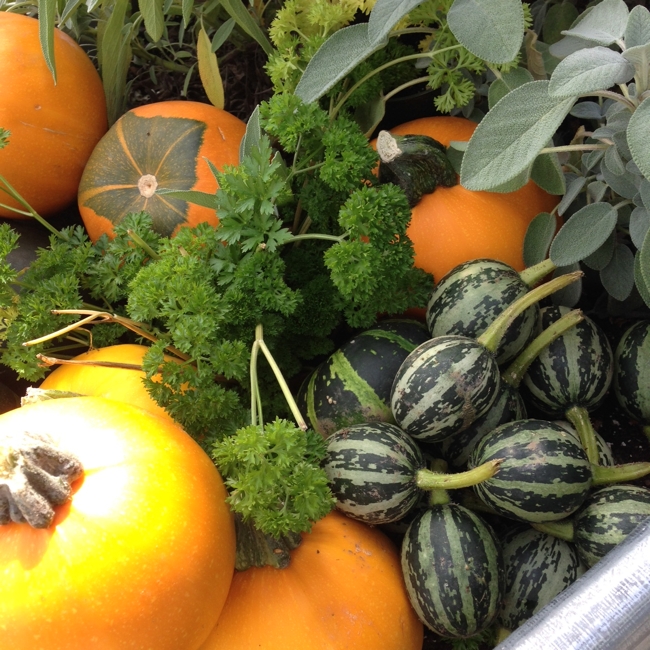 We have really enjoyed this herb garden and we plan on doing it again next year with only a few changes.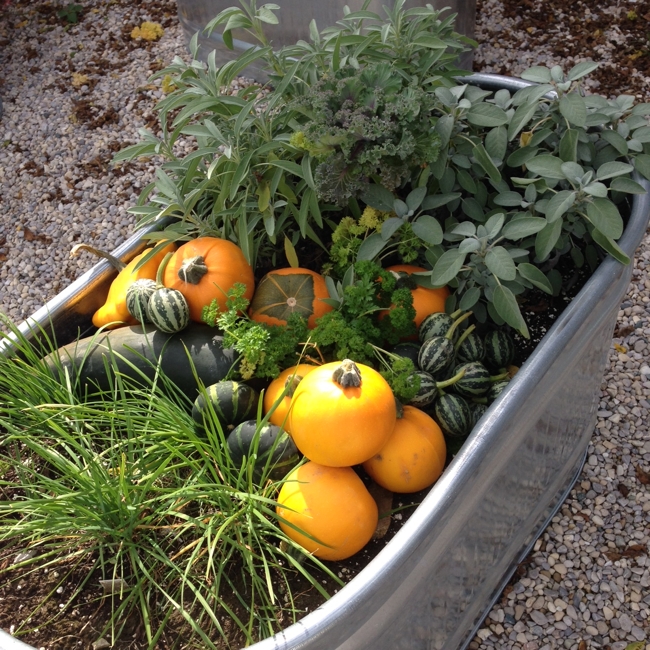 Well, that is my Fall decor so far… My attention has been somewhat distracted with the kitchen renovations. I am happy to report that it is almost finished! In fact as I am writing this post they are gearing up to set the agate on the island! I am extremely nervous… this whole kitchen design has been inspired by the slab of Blue Agate. If something goes wrong I will be crushed!!!!! By the time this post it will be done and I will either be clapping or crying!
If you follow me on Instagram you will already know which!!!
Tomorrow I will be posting on the progress and sharing more Fall styling pics!
So…
Make sure and come back tomorrow!!  
I will also be sharing more than 30 links to amazing decor, crafts and recipes right here in one place all from the bHome bloggers.
bHome is pleased and honored to have Decor Steals sponsor this event. We will be giving away five (5) coupon codes each good for $100 at Decor Steals. There will be 5 winners!  Winners will be contacted on or about 9/19. 
Give away valid to the 48 contiguous United States. My apologies to my many Canadian and international viewers, unfortunately this contest is only open to those in the USA.
How to enter: Download bHome at www.bHome.us and favorite Decor Steals – to do this TAP their star.  Once favorited you will receive a message with the link to enter.  One TAP of that link and you are entered! If Decor Steals is already a favorite of yours on bHome just look out for the message and TAP to enter.  Good luck!