Before I get carried away showing you our family room…
I want to share my secret santa gift from the wonderful Shelia of Plum Doodles , she is part of a fantastic group of bloggers from Hometalk that I am a part of too! If you would like to see more about Hometalk, here is the link .
She sent me this charming handmade stocking for my tree. In it was some tempting treats and along side a lovely sachet of lavender and the cutest little key!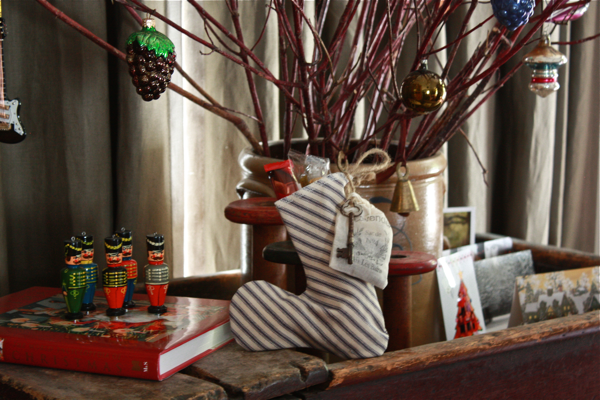 Thank you Shelia!
We have been busy gearing up for the Holidays.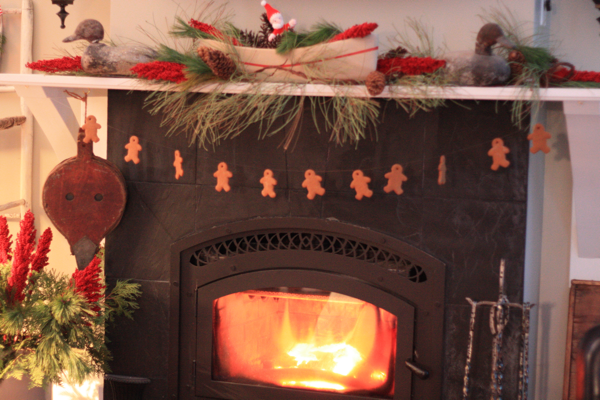 The fire brings warmth and colour to the room.
Notice the row of gingerbread men strung on fishline…So cute.
Why are they not in the next photo?
You guessed it…  delicious!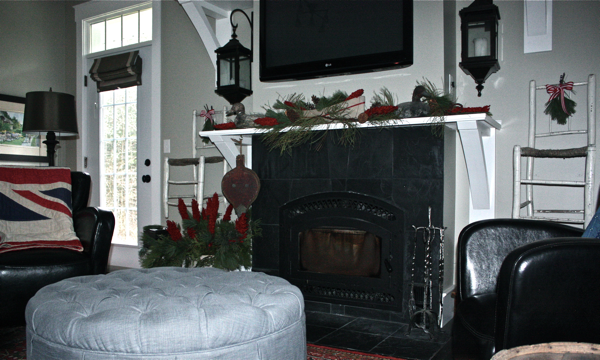 It has been a frenzy of activity… boughs, bows, ornaments and of course… cooking!
I will be sharing a few rooms all decked out over the next two weeks.
Today, I am sharing the family room.
The family room at Hoop Top House is cozy and rustic.
We have it filled with antiques and collectables that bring pleasant memories to mind.
The formal living room is getting a more glitzy dressing for the festive season but back here in the family room I like to keep it more casual and old fashioned.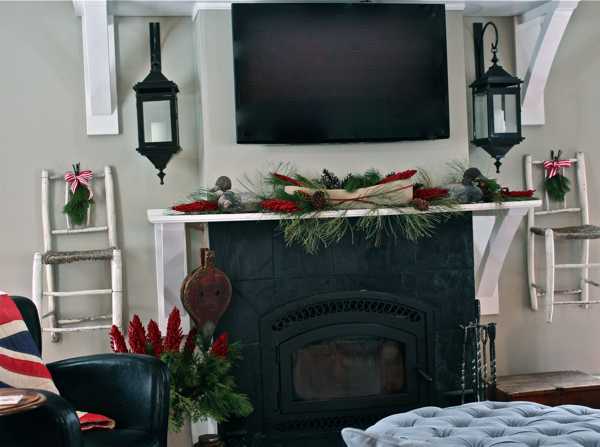 I hung this pair of Quebec chairs on forged hooks. I have done this often over the years in my designs, I think it is charming and unexpected.
A candy stripe bow and a few sprigs of pine give them just a touch of holiday spirit.
Red berries and natural greens fill a crock as well as dress up a faux pine garland on the mantel.
A few chippy decoys peek out from either side of the folk art boat that Kent made.
The Union Jack quilt is an auction find… I love the bold graphic nature of it.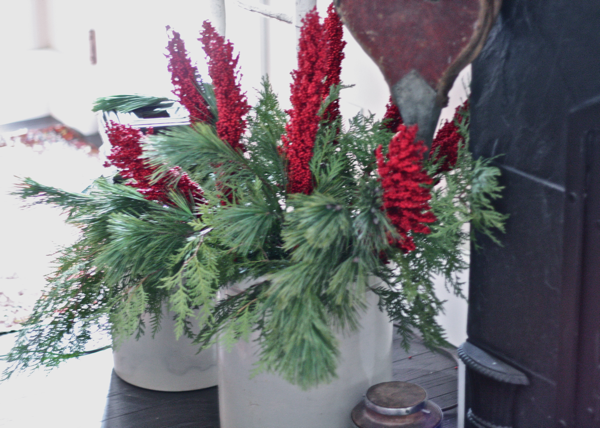 The subtle smell of pine throughout the house… there is nothing like it!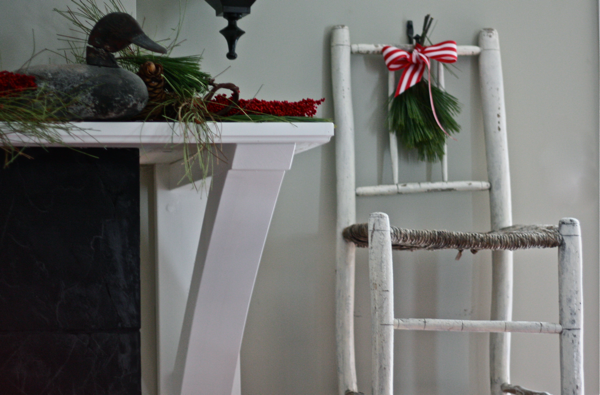 We designed the corbels to echo the ones on the exterior of the house, two pairs of them mounted at different heights and widths frame up the fireplace nicely.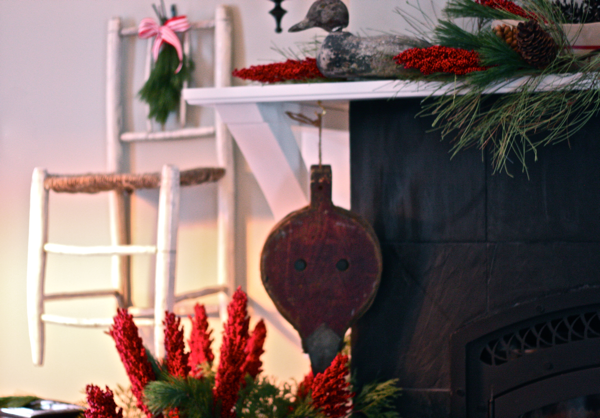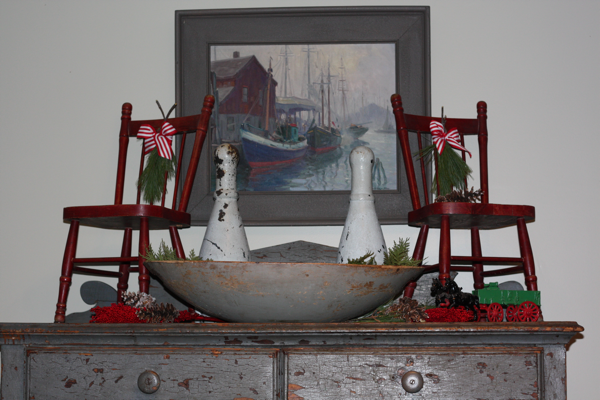 More little chairs… I have a bit of a problem  
( I also have about 12 more of them in the basement waiting for the right project… )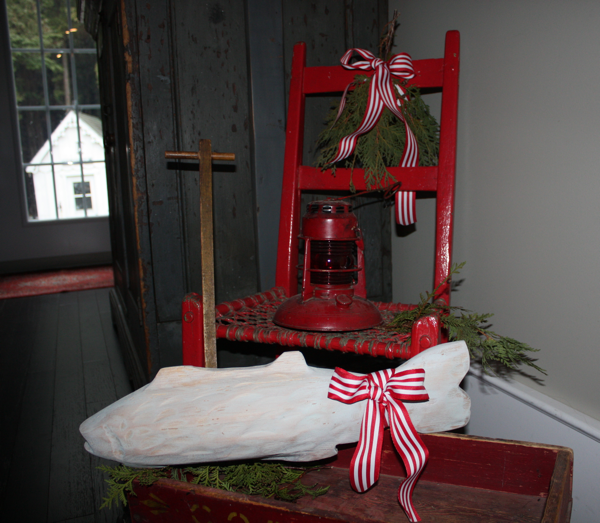 This red chair and wagon are perfect for the season.
I had to put a bow on Kents' fish carving just to get him in the holiday spirit!
Through the door you can get a glimpse of the bunkie.
It is very pretty lit up at night especially with a light dusting of snow.
Sitting here in the cold evenings is a treat, I find it very relaxing.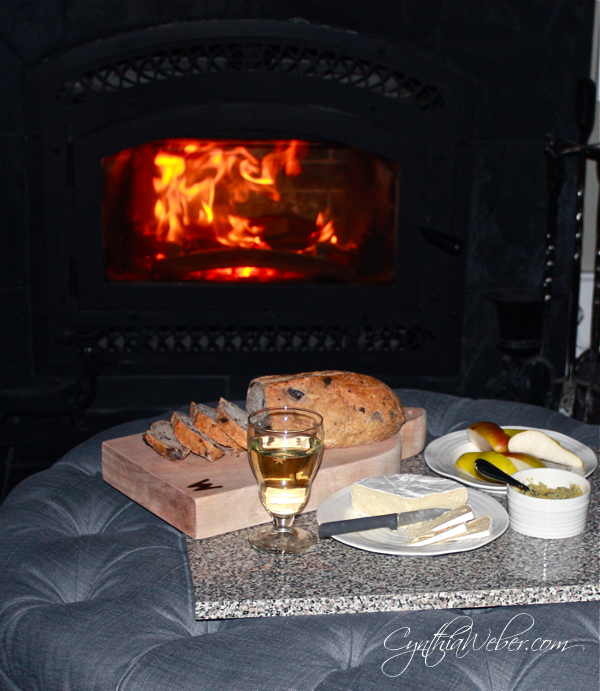 Emmitt loves his perch on the button tufted ottoman from Gresham House. (If you missed my interview with Marilyn Roberts an owner at Gresham House Furniture you can see it here. It is a great peek into the process of ordering custom furniture.)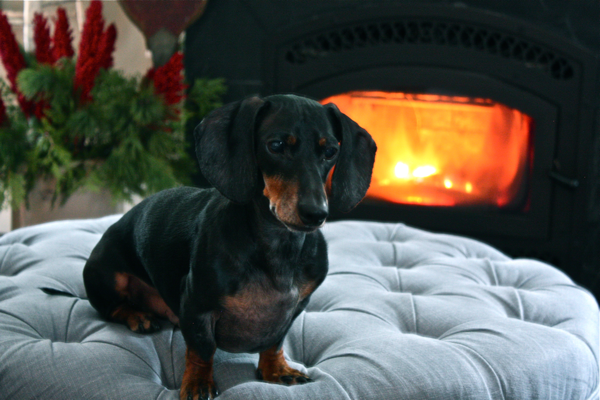 Instead of a tree in this room we gathered some dogwood branches and placed ornaments on it. I love the sparse simplicity it brings.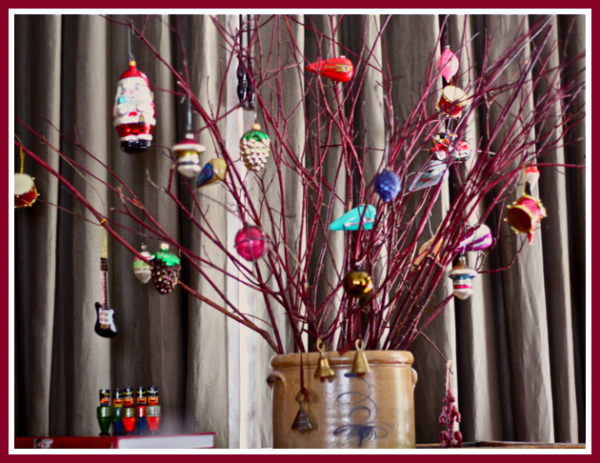 Each of these ornaments has special sentimental value to our family. Most of them have been collected over our married life but a few are from Kents' childhood.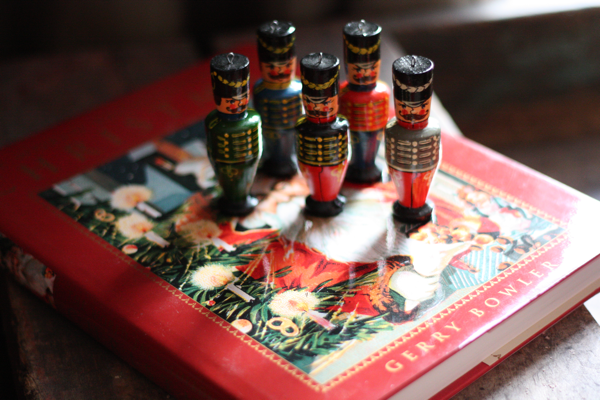 A grouping of toy soldiers stands at attention on a beautiful book filled with Christmas traditions from around the world.
We have had a wonderful weekend filled with entertaining.
I hope your weekend was wonderful too!
Now, If I can only get my mom to make more gingerbread men!!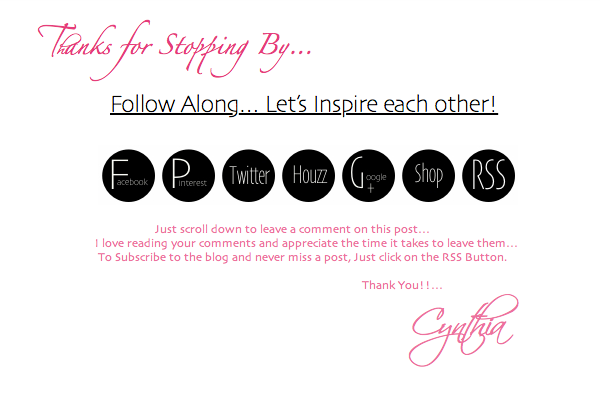 Sharing at: