I'm so pleased to be part of a week long Home for the Holidays Tour with a lovely group of great gals!
If you found me through the tour…
Welcome to our home, BannockBurn 1878!!
Be sure to check out the other homes on tour and enter for the giveaway … I will share links at the end of this post.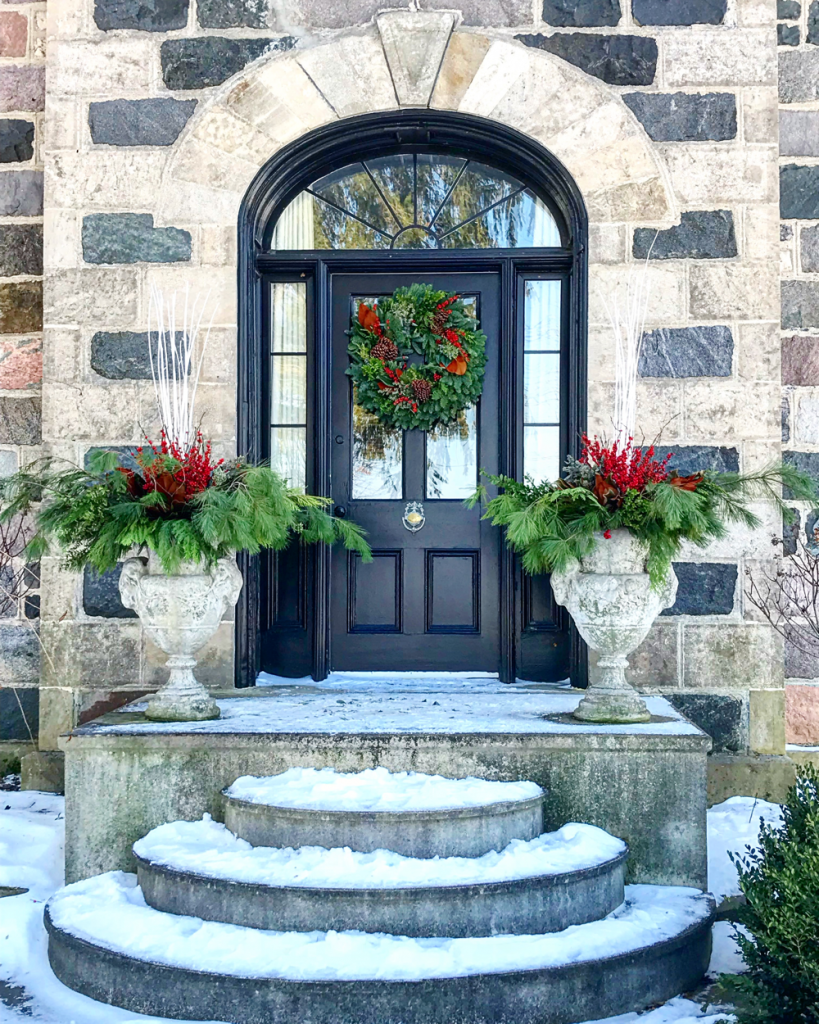 I often hear people say that they don't know where to begin when creating seasonal decor for their home…
It can all seem a bit overwhelming, I totally understand…
My number one tip when beginning the process is to enjoy it…
Preconceived notions of Holiday Decorating Perfection are an illusion we get far too caught up in…
In my experience, some off my favourite seasonal decor ideas were spur of the moment…  so don't be afraid to try something new!!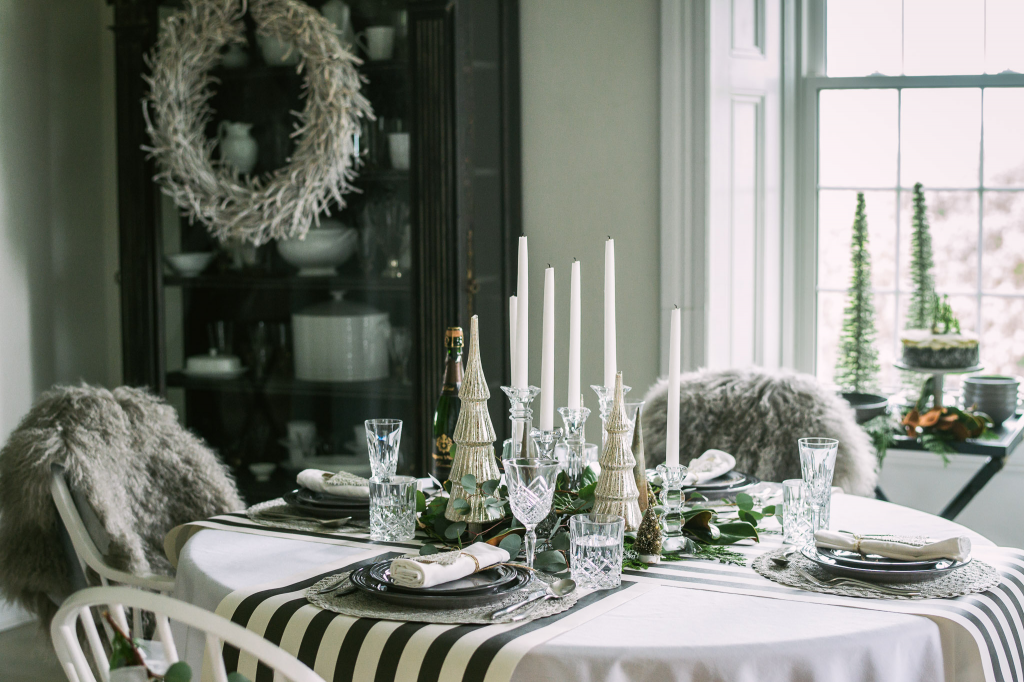 Set in the dining room of our home BannockBurn 1878 this tablescape was part of my Holiday style collaboration with Bradshaws ( located in Stratford Ontario.)
We used many products from their wonderful shop to create a festive holiday table.
Starting with a whimsical striped table runner in paper and then adding layers of texture and interest with silver placemats, Le Creuset dinnerware, Waterford crystal, candleholders and charming silver trees we set the stage for making memories.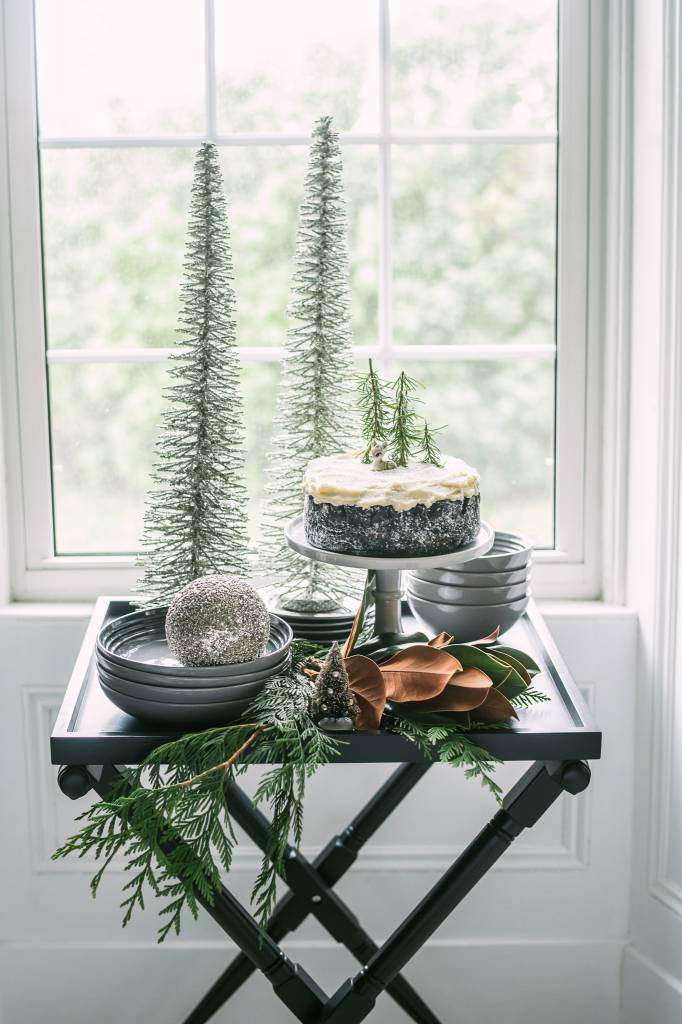 If you are anything like me you are always looking for extra serving areas.
I designed these collapsible tray tables based on a vintage baggage stand concept. We have them throughout the house and quite frankly, I can't image not having them… I use them in so many ways.
Here one makes the perfect place to showcase desert.
Not only does this leave the host or hostess free to do less hopping between courses but it also provides another place for a holiday vignette.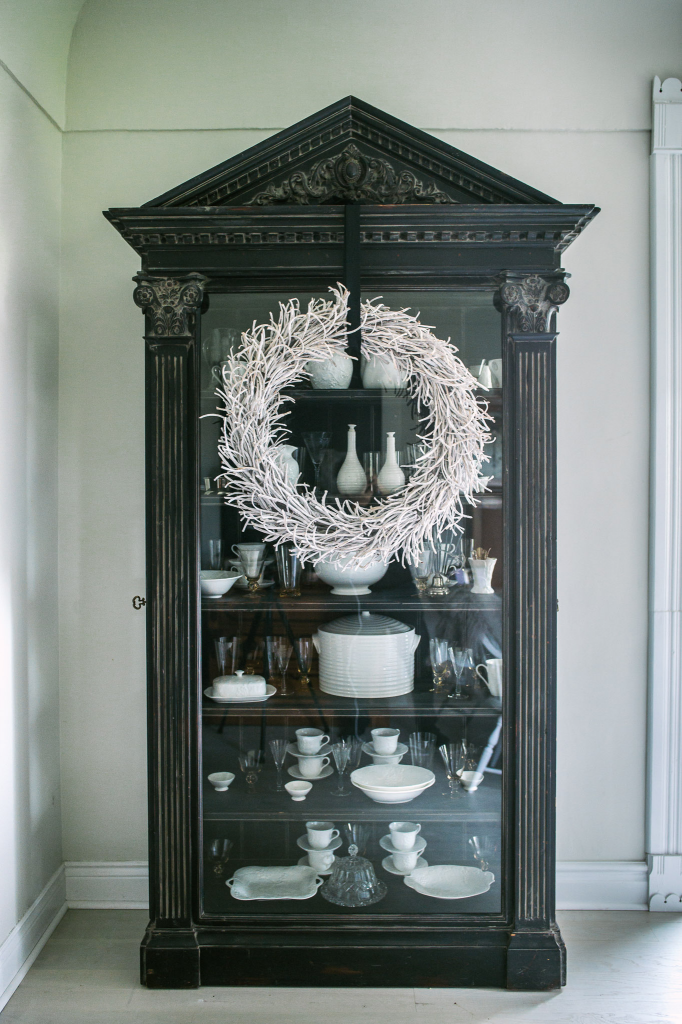 Sometimes high impact can be achieved through simplicity… a wreath hung with wide black ribbon is all that was needed to dress my china cabinet.
For an interesting mix of style within the china cabinet I married Sophie Conran dishes, Wedgewood Strawberry and Vine dinnerware ( which I believe is now discontinued ), some vintage glassware and a variety of cut glass and pressed glass pieces.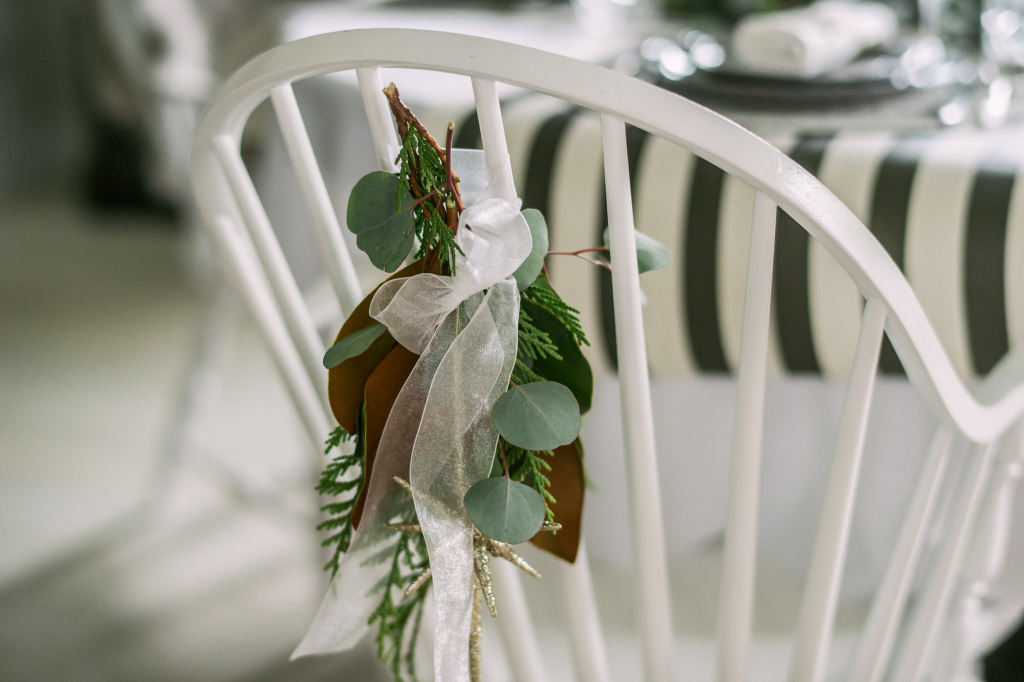 Fresh greens are always my go to when styling for the Holidays…
Yes, they can be more work and Yes, they do drop as the season winds up but for me… there is no substitute!
Here a small posy of cedar, seeded eucalyptus and a magnolia tip are tied with ribbon on the chair backs.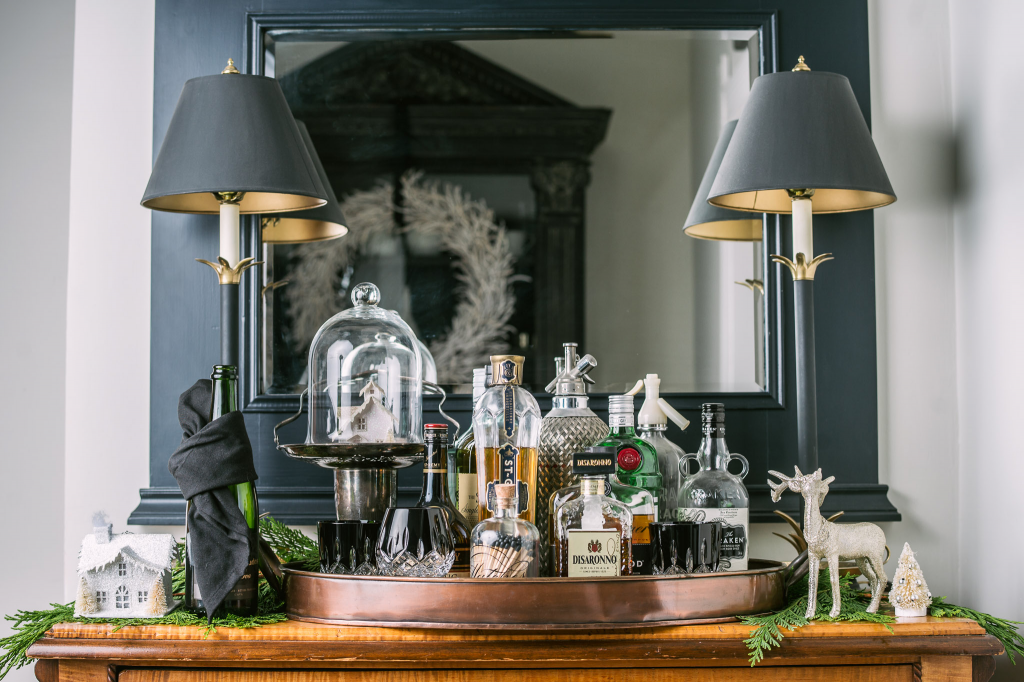 A few whimsical miniature houses,  a reindeer and a dusting of fresh cedar go along way to dress up our bar area.
I am absolutely in love with that apothecary inspired jar holding gorgeous black tipped matches and the stunning Waterford Lismore Black tumblers and brandy glasses stole my heart!!!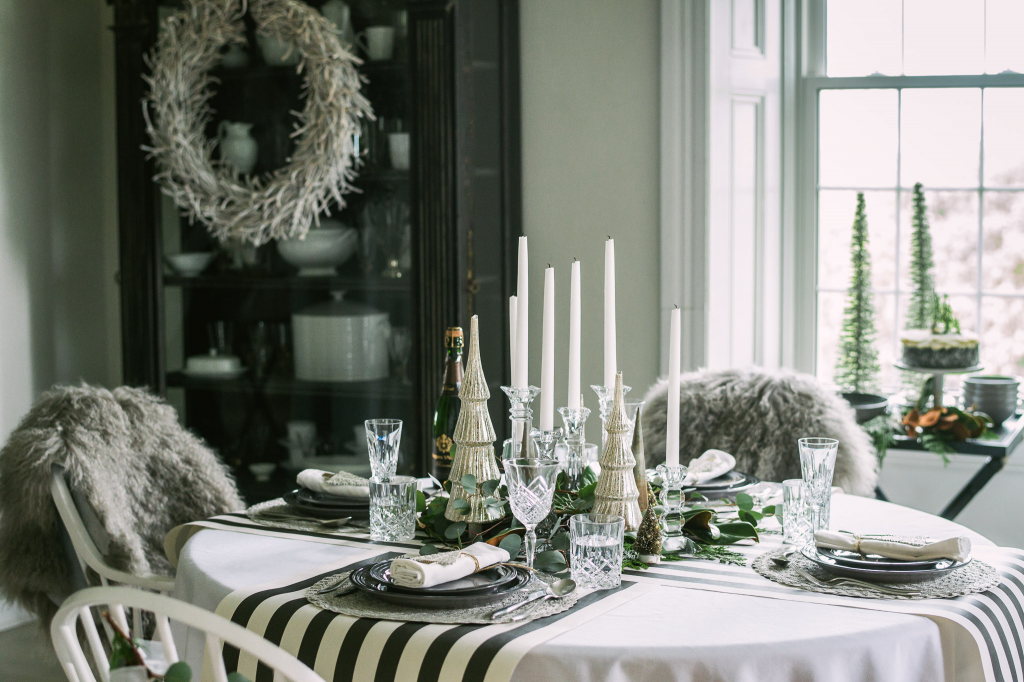 Mixing fresh greens with crystal candlesticks, white candles and these wonderful mercury glass trees brings the perfect mix to this centrepiece.
I can just imaging the dance of soft candlelight playing off the metallic of the trees… sigh.
Grey Mongolian sheepskins are casually draped over two of the chair backs for a touch of whimsy and texture.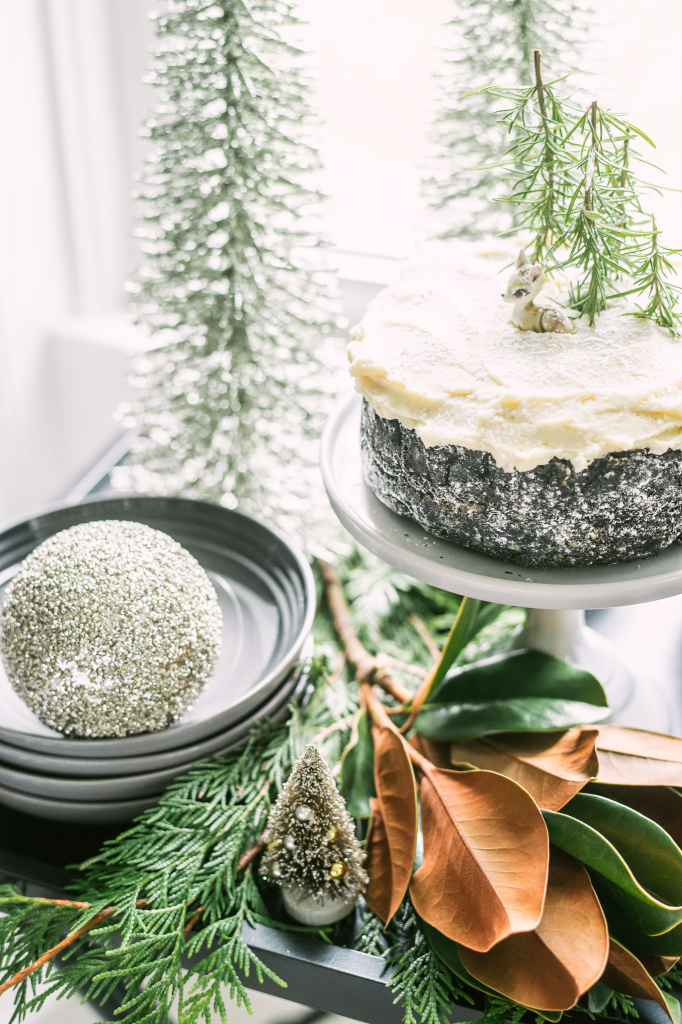 We work so hard creating beautiful deserts for Holiday gatherings… it seems fitting to give them centre stage as long as possible!
This absolutely adorable cake from Perfect Pastry dressed with rosemary tip trees and a bambiesque doe deserve to be seen and fawned over…
Yes, I did say "fawned" over Ha Ha Ha… or is it Ho Ho Ho?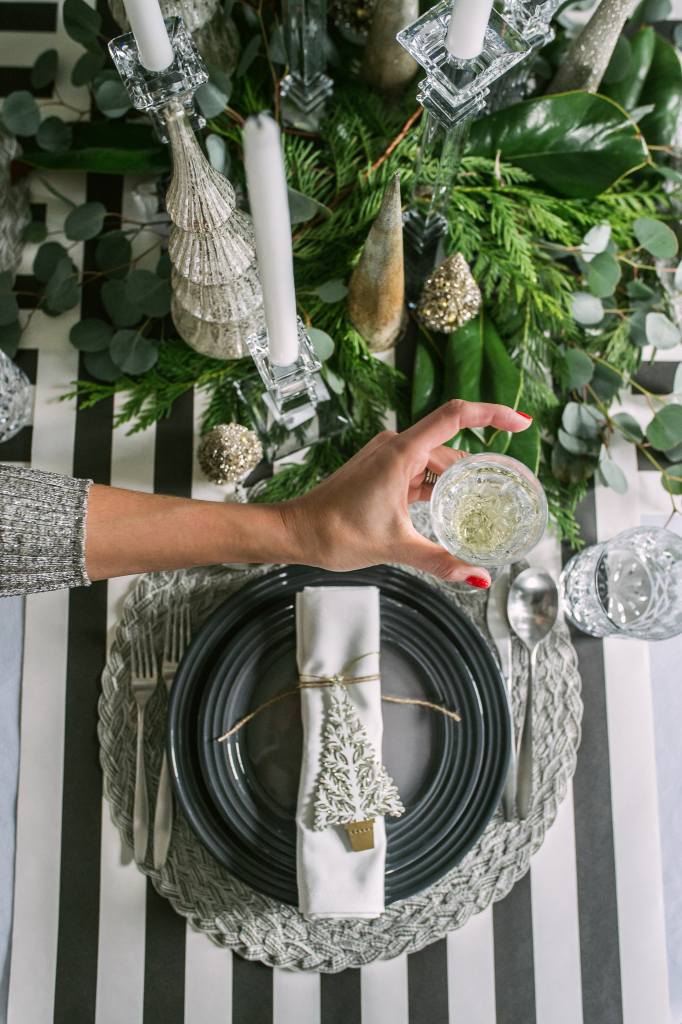 Well that is my take on creating a festive dining room for the Holidays.
I hope you enjoyed the photos and if you are curious to see more of our home and my work please follow along with me on Instagram I would love to get to know you!!
Here are the links to the homes on the tour…
Here is the line up for the week:
Monday
Maison de Cinq * My Soulful Home * French Garden House * Savvy Southern Style
Tuesday
So Much Better with Age * Cynthia Weber Designs * At the Picket Fence
Wednesday
Becky's Farmhouse * Love of Home
Thursday
Little Farmstead * Our Southern Home * Celebrating Everyday Life
Friday
Starfish Cottage Blog * Housepitality Designs * UnSkinny Boppy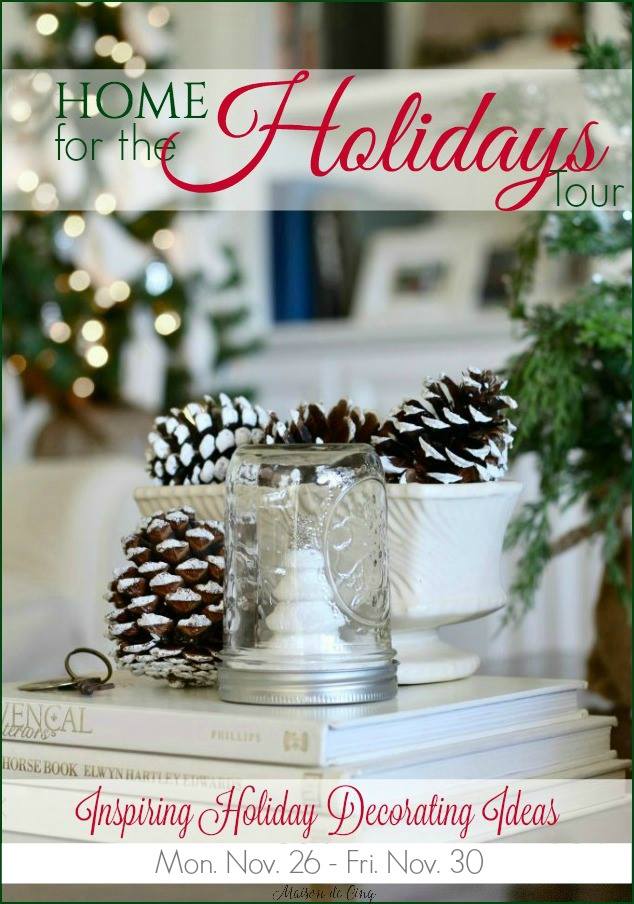 The tour is sponsored by Bespoke Decor. Read on for an opportunity to enter for a chance to win a $200 gift card to Bespoke. Happy Holiday to you a bit early!
Bespoke Decor is filled with beautiful things for your home & lifestyle from one of a kind vintage to elegant linens. You are bound to find more than a few items you'll love. Enter to win the chance at a $200 gift certificate by clicking HERE.
Entries for the Bespoke Decor give away must be in by December 1st. Our winner will be randomly selected and notified by email.
You can also follow Bradshaws IG feed  and to purchase their beautiful products online please visit their website 
*Wreath and fresh greens used in this feature courtesy of Stratford Blooms. Photos of the dining room feature shown in this post are by David Charlesworth Photography
Wishing you and yours a very festive Holiday Season!!
xoxo
Cynthia
P.S… Bradshaws has asked me to put together a curated Holiday Gift List for them on Dec 1st. so follow along on my IG feed to see all the goodies on my list!!