Have you ever planned a wonderful vacation only to have everything turn on a dime and go in a whole different direction?
Yes?
Well, that is what happened to us last week.
Let me get you up to speed…
But, before I do… here is a preview of things to come…
I don't want you thinking the story doesn't have a happy ending… after all, it is Monday and we all need to start the week with prettiness!!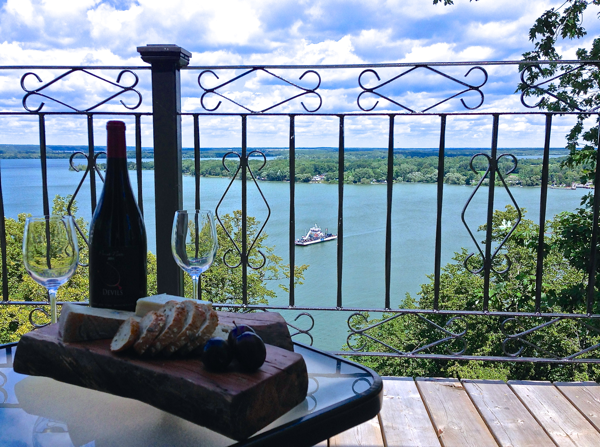 Kent turned 50 last monday, ( I know, I can't believe it either!) and as a good wife should, I asked him what he would like to do to celebrate.
After batting around a few ideas he decided he would like to have a small party with family and friends  ( and NO SURPRISES… he hates surprises) and then go away for a few days to Prince Edward County to tour the stellar independant wineries in the region.
We have spent time there before… here are the links if you want to catch up!  Another little getaway,  On our Table last Night,
I thought it was a fantastic plan!
After all, I like wine and I like Kent!
The party was graciously hosted by my mom and dad on Sunday afternoon and turned out beautifully with wonderful food, laughter and many well wishes…
Our son Spencer even set up a bar in their backyard and made sure everyone had ample refreshment…
He called it Peewee's Bar because that was his nickname as a little kid… as you can see he is not so little now!!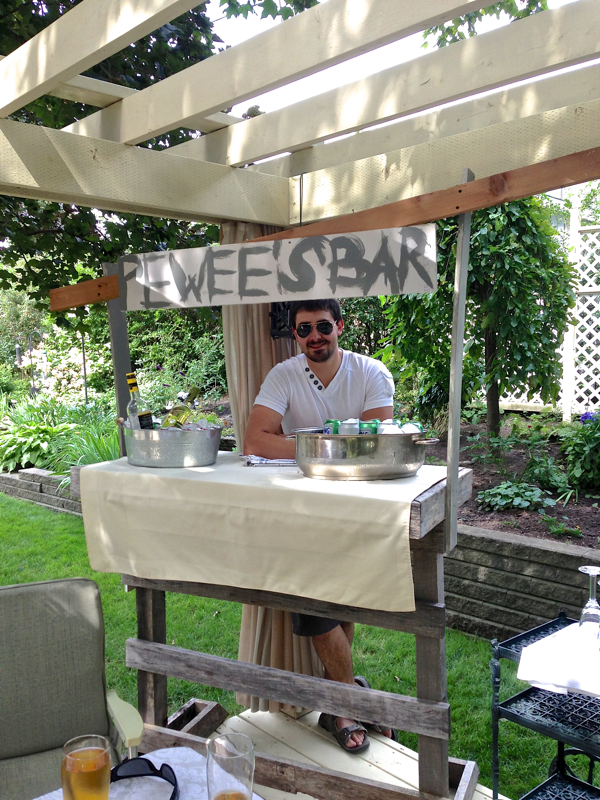 Sigh… my boy is dreamy isn't he?!?
All seemed to be going according to plan so far…
Kent really enjoyed himself… I loved this photo of him and his mom.
My cake was a hit but no one can resist my mother-in-laws famous Peanut Butter Pie!!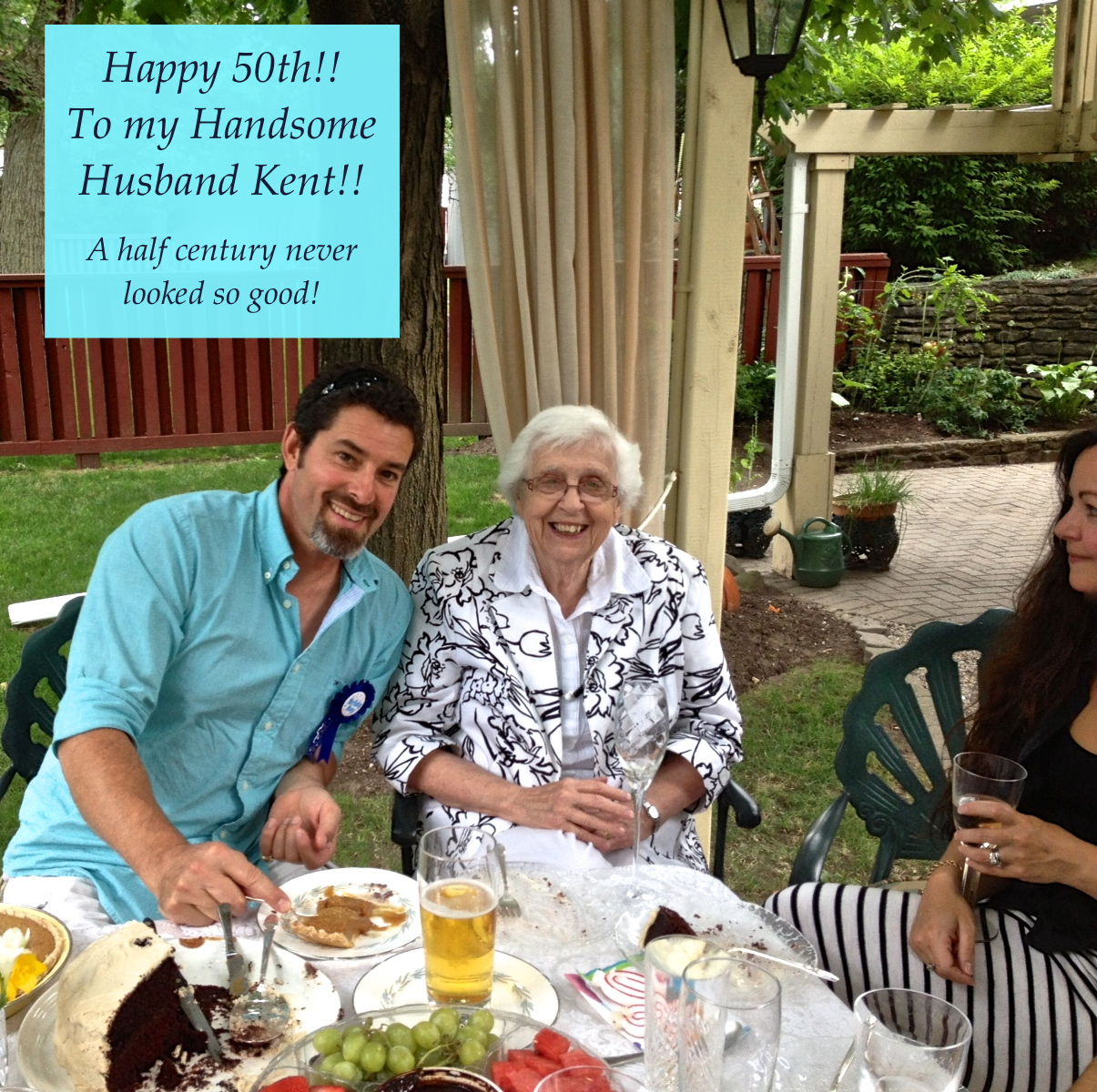 Monday morning was his actual birthday, after much gushing on my part over his continued youthful appearance we headed out on our way…
While driving he mentioned not feeling great… A bit of a sore throat, slightly achy… We kept driving.
Around 3pm we started looking for a hotel for the night.
I had a beautiful place booked for Tuesday-Thursday but we were flying blind for the first night…
In hindsight, this may have been a bad choice. No rooms available… We drove on.
Finally we found a place.
By this time, I knew we had a problem.
My usual jovial husband had been replaced with a quiet uncomunicative manshell… 
Uh oh…
We checked in and Kent became quickly and completely…ill.
So, lets fast forward to the next morning… There is no need to dwell on unpleasantness longer than we need to… I will just say that I hope to not have the same 50th birthday experience myself ( in 2 000 days if you are interested, not that I am counting or anything;) )
 Since you don't know Kent I will just interject that he is a trouper… Positive, funny and a "play them as they are dealt " kind of guy. 
So eventhough I knew he was still feeling lousy, he put on a smile and off we went… 
Our destination was Inn at the Mountain Resort a truly beautiful part of Prince Edward County Ontario.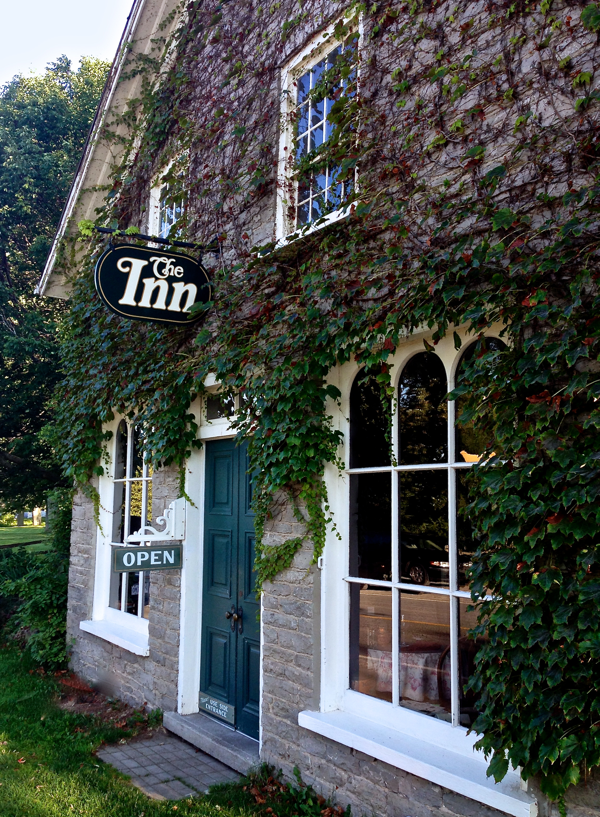 I had booked the adorable top floor suite in a Victorian brick house that is part of the Inn.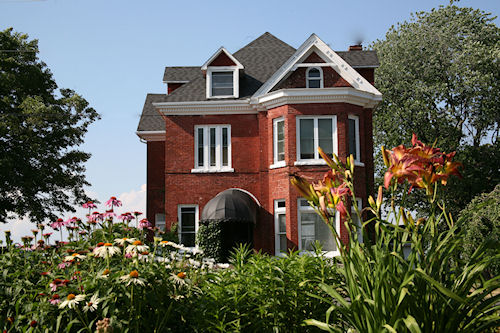 The selling point for me had been the balcony overlooking lake Ontario, the Glenora Ferry crossing and Quinte Bay.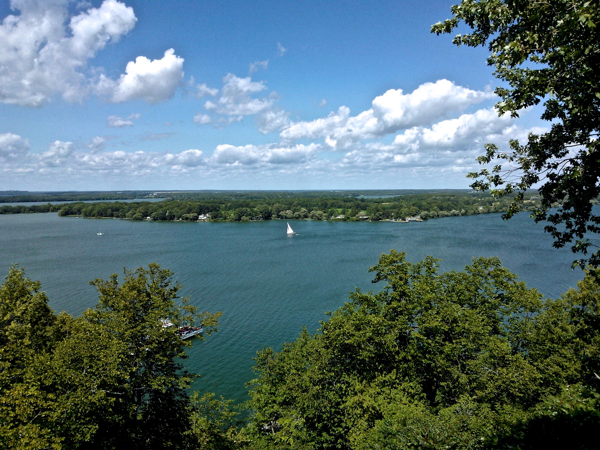 I know… Stunning!
We checked in and unloaded the luggage… Up the stairs we went… And up again!
This is a detail of the stained glass window in the staircase…
Well worth the climb don't you think!
At this point Kents flu was morphing into a nasty cold, he was fevered and miserable.
I unpacked…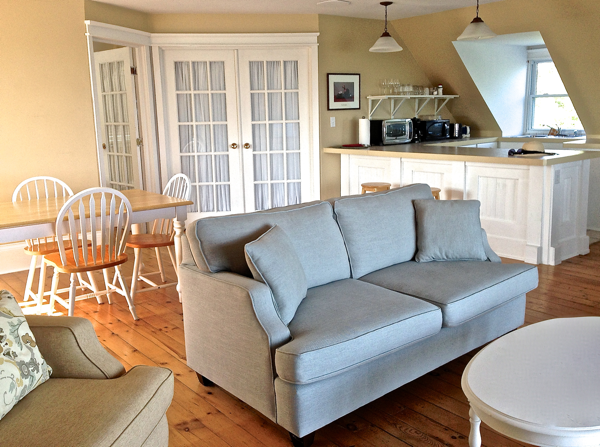 Isn't it cute!
I love the moulding detail on the kitchenette and the pine floors…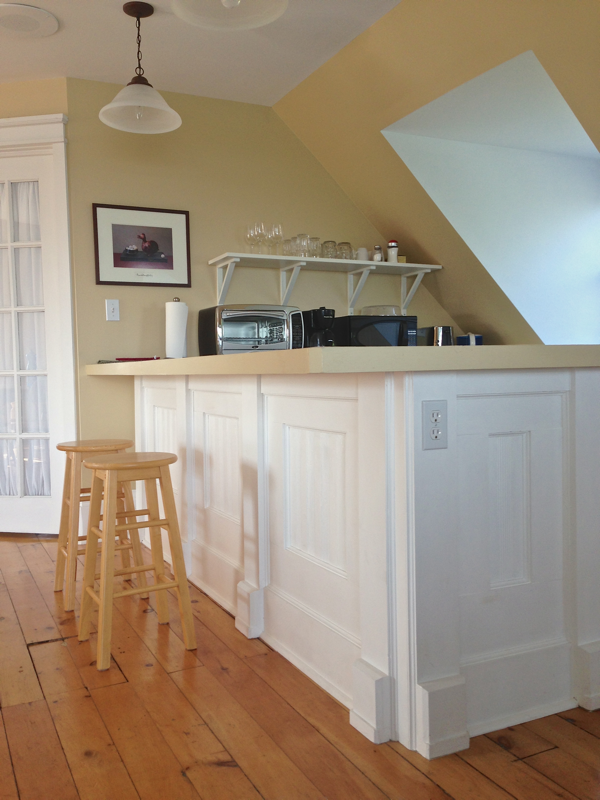 and Kent…
Well, Kent layed down on the couch…
He wasn't even able to take in the view…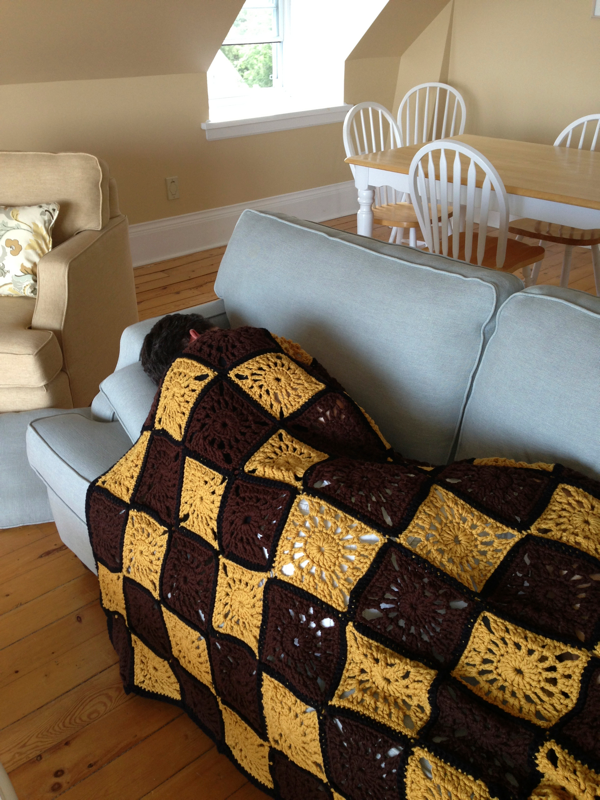 Poor baby…
I on the other hand could enjoy the view… and since that is about all I could do given the situation…
I took full advantage!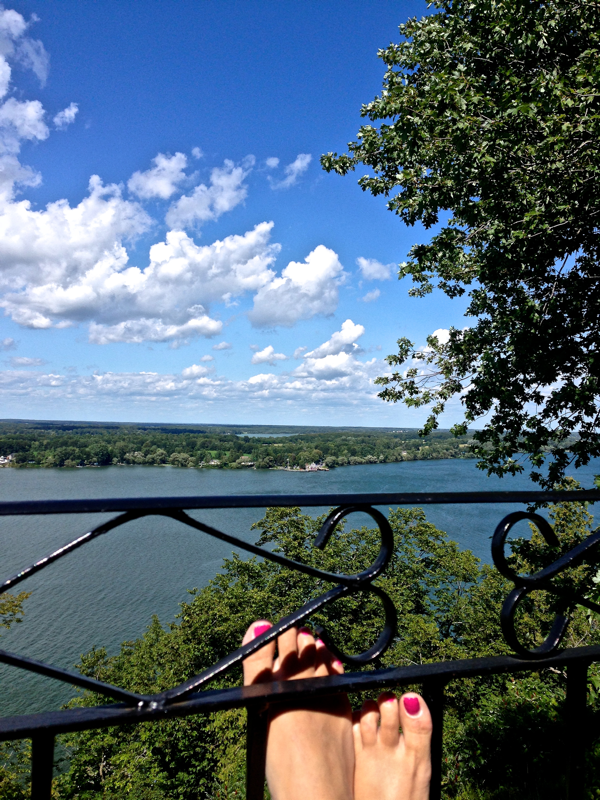 The next two days were spent relaxing and when Kent had enough energy… we went touring around the county wine buying!
I will post about that next week!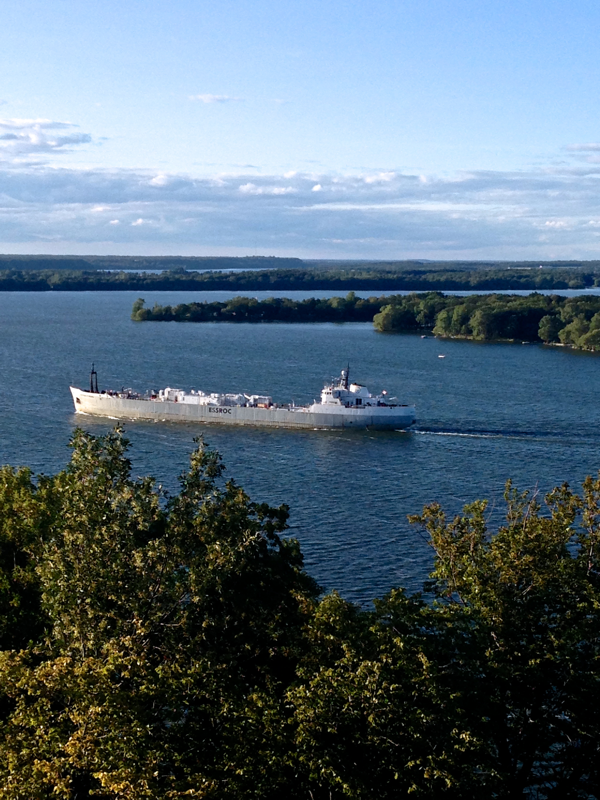 It really was a wonderful place to just "Be" the views are unbelievable!
This sailboat played tag with the wind for quite awhile… I loved seeing him in the trees from our  balcony perch…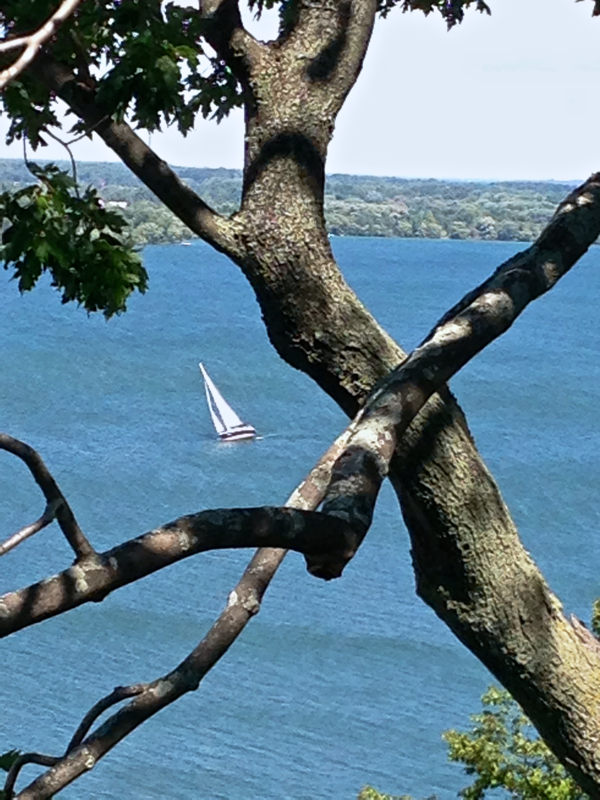 The Inn has a very cute pub where we enjoyed a nice relaxed meal one evening…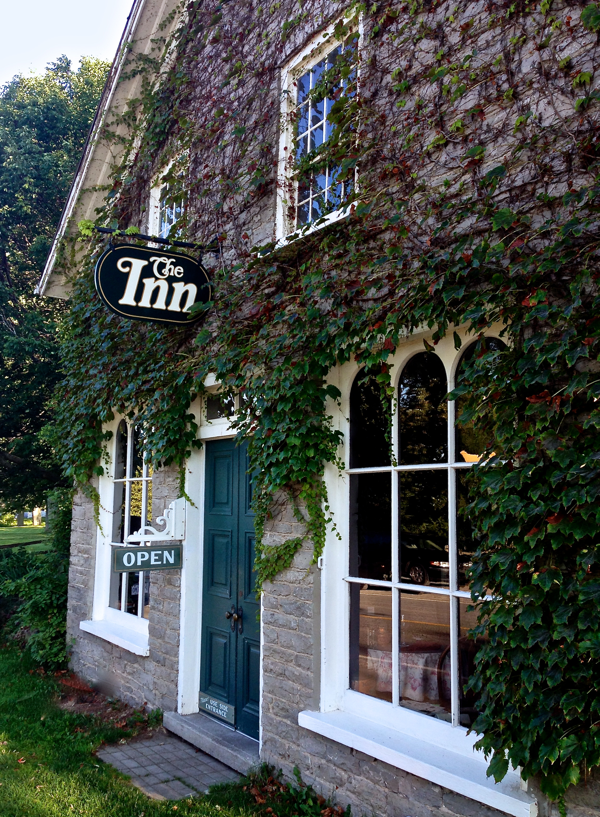 This stunning Oak Leaf Hydrangea arrangement had me planning some additions to my garden!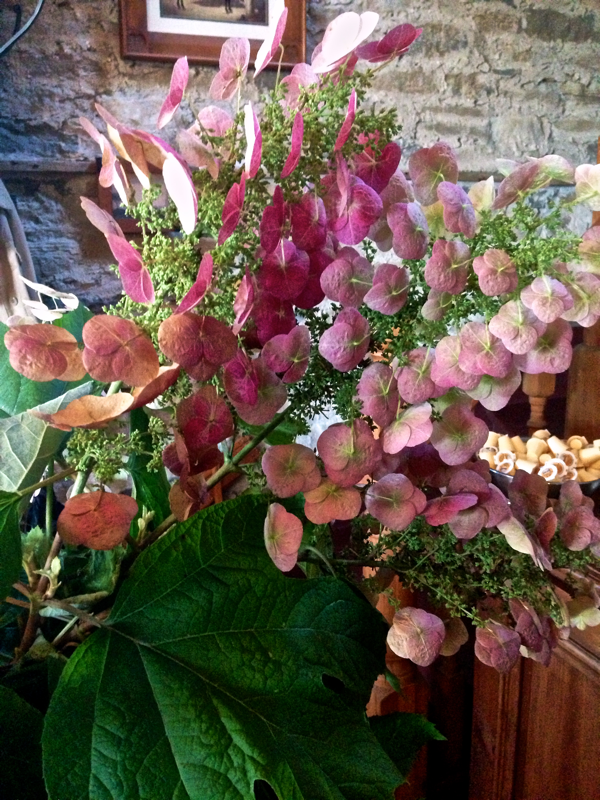 and speaking of gardens…
The english inspired perennial garden wall outside of the pub was just lovely…
It is never something you would plan…. getting sick on holiday, but I must say, when you are surrounded by such beauty, it is a bit easier!
Kent is on the mend now and I am very grateful for that.
This week reminded me not to take our health for granted.
I know we have been very lucky in that regard and I just want to take a minute to say to anyone struggling with serious health issues themselves or watching a loved one cope with them…
I hope today brings you renewed strength & optimism. 
Have a wonderful week everyone!
We had to take one last pic before we left…