There is quite a buzz of activity here at Bannockburn 1878 today!
We are boiling down some sap into maple syrup.
It has us wondering how many people have tapped the trees here over the years.
Did the McFarlanes make syrup for their family way back in the late 1800's?
I hope so…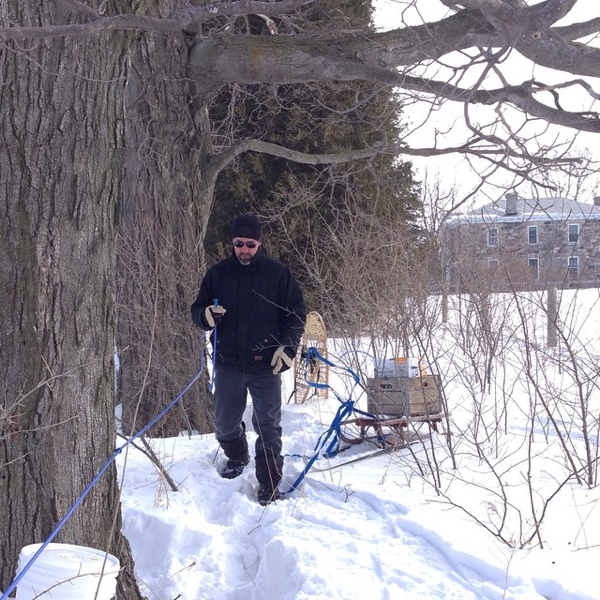 We had fun setting up the sap line and now after a few days of sun we have been able to boil a few times. I am hoping by the end of the day we will have a few litres of syrup all bottled up!!
Yesterday we bought some glass bottles and I want to make some labels so we can give them as gifts.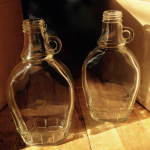 While the syrup is boiling away Kent is starting to work on some new live edge serving boards. He has been itching to get back to woodworking since we moved but with all the activities surrounding the move and the Little Inn project,  he hasn't had much time.
These huge pieces are what he is working on today.
I took a photo of them leaning up against the stone just before he carried them out to the shop.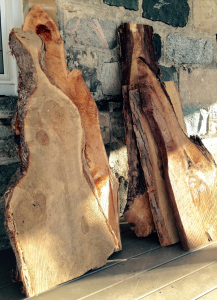 I love how full of potential they are!!
I can't wait to show you the finished pieces. Perhaps by the time I am ready to post this he will have an example or two well underway!
In fact, I think I will bundle up ( it is still really crisp here today! ) and walk out to the barn to see how he is coming along…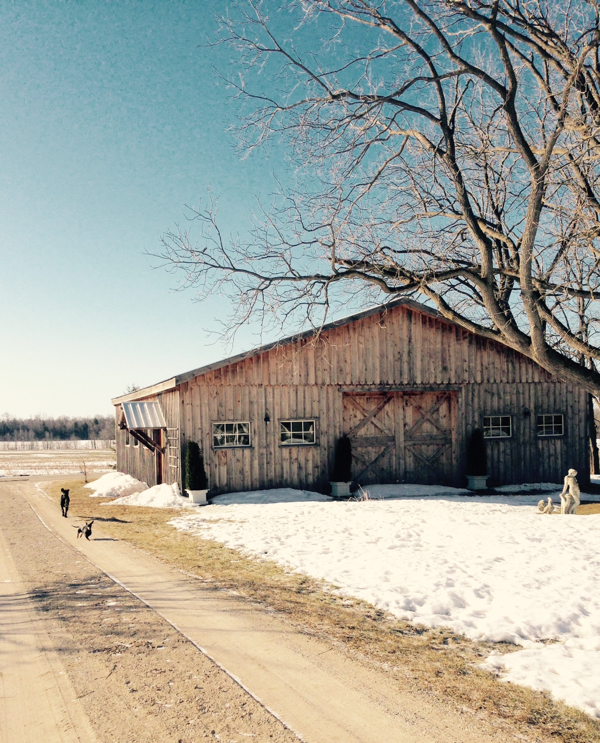 Well, I am back…
As you can see I got quite a greeting from Emmitt and Tara ( our son Spencers dog.)
They love to play together but we need to make sure Tara doesn't run right over Emmitt!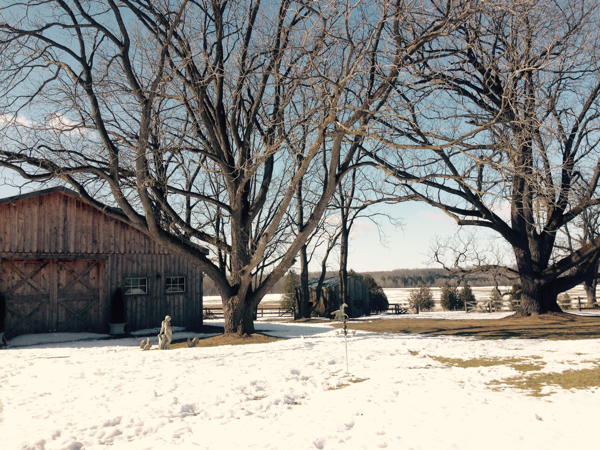 The snow is trying to melt!
I can see all of Bootsy the lounging lady statue and the chickens she is chatting with!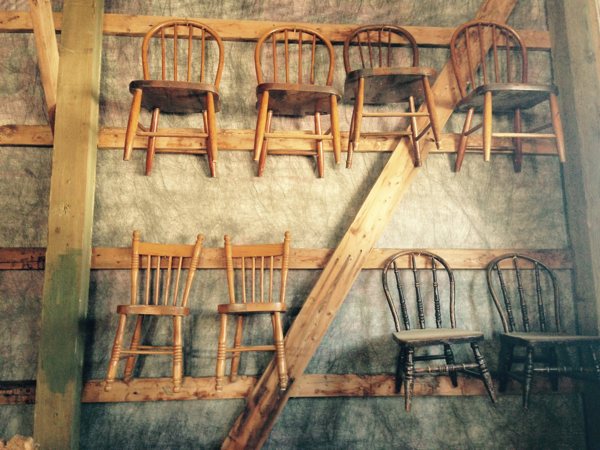 The barn hasn't received to much attention since we moved but we did manage to start organizing things a bit.
These little chairs are all hung and ready for a project.
I hate to admit it but… there are more yet to hang!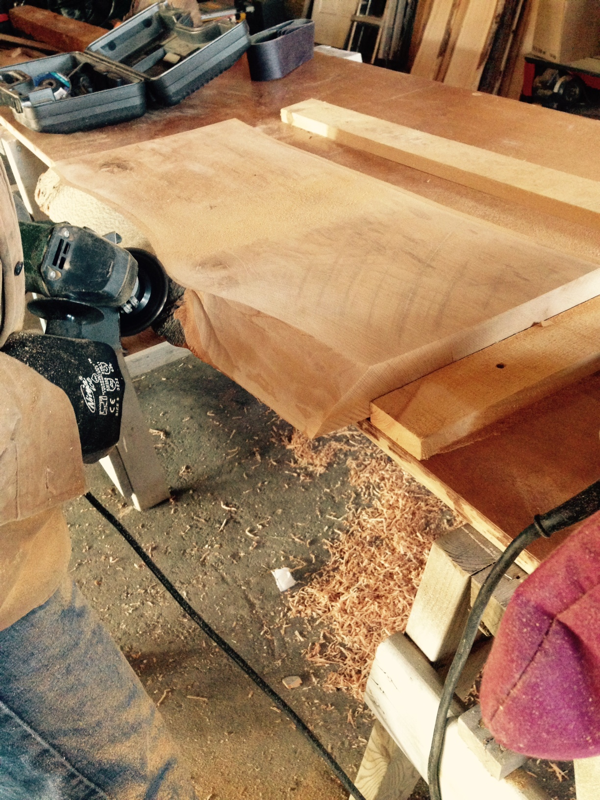 Kent is in full swing out there.
He warmed up with a few medium sized boards before tackling these monsters!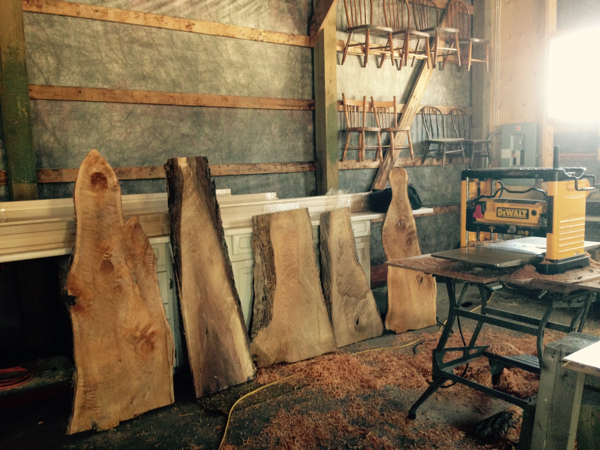 They are huge!
For a size reference… they are leaning up against the run of kitchen cabinets we ripped out.
If you missed that post… here you go, click away!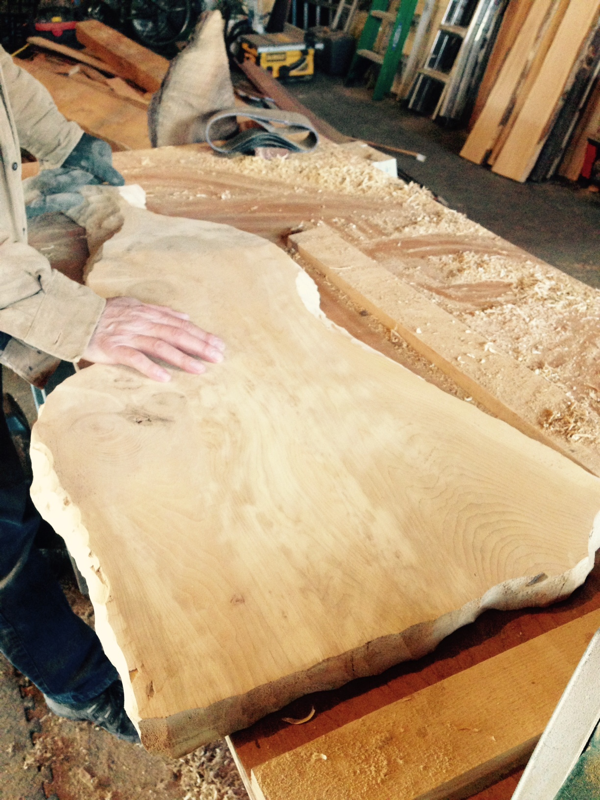 I love how this piece is coming along… it is such a unique shape and I find it fascinating to watch Kent debark and create the shape.
He likes to let the pieces speak simply… following the line and curve…
Letting it be what it wants to be!
If you go back up to that first photo I showed of all the wood leaning up against the house you will see how this piece looked with the bark on.
There will be more sanding and finishing for this one. I do think she is going to be beautiful!!
I'm off to bottle some syrup now.
I promise to post a pic of the prettiness on Instagram later today!!
Oh and as for that kitchen reno here at the house…
I'm gearing up and I can't wait to share all the plans with you…
Kent got a tractor and I am getting a kitchen!!!
Happy dance!
Twirly girly happy dance! 😉