I know it is the middle of winter… and what a winter it has been so far!
Very pretty but… enough already!! 🙂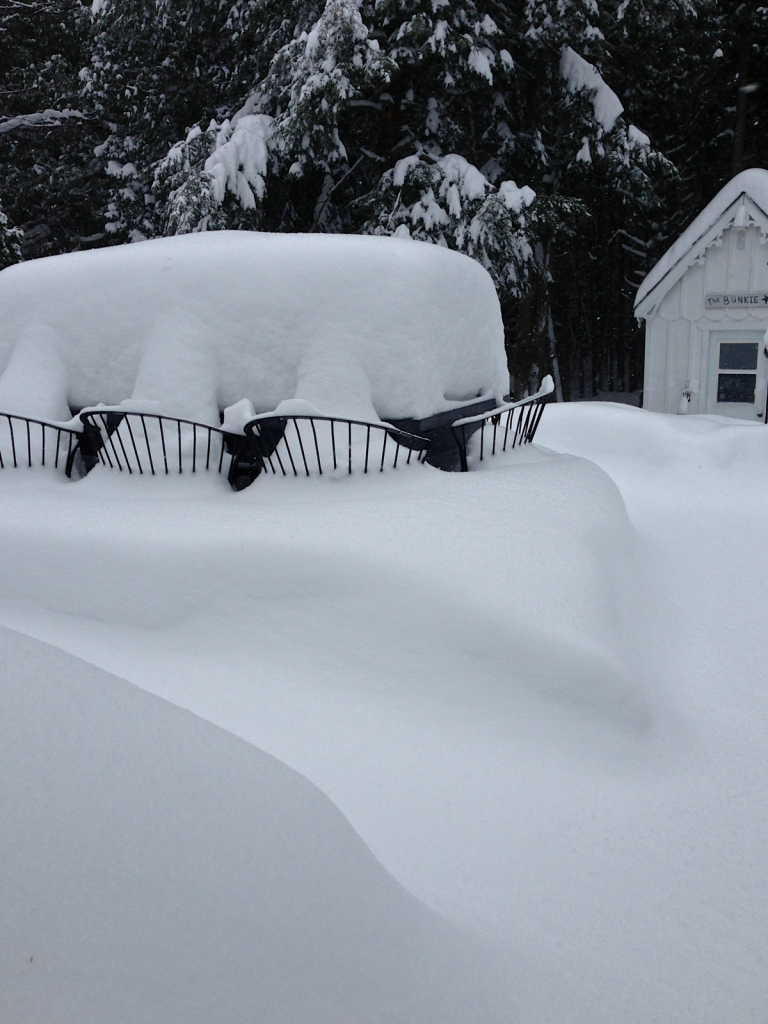 I think we could all use a bit of summer inspiration…
So… although I was going to wait until it was finished I have decided to do an intro post on a fantastic cottage reno I have been working on.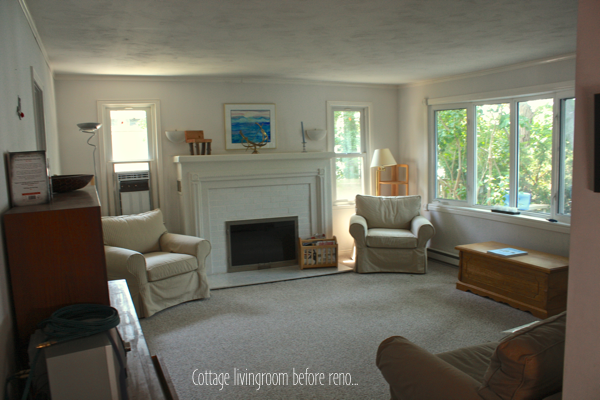 This cute little cottage has breathtaking views out over Lake Huron…
It has been a treasured summer place for a wonderful couple, John & Nicole and their family for many years.  
They decided to undertake a large interior renovation while keeping the same exterior footprint.
The project is being managed by John & Nicole themselves.
I was brought in to form a design concept, help choose finishes and fixtures, provide furniture & draperies and advise on decorative aspects as they came up throughout the process.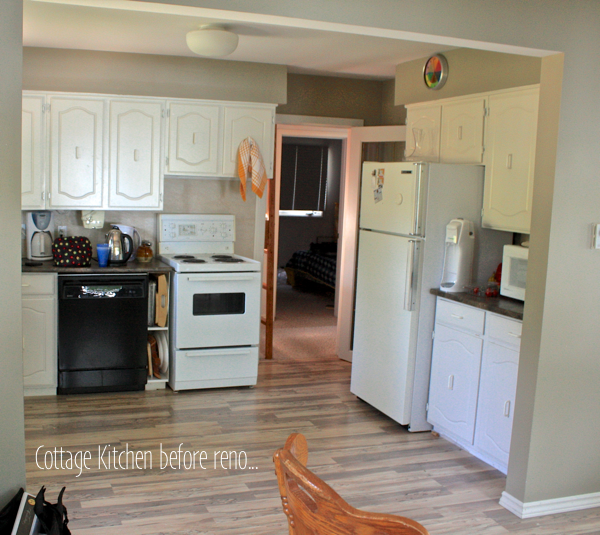 Reworking the rooms to open things up and enhance the views was one of the main goals.
Entertaining is also a very important part of their summers so the kitchen and dining areas will be completely redone to accommodate large gatherings in a small space…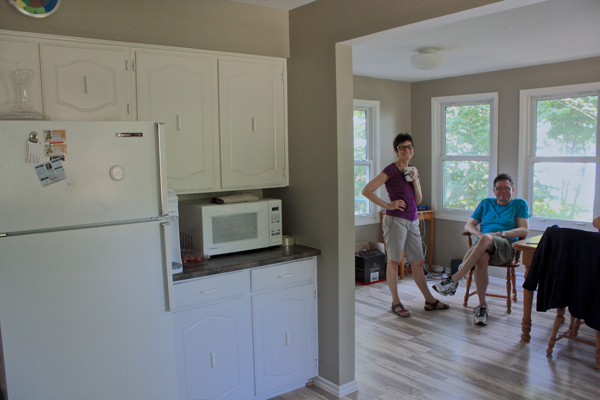 The kitchen wall will be removed and in the dining room (where John and Nicole are in this photo) the ceiling will be opened up and new doors and windows will be installed.
The change this will bring to the overall feeling in the cottage will be stunning!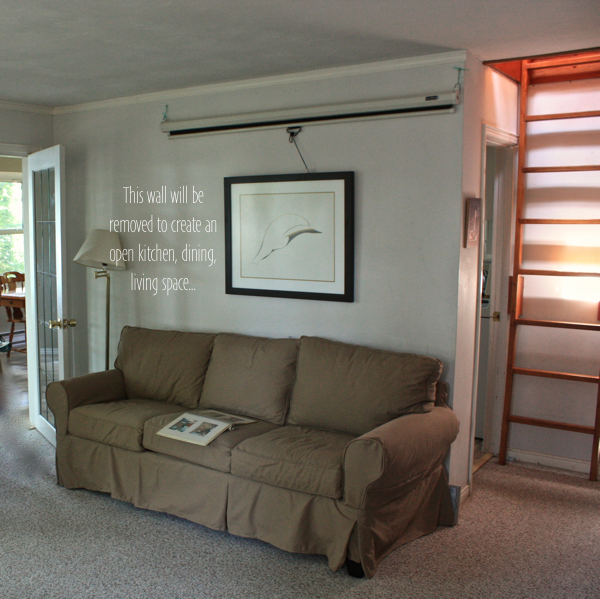 The main living area was three rooms… kitchen, dining and living…
The new plan will be open concept.
This will maximize space and create unobstructed views out over the water…
Sigh.
After the initial consult at the cottage, I met with Nicole in my studio to look at fabrics.
This gave me a great starting point to form a design concept.
Nicole is an energetic, gregarious, artistic and all around beautiful person. I knew right away she was going to be a a lot of fun to work with.
She was drawn to the Windsor Smith Fabrics in this beautiful colour way…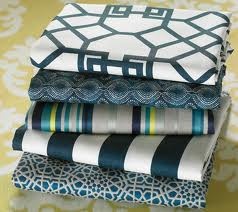 Her favourite was the Rangi Stripe pattern shown in the middle of this grouping… I used that as the jumping off point.
We took a trip to Gresham House Furniture and looked at options for living room pieces…
Nicole loved this sofa… the chrome legs are fantastic!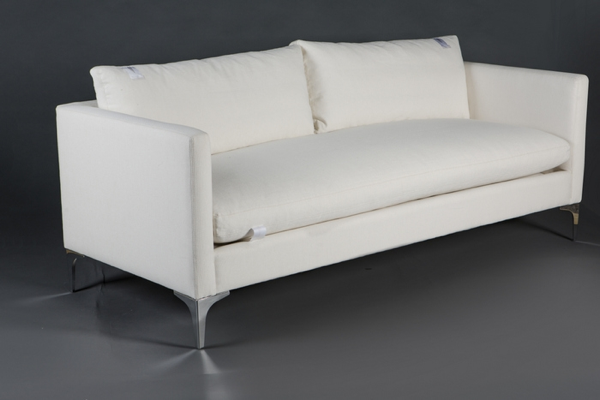 A pair of them will be done in a beautiful Navy base cloth with contrast piping. We also had a custom chaise made in this same style… It is amazing!!
Roman blinds will echo the colour combination of the sofas and chaise… 
To make the most of the space we went with two storage ottomans done in Rangi Stripe and for interest I had the legs painted Navy. 
Here is a preview…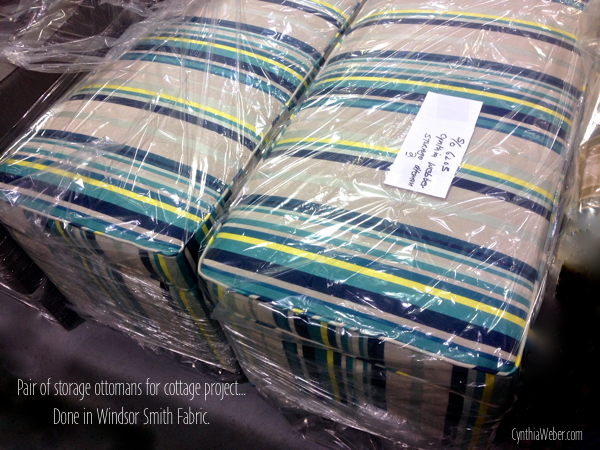 Love, Love, Love!
The living room will also boast a truly unique area rug. It is a design called Ikat from Kravet. We chose a taupe and navy combination…
This is the 1'x1′ strike off that was sent through for approval.
Custom rugs such as this one have a about a six month order time.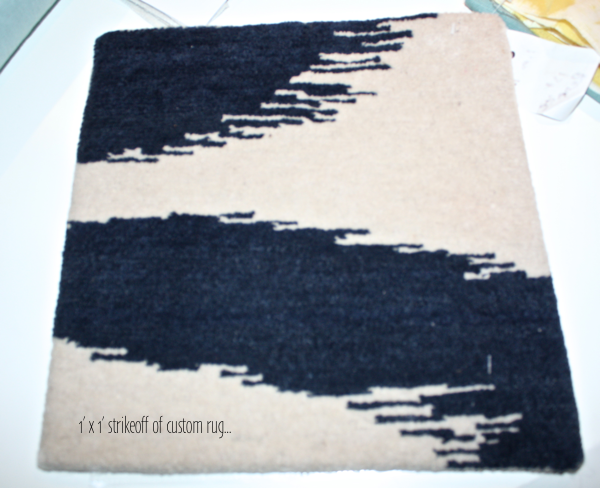 I also suggested a custom dining table in white oak stained in a grey wash.
The photo is not great but here is what it looked like in the shop before the finish was applied…
You won't believe how beautiful it is finished!!! ( yes, I am excited! )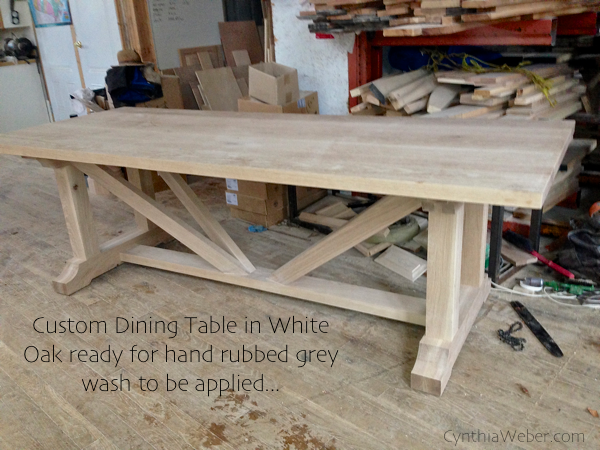 It will seat ten and I know there will be many happy evenings spent around it!
For interest and a bit of whimsy we went with  more traditional lead chairs… 
How is this for a pop of colour!?!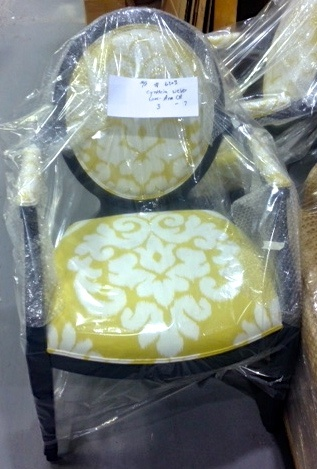 The frames are Navy and the backs have a surprise hit of that beautiful Rangi Stripe fabric again… 
So much fun!
Side chairs will have an x back and be painted  Navy with a subtle striped seat cushion for comfort during those long relaxing dinner parties…
The reno has been underway for some time now…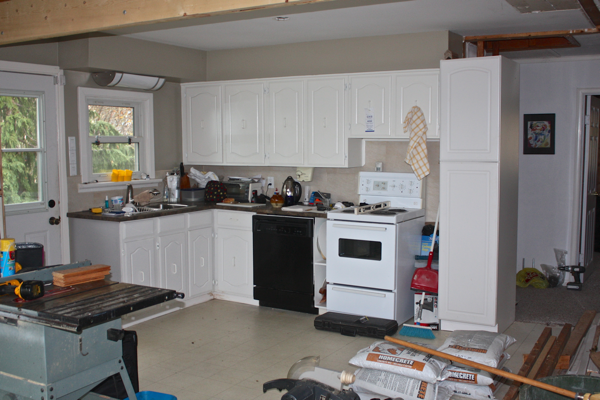 None of the old kitchen remains but even in this photo taken at the beginning of the reno you can see how much more open it will feel without that wall…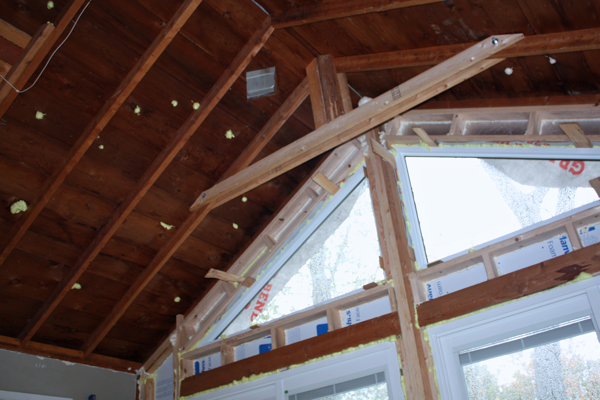 Opening up the ceiling in the dining room has also made a huge difference. 
The new kitchen will have Navy lowers. The upper cabinets will be done in a light oatmeal.
The island will also be Navy.
Counters will be Caesarstone Shitake. Sink and faucet are from Blanco.
We chose Modern Cup pulls in a brushed Nickel finish for cabinet hardware…
Beautiful nautical inspired pendant lights in a grouping of three will hang over the dining table.
 I can't wait to show you the finished space!
It will be awhile yet but I promise…
It will be worth the wait!!
One of the nice surprises (and there are ALWAYS surprises during a reno) is that they found wood floors underneath the carpet and kitchen flooring…
So… We went with light painted floorboards!
They are beautiful!!
I have a Pinterest board for the project… follow along and have some fun! It is called J&N Cottage Inspiration.
Here are a few of our other cottage projects to get you in the mood for summer fun…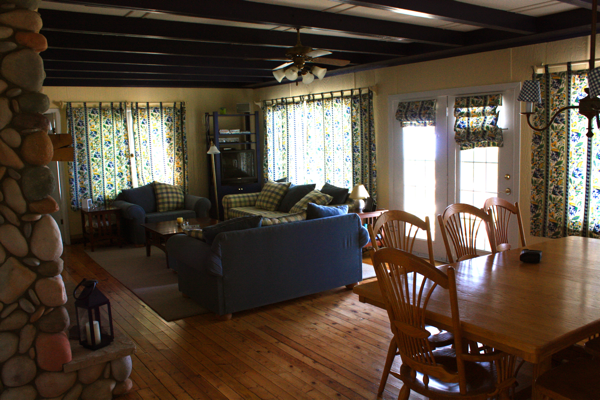 We had a lot of fun turning this dark & dated space into an airy, bright summer house…
And you won't believe what we did to this cottage in five weeks!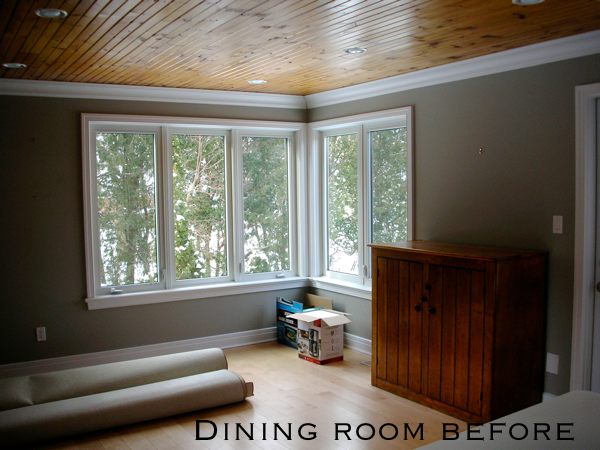 To see all the before and after beautifulness… give a click!