Back in February in the middle of that long cold winter we had, I shared the beginnings of a client cottage renovation project…
Today I am going to show you around the finished space!
Do you remember where we started?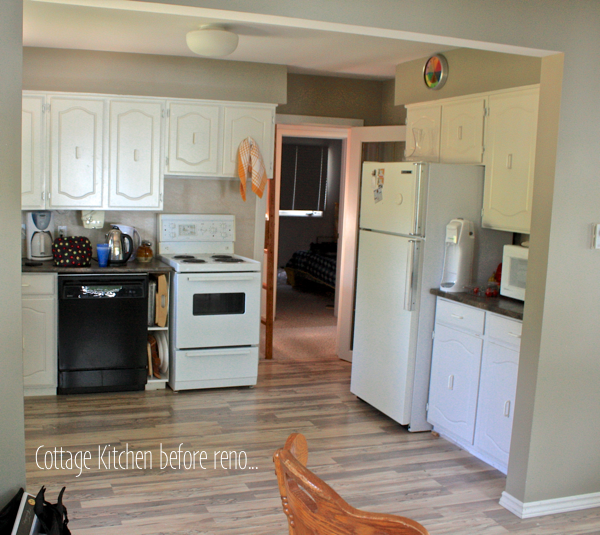 Tiny, tiny …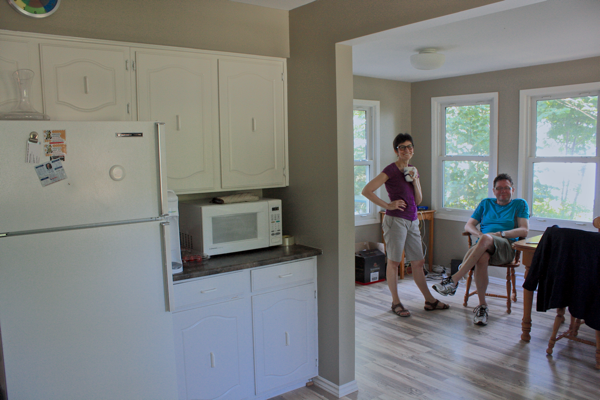 View from kitchen into dining room taken the day of my first consult…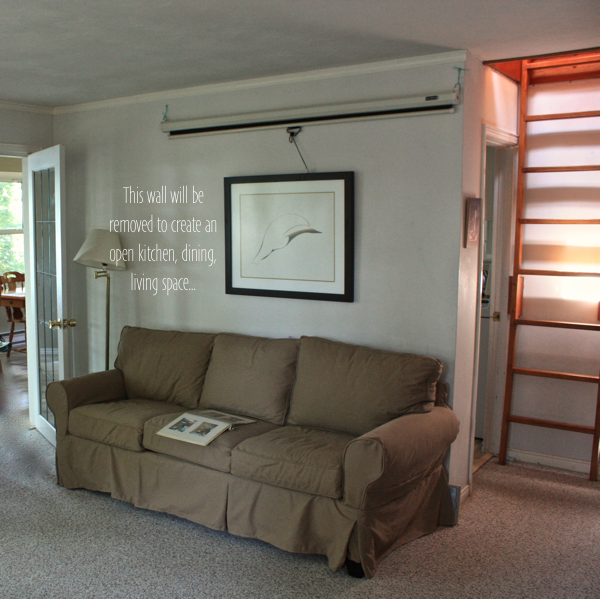 This view was from living room looking into dining room…
All the rooms were small and closed off feeling… not good for a family that loves to entertain!
Ok… here we go!
Are you ready for the "Big Reveal" ?!?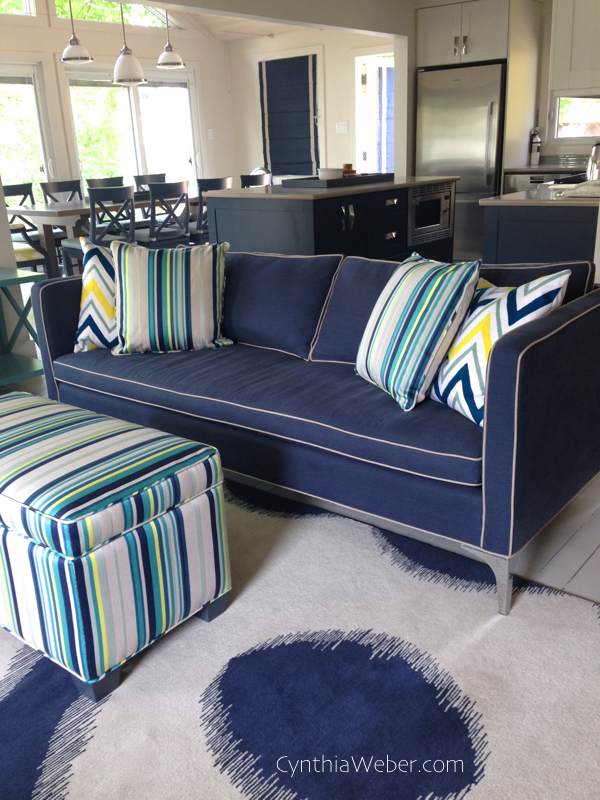 Now that… is a huge improvement… N'est-ce pas?
Now, when you are standing in the living room you get a light airy feeling…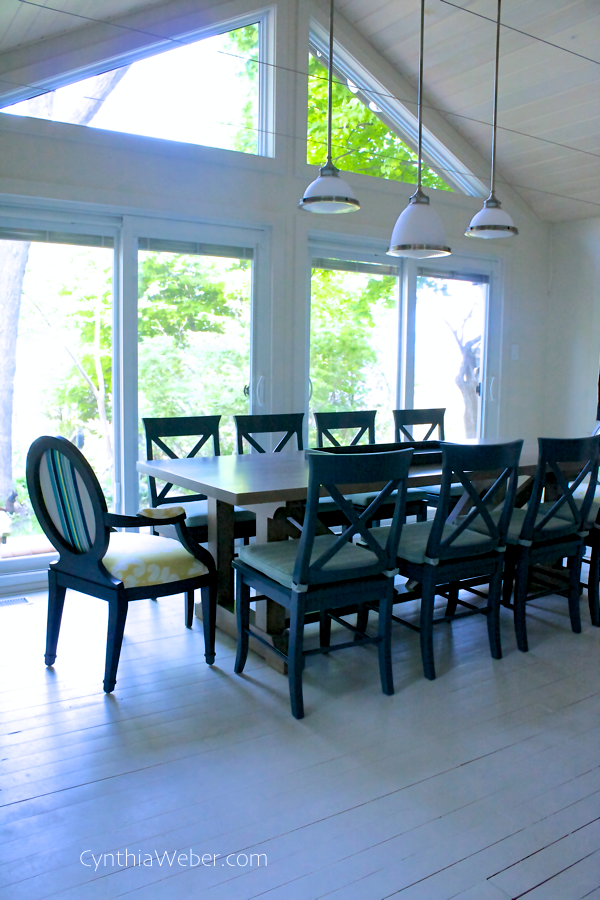 Opening up the ceiling in the dining room made such an impact!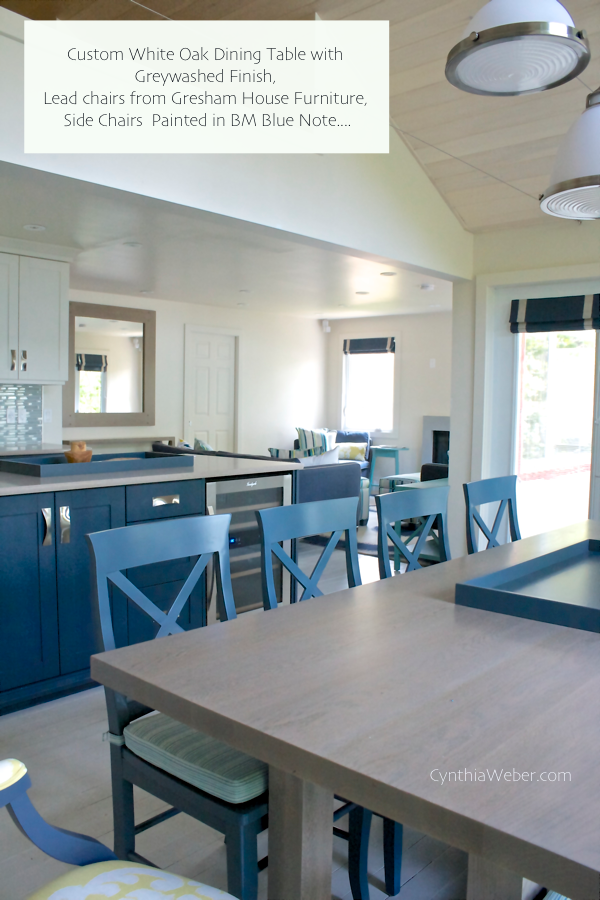 Unlike before, now when you look back at the living room there is no obstructions…
The table turned out beautifully… My photos don't do it justice…
Remember the pic I shared of it before the wash went on?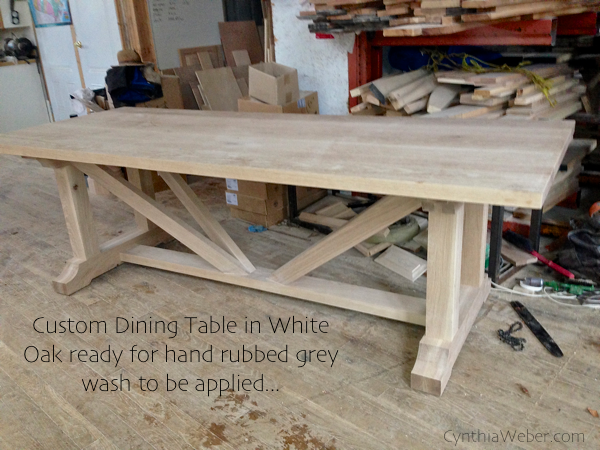 The form is amazing…
I also had a custom mirror and hall table made in the white oak…
The mirror reflects the water through the living room windows and the table adds needed storage space for books, toys etc.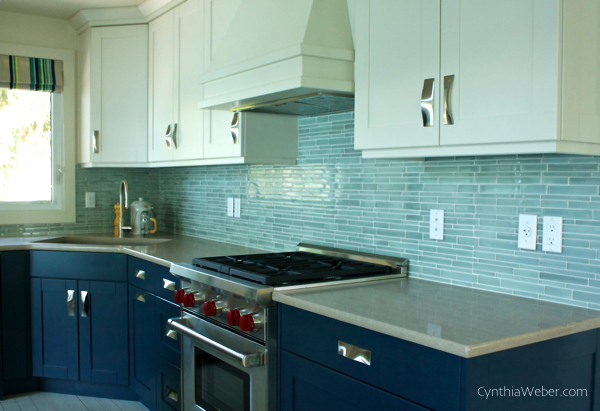 If you like the look I put together here are some of the elements used:
In the kitchen we choose BM Blue Note for lower cabinets & island.
BM Winds Breath for uppers.
The glass tile is called Bamboo brick from Centura tile.
Counters are Caesarstone Shitake.
Sink is Blanco Silgranit in Truffle.
We used the stainless cup pulls throughout the space turning them for some of the cabinet doors instead of knobs.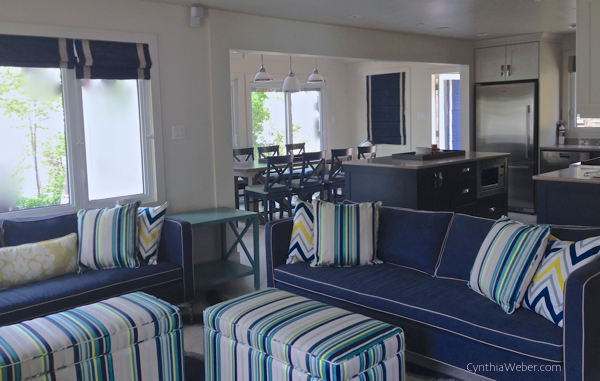 Roman blinds are done in navy linen with neutral inset banding.
The pair of sofas are from Gresham House Furniture, also done in a navy base cloth with accent piping in the neutral… I adore them!
They have such beautiful steel legs…
The storage ottomans are also Gresham pieces. They are upholstered in a Windsor Smith fabric for Kravet called Rangi Stripe…
The teal side table was made by the same Mennonite shop that built the dining table and mirror.
Custom area rug is from Kravet.
The cottage is almost finished…
Adding in final touches will really bring the space together.
I know my clients will have years of enjoyment here making summer memories!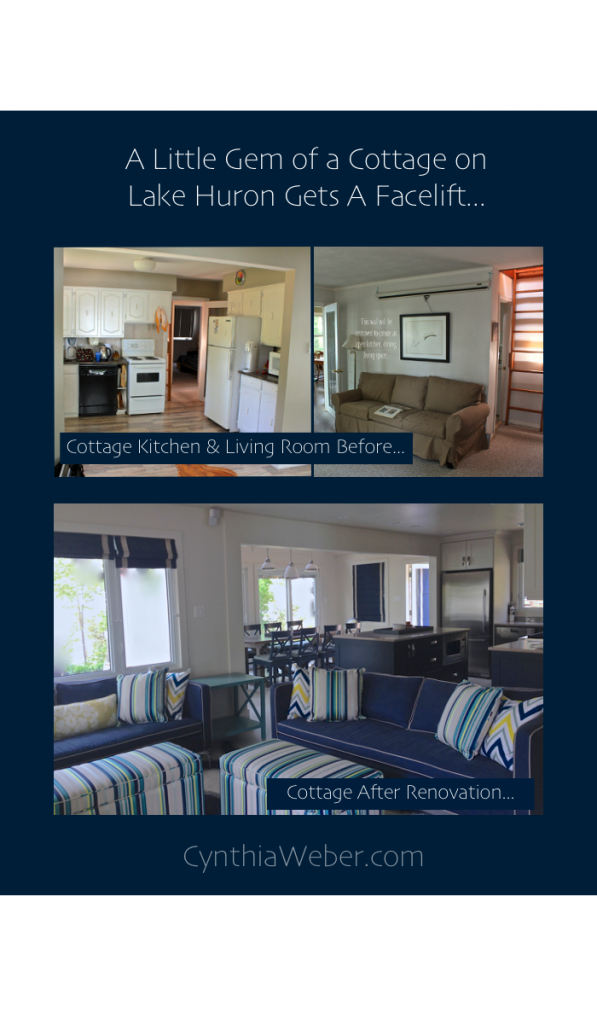 I Hope you like the reveal!
Please Pin away!
As always… I appreciate it!
On a personal note: I promise to update you next week about our decisions surrounding where we will live and what our next personal project might be now that we have sold Hoop Top House!
I know you are curious!!!
I am too!!!!