Frantic…
I'm a bit Frantic with the Frenzy of Fall Fluffing going on here at Hoop Top House!
So If you are here for the All Things Home Fall House Tour…
Have no fear…
You are just in time!
And…
I am ready!!
And… a bit Frantic!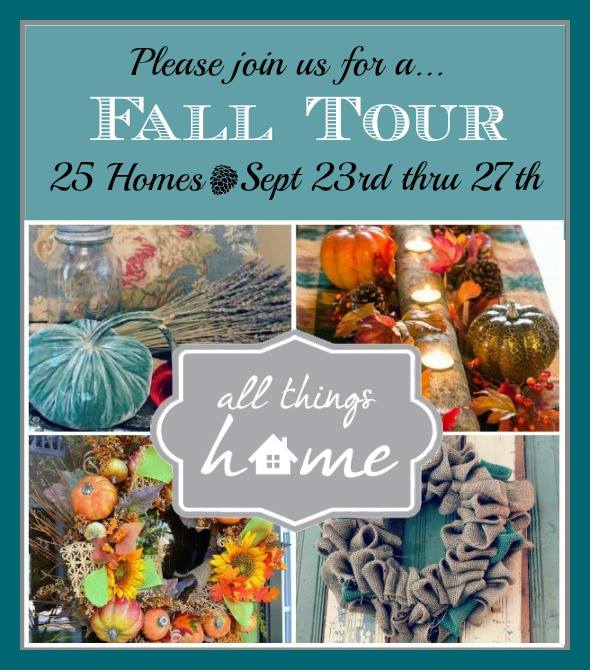 I am so pleased to be part of this tour…
The homes so far have been fantastic and I have really enjoyed the inspiration.
Don't forget to enter the giveaway at the end of the post…
It is AMAZING!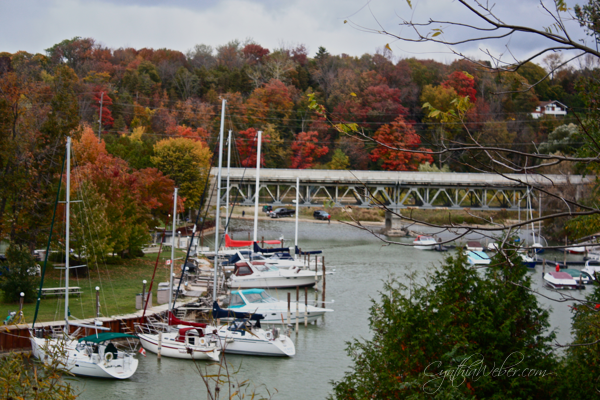 Let's get in the fall mood shall we…
This is the harbour in Bayfield where we live…
I am always in awe of what Mother Nature can do…
The mix of saturated  colours everywhere…
Inspiring!
Now to Hoop Top House…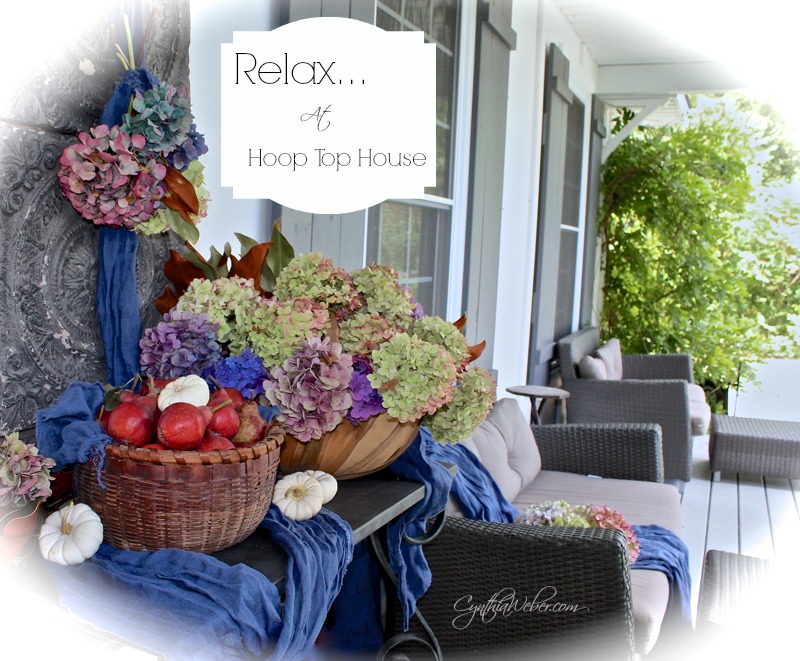 I always like to up cycle where ever possible, I find it very fulfilling to find a new and creative way to reinvent something…
So that is where I started for my fall front porch decor…
I had styled this Early Fall Tablescape a few weeks ago for my parents anniversary…
It went over really well…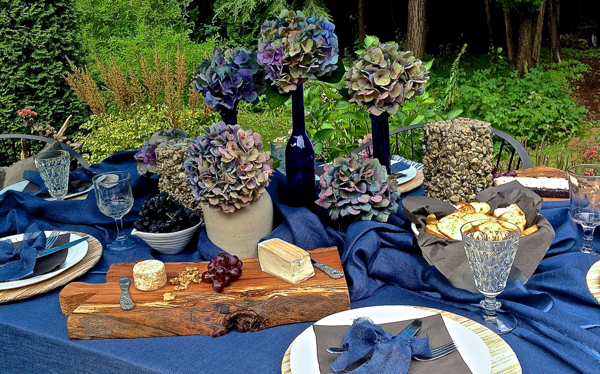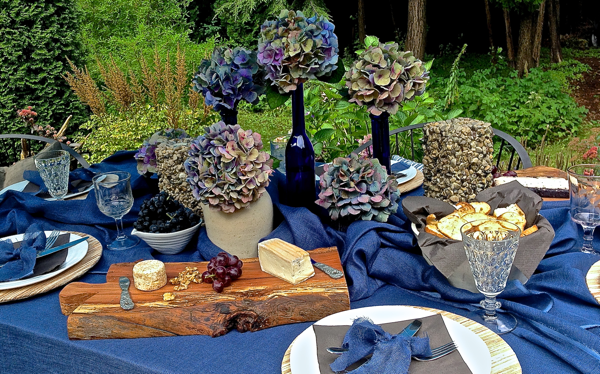 When it was over, I wanted to find something fun to do with the linen I had used on the table…
I ripped it into strips and tied it to a simple wreath form…
Then I added dried Hydrangea from the garden, baby boo pumpkins and some left over magnolia leaves from last years Christmas displays…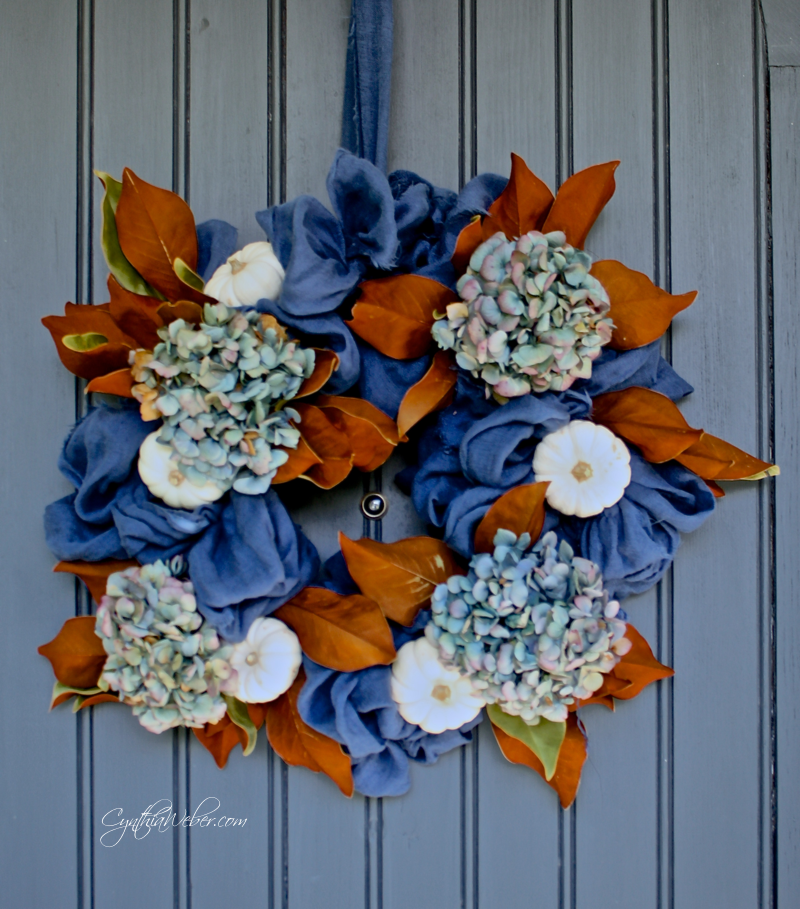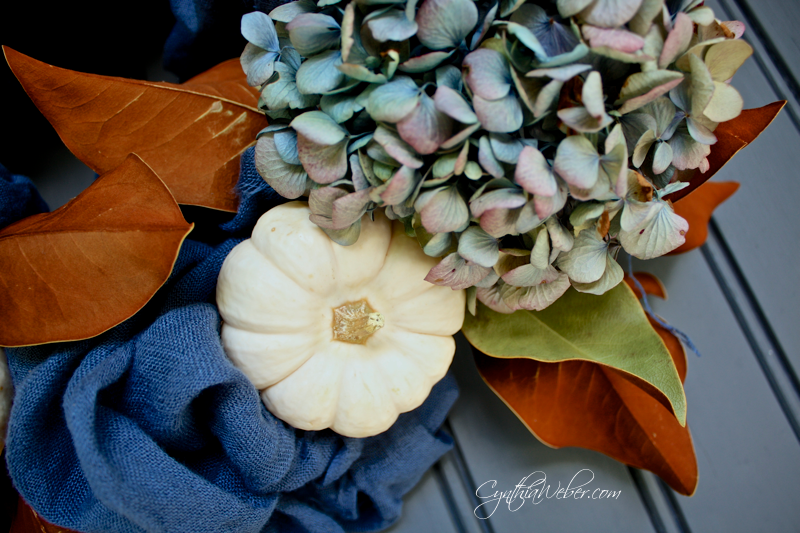 I love the way the Hydrangea blooms dried… the varying colours are unique and charming…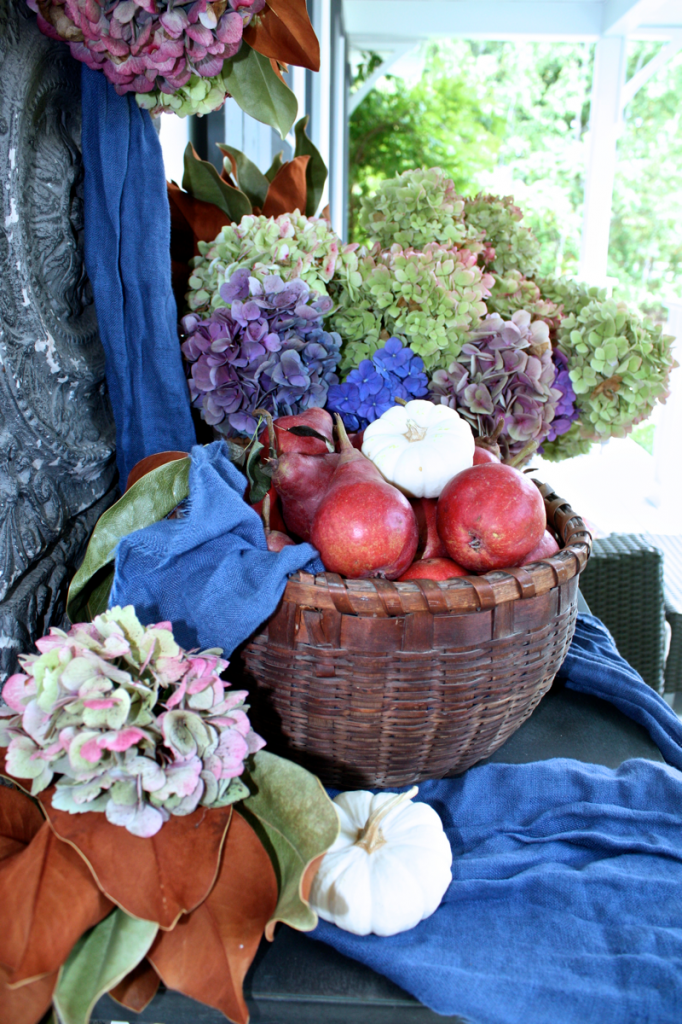 A big basket of red pears speaks to the Harvest… and all its bounty!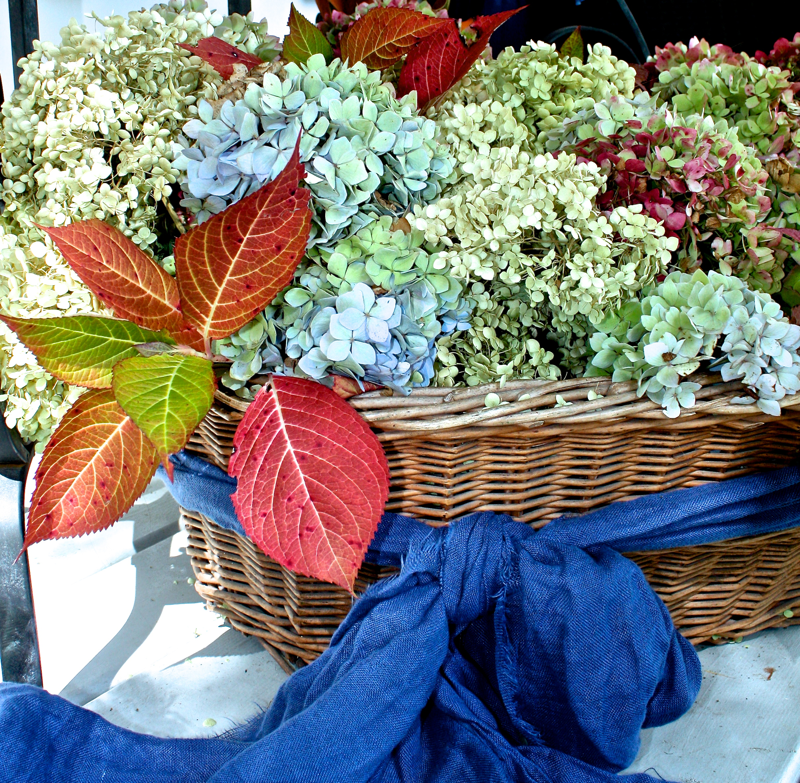 The Hydrangea leaves also had beautiful colour… so I put a few in.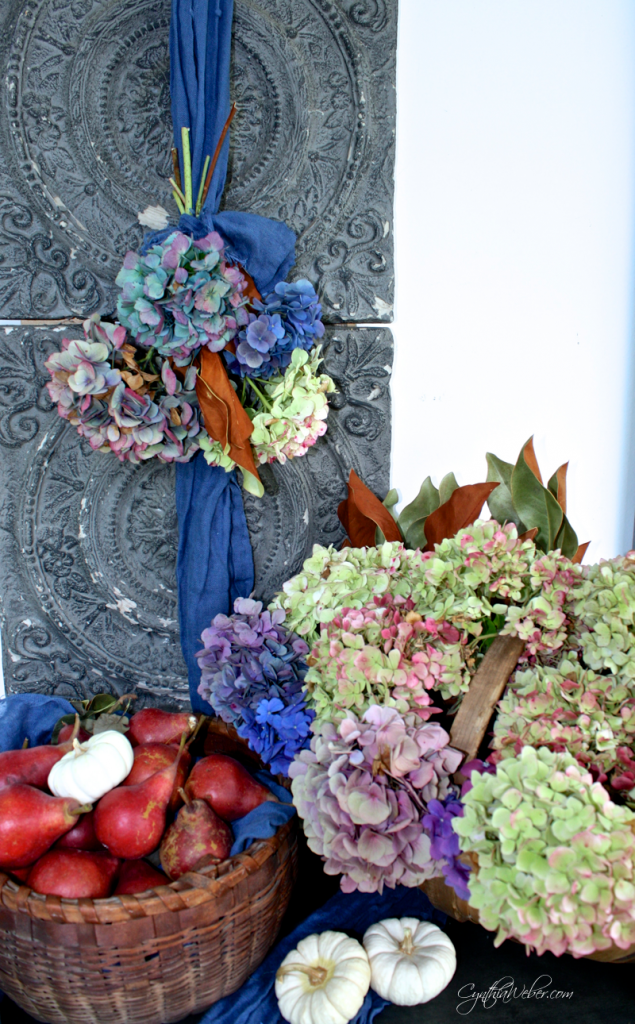 Another ripped strip of linen holds a small bouquet…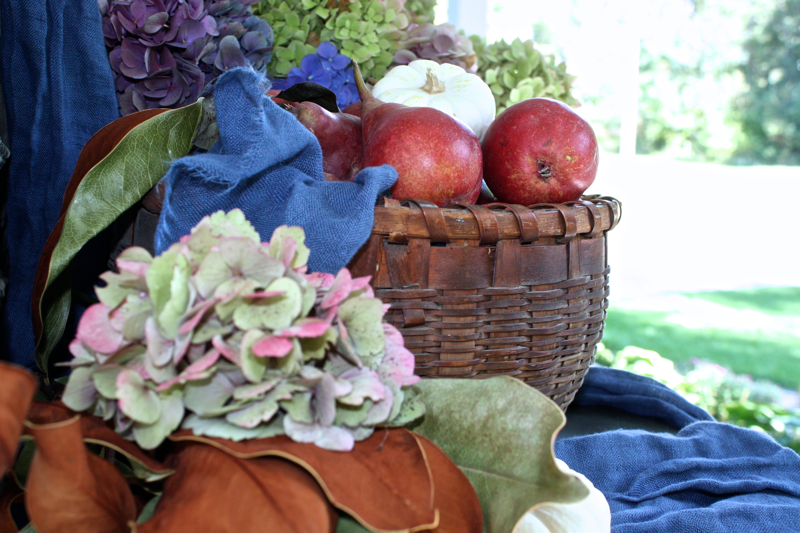 Lets go inside now and see what I got up to…
This is the living room.
I wanted to keep the Fall decor subtle, there is already a lot going on…
I put some wheat in a vase, dotted baby boo pumpkins around and that was about it!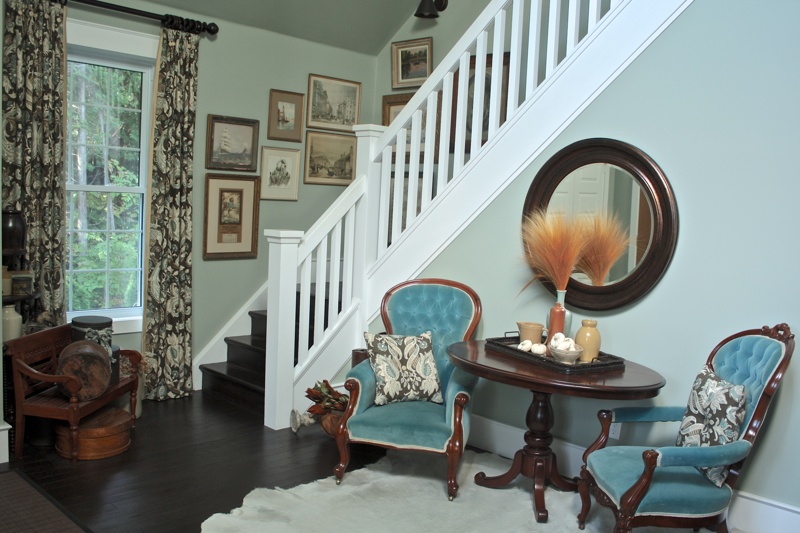 A few strategically placed pumpkins were added to my pussy willow starburst…
I just wired them in.
I have gotten more compliments on that dollar store sunburst, and it was embarrassingly simple to do…
No sew, No skill, No kidding!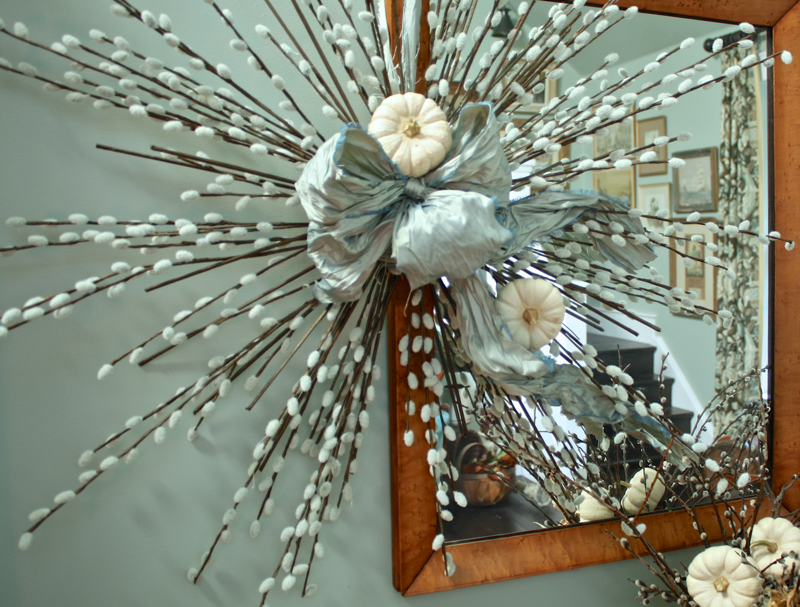 Our dining room has a relaxed country feeling…
The colours are muted and most of the pieces in this room are antiques.
I placed an old pieced quilt on the table and just started layering things in that spoke to the harvest season.
Lots of crocks, woodenware, mini corn cobs and of course… those adorable baby boo's!!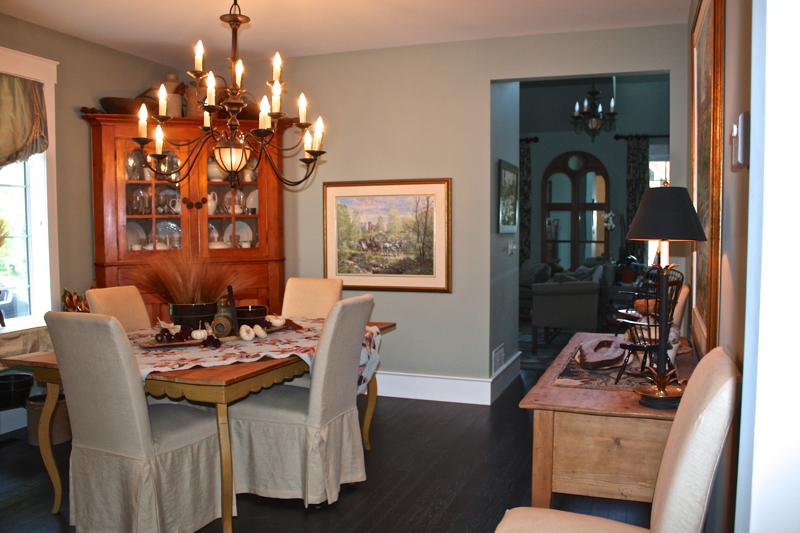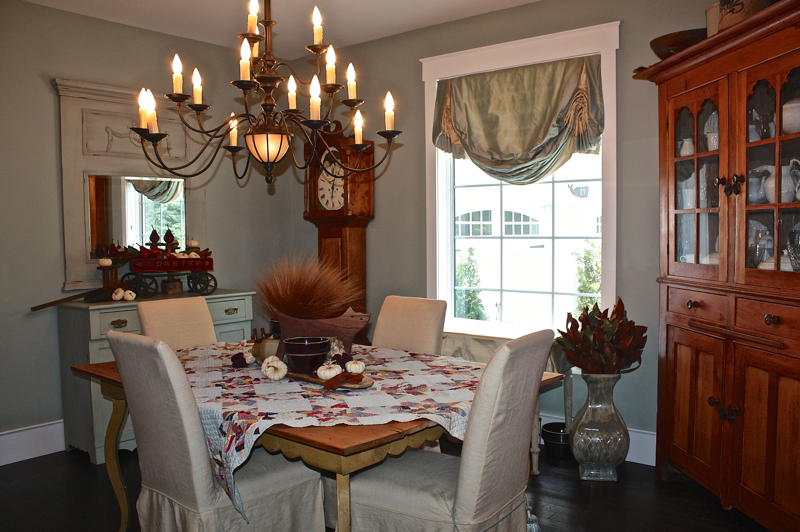 The cat is one of Kent's creations… and so is the live edge serving board.
Isn't it amazing how small some of those pieces are in the quilt…
It boggles the mind to think how many hours went into making it!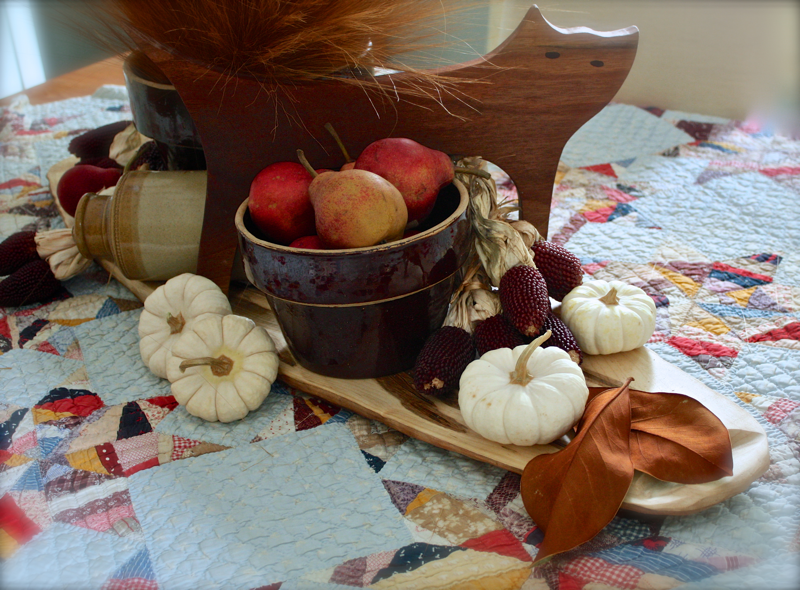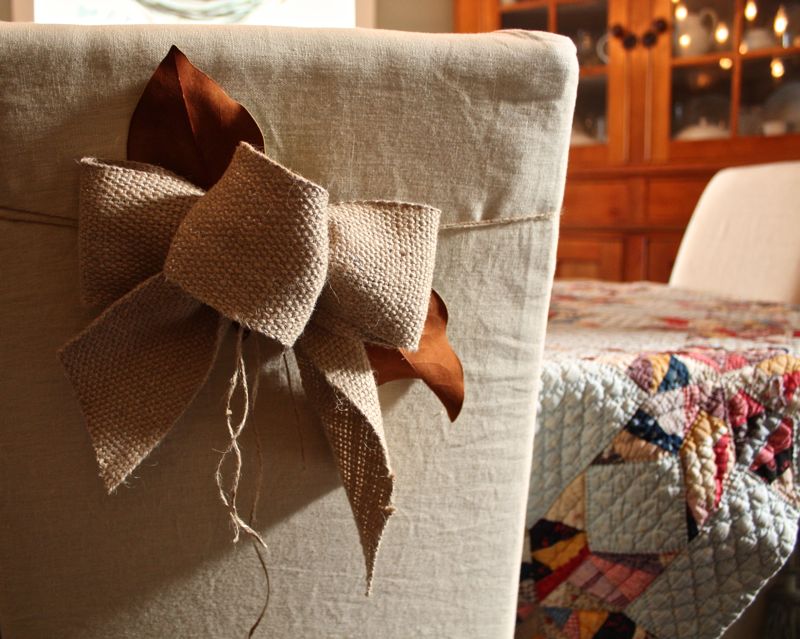 A simple burlap ribbon bow with a few magnolia leaves makes for an easy chair adornment…
Ok… now scroll back up and notice they are not on the other photos…
That is because I only made one…
Sorry to break the illusion, but I ran out of time!!!
Kent and I are in the middle of a new blog series showcasing a client cottage renovation…
In real time…
Which means we are actually in the middle of it right now so Fall decorating became one thing on a huge long list of things for Cynthia to do!!
The series is called Client Diaries… Jess & Brad and it is one of the most fun and interesting projects we have ever taken on!
If renovations and interior design are your thing I hope you follow along!!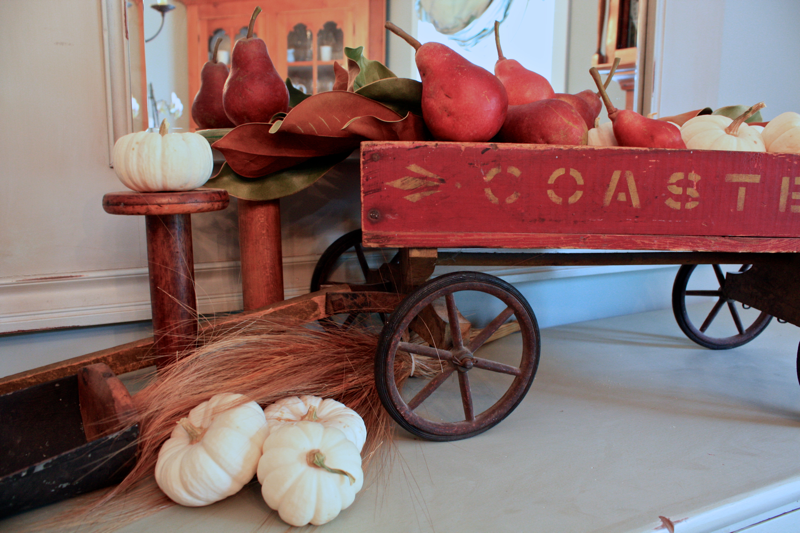 On our buffet I placed more of those beautiful pears and pumpkins…  
Are you getting hungry?
How about a look into the kitchen…
Our kitchen is open to the family room.
We spend so much time in here… and, we cook…
A LOT…
So keeping the seasonal decor to a minimum works for me.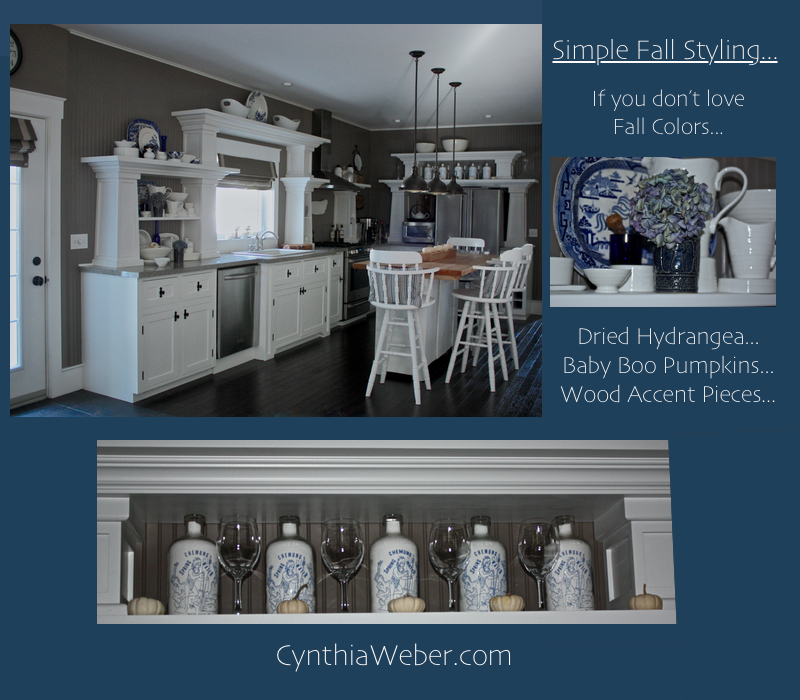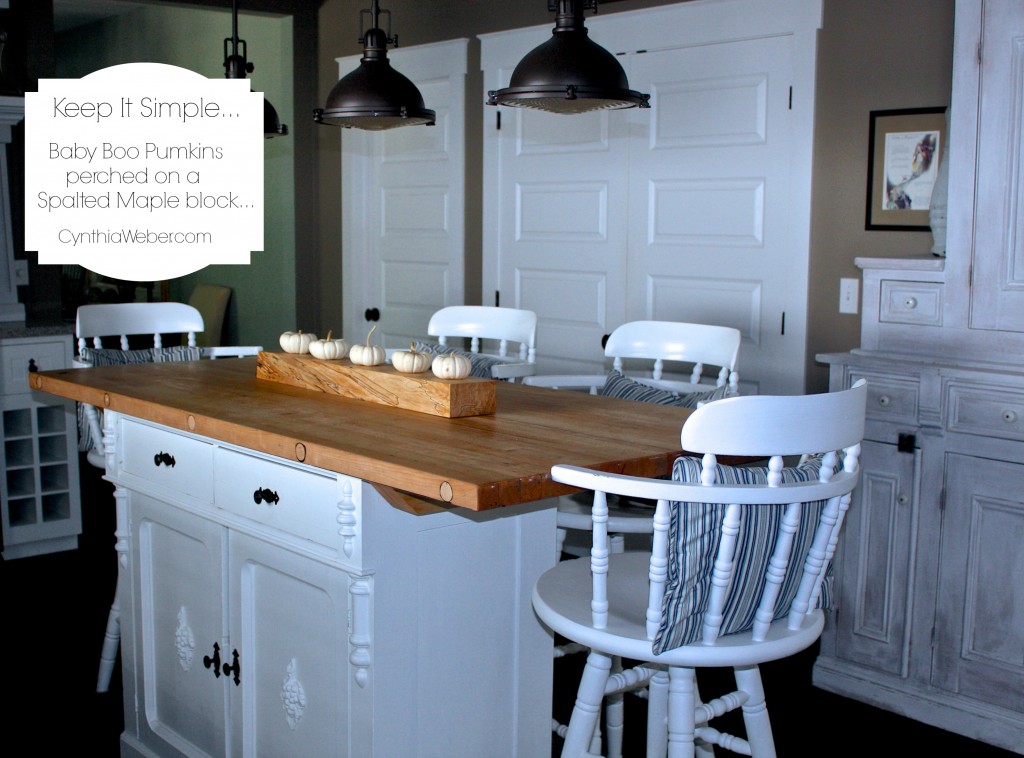 The family room is one of my favourite rooms in the house.
I love to sit and read in front of the fire…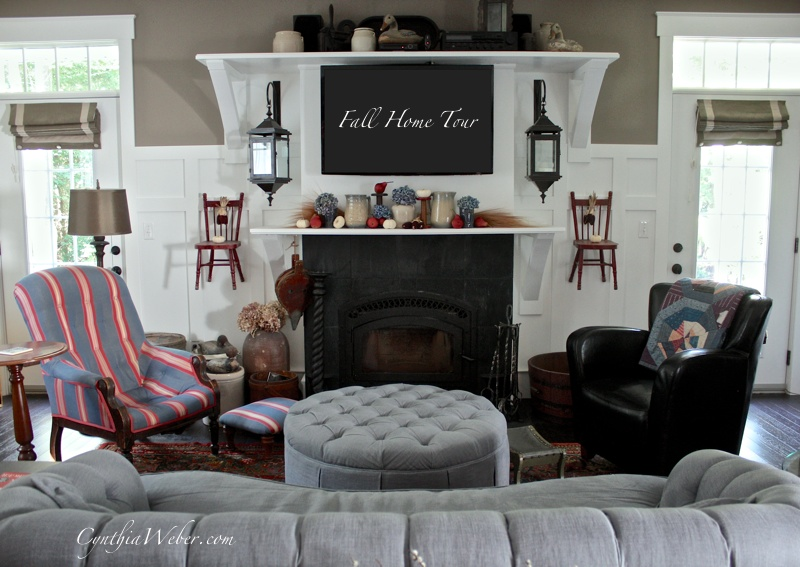 Hanging little child size chairs on the wall is one of my signatures…
I see them as pieces of art.
They add interest and are fantastic conversation pieces.
I am not kidding…
I am a bit obsessed with them…
I have about a dozen in the basement just waiting for the right project!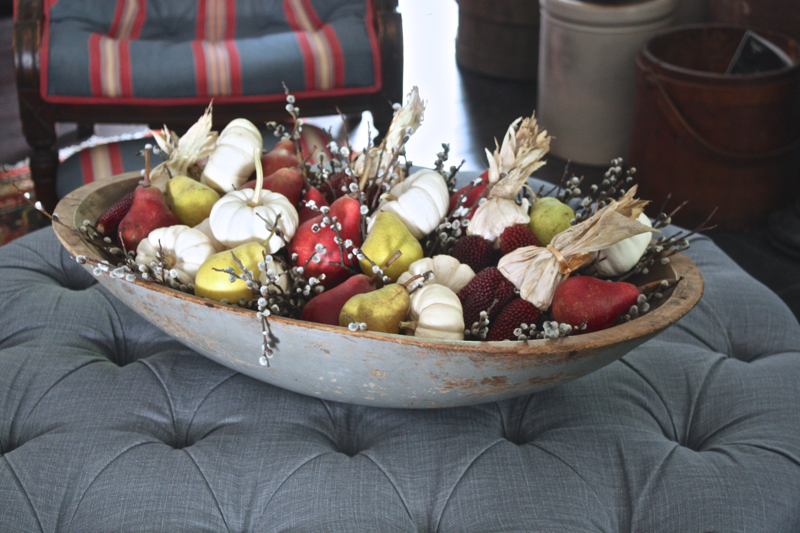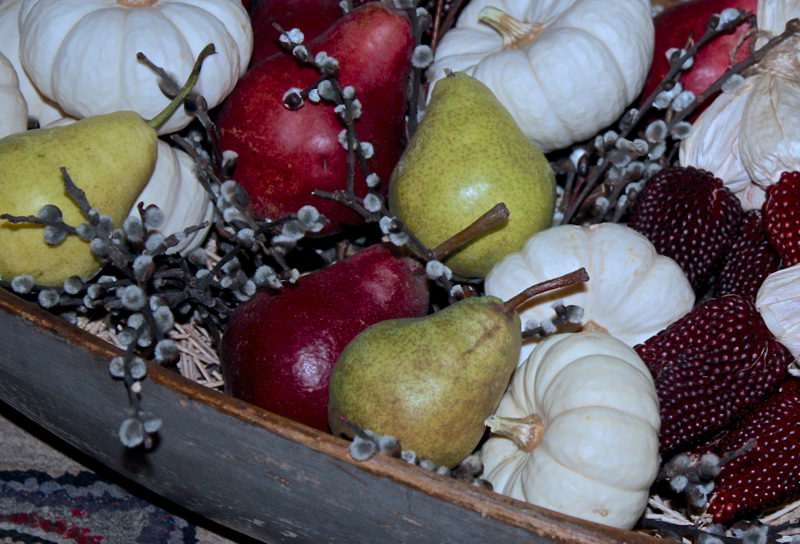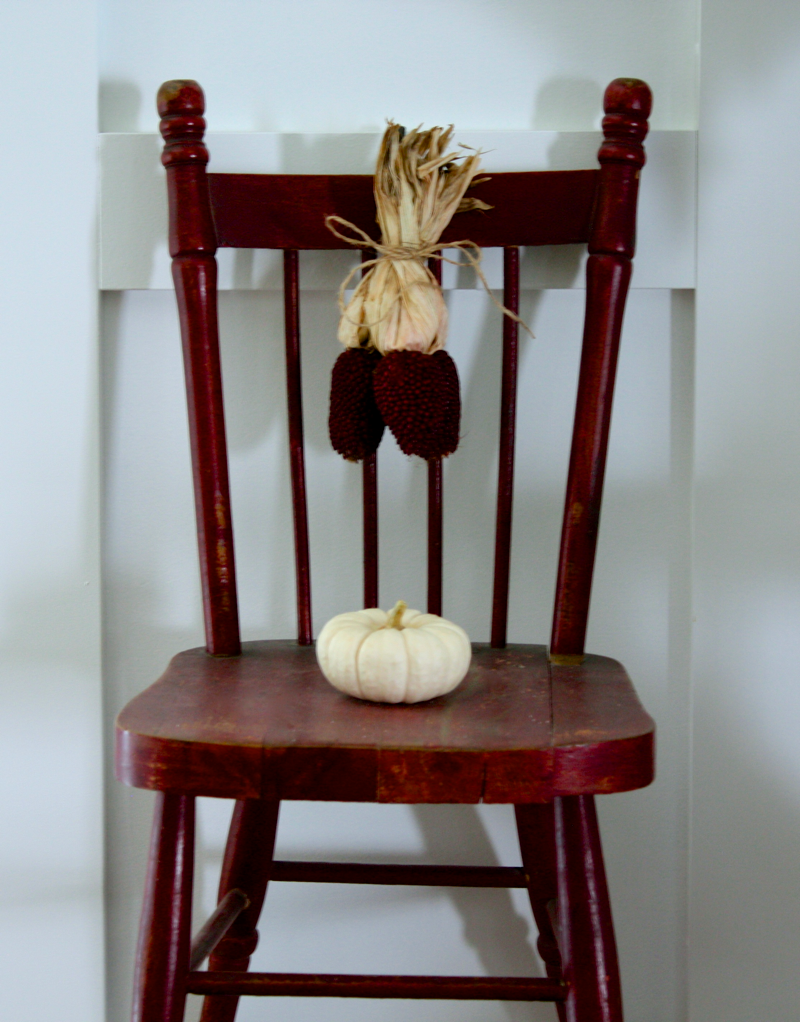 Such a perfect place for a touch of the Harvest season…
Don't you think?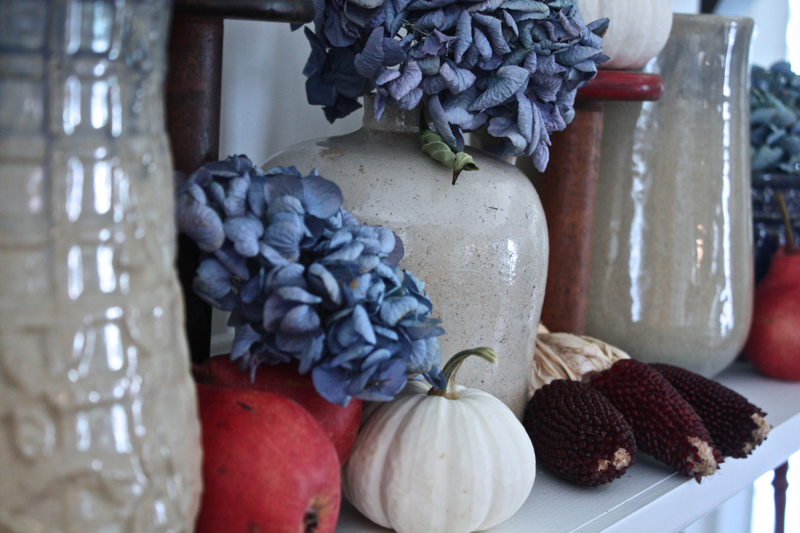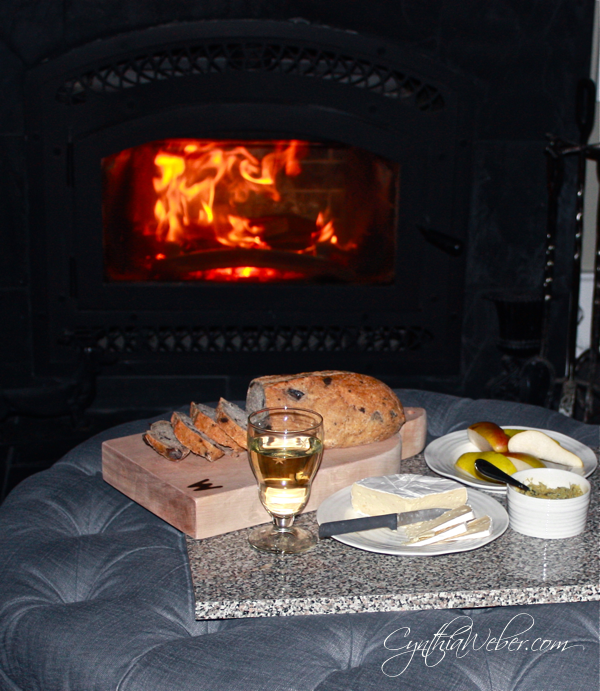 Well… That is my home dressed up for Fall…
I do hope you liked it!
If you are visiting from the All Things Home Tour and are new to my blog…
I am so happy to meet you!
If you enjoyed your stay… I hope you come back often, give us a "Like" on Facebook and follow along on Pinterest. 
Don't forget to visit all the other homes on this amazing Fall Home Tour.
And the giveaway!!!
Don't forget the fantastic giveaway!
Here is the list of all homes on the tour and the details about that stellar prize! 
Monday, September 23
Nellie Bellie
The Rustic Pig
French Country Cottage
House of Hawthornes
Town and Country Living
Tuesday, September 24
Mom 4 Real
Our Southern Home
Stone Gable
Fox Hollow Cottage
So Much Better With Age
Wednesday, September 25
Marty's Musings
A Button Tufted Life
AKA Design
Decor Adventures
Confessions of a Plate Addict
Thursday, September 26
Worthing Court
Everyday Home
Back Porch Musings
Inspiration for Moms
House on the Way
Friday, September 27
Setting for Four
My Uncommon Slice of Suburbia
Imparting Grace
DaisyMaeBelle
At Home with the Barkers
Enter to win this gorgeous hand painted Sarasota Chest in Crème Brûlée from Somerset Bay, a prize valued at $1,500. The contest is open to U.S. residents only.
To enter, click on the Rafflecopter below and confirm you like Somerset Bay on Facebook.
You can earn more entries by completing the additional steps on Rafflecopter, but they are not REQUIRED.
I am sharing my torn linen front door wreath over at: Simply the Best Fall Edition