The weather here has been frustrating…
I am chomping at the bit to get out in the gardens, but Mother Nature has had other plans…
She obviously did not think my Spring Tea held in her honour was enough of an incentive to warm things up! 
So I decided to concentrate on getting Spring inspiration inside…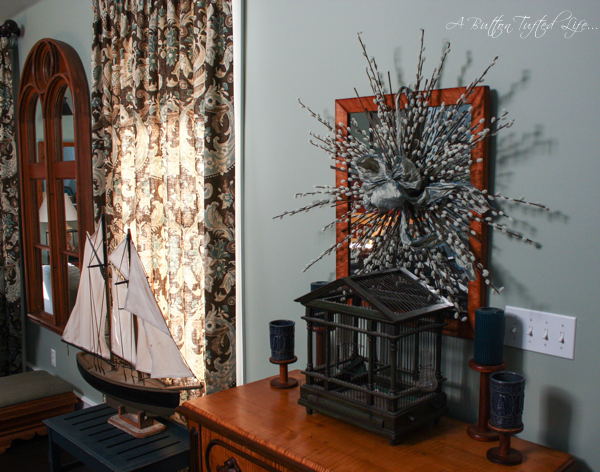 What says Spring better than Pussy Willows… so pretty!
You will love this fast and easy project… It has all the right ingredients… No glue, no sew, no Kidding!
Here is all you will need to get started.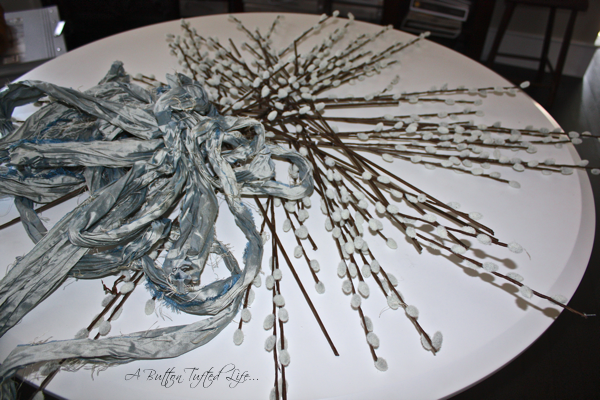 You could most definitely use real Pussy Willows if you have some…
I cheated and used these I found at the dollar store… I thought they looked surprisingly realistic and snapped them up!
You will also need strips of torn silk, you could use any strips of fabric or ribbon but I love the texture and frayed quality I get from the silk. I have used these strips in so many ways over the years, the possibilities are endless.
Here are a few of my other projects using them.  No Sew Fabric Roses, Gift Wrapping with Silk Remnants.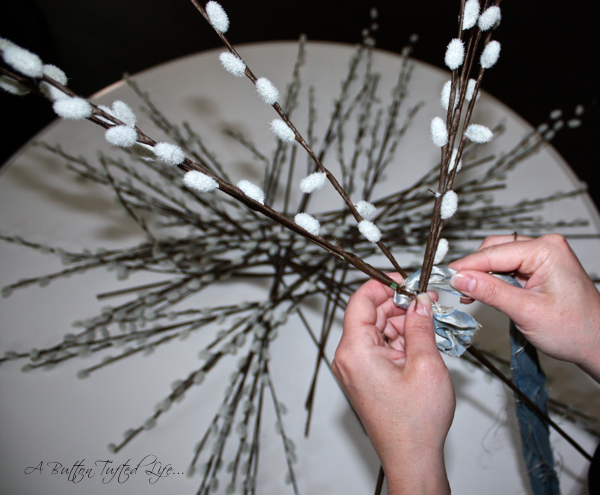 Start by ripping your strips, I make mine about  2-3″ wide, then start with one stem of pussy willow and start wrapping the silk around halfway up the stem. Hold to secure with one hand. Keep adding one stem at a time, making a crisscross pattern with the silk.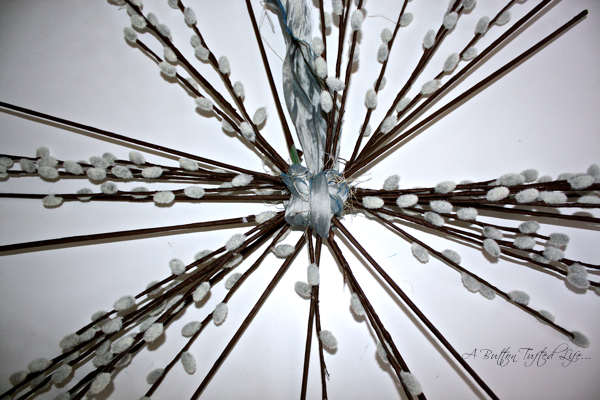 Just keep making a big circle by adding in more stems one by one and wrapping as you go… when you need another strip of fabric… just tie another one on and keep going.
Keep the fabric tight to make it secure… Basically you want a big ball at the centre of your starburst… You can bend the sprigs of pussy willows to take the shape you want…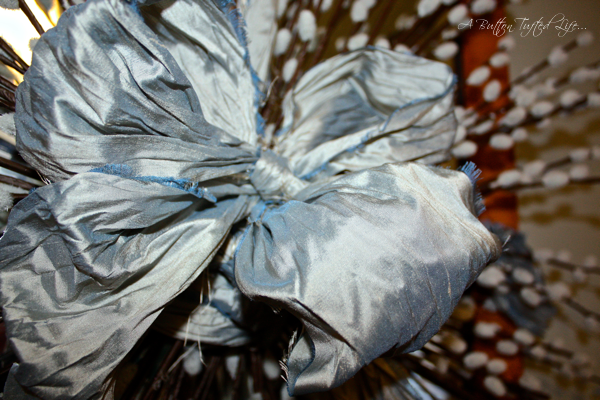 Once I had all my stems secured I ripped a slightly wider strip of silk and frayed the sides by pulling away ten or twelve threads off of each side… this leaves a beautiful fringe on the silk. Don't worry about getting every thread removed, I like how shabby it looks with some still hanging on… 
Shape your bow the way you want it… This silk has lovely body and will stay where you put it… I also love the wrinkles you get from crushing the fabric!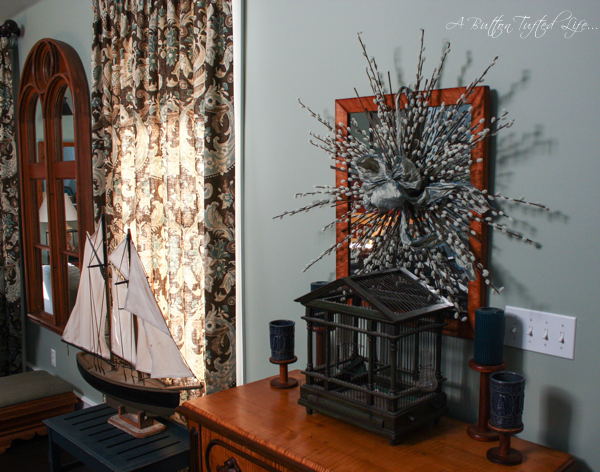 I cut the tails of the bow on an angle and swaged them over to the side in the branches of the pussy willows…
And that was it!
My no sew, no glue, no skill Pussy Willow Starburst…
Do you like it?
The whole project took me about twenty minutes.
Simple and effective… A perfect combination!
It looks like we may have a beautiful weekend … fingers crossed, We actually might get out in the gardens!!
Wishing you a sunny and Spring like weekend where ever you may be!