Did you relax this weekend?
We decided to stay home, putter in the gardens and make some good food… as some of you may know we had to say goodbye to our dog Coco last weekend… Kent and I had many "Coco" moments throughout the week… remembering and adjusting to a new rhythm in the house without her. Thank you again for all of your kind comments and e-mails … I appreciate it so much!
It was a rainy weekend here in Bayfield but beautiful… I love gardening when it is overcast…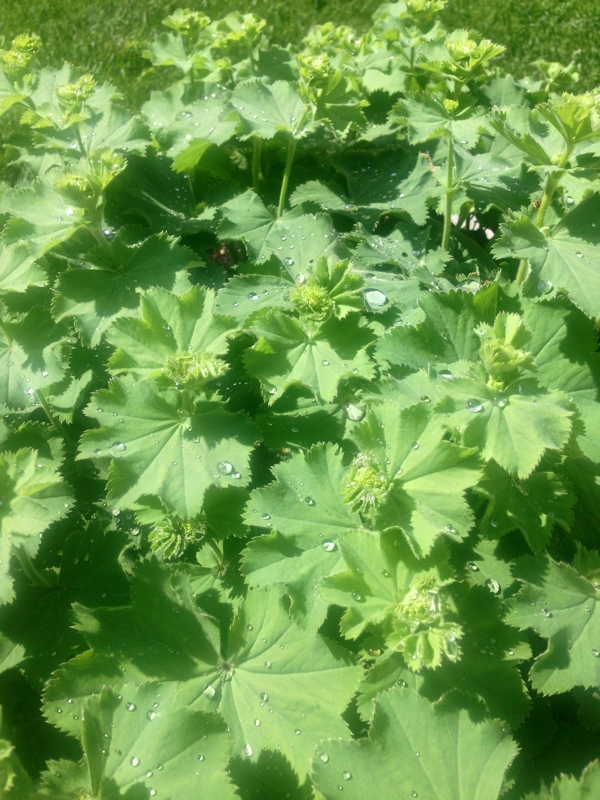 The Lady's Mantle in the backyard looked so pretty with the raindrops I had to take a picture…
In fact I was playing around with the camera on the iphone all weekend ( I just got it and am trying to figure it out ) Spoiler alert… no camera and tripod  or time spent styling for this post, just relaxed weekend snapping… I hope you don't mind!
A walk on the beach seemed like a good idea yesterday morning…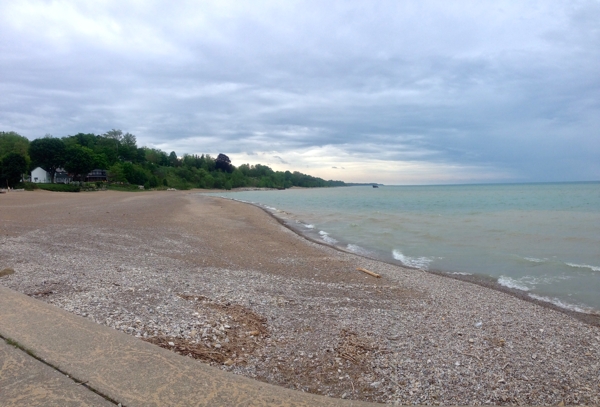 The clouds were heavy and moody…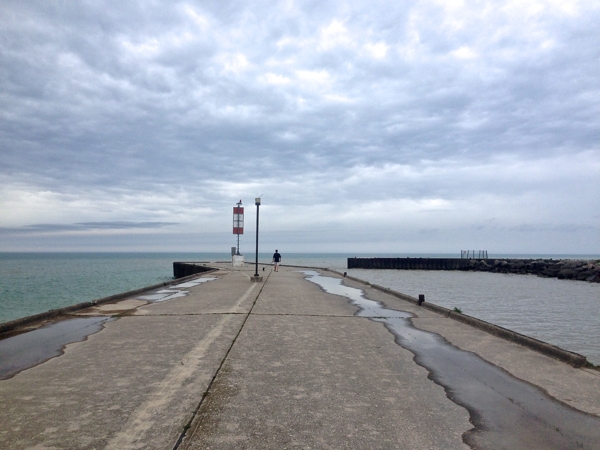 Emmitt looks so small, you can hardly see him walking beside Kent.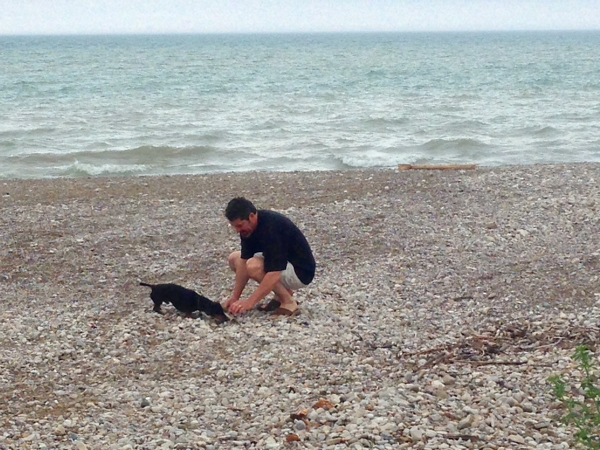 Obviously there was something "smell worthy" to investigate.
There were many relaxed discussions throughout the day on a variety of subjects… but we kept coming back to the serious question…
What do you want for dinner?
After some lively debating we decided on Portobello mushroom burgers.
I love them as a change of pace from hamburgers… They have a wonderful meaty texture and flavour without the meat!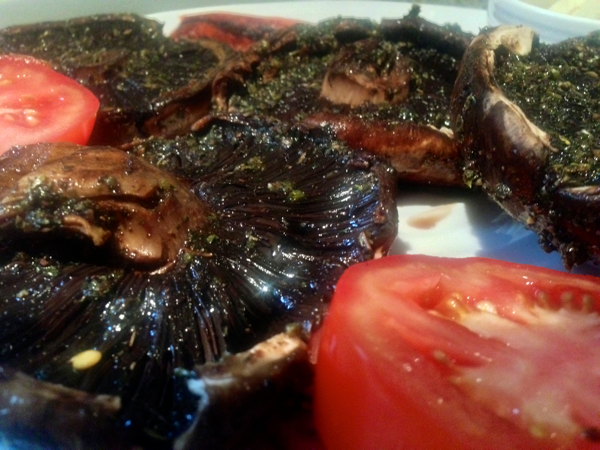 For the marinade: 
Two Tbsp. balsamic vinegar 
1/4 cup olive oil
2 tsp. dried oregano
2 tsp. dried basil
1 tsp. garlic powder
1/2 tsp. black pepper 
Whisk together and pour over portobello mushrooms smooth side up for a minimum of 30 minutes ( we let it sit for a few hours)  
While marinating…Flip mushrooms over and spoon marinade over other side … do this several times
Off to the grill they go!
We also had some fresh sage from our Herb Garden project…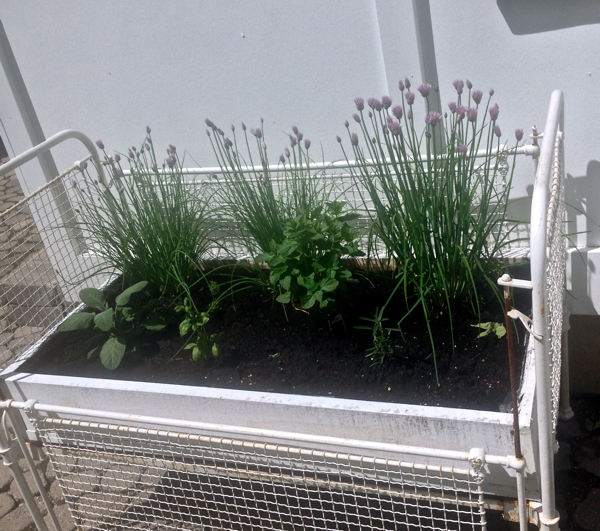 If you missed it you can find it here. 
So we decided to try grilling a few pieces of Sage to go with the burgers…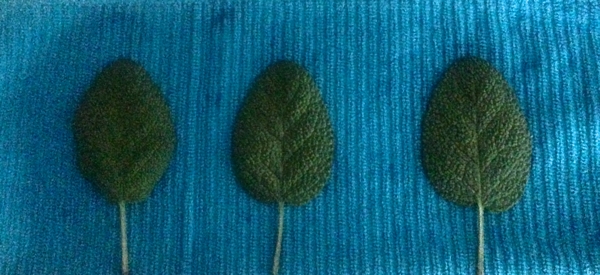 Once the Portobellos  were getting grilled up …  we topped them with some provolone…
You will like it! ( if you are a cheese person, if not we may find it a bit more difficult to be friends… I have a serious cheese addiction issue!)
Kent was grilling and I set the table… It was still misty raining but so pretty and green out I decided to set up outside under the umbrella…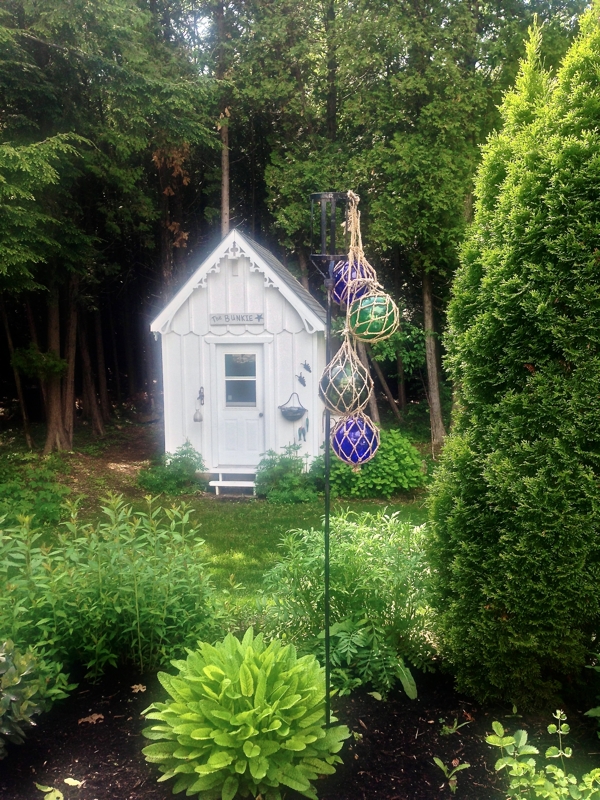 Ok, now this is an aside…
Can you see the little perch right below the peak of the Bunkie?
Kent made it and put it up so he can leave peanuts for the birds…
He gets the ladder out  and leaves a handful up there in the mornings…
Mr Blue Jay has figured out his schedule and will wait in the trees… I tried so hard to snap a pic of him flying by and picking up his "Take out Dinner" but he is so fast!
A big shwoop in and he is gone again… 
So back to dinner…
I took the Beachy Buoys we made last summer and Kents' carved boat and used them for the tabletop…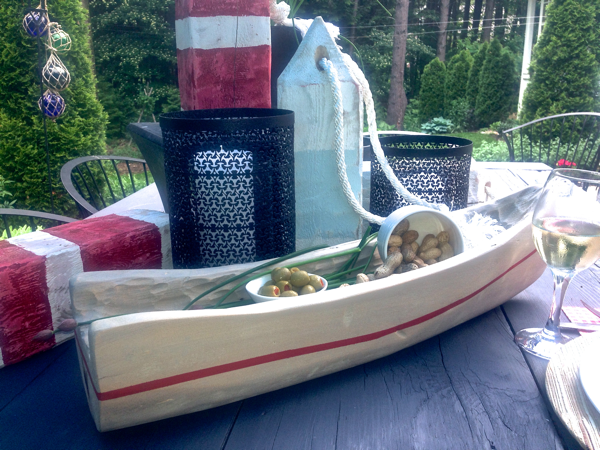 I thought it would be fun to have chives, olives and peanuts spilling out of the boat.
I was half expecting Mr. Blue Jay to start stealing the peanuts… but he must have had other dinner plans!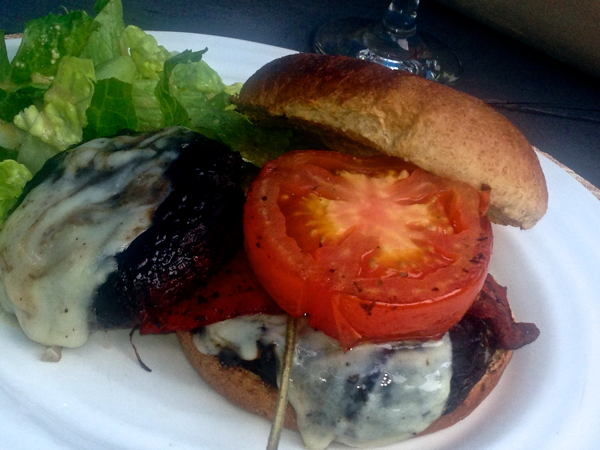 The burgers were tasty!  That is the Sage stem hanging out the front… Kent also grilled some red peppers… it was a delicious mouthful to be sure!
The gentle patter of the raindrops on the umbrella during dinner was quite wonderful! 
Friends invited us over after dinner and we decided to ride our bikes.
Emmitt loves their dog so he wanted to come along… 
But he isn't a big fan of wet feet so Kent came up with a plan…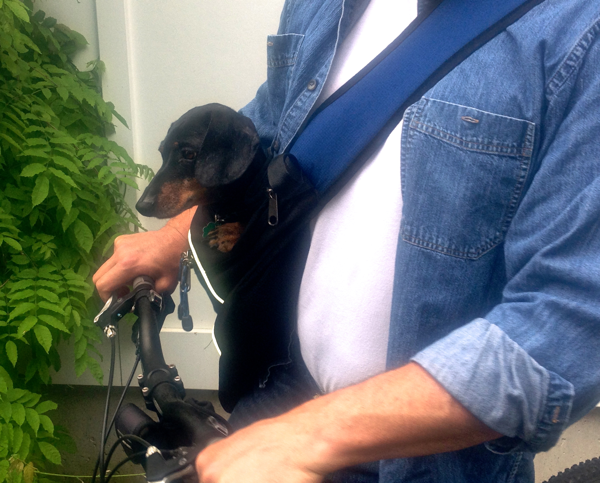 He loved it!
I wasn't sure how he would react but he thought it was fantastic…
All zipped up warm and cozy with the best view… and no wet feet!
It was a great Bayfield weekend.
I hope you had a wonderful one too!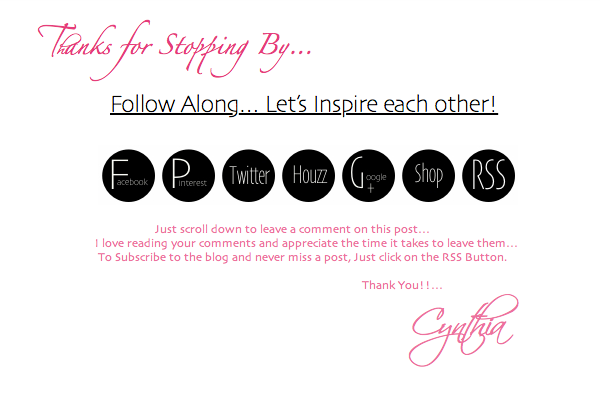 I am sharing at A Little Claireification Best of the Weekend Party